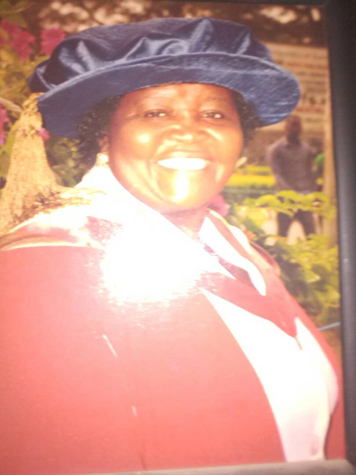 LANGUAGE AND LITERATURE FOR COMMUNICATION IN HUMAN SOCIETIES
Papers in Honour of Late Dr (Mrs) Elisabeth Amagah De Campos
Edited by
Prof. Taofiki Koumakpai,
Dr. Taofiq A. Alabi,
Dr.Théophile G. Kodjo Sonou,
Dr.Samson O. Olatunji,
Dr.Comfort Ojonkpot
Editions Africatex Media
01 BP 3950, Avakpa-Tokpa, Porto-Novo, Republic. of Benin.
Tél: (+229)  95 13 12 84 / 97 29 65 11 / 99 09 53 80
E-mail: aficatexmedia@gmail.com
Site web: www.iup-universite.com
June 2018
LANGUAGE AND LITERATURE FOR COMMUNICATION IN HUMAN SOCIETIES
Papers in Honour of Late Dr (Mrs) Elisabeth Amagah De Campos
Edited by
Prof. Taofiki Koumakpai,
Dr. Taofiq A. Alabi,
Dr.Théophile G. Kodjo Sonou,
Dr.Samson O. Olatunji,
Dr.Comfort Ojonkpot
Editions Africatex Media
01 BP 3950, Avakpa-Tokpa, Porto-Novo, Republic. of Benin.
Tél: (+229)  95 13 12 84 / 97 29 65 11 / 99 09 53 80
E-mail: aficatexmedia@gmail.com
Site web: www.iup-universite.com
June 2018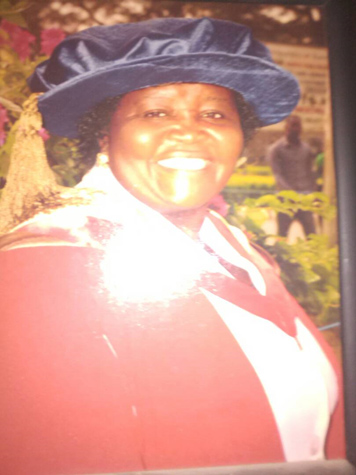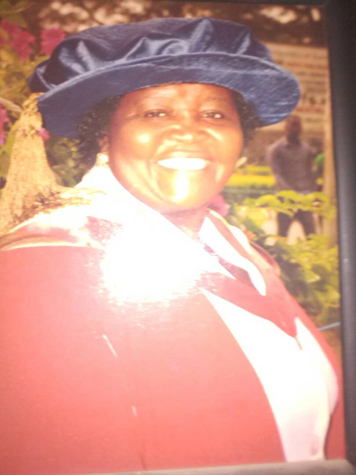 Dr (Mrs) Elisabeth Amagah De Campos
LANGUAGE AND LITERATURE FOR COMMUNICATION IN HUMAN SOCIETIES
Papers in Honour of Late Dr (Mrs) Elisabeth Amagah De Campos
Jointly Published by:
Institut Universitaire Panafricain
(Panafrican University Institute)
Autorisation: N° 2011 – 008/MESRS/CAB/DC/SGM/DPP/DEPES/SP
Modifié par : N° 2013 – 044/MESRS/CAB/DC/SGM/DPP/DEPES/SP
Avakpa-Tokpa, Porto-Novo, Republic of Benin.
and
Linguistic Immersion Centre,
University of Ilorin, Ilorin, Nigeria.
Edited by
Prof. Taofiki Koumakpai, University of Abomey Calavi, Republic of Benin
Dr. Taofiq A. Alabi, Associate Professor, University of Ilorin, Nigeria
Dr. Théophile G. Kodjo Sonou, Panafrican University Institute, Republic of Benin
Dr. Samson O. Olatunji, Linguistic Immersion Centre, Unilorin, Nigeria
Dr. Comfort Ojonkpot, University of Buea, Cameroon
COPYRIGHT: LIC/UNILORIN (NIG.) &
CUREL/IUP (BENIN)
v  Tous droits de reproduction, de traduction et d'adaptation réservés pour tous les pays.
v  No part of this journal may be reproduced in any form, by print, photo-print, microfilm or any other means, without written permission from the publisher.
v Dépôt légal, N° 10440 du 22 Juin 2018, 2ème Trimestre ;
Bibliothèque Nationale, Porto-Novo, République du Bénin.
(Book registration reference : N° 10440 of the 22nd June 2018) National Library, Porto-Novo, Republic of Benin
ISBN   978 – 99919 – 76 – 52 – 5.
CONTENTS
Dedication……………………………………………………………..vi
Foreword……………………………………………………………..vii Preface………………………………………………………………….8 Post Preface…………………………………………………………..8
Contents………………………………………………………………viii
Notes on the Contributors……………………………………….ix
Editorial Board………………………………………………….
Consultants………………………………………………………………
Article Contributors………………………………………….
Dedication
To late Dr (Mrs) Elisabeth Amagah De Campos's children:
–       Raphaël De Campos
–       John De Campos
and her grand children.
Foreword
The conventional wisdom is that ''those who can do and those who can't teach''. The portrait of the absent-minded Dr (Mrs) Elisabeth Amagah De Campos is an apt reminder that we live in a world that is inclined to consign academics to the realm of theorists who are ill-adapted to the practical demands of education and lacking capacity to fit into the paradigm of effective educational management.
This collection by credible academics on Language and Literature for Communication in Human Societies: Papers in Honour of Late Dr (Mrs) Elisabeth Amagah De Campos and edited by Prof. Taofiki Koumakpai, Dr Taofiq A. Alabi, Dr Théophile G. Kodjo Sonou, Dr Samson O. Olatunji, and Dr Comfort Ojonkpot, defies that logic in both substance and orientation. The theme focuses on the practical demands of Language and Literature for Communication in the 21st Century Human Societies. The different Papers contributed have highlighting context, difficulties and challenges while examining and proposing solutions that are adapted to dealing with these challenges of Language and Literature on the one site and Language and Communication on the other side.
It is also a tribute to a thinker and doer who has applied the lessons of constructive thought to the development of federal, state and private universities system internationally and lesson wide. It is remarkable that at the Linguistic Immersion Centre (LIC), university of Ilorin, Nigeria, we have heard much of the changes that her tenure and the success recorded within a short period.
Dr. Samson O. Olatunji,
Linguistic Immersion Centre,
Unilorin, Kwara State, Nigeria
Preface
The book, ''Language and Literature for Communication in Human Societies'' has come out at the right time. It is a collection of papers presented at highly respected academic fora both at home and abroad in honour of late Dr (Mrs) Elizabeth Amagah De Campos, a rare gem in her field of specialization.
The quality and diversity of articles presented in this book are a clear indication of the vital role that language plays in facilitating communication in human societies.We do not speak one language, or half a dozen, or twenty or thirty; about 6000 to 7000 languages are believed to be spoken today in the world. This figure is certainly on the low side.There is until now no language atlas, which can claim to be anywhere near exhaustive. Furthermore, the 6000 to 7000 living languages are themselves the remnant of a much larger number of languages spoken in the past, and all these, vehicle information on all aspects of human endeavors such as travel, trade, medicine, sports, education and government, just to mention a few.
Human language is species-specific. In Greek, one of the definitions of man is ''the animal that speaks''Over centuries, attempts have been made to unravel the mystery behind the origin of human language.  What actually happens in speech, how the spark of conception kindles the spirit of the child, or of mankind generally, to become the spoken word still eludes our grasp.
This collection of literary works written in honour of late Dr. (Mrs) Elizabeth Amagah De Campos and jointly published by Institut Universitaire Panafricain (Panafrican Universty Institute) and Linguistic Immersion Center, University of Ilorin is the right step in the right direction with a skillful use of language, the divine gift.
Dr. Fagbohun Joseph Akanbi,
Executive Director, Institut de Langues,
Cotonou, Republic of Benin.
Post Preface
Dr (Mrs) Elisabeth Amagah De Campos has been a sister in the lord, a mother for many, I mean biological and academical mother. A teacher she has been, a lecturer she as also been, both French and English linguagues, translation and interpretation she has taught at national and international levels. After her doctorat of philosophy (Ph.D) degree in translation University Ibadan (the premier university of the Federal Republic of Nigeria and the second in Africa after the one of Cairo in Egypt), she taught French language and translation in many universities to include Lead University and university of Ilorin. At that university, she was appointed the director of Linguistic Immersion Center (LIC). At that post, she travelled to many countries to bring in to francophone students for language immersion. The partner schools she link up to the university of Ilorin are Panafrican University Institute, Porto-Novo, University of Abomey-Calavi and University of Parakou, all in Republic of Benin. I know that she has so many professional relations across continents, United States, France and United Kingdom where I have carried out
LANGUAGES AND LITERATURE IN EDUCATION
Exploiting the Nexus between Literature-in-English and Language Proficiency for Nigerian Students' Improved Performance in The English Language………………………….
Our Signs Matter: Protecting Sign Language in Adamorobe (Ghana)……………………
Identifying Students' Language Learning Strategies to Remediate Poor Composition Writing in the Junior Secondary Schools…………………………………………….
Wazobia Language: Agent of Achieving National Development, Unity and Integration in Nigeria…….
Relevance of Literary Technique In The Teaching Of English Studies In Nigerian Tertiary Institutions………………………………………………….
Analysis of Phonology of Interlanguage Data of Second Language Learner Using Igbo Language………………………………………………………..
The Future of the English Language in Nigerian Schools………………………………….
Further Threat on Nigerian Languages with a Focus on the Yoruba Language…………………..
A Comparative Feminist Reading of Lola Shoneyin's So all the Time I Was Sitting on an Egg and Halima Usman's Spellbou…
Yorùbá Photoplay Magazine as a Three-Modal Arts – The ATÓKA EXAMPLE……………………
Use of Media in Language Education……………
An Apologia  To Catholic Canonization of Saints: Doctrine and Faith In Religious Studies…………………………………………………………….
LANGUAGES AND COMMUNICATION IN EDUCATION
Language Use for Effective Public Speaking…………………………………………………..
Perspectives in Newspaper Reports on the Court Judgment of 2007 Election Petition in Ekiti State, Nigeria…………………………………………………………………
The Role of Elocution in Improving Learners' Communication Competence……..
The Essence of Communication in the Author-Publisher Relationship: The Nigerian Book Publishing Experience………………………………..
Dimensions of Venue-Oriented Communication in Traditional African Society………………………….
English Grammar for Effective Communication……………………………………………..
1.0. Editorial Board
N°

Full Name

Academic position and Function in the edictorial board

 

1.

Prof. Taofiki Koumakpi

Professor of british literature and civilization.

Director of Publication

 

 

2.

Dr Taofeek A. Alabi

 

Deputy Director of Publication

 

 

3.

Dr Théophile G.

Kodjo Sonou

Senior Lecturer of English as a Foreign Language Education, Translation and Interpretation.

Translation and Public Relations   Secretary

 

 

4.

Dr Samson O. Olatundji

 

Documentation and Deputy Public Relations   Secretary

 

5.

Dr Comfort Ojonkpot

 

Documentation Deputy Secretary

 
NOTES ON THE CONTRIBUTORS
–          Prof Taofiqui KOUMAKPAI
Professeur Taofiqui KOUMAKPAI is full professor or British literature and civilization. He teachers British Literature, civilization and translation at post graduate school of University of Abomey-Calavi (UAC). Republic of Benin. He has also occupied many official functions 30th academic and administration such as head of department of English language studies at the Faculty of Arts. Head of British literature and civilization of the post graduate school of the University of Abomey-Calavi (UAC) and Director of the Cabinet of the President of the social and economic commission Republic of Benin. He has published many articles, journals and books.
–          Dr Taofiq Adebayo Alabi
Dr Taofiq Adebayo Alabi is an Associate Professor and a researcher in the Department of English, Faculty of Arts, University of Ilorin. He is the current Ag. Director of Linguistic Immersion Centre, University of Ilorin. His articles have been published extensively in local, national and international publications. He has also taken part in serveral collaborative research efforts, some sponsored by TETFUND and other agencies. His research interests are in the areas of Stylistics, Systemic Functional Linguistics, and Phonetics and Phonology.
–          Dr Théophile G. KODJO SONOU
Dr Théophile G. KODJO SONOU is a Senior Lecturer of English Language education and specialist of English and French as a foreign language. He teaches in both French and English Department. He has published many articles, and co-edited many journals. He has also published ten books namely:
Initiation à la linguistique et à la stylistique de la langue française;
Langue Française et Organisations Internationales ;
Guide pratique de la traduction ;
Basic French for Beginners
Comprendre la Culture et la Civilisation Française et Francophones ;
Sociology of Educatin in practice ;
Introduction to International Public Relations;
Initiation à la Traduction;
Approches Théorique et Pratique de la Traduction;
–          Dr Samson Olusola Olatunji
Dr Samson Olusola Olatunji is the coordinator of the research, conferences and publications unit of the Linguistic Immersion Centre, University of Ilorin, Kwara State, Nigeria. He has presented papers in many learned conferences in and outside Africa. His articles are in several academic journals and books. He is also on the editorial boards of some national and international journals and has co-edited quite a number of books. His research interests span English Language teaching, use of technology for language pedagogy, mother tongue-based education, language policies and practices and bilingualism, to mention but a few.
–          Comfort Beyang Oben Ojongnkpot
Comfort Beyang Oben Ojongnkpot is a Ph.D. holder in Applied Linguistics from the University of Buea, Cameroon. She is a Senior Lecturer of English language and Linguistics, Department of English and Linguistics, and Coordinator of Language Immersion Programmes at the University of Buea.  Her research interests include ELS Teaching/Learning, Discourse Analysis, Language Endangerment, Revitalization, and Documentation, Sociolinguistics, Language and Culture, Language and Identity, Language and Gender, Writing and Publishing. She is a member of reputable academic associations. Comfort has attended academic conferences and workshops in Africa, Europe, Asia, North America and Canada, where she has presented papers and authored a number of publications.
LANGUAGE AND LITERATURE IN EDUCATION
1. Samson Olusola OLATUNJI, Ph.D. – Linguistic Immersion Centre, Faculty of Arts, University of Ilorin, Ilorin, Kwara State, Nigeria. olatunji.so@unilorin.edu.ng, samsholat@gmail.com and Clement Olusegun Olaniran, KOLAWOLE Ph. D. -Department of Arts and Social Science, Faculty of Education, University of Ibadan, Oyo State, Nigeria, kocycool57@yahoo.com

2. Mary EDWARD, Ph. D. – University of Brighton, Doctoral College m.edward@brighton.ac.uk
3. Moradeyo.O OlaOlorun, Ph. D. Nonye R. Ikonta, Ph.D. and Oyenike. A. Adeosun, Ph.D. , Department of Arts and Social Sciences Education,  Faculty of Education, University of Lagos, Lagos, Nigeria.

olaolorunmoradeyo @ yahoo.com
4. Victoria Kehinde AFOLAYAN (Mrs) Ph. D. – Dept. of Office Technology and Management (Bilingual Unit) The Federal Polytechnic, Offa Kwara State, Nigeria. kafolayan68@gmail.com
5. Christopher Ajibade ADETUYI, Ph. D. – Lead City University, Ibadan
Oyo State, Nigeria.
6. Enu, Evelyn N. Ph.D. – Department of General Studies Education Emmanuel Alayande College of Education, Oyo State, Nigeria
7. Abel O. FANIRAN, Ph. D. – Department of English and Literary Studies Lead City University, Ibadan Oyo State, Nigeria
8. Mary Yemisi LAWORE, Ph.D. – Department of Teacher Education, University of Ibadan Oyo State, Nigeria
9. Akpah Chizoba BARTHOLOMEW, Ph.D. – Department of English University of Ibadan Oyo State, Nigeria
10. Dr. Clement Adeniyi, AKANGBE. – Department of Library, Archival and Information Studies, University of Ibadan
11. Théophile G. KODJO SONOU, Ph. D. – Department of English, Panafrican University Institute, Porto-novo, Republic of Benin. presidentsonou@yahoo.com
12. BALOGUN O. O. E. Ph.D.– Tai Solarin University of Education, Ijagun, Ijebu-Ode, Ogun State, Nigeria,olaniranbalogun56@gmail.com
LANGUAGE AND COMMUNICATION IN EDUCATION
13. Yemi OGINN, Ph. D. – Department of Mass Communication Lead City University, Ibadan Oyo State, Nigeria.
14. Dele OMOJUYIGBE, Ph.D. – Department of General Studies Nigerian Institute of Journalism 8-14, Lateef Jakande House, Ogba – Lagos, Nigeria.  ndeocom@yahoo.com
15. Lydia Ruguru GILBERT, Ph. D. – Kenyatta University. lydguru@yahoo.com
16. Lambert A. Ihebuzor, Ph.D. – Department of Mass Communication Lead City University, Ibadan, Nigeria.
17. Olatoyese Samson JAYEOBA, Ph. D. – Department of General Studies the Polytechnic, Ibadan.
18. Grace OLUTAYO Ph.D. -Bowen University Iwo, Osun State, Nigeria.
19. Dr. MEBITAGHAN, Rita Ochuko. -Delta State University, Nigeria. mebirita@yahoo.com and Dr. MOMBE, Ngongeh Micheal. -University of Portharcourt, Nigeria. mombe200@yahoo.com
2.0. Consultants
N°

Full Name

Academic position and Function in the edictorial board

 

1

Prof. Augustin AINAMON

Professor of American and African Literature and Civilisations in English.

Département d'Anglais,

Faculté des Lettres, Arts et Sciences  Humaines,  Université d'Abomey-Calavi, République du Bénin.

 

 

2

Prof.  Cletus C. IHOM

Professor of African Literature in French

Département de Français,

Faculté des Arts, Université de l'Etat de Benue, Nigeria

 

 

3

Prof. Laure C. ZANOU

Associate Professor of African Literature and Civilisation in English.

Département d'Anglais,

Faculté des Lettres, Arts et Sciences Humaines, Université d'Abomey-Calavi, République du Bénin

 

 

4

Prof. Innocent DATONDJI

Associate Professor of English Language Education.

 

Directeur Honoraire, Ecole Normale Supérieure, Université d'Abomey-Calavi, République du Bénin

 

 

5.

Prof. Joseph FAGBOHOUN

Associate Professor of Translation and Interpretation.

 

Departement de la traduction et de l'interpretation.

 

 

 

 

 

 

 

 
3.0. Article Contributors
LANGUAGE AND LITERATURE IN EDUCATION
N°

Full Name

Article contributed and Page

Adresses

 

 

 

 

1

Dr. OLATUNJI, Samson Olusola

and

Prof. KOLAWOLE,  Clement Olusegun Olaniran

Exploiting the Nexus between Literature-in-English and Language Proficiency for Nigerian Students' Improved Performance in English Language

 

Linguistic Immersion Centre,

Faculty of Arts,

University of Ilorin,

Ilorin, Kwara State, Nigeria.

olatunji.so@unilorin.edu.ng,  samsholat@gmail.com

 

 

Department of Arts and Social Science,

Faculty of Education,

University of Ibadan

Ibadan, Oyo State, Nigeria

kocycool57@yahoo.com

 

 

2

Mary EDWARD

.

Our Signs Matter: Protecting Sign Language in Adamorobe (Ghana)

 

University of Brighton, Doctoral College

 

 

 

3

Moradeyo.O OlaOlorun,

Dr. IKONTA,

Nonye R.

and

Dr. ADEOSUN,

Oyenike. A.

Identifying Students' Language Learning Strategies to Remediate Poor Composition Writing in the Junior Secondary Schools

 

Department of Arts and Social Sciences Education,

Faculty of Education,

University of Lagos,

Lagos, Nigeria.

 

 

 

olaolorunmoradeyo @ yahoo.com

 

 

 

 

 

4

AFOLAYAN (Mrs), Victoria Kehinde

Wazobia Language: Agent of Achieving National Development, Unity and Integration in Nigeria

 

Dept. of Office Technology and Management (Bilingual Unit)

The Federal Polytechnic, Offa

Kwara State, Nigeria

kafolayan68@gmail.com

 

 

 

 

5

ADETUYI  Christopher Ajibade

Relevance Of Literary Technique In The Teaching Of English Studies In Nigerian Tertiary Institutions

 

 

Lead City University, Ibadan

Oyo State, Nigeria

 

 

 

 

6

Dr. ENU, Evelyn N.

Analysis of Phonology of Interlanguage Data of Second Language Learner Using Igbo Language

 

Department of General Studies Education

Emmanuel Alayande College of Education, Oyo

Oyo State, Nigeria

 

7

Dr FANIRAN,

Abel O.

The Future of the English Language in Nigerian Schools

Department of English and Literary Studies

Lead City University, Ibadan

Oyo State, Nigeria

 

 

8

Dr. LAWORE,

Mary Yemisi

Further Threat on Nigerian Languages with a Focus on the Yoruba Language

Department of Teacher Education

University of Ibadan

Oyo State, Nigeria

 

 

9

 

 

Dr. BARTHOLOMEW, Akpah Chizoba

 

A Comparative Feminist Reading of Lola Shoneyin's So All the Time I Was Sitting on an Egg and Halima Usman's Spellbound

 

 

Department of English

University of Ibadan

Oyo State, Nigeria

 

 

 

 

 

 

 

10

 

 

 

Dr. AKANGBE,

Clement Adeniyi

 

Yorùbá Photoplay Magazine As A Three-Modal Arts – The ATỌ́KA EXAMPLE

 

Department

of Library,

Archival and

Information

Studies

University

of Ibadan

 

 

11

Dr. KODJO                                            SONOU,

Théophile G.

 

Use of Media in

Language Education

 

Department of English,

Panafrican University

Institute, Porto-novo,

Republic of Benin. presidentsonou@yahoo.com

 

 

 

 

 

 

 

12

Dr. BALOGUN, O. O. E.

 

An Apologia To Catholic Canonization of Saints:

Doctrine and faith In Religious Studies

 

 

Tai Solarin University of Education, Ijagun, Ijebu-Ode, Ogun State, Nigeria,
LANGUAGE AND COMMUNICATION IN EDUCATION
N°

Full Name

Article contributed and Page

Adresses

 

13

OGINNI,

Yemi

Language Use for Effective Public Speaking

Department of Mass Communication

Lead City University, Ibadan

Oyo State, Nigeria.

 

14

Dr. OMOJUYIGBE, Dele

 

Perspectives in Newspaper Reports on the Court Judgment of 2007 Election Petition in Ekiti State, Nigeria

 

Department of General Studies

Nigerian Institute of Journalism

8-14, Lateef Jakande House, Ogba – Lagos, Nigeria ndeocom@yahoo.com

15

GILBERT, Lydia Ruguru

The Role of Elocution in Improving Learners' Communication Competence

 

Kenyatta University

lydguru@yahoo.com

 

 

 

 

16

Dr. IHEBUZOR, Lambert A.

The Essence Of Communication In

The Author-Publisher Relationship:

The Nigerian Book Publishing Experience

 

 

 

 

Department of Mass Communication

Lead City University, Ibadan, Nigeria

 

 

 

17

Dr. JAYEOBA,  Olatoyese Samson

Dimensions of Venue-Oriented Communication in Traditional African Society

Department of General Studies

 

The Polytechnic, Ibadan

18

Dr. OLUTAYO,

Grace

 

English Grammar

for Effective Communication

 

Bowen University

Iwo, Osun State, Nigeria
LANGUAGE AND LITERATURE
IN EDUCATION
EXPLOITING THE NEXUS BETWEEN LITERATURE-IN-ENGLISH AND LANGUAGE PROFICIENCY FOR NIGERIAN STUDENTS' IMPROVED PERFORMANCE IN ENGLISH LANGUAGE
SAMSON OLUSOLA OLATUNJI, PH.D.
Linguistic Immersion Centre,
Faculty of Arts,
University of Ilorin,
Ilorin, Kwara State, Nigeria.
Olatunji.So@Unilorin.Edu.Ng, Samsholat@Gmail.Com
and
Prof. CLEMENT OLUSEGUN OLANIRAN KOLAWOLE
Department of Arts and Social Science,
Faculty of Education,
University of Ibadan
Ibadan, Oyo State, Nigeria
Abstract
The mass failure recorded annually by Nigerian students in English Language in major examinations has been a serious focus of many studies. Quite a number of reasons adduced to the problem are being addressed through research and government efforts. But there seems to be an important factor that has often been overlooked: the reduction of Literature-in-English into a small portion of English Language at the junior secondary school level and the inadequate importance attached to it in the curriculum. This paper, using critical appraisal of extant literature, discusses the relationship between literature and the various language skills. It compares the English language proficiency of those that graduated in the era of full-fledged status of Literature-in-English in the curriculum with the performance of the current dispensation of neglect of Literature-in-English. It then advocates reinstatement of Literature-in-English in the curriculum.
Introduction
The mass failure of Nigerian students in English Language in various examinations at different levels has assumed so worrisome a dimension that several scholars have either conducted investigations into its causes (Kolawole, 2005) or carried out experiments aimed at eradicating the problem (Kolawole, 1998; Olagbaju, 2014). The problem has, however, persisted over the years. The best performance recorded in the last ten years in the senior secondary certificate examination organised by the West African Examinations Council was in the June edition of 2015. That one was much less than 50% pass (38.68% of the candidates). Nigerian students have been reported to be poor readers (Adeniji and Omale, 2010; Ogwu, 2010; Igwe, 2011), poor listeners, non-proficient speakers and writers in English (Gowon, 2009). This is despite the fact that the English language is the medium of school instruction from the end of the fourth year of primary education, without mastery in which other school subjects cannot but be adversely affected.
In addition to being the medium of instruction that must be well commanded by students in order to pass other subjects, it is perhaps the most obvious cord that links members of the various ethno-linguistic groups that constitute Nigeria as a result of the non-existence of any national indigenous language to take up the all-important role (Fakeye and Ogunsiji, 2009). So, without this language, which cannot be rightly regarded as foreign in Nigeria in the strict linguistic sense, mutual intelligibility among the various ethnic groups would have been absolutely impossible. This is one of the reasons the language cannot be rivaled by any other, not even French that was elevated to the status of second official language by the government of the Late General Sanni Abacha in 1996 (Olatunji, 2000).
The English corpus is the most visible on the Internet and other electronic devices throughout the world (Chapelle, 2003) and well over 80 percent of the world's electronically stored information is in English.  About 36 percent of estimated 200 million people using the Internet employ the English language as a means of communication (Kolawole and Olatunji, 2006). English is attested to enjoy the most intimidating dominance over other languages in international political, cultural and academic communities (Phillipson, 1992; Skutnabb-Kangas, 2000). English is the "hypercentral" language that towers above the "supercentral" (e.g. Arabic, Chinese, French, German, Hindi, Japanese, Malay, Portuguese, Russian, Spanish and Swahili), the "central" and the "peripheral" languages respectively in descending order of prestige, numerical and geographical coverage (De Swaan, 2001:171).The English language is thus a vital means of international functionality for Nigerians as well as other nationalities.
With the great level of prestige and unequaled geographical scope of use of the English language, it is not too surprising that most Nigerians proudly and gladly flaunt self-imposed Anglicisation. They exhibit inordinate preference for the English language even when their indigenous languages are most contextually appropriate (Adegbija, 1994; Owolabi, 2006). Nigerian families would not do such a condescending thing as speak their indigenous languages during informal family discussions, except in cases in which no member understands the English language at all.
From the foregoing, it is clear that the usual poor performance of Nigerian students in English Language as a subject does not reflect their love and adoration for English as a world language. Among the identified causes of mass failure of Nigerian candidates in English Language examinations are many and they include teachers' negative attitudes to work caused by insufficiency of incentives (Ehusani, 2002; Faniran and Olatunji, 2011), inadequacy of textbooks and other essential language learning facilities like the computer (Christopher, 2007), government's non-commitment to education policy implementation (Okediran and Olatunji, 2010), inadequate training of teachers (Omoregie, 2006), teachers' and students' general computers and other information and communication technology illiteracy (Nwokeoma, 2010), a general decay in social values, linguistic interference, dearth of instructional resources, poor teaching methods, large language classes, students' poor language and overloaded curriculum content (Offorma, 2010). All the afore-mentioned investigators into the causes of mass failure in English Language have proffered appropriate solutions in accordance with their findings.
But the current study examines the contribution of the relegation of the subject known as Literature-in-English in the Nigerian secondary school curriculum to the students' poor achievement in English Language. It employs a combination of historical and comparative analyses to examine the general performance of students in English Language in the dispensation in which Literature-in-English was an independent subject throughout the curriculum of Nigerian secondary schools. This is then compared with the trend of performance in the current era in which what used to constitute Literature-in-English in the old days are now significantly shrunk to become a very small portion of the general English Language at the junior secondary school level.
1. The Nexus between Literature-in-English and Students' English Language Proficiency
Literature is language in social action. The literature of any language is a demonstration of various forms of language use in the community in which the language is spoken. It portrays the culture of the speakers. It takes from the language and serves as a means of enriching and perpetuating the language. English literature refers to all literary texts produced by and about the English people. Literature-in-English is the totality of all literary works by and about people all over the world but disseminated through the medium of the English language. Both English literature and Literature-in-English serve as means of enriching students' vocabulary as well developing their overall proficiency in the pragmatic use of the language.
Literature-in-English, which includes English Literature, is one of the subjects that prepare students for communicative competence in the language. It involves, among other activities, the reading of works of local and foreign authors in the three genres of drama, poetry and prose. Through the subject, students have the opportunity of getting exposed to various linguistic styles by reading ample texts. A creditable performance in Literature-in-English is evidence of being an ardent reader. In fact, good Literature-in-English students are most likely to be voracious readers.
Reading is a means by which people tap bodies of knowledge which superior minds have preserved in written or printed formats (Fabunmi and Folorunso, 2010). So, lovers of literature can be expected to be well versed in matters of the linguistic properties of lexical items. They are exposed to various stylistic manifestations of people of different creeds, colours and chronological ages who are practised in the manipulation of English expressions. It is interesting to note that there is none of the genres of literature that fails to present students with ample opportunities for practice in language development.
Hişmanoğlu (2005:61) highlights the benefits of using poetry in English as a Second Language or English as a Foreign Language class as:
1. The appreciation of the writer's composition process, which students gain by studying poems by components
2. Developing sensitivity for words and discoveries that may later grow into a deeper interest and greater analytical ability
Saraç (2003:17-20) also explains the educational benefits of poetry as follows:
3. provides readers with a different viewpoint towards language use by going beyond the known usages and rules of grammar, syntax and vocabulary,
4. triggers unmotivated readers owing to being so open to explorations and different interpretations,
5. evokes feelings and thoughts in heart and in mind,
6. makes students familiar with figures of speech (i.e. simile, metaphor, irony, personification, imagery, etc.) due to their being a part of daily language use.
It is common knowledge that poetry is the genre of Literature that students dread most and perceive as somehow esoteric in nature (Meehan, 2014; Foster, 2015; Maxwell, 2015; Westover, 2017). It is the genre for which, to borrow Leopold Sedar Senghor's expression in his popular poem "I will Pronounce Your Name", one may need to "become a sorcerer" in order to comprehend and savour. Gasparro and Falletta (1994) assert that creating drama from poetic pieces in a second language classroom has the advantages of an exciting language learning experience in the form of exploration of the linguistic and conceptual aspects of the written text, intonation, rhythm, stress, slang, and idiomatic expressions as the poems are being interpreted. One of the most important advantages of this is that students are spared concentration on the mechanics of language, which they often find boring and sometimes frustrating, while enjoying the privilege of authentic language learning contents in what Adegbija (1989) refers to as "pragma-sociolinguistic contexts". If such a seemingly dry genre of Literature offers the variety of benefits identified by Hişmanoğlu (2005), then those that removed Literature-in-English from the curriculum of the junior secondary schools in Nigeria have done more terrible disservice to the students than can be adequately fathomed.
Hişmanoğlu (2005) highlights twelve linguistic advantages of using short stories in language teaching on pages 61 and 62, sixteen advantages of drama on pages 62 and 63, and fourteen benefits of novels in a language class on pages 63 and 64. This shows that there is no genre of literature that does not provide a language classroom with potential ingredients for successful teaching and learning.
It is also noteworthy that literary texts are useful in facilitating students' mastery of any language learning content imaginable. The use of literary texts in explicit grammar instruction enhances meaningful acquisition of grammatical forms for meaningful real life communication with the acquired forms (Paesani, 2005). Literature is a technique that is being popularly and successfully employed in teaching basic language skills (i.e. reading, writing, listening and speaking) and language areas (i.e. vocabulary, grammar and pronunciation) in advanced countries (Hişmanoğlu, 2005). Liaw (2001) concludes from an experiment that the use of literary books, especially if the Reader-Response Strategy is employed, enhances both linguistic and cultural understanding of students' reading in a foreign language.
Since literary skills are transferable from one language to the other (Proctor, August, Carlo and Snow, 2006), it is reasonable to infer that literary skills are transferrable to non-literary endeavours in the same language. Skills learnt in Literature-in-English class are bound to have positive interference on the beneficiaries' proficiency in the English language. This spill-over effect on other school subjects can also be expected to go far. The range of educational problems that will be significantly reduced through the promotion of literature may be surprising.
One pervasive but erroneous opinion is that literature has nothing to offer students in the sciences. But the College of Medicine at the University of California has proved the usefulness of literature to all-round preparation of medical practitioners. The curriculum of the university's Programme in Medical Humanities and Arts includes the use of poetry and prose, especially about and often written by doctors and patients; narrative ethics, performing arts, readers' theater, plays, musical performance and dance.  This was introduced as an intervention strategy when it was discovered that the contents of humanism, empathy, altruism, and self-reflection in the medical curriculum were not being actualized as desired. But since the introduction of this programme, significant positive changes have been recorded (Shapiro and Rucker, 2003). This shows that even the students that are planning to opt for the scientific fields still need the impact of literature for language mastery as well as other areas of needed knowledge development.
Paradoxically, it is nowadays that effective reading skills are much more crucially needed that Nigerian students read much less (Fabunmi and Folorunso, 2010). To worsen the matter, the Nigerian government has terribly reduced the scope of Literature-in-English, a subject that could help sustain the need to read wide, in the secondary schools, especially at the junior secondary school level. Unfortunately, Nigerians are not known to be fond of patronizing libraries or buying interesting books from bookshops to read for pleasure.
Fabunmi and Folorunso (2010) attribute the fact that the Nigerian secondary school leavers of the missionary times demonstrated super fluency in English language and their reading and writing dexterity was really noticeable while those of the present age cannot favourably compare with the former due to a wide difference in reading cultures which results from different types and degrees of exposure to reading at school. This conclusion from the comparison of the two dispensations in Nigerian history cannot be faulted. Though there are additional variables responsible for the wide disparity in language proficiency, judicious reading of copious literary texts could have gone a long way in bridging the gap, if not make the comparison in favour of the present generation. This cannot be an overstatement considering the fact that literary texts have didactic qualities in addition to the linguistic and aesthetic properties (Nodelman, 2000; Nord, 2005).
Some scholars, Zughoul (1986) for example, are of the opinion that Literature does not deserve much space in the language curriculum because the use of language in Literature sometimes deviates from the normal or common (Obeidat, 1997). This, viewed from a positive angle, however, is strength rather than a weakness of literature because it is a means of giving students exposure to a variety of actual and authentic language uses and usages. It is just the responsibility of the teacher to call special attention to such deviations and instruct the students concerning the limitations as well as the beauty of such deviations. `
Paran (2008) acknowledges a resurgence of the use of literature in language teaching and an attendant widespread research other climes. These should serve as a strong indication of the immense benefits inherent in employing literature to teach various aspects of language topics. Literature is a strategy for language teaching and learning with great fun. The aesthetic properties of literary texts help students learn new language learning contents in manners somehow comparable to watching movies.
It can be reasonably pointed out that even if Literature-in-English is now re-emphasised in the curriculum, the terrible deed in the form of irredeemably poor reading culture it has done may not be reversible. Literature requires extensive reading while an average Nigerian would rather surf the Internet or watch movies (Gowon, 2009; Olatunji, 2011). In a study by Edem and Ofre (2010), 61.5% of the respondents confessed their preference for internet browsing to reading of books in print.
The advent and growth of the electronic media can, however, be harnessed to promote literature and reading. According to Christopher (2006), the Internet has become a formidable marketing medium for both the physical book as well as its virtual version in the original format to previously inaccessible places. In the same vein, the media of radio and television and even handsets should be seen as potential instruments for the promotion of literature-in-English and reading for pleasure (Salau, 2006; Oyewusi and Ayanlola, 2014). Akudolu's (2002) advocacy for ICT-driven curriculum is, therefore, appropriate for a successful promotion of Literature-in-English in the Nigerian system so that all the attendant benefits may follow. The media can be employed firstly to propagate the message of the benefits of taking literature either as a formal subject of study or a leisure time activity. Secondly, virtual Literature-in-English classes can be held through the media. Recommended texts for the various public examinations can be extensively discussed in such programmes. Authors of the recommended texts can be interviewed, and the phone-in features that have been incorporated into such outfits' productions can also be employed.
2.      Nigeria, Curriculum Change and Literature-in-English as a Victim
Curriculum change is both unavoidable and desirable because the society it is designed to serve is not static (Nakpodia, 2010; Oyeleke and Akinyeye, 2013). As both the perceived as well as the felt needs of the society change, the curriculum that is tailored towards taking care of such needs, too, undergo either modification or total overhaul as the case may be. Nigeria is not an exception to this noble rule. Various relevant associations and government establishments (for example, the National Educational Research Development Centre), in response to research based recommendations, revise the curricula at various levels of education in Nigeria periodically.
Oyeleke and Akinyeye (2013) identify such epochs in the historical trends of curriculum innovation in Nigeria as the informal traditional curriculum era, the missionary era, colonial intervention era and the post-colonial era. Each of these has its distinct features as responses to the unique needs and goals of the age though some features necessarily cut across. But the current dispensation is that in which reading has been most badly hit.
The curriculum changes are meant to improve the quality of education and as well as its functionality. But since there are bound to be various perspectives to every issue and different, even conflicting, interests, situations in which counter-productive items are introduced into a curriculum are not always easy to prevent. The frequency of policy and curriculum changes in the Nigerian education sector has been variously observed (Kotirde and Yunos, 2014; Akpan, 2017). Such changes have, however, resulted from aggressive agitations from some pressure group or the other. It is, however, quite reasonable and safe to conclude that the most crucial stakeholders were not involved in the decision to reduce the literature content in the Nigerian secondary school curriculum. A situation in which, like in the survey conducted by Oloruntegbe (2011), most teachers are not involved in the pre-implementation stages of a new curriculum and the few that claimed to have been involved (38% of secondary school teachers drawn from the six southwestern states of Nigeria) merely had the privilege of being earlier informed in seminars about a curriculum that had been concluded for introduction cannot be expected to have included the benefits of inputs from a wide range of practitioners.
The fact, as testified to by Fabunmi and Folorunso (2010), is that the graduates from the curriculum that placed premium on the study of Literature-in-English and extensive reading excelled the graduates from the current non-Literature-curriculum at the junior secondary school level in activities requiring English language proficiency. This is a clear pointer to the wrongness of relegating the reading of literary texts to the level of a minute component of the English Language syllabus at the junior secondary level. To bring back the English language proficiency of the old days in Nigeria, therefore, the culture of extensive reading of literary texts should be encouraged.
Poor listening, reading, speaking and writing skills can be eradicated through proper teaching of Literature-in-English (Hişmanoğlu, 2005). This is because well written literary texts engage the totality of the human personality. Aina (2011) observes that reading stimulates curiosity and imagination, encourages quick learning, and expands horizons. It is undeniable that these are achieved much more easily through the reading of literary texts than the traditional subject-based texts that students often find dry and cumbersome.
Conclusion
Critical interrogation of extant literature shows that the decline in the English language proficiency of Nigerian graduates has been largely aggravated by the lackluster attention given to Literature-in-English and extensive reading for pleasure in the current secondary school curriculum. Literature is language in various dimensions of actions and manifestations. Interestingly, there is no genre or sub-genre of Literature-in-English that is not useful for language teaching and learning. There is also no language learning content that literary texts cannot be used to teach. Well crafted literary texts make language topics come alive. Therefore, a Bring-Back-Literature-in-English Campaign should not be seen as an exercise meant for the idlers. It is a campaign that deserves urgency and tenacity of purpose.
Recommendations
1. Literature-in-English should be reinstated to its former status of a full-fledged subject in the curriculum of the junior secondary schools in Nigeria;
2. Incentives in forms of enviable prizes should be instituted for students that excel in Literature-in-English at all levels of the Nigerian education;
3. Literary and debating activities should be integral components of the school curriculum in which students from all discipline sections are to be encouraged to participate;
4. School libraries are to be stocked by the government with the latest books in various reading interests and news materials;
5. Government should encourage research into students' reading interests as well as innovative pedagogic strategies that can boost students' interest in books;
6. Supply of electronic forms of books (and even animated where possible) to school libraries should be considered a top priority;
7. As has been done to generate huge sums for the Education Trust Fund, the various national and multinational companies that waste huge sums on promotion of profanity should be encouraged to donate books in large quantities to school libraries instead;
8. Government should reduce import tariffs on printing materials while encouraging local production of such materials as much as possible in order to make books affordable to even the poorest of Nigerians; and
9. Curriculum change should not be based on the recommendations of "experts" who have lost touch with the realities on ground at the different levels of the Nigerian education. All sectors of the stakeholders, especially the concerned students and their teachers who have first-hand experience of the classroom realities must be adequately consulted.
References
Adegbija, E. E. (1989). Teaching English in Nigeria: The importance of the pragmatic and         sociolinguistic context. Language, Culture and Curriculum 22(3), 195-202.
Adeniji, M. A. & Omale, A. (2010).Teaching Reading Comprehension in Selected Primary        Schools in Oyo State, Nigeria.Library Philosophy and Practice (e-journal).Paper 349.
http://digitalcommons.unl.edu/libphilprac/349
Aina, A. J., Ogungbeni, J. I., Adigun, J. A. & Ogundipe, T. C. (2011).Poor Reading Habits       among Nigerians: The Role of Libraries. Library Philosophy and Practice
Akpan, B. (2017). Science Curriculum Development Initiatives.In Science Education 183-            198.SensePublishers.
Akudolu, L. (2002). Restructuring Nigerian Secondary Education System through Information             and Communications Technology (ICT)-Driven Curriculum.Journal of the World        Council for Curriculum and Instruction, Nigeria Chapter 3(1), 7-17
Christopher, N. M. (2006). Books, Education and Literacy in Nigeria's Development. Literacy and Reading in Nigeria 11(1), 65-63
Christopher, N. M. (2007). Literacy Development without Books. Paper presented at the First   Mid-Term Conference of the Reading Association of Nigeria held at the Conference           Centre, University of Ibadan from 9th to 13th October, 2007.
Edem, M. B., & Ofre, E. T. (2010). Reading and internet use activities of undergraduate students         of the University of Calabar, Calabar, Nigeria. African Journal of Library, Archives and            Information Science, 20(1), 11-19.
Ehusani, G. (2002). The Plight of Education and the Status of Teachers in Nigeria: Issues and   Challenges. Paper presented at the Forum on Cost and Financing of Education in Nigeria      organised by the Education Sector Analysis, Federal Ministry of Education at Sheraton           Hotel, Abuja, September 18-19, 2002.
Fabunmi, F. A. & Folorunso, O. (2010). Poor Reading Culture: A Barrier to Students' Patronage          of Libraries Selected Secondary School in Ado Local Government Area of Ekiti-State,       Nigeria. African Research Review (Multidisciplinary)4(2), 450-461
Fakeye, D.O. & Ogunsiji, Y. (2009). English Language Proficiency as a Predictor of Academic
Achievement among EFL Students in Nigeria.European Journal of Scientific Research   37(3), 490-495
Faniran, A.O. and Olatunji, S.O. (2011). The Place of Interest in Pre-Service English Teachers' Choice of Occupation: a Case Study of Selected Nigerian College of Education Students. Ife Psychologia 19(1), 129-144
Foster, D. W. (2015). Christian Allegory in Early Hispanic Poetry.University Press of     Kentucky.
Gasparro, M. & Falletta, B. (1994).Creating Drama with Poetry: Teaching English as a Second Language through Dramatization and Improvisation. ERIC Digest.
Gowon, R. P. (2009). Effects of Television and Radio on Speaking and Skills of Senior             Secondary School Students in Jos Metropolis.African Research Review         (Multidisciplinary) 3(2), 92-108
Hişmanoğlu, M. (2005).Teaching English through Literature.Journal of Language and Linguistic Studies 1(1), 53-66.
Igwe, K. N. (2011).Reading Culture and Nigeria's Quest for Sustainable Development.Library Philosophy and Practice(e-journal).Paper 482.
http://digitalcommons.unl.edu/libphilprac/482
Kolawole, C.O.O. 1998. Linguistic Inputs and Three methods of Presentation as Determinant of             Students Achievement in Senior Secondary School Essay Writing.Thesis.Education.         University of Ibadan.xvi+187
Kolawole, C. O. O. (2005). The State of Reading in Selected Secondary Schools in South-        Western Nigeria: A Preliminary Report. In Ayorinde Dada, Alade Abimbade and Olusegun Olaniran Kolawole (Eds.) Issues in Language, Communication and Education.           A Book of Reading in Honour of Caroline A. Okedara. Ibadan: Department of Teacher     Education, University of Ibadan. Pp. 98-109.
Kolawole, C.O.O. and Olatunji, S.O. (2006).Attitude to the Use of ICT in the Teaching of        English Language in Selected Junior Secondary Schools in Ibadan             Metropolis.Nigeria     Journal of Computer Literacy 7(1), 1-15
Kotirde, I. Y., & Yunos, J. B. (2014). The supervisor's role for improving the quality of teaching          and learning in Nigeria secondary school educational system.International Journal of             Education and Research, 2(8), 53-60.
Liaw, M. L. (2001). Exploring literary responses in an EFL classroom.Foreign Language           Annals, 34(1), 35-44.
Maxwell, D. E. S. (2015). The poetry of TS Eliot (Vol. 6). London and New York: Routledge.
Meehan, S. R. (2014). American Metempsychosis: Emerson, Whitman, and the New Poetry.      Nineteenth Century Literature, 68(4), 550-552.
Nakpodia, E. D. (2010). Culture and curriculum development in Nigerian Schools.African         Journal of History and Culture (AJHC) 2 (1), 001-009.
Nodelman, P. (2000). Pleasure and genre: Speculations on the characteristics of children's          fiction. Children's Literature, 28(1), 1-14.
Nord, C. (2005). Text analysis in translation: Theory, methodology, and didactic application of a           model for translation-oriented text analysis (No. 94). Amsterdam: Rodopi.
Nwokeoma, J. (2010). Exam Failure, Education Minister and the Dearth of Teachers in Nigeria.The Will. Retrieved 15th December, 2010 from
http://thewillnigeria.com/opinion/5994-EXAM-FAILURE-EDUCATION-MINISTER- AND-THE-DEARTH-TEACHERS-NIGERIA.html
Obediat, M. (1997).Language vs. literature in English departments in the Arab world.    In        English Teaching Forum 35(1), 30-37).
Offorma, G.C. (2010). Curriculum across Languages. 49th Inaugural Lecture, University of       Nigeria, Nsukka
Ogwu, M. F. (2010). Reading Culture as a Tool for Promoting Educational Development in       Nigeria.Journal of Communication and Culture: International Perspective 1(3), 102-107
Okediran, A; and Olatunji, S.O. (2010).New horizons in the use of Nigerian indigenous             languages in education.Ghana journal of education and teaching, 11:183-198.
Olagbaju, O. O. (2014). Explicit and Generative Instructional Strategies and Senior Secondary School Students' Learning Outcomes in Summary Writing in Ibadan Metropolis, Nigeria.          Ph.D. Thesis, University of Ibadan.
Olatunji, S. O. (2000). Problems and Prospects of Adoption of French as the Second Official    Language in Nigerian Secondary Schools. M.Ed. Dissertation, University of Ibadan
Olatunji, S.O. (2011). Effects of Senior Secondary School Students' Home Video and Cyber Sub-cultures on their Reading Habits in a Southwestern Nigerian City.International Journal of Basic Education (IJOBED) 1:1:146-154
Oloruntegbe, K. O. (2011). Teachers' Involvement, Commitment and Innovativeness in
Curriculum Development and Implementation. Journal of Emerging Trends in Educational Research and Policy Studies (JETERAPS) 2(6), 443-449
Omoregie, N. (2006). Inadequacies in Teacher Education in Nigeria: the way out. Arts and Education. Retrieved September 4, 2008 from
http://www.idahosauniversity.com/publications/index.php?option=com_content&task=v
Owolabi, K. (2006). Nigeria's Native Language Modernization in Specialized Domains for        National Development: A Linguist's Approach. Inaugural Lecture, Ibadan: University of Ibadan
Oyeleke, O. & Akinyeye, C. O. (2013).Curriculum Development in Nigeria; Historical   Perspectives.Journal of Educational and Social Research 3(1),73-80
Oyewusi, F. O. & Ayanlola, A. O. (2014).Effect of Mobile Phone Use on Reading Habits of
Private Secondary School Students in Oyo State, Nigeria.School Libraries Worldwide 20(1), 134-145
Paesani, K. (2005). Literary texts and grammar instruction: Revisiting the inductive presentation.             Foreign Language Annals, 38(1), 15-23.
Paran, A. (2008). The role of literature in instructed foreign language learning and teaching: An             evidence-based survey.Language Teaching 41(4), 465-496
Phillipson, R. (1992). Linguistic Imperialism. Oxford: Oxford University Press.
Proctor, C. P., August, D., Carlo, M. S. & Snow, C. (2006).The Intriguing Role of Spanish        Language Vocabulary Knowledge in Predicting English Reading Comprehension.   Journal of Educational Psychology 98(1), 159-169.
Shapiro, J. & Rucker, L. (2003). Can Poetry Make Better Doctors? Teaching the Humanities and          Arts to Medical Students and Residents at the University of California, Irvine, College of          Medicine. Academic Medicine 78(10), 953-957.
Skutnabb-Kangas, T. (2000).Linguistic Genocide in Education – or Worldwide Diversity and      Human Rights?Mahwah, NJ & London: Lawrence Erlbaum Associates
Salau, S. (2006). Prospects on the Use of Television in Promoting literacy Education in Nigeria.             Literacy and Reading in Nigeria 11(1),92-98
Westover, J. (2017). The Astral HD: Occult and Religious Sources for HD's Poetry and Prose, written by Robinson, Matte. Religion and the Arts, 21(4), 576-578.
Zughoul, M. R. (1986). English departments in Third World universities: Language, linguistics,             or literature. In English Teaching Forum 24( 4), 10-17.
OUR SIGNS MATTER: PROTECTING SIGN LANGUAGE IN ADAMOROBE (GHANA)
MARY EDWARD
University of Brighton, Doctoral College
*
Abstract
The linguistic documentation of sign languages sometimes present a challenge with respect to the question of who to involve in the documentation process. This paper presents a way of meeting this challenge in the linguistic documentation of an endangered sign language. In documenting Adamorobe Sign Language (AdaSL), a village sign language in Ghana, the research team and the local signers, work together; each group providing their expertise in the data collection and annotation. The linguistic research team provides the linguistic insight and the local signers provide the language data, sociolinguistic information and contribute to data annotation. The whole team works on creating language materials, for example a sign database and resources for teaching, which will be made available online when the project is completed. The paper also discusses the need for language documentation in Adamorobe to preserve the endangered sign language from possible extinction. Education and empowerment of deaf societies are enlisted as means to bridge the gap between deaf and hearing research groups and ultimately protect village sign languages.
Keywords: Sign language, language documentation, deaf community, deaf empowerment, language endangerment, language preservation
Introduction
One question that has never ceased to amaze me is, what do you need sign language for? I am still startled when people look at me in surprise for the fact that I decided to choose sign language as my language choice for research. There are many reasons. Sign language remains understudied compared to spoken languages. Moreover, very little research has been done to date on sign languages in Africa compared to sign languages elsewhere in the world. Human language is multifaceted, and occurs in two modalities: spoken and signed. The ability to understand the language in the visual-gestural mode is important to fully understand the capacity for human language. Several years of researching and using signed language led me to realise the joy and pleasure it brings to see Deaf communities empowered to act. My research focuses mainly on Ghanaian Sign Language (GSL) and Adamorobe Sign language (AdaSL), both used in Ghana. In this paper, I seek to present on a collaborative research between local signers in Adamorobe and its contribution to documenting AdaSL.
Linguistics studies on sign languages began in the 1960s when William Stokoe presented his seminal study (Stokoe 1960) that established American Sign Language (ASL) as a full-fledged human language. There has been much research since this ground-breaking study, and the linguistic structure of sign language on all levels has been demonstrated without doubt (see e.g. Pfau et al. 2012; Sandler & Lillo-Martin 2006). Sign languages are natural human languages and although they remain much less researched than spoken languages, there is evidence that the future of the linguistic enterprise in sign language research is very bright. Most of the linguistic research on sign languages has been done on American Sign Language (ASL), but the landscape of research has extended across all areas of the globe. The increasing amount of research developing in the field is testimony to the potency and viability of sign language linguistics as an academic research field. One common misconception among hearing non-signers is that all deaf people sign the same and sign language is a universal language. The reality is that sign languages develop naturally in deaf communities, and there are hundreds of sign languages around the world. This includes national (urban) sign languages like American Sign Language (ASL) or Ghanaian Sign Language (GSL), as well as village sign languages like Adamorobe Sign Language (AdaSL) used in rural communities with a high genetic incidence of deafness. Sign languages differ in their lexicon and grammatical structure, and one sign language will not be intelligible to a user of another sign language.
Over the centuries, many deaf people (and others with disabilities) around the world have had their rights systematically abused and some were even considered not worthy to partake in communal activities (Lang 2010, Miles 2004, Baldwin & Johnson 2000). Many deaf people were lost in their own world and no attempt was made to reach out to them. Parents with deaf children hid them from the public and they were not educated like their contemporaries and other deaf youth were sexually abused (Sullivan et al. 1987). The infamous Milan Conference held in 1880 resulted in making oralism (speech), instead of manual communication, the mode of education in deaf schools around Europe (Vermeerbergen 2006). Miles (2004) reports on deafness in African histories from 1450s-1950s. The historical record that was compiled from previous documentation revealed the role that deafness played in the lives of those that lived around that period. In this report, deaf people took on a range of roles within society, from heroic roles like chiefs and judges to submissive roles as entertainers and servants. In Asonye et al. (forthcoming), a paper on deafness in Nigeria, it is revealed that deaf stigmatization begins within the families and extends to the community, and is more intense in the early days of the deaf child to early adulthood.
The history of deaf discrimination around the world (Lang, 2010; Plann, 1997) reveals the struggles of deaf lives in the quiet years, when sign language was prohibited in schools. After decades of linguistic battle, sign languages have become recognised and respected as full-fledged human languages, and have also slowly found their way back into deaf education. This has drastically affected deaf lives, as societies around the world have come to accept deaf people as equal part of the society[1]. Language and communication is embedded in deaf societies and the study of deaf communities must ultimately involve not only the study of their languages but also language documentation. Sign languages just like spoken languages risk endangerment and extinction, and there, documentation is thus an important goal. One famous example is the Martha's Vineyard sign language that was actively used by a community in Massachusetts (USA). This community is recorded to have had an active sign language that was used by both deaf and hearing people and this sign languages existed for over 200years before becoming extinct (Groce, 1988).
1. Adamorobe in perspective
Adamorobe is in the Eastern Region of Ghana and the community is noted for the high rate of genetic deafness. The major spoken language in Adamorobe is the Akuapem Twi dialect of Akan. Other languages that are used by few minorities of the community are Adamorobe Sign Language (AdaSL), Ghanaian Sign Language (GSL), Ga, Ewe, Krobo and English. The linguistic diversity of the community is a result of migration of people into the community for work, marriage and other social factors. AdaSL is an indigenous village sign language used in Adamorobe (Edward, 2015a; Nyst, 2007). Village sign languages develop within small communities or villages with a high incidence of hereditary deafness (Meir et al. 2010). The Adamorobe community is noted for its unusually high incidence of hereditary deafness at an estimated 1.8% of the total population (Edward, 2015a) which is a reduction from 2% in 2001 (Nyst, 2007). The reduction is believed to have resulted from the laws instituted by their former chief that prevented marriage between two deaf people (Nyst, 2007; Kusters, 2012) or the migration of different people into the community (Edward, 2015b). Adamorobe had a marriage law in the past that prevented deaf-deaf marriages (Kusters, 2012; Nyst 2007) and the reason for this could be attributed to the genetic counselling given based on medical research on deafness in Adamorobe carried out in 1972. (c.f. Nyst, 2007). Although this law is not as binding as it used to be, it has resulted in several childless marriages among deaf couples in Adamorobe.
AdaSL is independent of GSL and of the surrounding spoken language Akan, though there is some influence of Akan on AdaSL structure. Akan is a Kwa language which is known for its noun classes, grammatical nouns and serial verb constructions (Osam 1993:153, Osam 2003:2). Miles (2004:536) reports that deaf Adamorobeans"are the first substantial historical group of African people known to have used a formal sign language". Deaf adults in Adamorobe communicate by clicks, mouthing and hand signs. AdaSL uses a lot of serial verb constructions, similar to what is found in Akan, and in contrast to GSL and many other sign languages (Nyst, 2007). GSL and Nigerian Sign Language (NSL) are ASL-based sign languages (through the missionary work of Andrew Foster) and both languages are mutually intelligible with few lexical and structural differences[2]. GSL and NSL are urban sign languages and actively used in educational settings and in all informal and formal interactions that involve deaf people. In contrast, AdaSL is only known and used in Adamorobe; outside the village community, the language for the deaf is GSL. In terms of socio-cultural and socio-economic factors, the situation of AdaSL is very similar to that of Bura Sign Language which is used in the Hausa community in the North-East of Nigeria (Blench & Warren, 2005). Adult signers in both sign languages (AdaSL & Bura SL) have limited education, and in both communities, deafness is caused by a genetic mutation. AdaSL is an endangered sign language because over the years, deaf children from Adamorobe have attended a boarding school for the Deaf in Mampong-Akuapem, which uses GSL and the children are gradually shifting from AdaSL to GSL (Edward, 2015b; Nyst, 2007). Visits to the community over the last year have revealed a gradual decline in the use of the sign language (c.f. Edward, 2015b).
Vernon and Andrews (1990:197) state that « [d]eafness is a psychological variable which influences the behaviour of deaf persons such that their life experience differs in some consistent ways from that of those who are not deaf ». In Adamorobe, deafness has been accepted as part of the community's heritage. One deaf person reported that, in the past, several researchers visited the community because of them. In Adamorobe community, the hearing people have learnt to share their lives with deaf people and this includes a section of hearing signers who also have a positive outlook for deaf people in Adamorobe. AdaSL is regarded as signed Akan by some section of hearing signers in Adamorobe and they believe that using AdaSL is tantamount to signing Akan (Edward, 2015a & 2015b; Kusters 2012).
2. Sign language documentation
My current research promotes language documentation to save AdaSL from possible endangerment. This documentation will ultimately prevent AdaSL from suffering the fate of Martha's Vineyard Sign Language (Groce, 1985). My MA and PhD projects have involved fieldwork trips to Adamorobe, and working closely with community members. Factors that contribute to languages becoming endangered in societies include assimilation to another language, lack of speakers, lack of documentation, and unfavourable laws that cause stigmatisation of the users of the language. The problem in Adamorobe can be traced to the death of most adult members of the deaf community, the marriage law, inactive use of AdaSL outside Adamorobe, the gradual assimilation to GSL by younger signers and the lack of documentation (Edward 2015a, 2015b & forthcoming; Kusters 2012, Nyst, 2007). Documentation of the language is crucial in light of these factors, and will help preserve use of and interest in the language, as well as providing a record of linguistic and cultural heritage. Further linguistic description, for example, will make it possible to compare AdaSL to other village sign languages in Africa and around the world to determine the typology of village sign languages.
The need for collaborative work between the linguist and the deaf community is important for the success of a documentation project. In this current project in Adamorobe, documentation is a joint effort between the researcher and the deaf signers. Documentation of AdaSL is an urgent remedy to save the endangered language from possible extinction. The documentation is embedded in social interventions that give an open door to the deaf community (within Adamorobe) which was before shut from the outside world. Stigmatisation of deaf Adamorobeans is largely attributed to the marriage law and the need to have "no more deaf" (Kusters, 2012). Working to establish a cordial relationship with the deaf community and encouraging deaf individuals to support people within academia to help document sign languages is an important step to emancipate deaf people from the ideology of rejection and ultimately protect the language and the culture.
3. Deaf Education
Educating deaf children is one of the challenges in Africa and most deaf children within rural communities tend to suffer from lack of education more than their counterparts in the urban societies (Edward, forthcoming). In my interactions with deaf communities, it was evident that most parents with deaf children consider them as the unfortunate gifts of God. These parents tend to show favouritism towards their hearing children as compared to deaf children. The unfortunate deaf children born in some villages[3] do not even get the opportunity to be educated and they grow up having to develop gestural resources in order to communicate with friends and family. They tend to learn few signs from the national sign languages when they encounter other educated deaf people. Few deaf who could not have an early start in school manage to start school just before they become teenagers (at the time that their hearing counterparts are about to start Senior High School). However, the fortunate ones who begin school with hearing children of their age manage to climb the academic ladder with swiftly and smoothly and compete at the same level with little or no challenge at all. Some of these deaf people collaborate with other hearing people to champion the cause of deaf people. Recent interviews show that most of the young deaf are educated to the Junior High School level and others to the vocational level. It is however a disheartening situation that mostly deaf girls find it difficult to complete their education because of lack of opportunities or teenage pregnancy.
4. Deaf empowerment
Currently, the adult deaf population in Adamorobe are mostly involved in farming and a few others are self-employed or have part-time jobs in a nearby stone quarry. There is also the younger deaf population who are either unemployed or are still receiving their education. A discussion with two girls revealed that they are not so much interested in higher education. They just want to find jobs after school, marry and make a good life for themselves. One means to empower the deaf in Adamorobe is through intervention by advocacy. The teenage deaf members of the community are encouraged to take their education seriously and those who have dropped out of school as a result of pregnancy are encouraged to return to school if they can[4].
In Abuja and Imo states (Nigeria), the deaf-hearing advocacy programmes organised by SDELI[5] are encouraging and supporting talent and skill development among deaf children and young adults (Asonye et al., forthcoming). In Ghana, such social interventions are usually carried by churches and other NGOs. Working together with some colleagues and other donors, we have made donations (basically clothes and accessories) to deaf Adamorobeans[6]. This supports some of their basic needs and provide an avenue for us to interact and share ideas with them. In a similar language documentation task, a post-doctoral researcher from the University of New Mexico (USA), collaborated with several groups and individuals (including myself) to document the sign language used in Abuja and Imo (both in Nigeria)[7]. This project identified potential deaf talents which are currently being groomed and fostered to unearth their potential.
5. Involving Everyone
Documenting and working on AdaSL has been an interesting task; it has been involving but rewarding. I work with a team made up of a hearing signer of AdaSL, a user of GSL who knows AdaSL signs and a team of volunteers. The language data is recorded and managed by myself, Jay (AdaSL hearing Signer), FB (GSL signer, proficient in AdaSL) and the consultants (deaf Adamorobeans). The other team members provide social support to the people[8]. Deaf consultants provide the language data and the data is elicited through naturalistic means, designed interviews and elicitation with stimulus materials mostly captured with video camera. The AdaSL consultants, being aware of the endangered nature of their sign language, collaborate by creating opportunities for the researcher and other deaf members to meet and interact. Through these meetings and interactions, both researcher and consultants provide avenues for sharing ideas and contributing to the database of AdaSL and other sociolinguistic information are given.
Data that has been gathered so far ranged from individual signs, storytelling, narratives and video retelling. The project is ongoing and we hope that the database can be increased to include more signs.The database is currently used for educational purposes and will ultimately be compiled to create an online dictionary for AdaSL. This dictionary will be accessible worldwide for educational and non-educational purposes. Furthermore, comparative research work is currently being done by the author, comparing iconic structures in AdaSL and GSL to find out the typology of iconicity in rural and urban sign languages used in Ghana. Training and equipping the teachers of deaf schools (both deaf & hearing) to focus on literacy, and deaf child development is another step to gradually bridge the gap as these trainers will in turn transfer the knowledge to their students.
Conclusion
The sign language of Adamorobe is as important as any language used in Ghana. The fact that it remains a minority language makes documentation and linguistic analysis all the more important.The earlier the documentation is done, the better, to preserve the endangered language. To conclude, collaborations between researchers, deaf scholars, the community and deaf individuals are relevant to bridge the gap between the academia and the community in Adamorobe.
Language is intertwined in societies and linguists have the duty to preserve every language from possible endangerment. Tentatively, "the scientific examination of African sign languages is of major importance to the emancipation and participation of deaf Africans in society" (Nyst, 2013:77). The early history of deafness and the use of sign languages among African societies is scattered in stories that revealed that deaf societies have existed for several centuries (Miles 2004). However, research on African sign languages over the years, has not reached the level of gradually demystifying the assertion among non-linguists that sign language is gestures and pantomimes.
The relationship between language use and language development among deaf cultures display the intricacies of sign language documentation and description. Whereas linguists working on American and European sign languages can conduct armchair research works based on available data banks, data on African sign languages remain insufficient (if not unavailable for most under- or undescribed sign languages) and fieldwork becomes a necessary aspect of research work. The complexities of sign language demand a viable approach to data collection, description and storage. The best approach to data collection and storage (for future use) is through videoing, encoding and annotation and this multimodal approach requires a collaborative effort between language users and researchers to achieve a comprehensive result.
References
Asonye, E., Emma-Asonye, E. & Edward, M. (forthcoming). Deaf in Nigeria: A Preliminary Study on Isolated Deaf Communities.
Baldwin, M. L., & Johnson, W. G. (2000).Labor market discrimination against men with disabilities in the year of the ADA. Southern Economic Journal, 548-566.
Blench, R. & Warren, A. (2005). An unreported African sign language for the deaf among the Bura in North east, Nigeria.   http://homepage.ntlworld.com/roger_blench/Language%20data/Bura%20Sign%20La            nguage.pdf consulted on the 30 May 2018 at 10 am.
Edward, M. (2015a). We speak with our hands and voices: Iconicity in Adamorobe Sign Language and Akuapem Twi (ideophones). M Phil thesis, University of Bergen, Norway.
Edward, M. (2015b). Signing out: Linguistic contact and possible endangerment of the Adamorobe Sign Language.Presented at the BAAL language in Africa SIG annual meeting on 22nd May 2015 at Aston University, Birmingham.
Edward, M. (forthcoming). Behind the veil: The impact of deafness on rural livelihoods in         Ghana (Case study of a Deaf couple in Adamorobe). Presented at The Second   Annual Lancaster University Interdisciplinary Conference on March 10th 2017, Lancaster University- Ghana Campus.To appear in Conference proceedings.
Groce, N. E. (1985). Everyone Here Spoke Sign Language. Massachusetts: Harvard        University Press.
Kusters, A. (2012). The Gong Gong Was Beaten – Adamorobe: A Deaf Village in Ghana and    Its Marriage Prohibition for Deaf Partners. Sustainability, 4 (10), 2765-2784.
Lang, H. G. (2010). Perspectives on the History of Deaf Education.The Oxford Handbook of    Deaf Studies, Language, and Education, 1, 7.
Meir, I., Sandler, W., Padden, C., & Aronoff, M. (2010).Emerging sign languages.Oxford          handbook of deaf studies, language, and education, 2, 267-280.
Miles, M. (2004) Locating deaf people, gesture and sign in African histories, 1450s–1950s,        Disability & Society, 19:5, 531-545, DOI: 10.1080/0968759042000235352
Nyst, V. (2007): A Descriptive analysis of the Adamorobe Sign Language (Ghana). Doctoral Dissertation, University of Amsterdam, Faculty of Humanities.
Nyst, V. (2010) 'Sign Language in West Africa' in Brentari, D. (ed) Sign Languages: A Cambridge Language Survey. Cambridge University Press: Cambridge, 405-432.
Nyst, V. (2013).The Significance of African Sign Languages for African Linguistics and           Sign Language Studies.Selected Proceedings of the 43rd Annual Conference on    African Linguistics: Linguistic Interfaces in African Languages.Edited by Ólaniké Óla Orie and Karen W. Sanders Cascadilla Proceedings Project Somerville, MA.
Nyst, V. (2016). Size and shape depictions in the manual modality: A taxonomy of iconic          devices in Adamorobe Sign Language. Semiotica, 2016(210), 75-104.
Osam, E. K. (1993). Animacy distinctions in Akan grammar.Studies in the Linguistic       Sciences, 23(2), 153-164.
Osam, E. K. (2003). An introduction to the verbal and multiverbal system of Akan.In    Proceedings of the workshop on Multiverb Constructions, Trondheim Summer School.Edited by Osam, E. K., Beermann, D., & Hellan, L.
Pfau, R., Steinbach, M., & Woll, B. (Eds.). (2012). Sign language: An international        handbook (Vol. 37). Walter de Gruyter.
Plann, S. (1997).A silent minority: deaf education in Spain, 1550-1835. University of California Press.
Sandler, W., & Lillo-Martin, D. (2006). Sign language and linguistic universals.Cambridge        University Press.
Stokoe, W. C. (1960). Sign language structure. Studies in Linguistics: Occasional Paper, 8.
Sullivan, P. M., Vernon, M., & Scanlan, J. M. (1987). Sexual abuse of deaf youth. American     Annals of the Deaf, 132(4), 256-262.
Vermeerbergen, M. (2006).Past and current trends in sign language research. Language &            Communication, 26(2), 168-192.
Vernon, M., & Andrews, J. F. (1990).The Psychology of deafness: Understanding deaf and        hard-of-hearing people. New York: Longman
IDENTIFYING STUDENTS' LANGUAGE LEARNING STRATEGIES TO REMEDIATE POOR COMPOSITION WRITING IN THE JUNIOR SECONDARY SCHOOLS
MORADEYO.O OLAOLORUN, Ph. D.
NONYE R. IKONTA, PH.D.
OYENIKE. A. ADEOSUN, PH.D.
Department of Arts and Social Sciences Education, 1,2,3
Faculty of Education,
University of Lagos,
Lagos, Nigeria.
(olaolorunmoradeyo@yahoo.com )
Abstract
In Nigeria, the rate of failure in English language external examinations by students is alarming. WAEC Chief Examiner's Reports have yearly decried this. Students' perform poorly in essay writing called composition writing in the junior school which is one of the major components considered in English language paper assessment. Many scholars like Ikonta (2008) have looked at possible teaching factors that could be responsible for this rate of failure to no avail. Students' learning process now needs to be focused on. Research on writing indicates that the use of strategies and the knowledge which students bring to the text influence their writing process in a significant way (Ascención, 2008).  This makes a critical look on language learning strategies of students very imperative.  This study identifies the junior school students' Language Learning Strategies as they impact their proficiency in composition writing. Oxford's (1990) Strategy Inventory for Language Learning (SILL version 7.0 for EFL/ESL learners) which dichotomises strategies into Memory, Cognitive, Compensation, Metacognitive, Affective and Social strategies was used to identify Ojo Local Government, Lagos State's junior secondary three students' strategies usage. Students' composition papers were also assessed to determine the subjects' proficiency in composition writing. It was found out that all, except affective strategy, impact the different aspects of composition writing. Awareness of and appropriate use of Language Learning Strategies is therefore recommended as an antidote to poor composition writing in junior school.
Keywords: Learning, Language, Composition writing, Strategies, Junior School
INTRODUCTION AND LITERATURE REVIEW
English,beingthe officiallanguagein Nigeria,is also the second languageofmost students. According to Ikonta and Udofia (2016) it occupies such a crucial position that failure in English at the final examination equals to failure in the entire examination as its failure renders the Senior Secondary School Certificate almost useless, the number of credit passes in other subjects notwithstanding. However, many Nigerian studentsperform poorly in English language examinations (Uzoezie, 2011). There is need to improve students' academic performance in English language in Nigeria. Teachers, the instructional process as well as teaching resources have been isolated as possible factors that could be responsible for the poor performance (Ikonta, 2008). Yet, the failure rate of students persists, it therefore becomes pertinent to have a look at what students do or can do to improve their performance. According to Cook (2001) self-directed learning is an approach that gives the learners the opportunity to take responsibility for their learning. Buttressing this, Ikonta and Akhigbe (2016) stated that the importance of learning to learn has become even more apparent in the 21st century post modern world.
Language Learning Strategies (LLS) have been found to play a significantrole inthe processoflanguage learning andare found to be closelyrelatedtoa learner's languageproficiency (Oxford, 2003; Thornbury, 2006). They help learners in the learning process. LLS can be thoughts like creating mental images, evaluating one's learning or behaviours like practising and cooperating with others. They are generated, intentionally used and consciously controlled by learners.
Recently, with educational research shifted focus on learning rather than teaching, individual's learningstrategies have beenfoundtoplay significantroles inthe process of language  learning  and are found  to  be closely  related to a learner's languageproficiency. Thus, they are often referred to as Language Learning Strategies (LLS).Thornbury (2006) defineslearningstrategiesastechniquesor behavioursthat learnersconsciouslyapplyinorder toenhancetheirlearning. Such behaviours makelearningeasier,faster,moreenjoyable,more self-directed,moreeffective,andmoretransferable tonewsituations.Learningstrategiescanalsoenable studentstobecomemoreindependent, autonomous,lifelong learners.Thisindicatesthatlearning strategiesare learner-generatedandthatalmostalllearnershavetheirownlearning strategies; somearesuccessfulandsomearenot. LLS are learner-driven and individualised. They aid an individual to learn. Students use these strategies but most of the time; they are not aware they are using them. Students' learning styles determine the LLS they make use of. For example, an auditory learner may hum or sing while learning. He is using that strategy to aid his learning. The singing and or humming may be termed 'distraction' by the teacher because it may not be understood as part of the student's cognitive process. Condemning the student for thinking through a composition topic and at the same time singing may truncate the learning process of the student. This student is making use of the strategy to aid his own learning.
Another student may be writing an essay and be asking his friends questions on what he is writing on. He may at the same time be imagining how the points are to be stated effectively based on his interaction with his mates. The student can come up with any strategy as long as it is safe and it aids their learning. There are different LLS as there are different learners. But of importance is the fact that each learner makes use of his own LLS either consciously or unconsciously to assist his own learning. LLS can be direct. That is, what students visibly do to aid learning.  Some students may be eating the edge of their pens while writing. Making them to stop or viewing their action negatively by the teacher may impede their learning process at that time.
LLS can also be indirect. A student may conjure a mental picture of a topic to be written on in his mind and make use of that mental picture to compose his write-up on a given topic. This is an indirect strategy which assists the student to learn and it is his own generated means of learning.  This  understanding has helped to categorize strategies and link them  to a varietyofcognitive processingphasesduringlanguagelearning.Themostcommon groups of strategieshavebeenclassifiedbyOxford(1990)asbeing,Memory, Cognitive and Compensation strategies which are direct strategies andMetacognitive, Affective and Social strategies which are indirect strategies.
Ithas beenobserved thatstudentsarenotalways awareof thepower ofconsciouslyusinglanguagelearning strategiesformaking second language learningquicker andmoreeffective.Whenlearnersconsciously chooseappropriatestrategies,thesestrategiesbecomea usefultoolkitforactive,conscious,andpurposefulselfregulationoflearning.A givenstrategyissaidtobeneithergoodnorbad.Itisbelievedtobeessentially neutraluntilthecontextofitsuseisthoroughly considered.Forstrategiestobe consideredusefulandhelpful, theymustbethestudents' choiceswhichmustrelate welltotheintendedexercise.Thestudentsmustalso beabletolinkthem withother relevantstrategies. Itis indicatedinliteraturethat problems instudents' approachesto writing ultimately reflect deficiencies or lack of awarenessoftheprocessesinvolved in performingawriting task. These processes include thinking through the idea of the topic of an essay, developing the idea, illustrating it, writing and re-writing the points raised on the idea in the composition. These processes ultimately make for the content and the logical and coherent presentation of the points to be developed in the composition.
Composition writing is a cognitive process. For students to write English composition effectively, it entails the use of student's imagination, his creativity, his previous experience, background everyday experience and latent knowledge. This is why the effective use of LLS will make for students' ability to effectively develop the content of a given composition topic. LLS make for the ability of the student to organise, express and use mechanical skills to enhance the logical and coherent presentation of the ideas in the content of the composition.
There  are factors influencing strategy choice and  there exists a relationship betweenlanguage learningstrategiesandlanguagelearningachievement. Researchershave discoveredthatthereisacloseassociationbetweentheuseand choiceoflearningstrategiesanddifferentvariables likelearningcontexts,learner characteristics,learning experiences,language proficiency,cultural andeducational backgrounds.Ifthereisharmony instudents'strategy preferencesandthecombinationofinstructional learning strategies, i.e. methodology andmaterials, the students are likely to performwell (Khamkhien,2010).
Bilingualism isone ofthefactorsthatseem toaffecttheuse oflanguagelearning strategies.AccordingtoLam(2001),abilingualindividualissomeonewhohasthe ability to communicateintwolanguagesalternately. Researchhasindicated that balancedbilingual studentsdevelop anduseawiderrange of language-learning strategiescompared tomonolingualstudents.Knowledge of a language isa positive factor thatfacilitates the learningofanotherlanguage.Itisthus believed  that  bilinguals would learn another  language  in a  different and more effectiveandefficientway thanmonolinguals.  Thisisattributabletoadvanced cognitive skills andeffectivelearningstrategies usage(Grivaet.al,2011).
LagosState isamultilingualstate. Among the language groups in the state are Awori andEgun. Aworis are in Alimoso Local Government while the Eguns are predominantly in Badagry Local Government in Lagos state. Many studentsfromtheselinguisticareasspeaktheir languagesandEnglish language.Many ofthemarethereforebilinguals. Theadvantages ofbilingualismcannotbecontested (Kuoand Anderson 2012). Studiesshowedthatbilinguallearnersaremoreflexibleinusingdifferentstrategies incomparisonwiththeirmonolingualcounterparts(Tafaroji-Yeganeh, 2013). Bilingualactivitiesalsogivechildrenthechancetouseandextendtheirbicultural knowledge.Itisthereforeaconcernwhythesestudentsstillperform below expectationin composition writing in Englishlanguage examinations,especiallyinthecomposition writing aspect.
AccordingtoWAEC(2016) English languagemarkingguide,theEnglishlanguageessaypaper is designedtotestcandidate'sability touseEnglishasaneffectivemeansof communication ina givensituation. Essay is called Composition at the juniorsecondaryschool level.Proficiencyin compositionwriting in English language papersgoesalongway indeterminingthe success ofstudentsin English languageexaminations. Many studentshoweverperform poorly incomposition writing. Thisneedsto beremediated. All students have learning strategies; some are productive and some are not. As a result of this fact, this study sought to identify the LLS students in junior secondary schools use, how these impact their composition writing and to recommend the encouragement of the productive ones.
STATEMENT OFTHE PROBLEM
Therate offailure inEnglish languageexternalexaminationsbystudents isalarming. Students'perform poorly inessaywritingcalledcompositionwritingatthejunior secondary school levelwhichisoneofthemajor componentsconsideredinEnglishlanguage paper assessment.Researchesonwritingindicatethat the use of strategiesandtheknowledgewhichstudentsbringtothetextinfluencetheirwriting process inasignificantway (Ascención, 2008). This makesacriticallookonlanguage learningstrategiesof studentsveryimperative.
Students have these strategies but are not aware of their existence and importance. So, they do not know how to effectively and appropriately utilise them.  Allchildrencanlearnaslongasthey useappropriate language learningstrategies,and therearemany suchlanguagelearningstrategies.Therefore, appropriate language learning strategies, whichenhance thelanguagelearningprocessofeachstudent, need to be identified. These LLS if effectively used will enhance students' ability to write good composition.
LagosStateisamultilingualstate.The students,mostly bilinguals,arenormally expectedtocashinontheadvantagesofbeingbilinguals,whichshouldhavemade forexcellentperformancein the composition aspect of Englishlanguageexaminations.But,thisisnotso.
PURPOSE OFTHE STUDY
The study aimed atinvestigatingthelanguagelearning strategiesused byAwori/EnglishandEgun/Englishbilinguals and their effects on the bilinguals' proficiency in composition writing.
Specifically, the objectives of the study are to:
1. Determinewhichcategoriesoflanguagelearningstrategieshavesignificant effectonthebilinguals' ability to effectively develop thecontentof their composition writing.
2.         Ascertain thebilinguals'choiceoflanguagelearningstrategies and itssignificanteffectonthe development of the organization ofcomposition writing.
3.       Identifythelanguagelearningstrategiesusageofthebilinguals and their ability to express themselves effectivelyincompositionwriting.
4.       Determine the effect of bilinguals' use of language learningstrategiesontheir mechanical skillsin composition writing.
RESEARCH HYPOTHESES
The following hypotheses were tested in the study:
1.         TherewillbenosignificanteffectofthecategoriesoflanguagelearningstrategiesofAwori and Egunbilinguals on their ability to effectively developthe content in their composition writing.
2.    Therewillbenosignificantinfluenceofthebilinguals'choiceoflanguagelearningstrategies usageon their ability to organise their composition writing.
3.      Therewillbenosignificanteffectofthetypeoflanguagelearningstrategiesusageofthe bilinguals on their expression incompositionwriting.
4.       Therewillbeno significant influenceof thebilinguals'choiceof languagelearning strategies on their effective use of mechanical skills in composition writing.
THEORETICAL FRAMEWORK
This study was guided by Chomsky's Innateness Theory, Krashen's Second Language Acquisition, Multiple IntelligenceTheory, and Error Analysis Theory. The Innateness Theory states that humans have a genetic predisposition to learn language. Chomsky proposed that children are born with a genetic mechanism for the acquisition of language, which he called a "Language Acquisition Device" (LAD).
Krashen's (1987) Second Language Acquisition Theory distinguishes between acquisition and learning processes; the former involves understanding and communication while the latter is concerned with the conscious monitoring of language use. He claims that humans have an innate ability that guides the language learning process.
Multiple Intelligence Theory wasdeveloped by cognitive psychologist Howard Gardner in 1983. He identified at least eight kinds of intelligences which work together so that all learners possess a mixture of multiple intelligences. He stated that if these intelligence areas are systematically involved in language lessons, the benefits will be numerous; students will feel more activated and drawn into language learning. Error Analysis is a type of linguistic analysis that focuses on the errors learners make and so, allows for prediction of the difficulties involved in acquiring a second language. It provides us with a picture of the linguistic development of a learner and may give us indications as to the learning process.
Fig. 1 – CONCEPTUALFRAMEWORK
LAD = Language Acquisition Device, SLA = Second Language Acquisition, MI = Multiple Intelligence, BIL = Bilingual,
LLS(s) =Language Learning Strategy or Strategies, CWP = Composition Writing Proficiency,
EA= Error Analysis, FB = Feedback.
(OlaOlorun, 2017).
With inputs from LAD, SLA and MI, the bilingual selects LLS. This will impact CWP. EA will identify aspects that need further attention as the FB.
The Innateness theory and Second language learning theory with the different intelligences appropriately chosen make for the bilingual's ability to write good composition that will make for a better performance in English language examinations.
METHODOLOGY
The study adopted causal-comparative and descriptive survey research designs.
The population comprised all the JSS 3 Awori and Egun students in Lagos State. Specifically, the target population was JSS 3 students in Ojo Local Government.
Using stratified random sampling technique, four government junior secondary schools in Education District Five in Ojo Local Government Area were selected. 101 JSS3 students from two schools were Awori subjects, while 76 students from two schools were Egun subjects selected from each of the four schools using purposive random sampling technique making a total of 177 subjects.
Awori native speakers are found in Ojo town in Ojo local government area. The Egun speakers from Badagry are their very close neighbours. Awori and Egun students attend schools in Ojo. Education District five in Ojo Local Government Area was therefore chosen because the required number of subjects needed for the study could be got from the government junior schools there. The JSS3 students were already using JSS3 past questions in preparation for their own final JSS3examination. They were therefore chosen and deemed appropriate as subjects because Composition Proficiency Test (CPT), a written composition question taken from a JSS3 (2014) English language past question to test proficiency in the different aspects of composition writing was one of the instruments for the study. Also, a 10- item Bilingual Identification Questionnaire (BIQ) to identify Awori and Egun bilinguals and eliminate respondents who are neither Awori nor Egun speakers in intact classes was used.
Learning Strategies Inventory (LSI) adapted from Strategy Inventory for Language Learning (SILL version 7.0 for EFL/ESL learners) developed by Oxford (1990), a self-scoring 50- item questionnaire divided into the different types of strategies to be identified i.e. Cognitive, Metacognitive, Memory, Compensation, Social and Affective strategies was equally used.
Though LSI and CPT are standardized instruments, all the instruments were still subjected to face and content validity by scholars in the field of English Education. All the instruments were equally subjected to reliability tests. Reliability for the questionnaire was determined using internal consistency measure of Cronbach Alpha and it gave a value of 0.866 while the composition writing reliability was  measured using inter-rater reliability and the two scores correlated using Pearson Product Moment Correlation Coefficient which gave a value of 0.879.
Hypotheses were analysed using independent   t-test   and   bivariate   correlation   using   Pearson   Product   Moment Correlation Coefficient. The level of significance of probability was at 0.05.
RESULTS:
The findings were discussed under the following hypotheses:
Hypothesis1
There willbenosignificant influenceofthecategories oflanguagelearningstrategiesof Aworiand Egun bilinguals on theirproficiencyin thecontent aspect of composition writing.
Table 1 :BivariateCorrelationMatrix ofAwori andEgunBilinguals and Scores onLanguage Learning Strategies on Proficiency inContentAspect ofCompositionWriting
 

r1

r2

r3

r4

r5

r6

r7

r8

 

r1

 

1.000

 

.013

 

.127

 

.114

 

.282

 

.050

 

.069

 

.267*

r2

 

1.000

.432

.383

.336

.411

.404

.183*

 

r3

 

 

 

1.000

 

.500

 

.573

 

.483

 

.434

 

.184*

 

r4

 

.

 

 

 

1.000

 

.285

 

.422

 

.251

 

.107

r5

 

 

 

 

1.000

.577

.596

.295*

 

r6

 

 

 

 

 

 

1.000

 

.499

 

.052

r7

 

 

 

 

 

 

1.000

.292*

 

r8

 

 

 

 

 

 

 

 

1.000
r1=Languagespokenr2Memoryr3=Cognitiver4=Compensation r5= Metacognitive r6=Affectiver7=Social  r8=Content Aspect ofCompositionwriting
Bivariate correlations of independent variables of thelanguage spokenaswellasthe learning strategieswith the dependentvariableofcontentaspect of composition writingarereported.Itcanbeobservedfrom Table1that the languagespokenhada significant influence onthecontentaspectofcompositionwriting(r=.267, p<.05). Thus, thataspect of  nullhypothesis was rejected. Also, memoryand cognitive learningstrategies hadsignificant influencesonthecontent aspect ofcomposition writing(Memory:r=.183,p<.05;Cognitive:r=.184,p<.05).Thus,thataspectsof null hypotheseswasrejected.However,compensation languagelearningstrategy hadno significantinfluence onstudents' contentaspectofwritingcomposition(r=.107, p>.05). Therefore, Metacognitivelanguagelearningstrategy hadasignificantinfluenceonthe content  aspectofcompositionwriting  (r=.295,p<.05).Thus,thataspectofnull hypothesiswasrejected.Affectivelearningstrategy hadnosignificantinfluenceon students' contentincompositionwriting(r=.052,p>.05).Thus,thataspectofnull hypothesiswasnotrejected.Finally,sociallanguagelearningstrategy hada significant influence onthecontentaspectofcompositionwriting(r=.292, p<.05). Thus, thataspectofnullhypothesiswasrejected.
Hypothesis2
There willbe nosignificantinfluence ofthe bilinguals'choiceof language learning strategiesusage ontheir proficiencyintheorganizationaspectof composition writing.
Table 2:BivariateCorrelationMatrix ofAwori andEgunBilinguals and Scores onLanguage Learning Strategies on Proficiency inOrganisationAspect ofComposition Writing.
 

r1

r2

r3

r4

r5

r6

r7

r8

 

r1

 

1.000

 

.013

 

.127

 

.114

 

.282

 

.050

 

.069

 

.057

r2

 

1.000

.432

.383

.336

.411

.404

.185*

 

r3

 

 

 

1.000

 

.500

 

.573

 

.483

 

.434

 

-.111

r4

.

 

 

1.000

.285

.422

.251

.009

 

r5

 

 

 

 

 

1.000

 

.577

 

.596

 

.158*

 

r6

 

 

 

 

 

 

1.000

 

.499

 

.106

r7

 

 

 

 

 

 

1.000

.187*

 

r8

 

 

 

 

 

 

 

 

1.000
r1=Languagespokenr2Memoryr3=Cognitive4=Compensation r5= Metacognitive r6=Affectiver7=Social  8=OrganisationAspect ofCompositionwriting
Itcanbeobservedfrom Table2thatlanguagespokenhadanon-significantinfluence ontheorganisationaspectofcompositionwriting(r=.057,p>.05).Thus,thataspect ofnullhypothesiswas not rejected.However, memorylanguagelearningstrategy hada significant influence onthe organisationaspect ofcompositionwriting(r=.185, p<.05).Thus,   that   aspect   of  null   hypotheses  was  rejected.  Cognitive  and compensation languagelearning  strategies  had  non-  significant  influences  on students' organisationaspectofcompositionwriting(Cognitive,r=-.111, p>.05; Compensation:  r=.009,   p>.05).  Thus,   the   two  aspects  were  not  rejected. Metacognitivelanguagelearningstrategy hadasignificant influenceonthe organisationaspect ofcompositionwriting(r=.295, p<.05).Thus,thataspectofnull hypothesiswasrejected.Affectivelearningstrategy hadnosignificantinfluenceon students'organisationincompositionwriting(r=.106,p>.05).Thus,thataspectof null hypothesiswasnotrejected.Finally,sociallanguagelearningstrategy hada significantinfluence onthe organisationaspect ofcompositionwriting(r=.187, p<.05). Thus,thataspectof nullhypothesiswasrejected.
Hypothesis3
Therewillbeno significant influenceof thetypeoflanguagelearningstrategies usageofthe bilinguals on their expression aspect of composition writing.
Table 3:BivariateCorrelationMatrix ofAwori andEgunBilingualsand Scores on LanguageLearningStrategies onProficiency inExpressionAspect ofCompositionWriting.
 

r1

r2

r3

r4

r5

r6

r7

r8

 

r1

 

1.000

 

.013

 

.127

 

.114

 

.282

 

.050

 

.069

 

.269*

r2

 

1.000

.432

.383

.336

.411

.404

.181*

 

r3

 

 

 

1.000

 

.500

 

.573

 

.483

 

.434

 

.239*

r4

.

 

 

1.000

.285

.422

.251

.179*

 

r5

 

 

 

 

 

1.000

 

.577

 

.596

 

.270*

 

r6

 

 

 

 

 

 

1.000

 

.499

 

.020

r7

 

 

 

 

 

 

1.000

.283*

 

r8

 

 

 

 

 

 

 

 

1.000
r1=Languagespokenr2Memoryr3=Cognitiver4=Compensation r5= Metacognitive r6=Affective r7=Social  r8=OrganisationAspect ofCompositionwriting
Table 3showsthat therewasasignificantinfluence oflanguage spokenonthe expressionaspectof writingcomposition(r=.269,p<.05).Thus, thataspectof null hypothesiswasrejected.Also,memorylanguagelearningstrategy hadasignificant influenceontheexpressionaspectofwritingcomposition(r=.181, p<.05).Thus,that aspect of null hypotheses was rejected.  Cognitive and compensation language learning strategies had significant  influences on students'  expression aspect  of writingcomposition(Cognitive,r=-.239, p<.05; Compensation:r=.179,p<.05). Thus, thetwoaspectswererejectedasthelevelofsignificanceofprobabilitywaslessthan 0.05.Metacognitivelanguage learningstrategy hada significantinfluence onthe expressionaspectof writingcomposition(r=.270,p<.05).Thus, thataspectof null hypothesiswasrejected.Affectivelearningstrategy hadnosignificantinfluenceon students'organisationinwritingcomposition(r=.020,p>.05).Thus,thataspectof null hypothesiswasnotrejected.Finally,sociallanguagelearningstrategy hada significantinfluence ontheexpressionaspectofwritingcomposition(r=.283,p<.05). Thus, thataspectofnullhypothesiswasrejected.
Hypothesis4
Therewillbenosignificantinfluenceofthebilinguals'choiceoflanguagelearning strategiesontheir proficiencyinmechanicalskillsincompositionwriting.
Table 4:BivariateCorrelationMatrix ofAwori andEgunBilingualsand Scores on LanguageLearningStrategies onProficiency inMechanical SkillsAspect ofComposition Writing.
 

r1

r2

r3

r4

r5

r6

r7

r8

 

r1

 

1.000

 

.013

 

.127

 

.114

 

.282

 

.050

 

.069

 

.273*

 

r2

 

 

1.000

 

.432

 

.383

 

.336

 

.411

 

.404

 

.140

 

r3

 

 

 

1.000

 

.500

 

.573

 

.483

 

.434

 

.143

r4

.

 

 

1.000

.285

.422

.251

.020

 

r5

 

 

 

 

 

1.000

 

.577

 

.596

 

.228*

r6

 

 

 

 

 

1.000

.499

-.022

 

r7

 

 

 

 

 

 

 

1.000

 

.125

 

r8

 

 

 

 

 

 

 

 

1.000
r1=Languagespokenr2Memoryr3=Cognitiver4=Compensation r5= Metacognitive r6=Affectiver r7=Social  r8=OrganisationAspect ofCompositionwriting.
Itcanbeobservedfrom Table4thattherewasasignificantinfluenceoflanguage spokenonthemechanical skillsaspectof writingcomposition(r=.273,p<.05).Thus, thataspectof nullhypothesiswasrejected.However,memory,cognitiveand compensationlanguage learningstrategieshada non-significant influenceonthe mechanicalskillsaspectofwritingcomposition(Memory:r=.140, p>.05;Cognitive: r=.140,  p>.05; Compensation: r=.143,  p >.05). Thus, those aspectsof  null hypotheseswerenot rejected.Thisisbecausethe levelofsignificance ofprobability weregreaterthan0.05.Metacognitivelanguagelearningstrategy hadasignificant influenceonthemechanical skillsaspectofcompositionwriting(r=.228,p<.05). Thus,thataspectofnullhypothesiswasrejected.Affectivelearningstrategyhadno significantinfluenceonstudents'mechanicalskillsaspectofcompositionwriting (r=-.022, p>.05).Thus,thataspect ofnull hypothesiswasretained.Sociallanguage learningstrategy hadanon-significantinfluenceonthemechanicalskillsaspectof composition writing(r=.125,  p>.05). Thus, that aspectofnullhypothesiswas retained.
Discussion and Conclusion
This study identified the language learning strategies of bilinguals that have effect on aspects of composition writing in the junior school as an antidote to poor performance in English language external examinations. It was found out that Social, Memory, Metacognitive and Cognitive strategies have significant influence on the content aspect composition. Memory, Metacognitive and Social strategies have significant influence on the organisation aspect of composition writing. On the expression aspect of composition writing, Memory, Cognitive Compensation and Social strategies have significant influence. Also, only Metacognitive strategy has significant influence on the Mechanical Skills of Composition writing.
Surprisingly, Affective strategy has influence on none of the aspects of composition writing. Yet, Affective strategy is important as it has to do with how well a learner has control over his emotion. It has to do with the 'self' of the learner and how well a learner can control his feelings, what motivates him, his attitude and how he can encourage himself when need be. Generally, learners use it to regulate emotion and it enables them to manage anxiety which is a debilitating factor in language learning. Ikontaand Udofia(2016) stated thatthe ability towritewellislearnedanddeveloped. So, a well laid foundation for good essay writing in the senior class, which will make for better performance in English language examinations, need to be laid.
Recommendations:
1. Experienced, knowledgeableandskilled teachersshouldhelp thestudentstodevelopan awareness of their own language learningstrategies.
2. The teachers should assistandeducatethestudentstoidentify those LLS thatmakethem learnbetterandfaster.
3. The teachers shouldalsoencourage themtouse a wider range of appropriate strategies.
4. As Affective strategy was found not to have any significant effect on any aspect of composition writing, students need to be especially encouraged to make use of the Affective strategy as cognition takes place uninhibited when emotion is stable.
5. All the strategies' effective usage and utilization in the junior school is recommended. This will positively impact students' composition writing at that level.
REFERENCES
Ascención,   Y.  (2008) 'Investigating thereading-to-write construct',
Journal ofEnglishforAcademic Purposes.7.3.140–150.
Cook, V. (2001). Second language learning and language teaching. London: Arnold.
Cumming, A. (2001) 'Learning to write in a second language: Two decades of research'. International Journal of English Studies.1.2. 1–23.
Demirel, M. (2009) The validity and reliability study of turkish version of strategy inventory for language learners. World Applied Journal 7(6): 708-714.
Griva, E., Chostelidou, D. & Tsakiridou, H. ( 2011) 'Assessment of Metalinguistic Awareness and Strategy Use of Young EFL Learners' in L. Warfelt (ed.), Language Acquisition.Nova Science Publishers. New York. 56–78.
Ikonta, N.R.(2008) An Analysis of Student's Performance in SSCE in Public, Private Secondary Schools in Lagos Metropolis in Nigeria: Implications for Teacher Training and Productivity.Journal of Research and Development in Education. 8. 35-44.
……&Akhigbe, V. A. (2016) Learning to Learn: An Investigation into Students'Strategies for Life-Long Learning in and of English in the Post Modern World. Lagos Education Review,
…….&Udofia, U. (2016) Using Portfolio Writing Strategies to Develop Students' Writing Competence at the Secondary School Level. Paper Presented at the Internal Journal of Arts and Social Sciences (IJAS) Internatonal Conference of Education, held at British School of Rome, Italy on 13th -19th November, 2016.
Oxford, R. (1990) Language learning strategies: What every teacher should know. Boston: Heinle and Heinle. 5-35.
………. (2003) Language Learning, Styles, & Strategies: An Overview. Learning Styles & Strategies/ Oxford,GALA. 1-25.
Thornbury, Scott. An A-Z of ELT. Oxford: Macmillan Publishers Limited, 2006.
Khansir, A, A. (2008) Place of Error Analysis in Language Teaching.INDIAN LINGUSTICS.69.195-202.
Uzoezie, R. U. (2011) Nigerian English and Literature- Selected Essays. Fab Anieh Nigeria Ltd., Awka.
Victori, M. (1999) 'An Analysis of Writing Knowledge in EFL Composing: A Case Study of Two Effective and Two Less Effective Writers. System. 27. 537–555.
Khamkhien, A. (2010) Factors affecting language learning strategy reported
usage by  Thai  and  Vietnamese  EFL  learners.  Electronic          Journal of foreign Language teaching. 7.1. 66-85.
Kuo, L.& Anderson, R.C. (2012) Effects of early bilingualism on learning            phonological regularities in a new language. Journal of Experimental             Child Psychology.11.1. 455-467.
Lam, A. (2001) Bilingualism. In R. Carter & D. Nunan (Eds.)  The Cambridge
guide to teaching English to students of other languages. Cambridge:          Cambridge University Press. 93-99.
Tafaroji-Yeganeh,M.(2013).Metacognitive listeningstrategiesawarenessin
monolingualversusbilingualEFLlearner.Procedia-Socialand
BehaviouralSciences.70. 1787–1793.
WAEC (2016)Englishlanguagepaper2finalmarkingguide.TheWestAfrican
ExaminationsCouncil, Yaba. Lagos.
WAZOBIA LANGUAGE: AGENT OF ACHIEVING NATIONAL DEVELOPMENT, UNITY AND INTEGRATION IN NIGERIA
VICTORIA KEHINDE AFOLAYAN (Mrs)
Dept. of Office Technology and Management
(Bilingual Unit) The Federal Polytechnic, Offa
Kwara State, Nigeria
Abstract
Immediately after the political independence of 1960, there was an agitation in Nigeria to have common languages for communication by all the ethnic groups. That led to the approval of nine Nigerian languages, including Hausa, Igbo, Yoruba, Edo, Kanuri, Efik, Tiv, Fulfulde and Izon. This paper examines the role that the combination of the three major indigenous languages in Nigeria can play as a medium of communication, medium of political activities, of social integration and academic guidance to the national unification process of the nation. It also suggests the continued use of the English language in Nigerian national affairs pending the time that we can arrive at our own WAZOBIA language.
Keywords: WAZOBIA, Independence, common language, communication, political activities
Introduction
Nigeria is 56 years old as an independent entity but still does not have a common language that she can call her own. Language functions as a vehicle of interaction and an instrument of communication. The importance of communication to man is incalculable, especially when daily human interaction is considered. Nigeria relies on English language for political, social and education affairs. It is disheartening that the proposal that the government should come up with a national language suitable for its citizen has not seen the light of the day. This can be because the appropriate authorities are complacent and satisfied with the language of our colonial masters. As observed by the renowned novelist Chinua Achebe, 'it was humiliating to have to speak to one's countryman in a foreign language, especially, in the presence of the proud owners of that language. They would naturally assume that one had no language of one's own'' (Achebe, 1994:45). The position of this paper is that the federal government should work towards developing an indigenous national language, WAZOBIA, as the countries on the east coast have a common language called 'Swahili language'; and like the 'Guosa language' of the ECOWAS.
The concept of language
Language, as variously defined, is summarized as being one of the unique qualities possessed by human species. In anthropologist Edward Sapir's definition cited in Lord, Dee-Hosein, Habib and Lee (2012:1), "Language is a purely human and non-instinctive method of communicating ideas, emotions and desires by means of a system of voluntarily produced symbols." They noted that only humans have the physical capability to pronounce the wide variety of sounds that are used in the world's languages. It is the most important aspect in the life of all human beings. The simple definition of language by Oxford Advanced Learner's Dictionary identifies language as the system of communication in speech and writing that is used by people of a particular country or area. With this simple definition, it is clear that language is specie-specific. It is the method of human communication, either spoken or written, that consists of the use of words in a structured and conventional way. And going by the definition of Olatunji and Oyedokun (2002), the efficiency of language in communicating a whole range of ideas and values that a community desires cannot be over emphasized. Summarily, and going by the definitions above, language is an exclusively human property.
Language forms a large part of the culture of people and it is through their language that they express themselves in their folk tales, myths, proverbs and history. Language plays such a prominent part in our daily lives; certainly it deserves the same amount of attention which we normally pay to economic and political problems. Wallwork (1960) cited in Bida (undated), an online article (assessed 19/09/2016), says "technology and science may control the environment, but they too rest upon language and the passing of information and commands, whether the language takes the form of complex mathematical symbols or abbreviated jargon or highly complex sentences". Hence, the rise of ethnic consciousness and the fierce debate between reactionary and progressive forces all converged to make the national language question more complex. In a sense, the political and economic power of any country is tied to and reflected in the use of its language. For example, the dominance of English in Nigeria today is no doubt due to the political and economic power of England and the United States (Bida, undated). It is a very important task of the Nigerian government to develop a nation which must be integrated, harmonious and democratic and which also shares a national identity and values as a nation.
Characteristics and functions of a good language
Despite the fact that language is commonly used by man daily, only few people are aware of its essence or characteristics. Describing the characteristic of a good language, Oyawoye and Olaosebikan (2003) emphasize that human beings can communicate with each other in form of speech, writing, dream, sign, etc. Human beings are able to exchange knowledge, beliefs, opinions, wishes, threats, commands, thanks, promises, declarations, feelings – limited only by their imagination. Humans can do anything, including the seemingly impossible. But their system of communication that comes before anything else is language. Language is arbitrary, universal, symbolic and creative. Characteristics of human language include the fact that it is the "human essence". It is distinctively infinite, digital and compositional.
As earlier mentioned, human language is species-specific and species-uniform; it is specific only to one set of species and purely human and non-instinctive method of communicating ideas, emotions and desires by means of a system of voluntarily produced symbols. Language is culture preserving and culture transmitting.
The function of language is multifarious. Savignon (1983) describes a language function as the use to which language is put, the purpose of an utterance rather than the particular grammatical form an utterance takes. Language, as earlier mentioned functions primarily as a means of communication. Human beings use language for communicating information, ideas and thoughts. They use it to make statements, give commands and ask questions as well as for making oaths and curses. It helps one to recall and recapture past experiences as well as express one's feelings. Communication is one of the key terms used in any definition of language. It is the major function of language; bringing out clearly the human and the social dimensions of language.
Krech, Ballachey and Crutchfield (1962) summarised the major functions of language as follow:
1. Language is the primary vehicle of communication;
2. Language reflects both the personality of the individual and the culture of his history. In turn, it helps shape both personality and culture;
3. Language makes possible the growth and transmission of culture, the continuity of societies, and the effective functioning and control of social group.
From the foregoing, it is obvious that language plays a paramount role in developing, elaborating and transmitting culture and language, enabling us to store meanings and experience to facilitate communication. The fact that language functions as a vehicle of national unity and integration is a major factor to reckon with.
The power of language
Language is a very powerful instrument in the hands of human. It allows for communication and social relationships and it is the hallmark of human identity. The fact that there are diverse theories of language makes it difficult to say how language(s) evolved but what is clear is that Language is as old as man himself. However, what we may never doubt is the power of language in the politics of national building, integration and development. Language is a powerful tool of control as also used by the colonial powers. The story that everyone on earth spoke the same language and was united until the story of the biblical Tower of Babel (Genesis 11:1-9) from which emerged the hetero-glossal notion of language is well known. The people developed some vaulting ambition to square up with God and to create a name for themselves. They erected a tower which they anticipate would link the earth to heaven: "let us build us a city and a tower, whose top may reach unto heaven; and let us make us a name, lest we be scattered abroad upon the face of the whole earth" (Genesis, 11:4). Of course, God was not at all happy and did not take kindly to this unmistakable act of putsch, founded on a commonality of thought as a result of linguistic singularity. This collective action was founded on language commonality. God then decided to fragment the tongues of men into innumerable varieties and thus multi-lingualism was established to forestall future coup d'état by men against their Creator (Obafemi, 2012).
With this antiquity story and considering the power of language as a sole vehicle of ethnic identity and cultural unity in a multi-lingual country like Nigeria, there is obviously no doubt that language is central to national integration and development.
For Nigeria to experience total integration and development there must be peace and tranquility, and these can only be achieved through adequate understanding among the populace. This can only be achieved through a common language of communication. Among hundreds of languages and dialects spoken in Nigeria, three major ones – Yoruba, Hausa and Igbo, are mutually adopted and accepted as national languages. Some years ago, there was an attempt to combine these three languages to form an entity of a national language called WAZOBIA, meaning COME in each of the three languages (Igbineweka, 2010;  Ojo, 2010; Popoola 2014). The aim was to promote their teaching and learning in our institutions of learning but this attempt did not see the light of the day; so Nigeria is still contending with the challenges of lack of a common language. This paper therefore x-rays and emphasizes the need for effective utilization of language(s) adopted as the nation's means of communication. It is our belief that Nigerians would be better off to unite under a common language because history demonstrates that where there is more than one common language (in Canada for instance), a divisive struggle among cultures will continue to exist. Immersion in a single language is the best answer for us in Nigeria.
National Integration and development
National integration means national unity and national consensus. It is defined as the creation of a national political system that supersedes or incorporates all the regional sub systems. Some writers defined it is a process of uniting groups with different backgrounds into one entity which is bound by common norms, values and interests. When the integration takes place, there will be a sense of belonging and ties of feelings among people. So, national integration means reservation of the sovereignty of the state in a gallant way. Promoting the use of a national language promotes unity among the people.
National development, on the other hand, is a complex issue with many different and sometimes contentious definitions. A basic perspective equates development with economic growth. It is a gain to a people but has become the bane of our present world all because of lack of a common unifying factor like language. National development can be regarded as a situation whereby people harness the resources at their disposal in order to have a meaningful life.
The development of individuals in respect of their aspiration in the society translates into the development of a nation. Olaoye (2013) opines that individuals develop educationally, socially, economically, politically and culturally through their interaction with government agencies that disseminate ideas and policies through various media in the languages that the individuals best understand. According to Aziza (1998) cited in Olaoye (2013), national development is a gradual and advanced improvement or growth through progressive changes in the socio-political life of the nation. Elugbe (2006) asserts that national development refers to the growth of the nation in terms of internal cohesion, integration, unity, economic well-being, mass participation in government and educational growth. Thus from the foregoing, it is clear that Nigeria has not witnessed total level of national integration and development due to the ethnic and language disparity among its populace.
Role of Language(s) in National Development and Integration
Nigeria is a bouquet and gulistan of different languages and dialects prominent among which are Yoruba, Hausa and Igbo as major languages.  These Nigerian languages play important roles in the socio-economic development and integration of the country which has resulted in the literary and cultural development as also in the field of arts and handicrafts. The role of language in national development has been a controversial issue in language planning especially on issues of language planning theories (Emeka-Nwobia, 2015). A viable language planning is one that ensures maximum participation of all the citizenry with regards to the various sectors of development. Language provides a conduit, repository and means of transmission, expression and communication of economic belief, socio political, educational and political trajectory of the people. This therefore situates that a successful transformation of the society can be achieved only through the use of a common language of the people.
In examining the question of national integration and development, the issue of the language question is an important focus for discourse. Das Gupta (1976), analyzing the nature of language and national integration observed that:
Language problems encountered by developing nations are likely to vary depending on the colonial inheritance, the state of language diversity, the intensity of group perception regarding this claim, the state of development of the indigenous languages, the projected allocation of functions for languages, the desired relation between language, education and economy, and the ability of the national authority to bear the cost of language planning.
This is really a problem to our national integration. Language here plays the role of facilitating mutual understanding among the people. This centralizes language as a means of communication, cultural and political expression. Nothing has, however, been settled regarding nationality and national language(s) in Nigeria (Obafemi, 2012). Another role that language plays is its particular way of arranging the signs that encode meaning and communicating the world to its speaker. Language encourages unity. Maintaining a single national language, WAZOBIA as we posit here, is vital in preserving our national unity.
WAZOBIA language as agent of national integration of Nigeria
The name WAZOBIA was initially given in the 1960s by the late talented highlife musician – Roy Chicago (real name – John Akintola Ademuwagun) (Otedo News Update, 2009). It all started when in the 1950s the federal government, in the bid to disseminate information to the people used to transmit news in a lot of indigenous languages – Hausa, Igbo, Yoruba, Edo, Efik, Kanuri, Fulfulde, Izon and Tiv. This was seen as very cumbersome, and so consequence upon which when the military took over the number was streamlined down to just three – Hausa, Yoruba and Igbo languages tagged "WAZOBIA », meaning « come" in all of the three languages respectively (Ojo, 2010:4). In other words, it was a matter of everyone (every ethnic group) wanting to speak and be heard at the same time (Otedo News Update, 2009). Fishman (1971) in Mustapha, (2010), classifies Nigeria as a country with more than one great tradition with all vying for dominance and assertion.
In like manner, a renowned linguist, Prof. Alex Igbineweka, developed a singular lingua franca for the West African sub-region which he called GUOSA. He saw the need for a common, indigenous lingua franca for the Economic Communities of West African States (ECOWAS) akin to Swahili in the East and which facilitated communication and commerce in South Africa; though his initial aim was to create a language to cement a solid unity in Nigeria. According to him "Guosa language, (when) fully developed should represent an authentically evolved means of communication to fill this void  … the Guosa language can progress further to meet the challenges of its evolution" (GUOSA-LANGUAGE-TV.COM).
As we advocate WAZOBIA language, we challenge linguists to take a leaf from Tanzania as an example of a country in Africa with a well-defined endoglossic national language policy (Oyetade, 2001). The argument is that with adequate planning, Nigeria can achieve a similar feat. Unfortunately, it was turned down for the fact that it lacks any naturalness that should characterize a human language. It is our belief that the promotion of WAZOBIA as the country's national language be one of the success stories of African language revitalization and development.
Our argument is against linguistic pluralism because we believe that one national language (the language of unity) is indispensable in nation building. This belief is supported by Hon-Chan (1971:37) who believes that linguistic pluralism is one of the most intractable barriers to national unity because of its built-in propensity for perpetuating communalism or tribalism, and it inhibits the growth of a national culture and national identity. To him, a common language, which facilitates national communication through the mass media, could serve as a powerful bond between ethnic groups.
Another anticipated problem that might be associated with pluralism is hinderance to smooth communication across ethnic groups or harmony among them. We propose the government to develop and use WAZOBIA to serve as the medium of wider communication across ethnic/language groups. But as Bamgbose (2000) advised, debate and discussion must precede the policy formulation and contributions should be invited from individuals, corporate bodies, professionals, academic bodies and special committees to be set up and contributions be sought from all the strata of the society. The decision should not be left to government bodies (top-bottom approach) alone. Finally, there must be statements of policy (Bamgbose, 2000).
Benefits of using WAZOBIA as a national language
Using WAZOBIA as our national language has its benefits. These include the fact that it will promote more respect for the country and create employment locally and internationally. It will also put both the language and cultures of the country on the world map as does the languages of Asia and Eastern Europe for instance. Though not resolving the socio-political problems of Nigeria in totality, using WAZOBIA as a national language will certainly be a step in the direction of an eventual eradication of ethnic rivalry. There is no doubt that people identify more with those who speak their "tongues ».
Another noticeable benefit is that it can be used for propagation of our cultures and solidify our cultural values because foreign languages (e.g. English) only propagate alien values. Therefore, a call for an indigenous language as WAZOBIA should then be considered a cultural awakening which should be considered a priority for Nigeria's socio-political development.
Why WAZOBIA did not work
Eze (1996) observed that Wazobia is faced with a lot of insurmountable problems. He mentioned that WAZOBIA was far from being developed because the linguists who could work towards its development were too cynical to bond their efforts towards the goal. Another obstacle is that other ethnic groups also agitate for their indigenous languages to be incorporated in the new national language saying that if a hybrid language is to be adopted it might as well incorporate most of the existing languages. This was not practicable; at least that was why the military streamlined the number to three. He also observed that a language requires a zealous population to propagate it and Wazobia had none. No Yoruba, Hausa or Igbo individual is so enthusiastic about this fusion; it is only the government policy that can bring it about. But perhaps the greatest impediment to the growth of Wazobia was the fact that it was not an emergency language for Nigeria and Nigerians had a choice – English language. Thus, Wazobia stood no chance.
Conclusion
From the foregoing it is clear that Nigeria is a multi-ethnic, multi-cultural and pluralist society. From the independence to present, Nigeria has faced many challenges, problems and obstacles in national integration because of its multilingual nature. Successive regimes have made efforts to ensure stability and unity among the different races and ethnic groups. The national integration will ensure the country's prosperity and the prosperity will in turn strengthen national integration.
Fortunately, language does not belong to any religion and no one can take patent of it. The position of this paper is that the government should work on an acceptable language (the WAZOBIA language) to serve as our national language; but pending that time and agreeing with Adeyemo (2009), the English language of the colonial masters should be mastered by all. Effective utilization of the English language can tentatively help in fostering national integration and development of the country as it has been doing since colonial time. It is the unfavourable situation of language in the country that has unduly favoured the use of English and its pidgin. In fact, English language is seen as a domineering language in Nigeria today. It is against this back drop that the federal government deemed it wise to have English language as a unifying force in Nigeria because it is the only language common to Nigerians from diverse linguistic, social, cultural, religious and geographical backgrounds (Obanya, 1982).
As we submit that the federal government should take up the task of developing the WAZOBIA language for Nigeria, we believe that this will foster national development and integration. So, if we accept that the adoption of a national language is sine qua non to national unity and a contributor to Nigeria's socio-political development, then the issue of adopting WAZOBIA as the indigenous official language should no longer be swept under the carpet.
Recommendations
As the government has stepped up to increase the status of indigenous languages in the Nigerian society, it should revisit the attempt to combine the three major languages to form an entity called WAZOBIA for the common good of the nation. The government should train teachers to teach this welcoming language, and should establish non-conventional language schools/centres in all the states of the federation where people can go and learn WAZOBIA language like the French Government has centres (Alliance Française), German Government has Deutsch Schule, etc. apart from learning it in conventional schools.
Learning of this language should be made compulsory to right from the primary to tertiary levels and the media houses should promote the use of the WAZOBIA language in passing information to the people. The people, especially the owners of the favoured languages – Yoruba, Hausa and Igbo – should be encouraged to love WAZOBIA language coined from their languages; and our social media operators also should help in the promotion of this language in disseminating information.
References
Adeyemo S.A. (2009). Language: A tool for National Integration in The Edifice – Journal of Generic Academia 4(1), 63-71.
Achebe, Chinua (1987). No Longer at Ease. Johannesburg: Heinemann Publishers Ltd.
Bamgbose, Ayo (2000). Language and Exclusion: The Consequences of Language Policies in Africa. London, Hamburg: Transaction Publishers.
Bida, Idris https://www.academia.edu/7414599/LANGUAGE_AS_A_TOOL_FOR_
NATIONAL_INTEGRATION_IN_NIGERIA_B. Consulted on 19/09/2016.
Das Gupta, J. (1976). Language Problems of Developing Nations, UNESCO.http://collections.infocollections.org/ukedu/uk/d/Jh1842e/5.1.html. Consulted on 20/09/2016.
Elugbe, B. (2006). Documenting endangered Nigerian languages : challenges and constraints. In: Proceedings of the National Workshop on best practices to safeguard endangered Nigerian languages.
Naccache, A.F.H. (2016). Edward Sapir and the origin of language,  http://evolang.org/neworleans/pdf/EVOLANG_11_paper_31.pdf consulted on 26/1/17
Emeka-Nwobia, N.U. (2015). The Place of Indigenous Nigerian Languages in National Development, Journal of Research on Humanities and Social Sciences, 5(12), 112-116.
Eze Ejike (1996). The National Language Issue: A Revisit,  https://groups.google.com/d/topic/ soc.culture.nigeria/iwAXOUF9XOA.Consulted on 24/09/2016.
Hon-Chan, Chai (1971). Planning Education for a Plural Society, Paris: UNESCOITEP.http://www.abebooks.co.uk/Planning-Education-Plural-Society-Chai-Hon-Chan/992747071/bd.
Igbineweka Alex (2010). WAZOBIA.http://www.edofolks.com/html/pub42.htm. Consulted on 30/1/2017.
Krech, D., Ballachey, E.L. &Crutchfield, R.S. (1962).Individual in society; a textbook of social psychology, New York, McGraw-Hill.
Lord, L., M. Dee-Hosein, E. Habib & S. Lee (2012). Cape Communication Studies. Pearson Education, Limited, https://books.google.com.jm/books/ about/CAPE_Communication_ Studies.html?id=1dcrMwEACAAJ. Consulted on 20/09/2016.
Mustapha, A.S. (2010).  A Sociolinguistic Answer to Nigeria's National Language Question, in Ife Studies in English Language 8(1) 61-75.
Obafemi, Olu (2012). On Language and National Development/Integration (II)
http://www.dailytrust.com.ng/weekly/index.php/opinion/10817-on-language-and-national-developmentintegration-ii#8KJzAqBHCoIPcC6Q.99. Consulted on 16/09/2016.
Obi, Nmadumelu.http://www.globalacademicgroup.com/journals/knowledge%20review/ENGLI SH%20LANGUAGE.pdf.Consulted on 19/09/2016.
Ojo, E.O. National Language Policy and the search for National Integration in Nigeria. Online article consulted on 20/1/17.
Olaoye, A. A. (2013). The Role of Indigenous Languages in National Development: A Case Study of Nigerian Linguistic Situation in International Journal of Applied Linguistics and English Literature, 2(3) 29-34.
Olatunji F.F. and Oyedokun W.A. (2002).Improving your proficiency in English Communication Skills, Offa, Destiny Commercial Press.
Otedo News Update Origin of WAZOBIA as majority language in Nigeria, Benin City, Nigeria. Online article consulted on 23/09/2016.
Oxford Advanced Learner's Dictionary of Current English, 7th Edition, Oxford University Press.
Oyawoye S.A. and Olaosebikan A.K. (2003).Effective English for Tertiary Students, Offa, KSP.
Oyetade, S.O. (2001). Attitude to foreign languages and indigenous language use in Nigeria.In Herbert Igboanusi (Ed) Language attitude and language conflict in West Africa14-29. Ibadan: Enicronfit publishers.
Popoola, M. (2014).The Language factor in Nigeria's National Development Communication Perspective in IOSR Journal of Humanities and Social Sciences (IOSR-JHSS), 19(3), 84-91.
Savignon, S. J. (1983). Communicative Competence: Theory and Classroom Practice. Reading, MA: Addison-Wesley Publishing Company.
http://www1.gdufs.edu.cn/jwc/bestcourse/kecheng/38/whjiaoan/files/intro.html
RELEVANCE OF LITERARY TECHNIQUE IN THE TEACHING OF ENGLISH STUDIES IN NIGERIAN TERTIARY INSTITUTIONS
CHRISTOPHER AJIBADE ADETUYI, Ph. D.
Lead City University, Ibadan
Oyo State, Nigeria
Introduction
In 18th-century England, the concept of literature was not confined as it sometimes is today to 'creative' or 'imaginative' writing. It meant the whole body of valued writing in society: philosophy, history, essays and letters as well as poems. What made a text 'literary' was not whether it was fictional – the eighteenth century was in grave doubt about whether the new upstart form of the novel was literature at all – but whether it conformed to certain standards of 'polite letters' . The criteria of what counted as literature, in other words, were frankly ideological: writing which embodied the values and 'tastes' of a particular social class qualified as literature, whereas a street ballad, a popular romance and perhaps even the drama did not.
At this historical point, then, the 'value-ladenness' of the concept of literature was reasonably self-evident.
In the eighteenth century, however, literature did more than 'embody' certain social values: it was a vital instrument for their deeper entrenchment and wider dissemination. Eighteenth century England had emerged, battered but intact, from a bloody civil war in the previous century which had set the social classes at each other's throats; and in the drive to reconsolidate a shaken social order, the neo-classical notions of Reason, Nature, order and propriety, epitomized in art, were key concepts. With the need to incorporate the increasingly powerful but spiritually rather raw middle classes into unity with the ruling aristocracy, to diffuse polite social manners, habits of 'correct' taste and common cultural standards, literature gained a new importance.
It included a whole set of ideological institutions: periodicals, coffee houses, social and aesthetic treatises, sermons, classical translations, guidebooks to manners and morals.
Literature was not a matter of 'felt experience', 'personal response' or 'imaginative uniqueness': such terrains, in dissociable for us today from the whole idea of the 'literary'. would not have counted for much with Henry Fielding. It was, in fact, only with what we now call the 'Romantic period' that our own definitions of literature began to develop.
The modern sense of the word 'literature' only really gets under way in the nineteenth century. Literature in this sense of the word is a historically recent phenomenon: it was invented some time around the turn of the eighteenth century, and would have been thought extremely strange by Chaucer or even Pope.
What happened first was a narrowing of the category of literature to so-called 'creative' or 'imaginative' work. The final decades of the eighteenth century witnessed a new division and demarcation of discourses, a radical reorganizing of what we might call the 'discursive formation' of English society. 'Poetry' 'comes to mean a good deal more than verse: by the time of Shelley's Dejence Poetry (1821), it signified a concept of human creativity which is radically at odds with the utilitarian ideology of early industrial capitalist England.
Of course, a distinction between 'factual' and 'imaginative' writing had long been recognized: the word 'poetry' or 'poesy' had traditionally singled out fiction, and Philip Sidney had entered an eloquent plea for it in his Apology Poetry.But by the time of the Romantic period, literature was becoming virtually synonymous\ with the 'imaginative': to write about what did not exist was somehow more soul-stirring and valuable than to pen an account of Birmingham or the circulation of the blood. The word 'imaginative' contains an ambiguity suggestive of this attitude: it has a resonance of the descriptive term 'imaginary', meaning 'literally untrue', but is also of course an evaluative term, meaning 'visionary' or 'inventive'.
English as a global language was not completely perceived in the early 1950s to the 1970s, but the prominence of English language as a global one came to be known only in the 1980s. There was a growing perception of the language becoming a universal language which resulted in famous authors making daring proclamations like "English is the global language" (Crystal, 1997).
A questionnaire was presented to various people from all over the world by the British Council in the year 1995 (Paul Iles, 1995). Of the 1,398 respondents who took part in the survey, almost 96.3% suggested that they either strongly consented or moderately consented that English was and would stay in the upcoming years as the most prevailing language of the world communication systems.
Apart from this, 79.2% responded that they neither consented nor strongly consented for the idea of having another language contesting the role of English as the major language of the world. Fishman (1996) suggested that the present world is governed by massive trade, technology and banking systems apart from human sciences and other qualifications, and all these applications predominantly use English for communication so as to ensure participation from the whole world.
This is despite how well founded and guarded by the local traditions, languages and cultural identities may be. Crystal (1997) and Graddol (1997; 2006) noted that this change has resulted in English becoming the global language. After the proclamation given by Fishman, it has been noted more obviously how the belief has been made more evident all across the globe.
The observed significance of English and also the need to be able to communicate in English language has unfortunately not been reflected on the educational system in some countries.
The Evolution of English in Nigeria
Nigeria's first contact with the English language dated back to some period before the trans-Atlantic slave trade. It is on record that as from 1553, English men paid very brief visits to the Nigerian coasts especially the ports of Benin and Old Calabar and the type of communication which evolved between the English men and Nigerians, was English based pidgin. Later, when slave trafficking increased greatly in the eighteenth century with England as a major exporter of slaves, African traders saw more need to learn European Languages. A few of the sons of these traders were sent to England to learn English, among other things. With the abolition of the slave trade and the need to find an economic alternative, explorers began to penetrate into Nigeria, and beyond at all costs. They were followed by missionaries who played a combined role of preaching the gospel and promoting legitimate trade. The missionaries also built schools, through which came formal education which brought about the spread of English. (Faniran, A.O, Adetuyi C.A, and Adetuyi A.A., 2016)
At the time, some Nigerians had to be taught English, primarily to help missionaries in the church and also to make them become clerks, interpreters, etc. to colonial administrators who came, later, to protect their legitimate trade and missionary activities. By 1903, the whole of Nigeria had come effectively under British rule. Government founded its schools alongside those of the missionaries and through formal education, came the spread of English language in Nigeria. Nigerian English, British English, Australian English constitute a major variety of the English language. Nigerian English, refers to the English language as used in Nigeria by the educated. There exist within Nigerian English such sub-varieties as Hausa English, Ijaw English, Igbo English, Efik English, Yoruba English. These are easily identified as ethnic or linguistic groups known as dialectical varieties because they are affected and conditioned by the various dialects of the speakers.
Nigerian English is therefore that variety of English that has developed in Nigerian non-native situation, due to colonial imposition of the language as well as the native English culture on the country. The variety developed is not wholly native English type and not totally Nigerian. It is a blend of the two situations. However, observed usage of the educated Nigerian show, among others, the aspects Nigerianisms (Faniran A.O, Adetuyi C.A and Adetuyi A.A., 2015).
Teaching multicultural literature in English language
Teachers need abundant knowledge of literary theories in addition to the reading techniques when they give lecture about multicultural literature in English language classes. Though they follow classical, new criticism, mythological and archetypal, the formalist, feminist or reader-response methods of literary analysis in their multicultural literature reading, they should have knowledge, for example, on postcolonial criticism when they deal with Eurocentric inclinations.
Inadequate knowledge of theoretical contexts among English teachers' leads their students to study the ambiguous depictions of cultural groups carelessly while they read. So, deciphering multicultural literature with postcolonial literary theory will support the students to consider the problems in Eurocentric illustrations of development. According to Mingshui (2002), we have to take multicultural literature to make the experts in that topic instead of merely conveying information. He indicates that "when using multicultural literature in the curriculum, it is imperative to move from informing to empowering students. To empower students is to help them develop the ability to identify, critically analyze, and even take action to solve problems related to cultural differences.'' (p. xviii)
Students could actively react to the problems of multicultural literature due to transformation from informing to qualifying the students. Students can understand the concepts by appropriate explanations. For example, postcolonial literary theory can be taught by explaining the association between postcolonial and multicultural literatures, which are closely related though they are the same completely. Multicultural literature includes world literatures (translated to or originally in English) like immigrant literature, ethnic (or minority) literature, and Native literature, whereas postcolonial literature is defined precisely as "writing by those peoples formerly colonized by Britain, though much of what it deals with is of interest and relevance to countries colonized by other European powers, such as France, Portugal, and Spain" (Ashcroft et Griffiths and H. Tiffin., 1989).
Teaching mechanisms
In 1990s, research started to delineate literature teaching in foreign language classrooms. But those studies were position-based instead of data-based studies, which determine the result of literature teaching on learning a foreign language. Advanced learners of English appreciate good literature even if they are not able to perceive the entire contents (Erturul, 1995). She also pointed out that the students have to improve their literary proficiency, which would help them understand symbolic meanings in the literature. On the other hand, poetry brings the learning of rhythm and sound system among students (Cubukcu, 2001; Himanolu, 2005) and encourages them to be learners (Erturul, 1995). Though some studies in 1990s encouraged literature usage in EFL classrooms, new curricula reduced the weekly literature courses, which was reinforced by Türker (1998) as to be followed in all levels of instruction. Akyel (1995) commented that the teachers may not like to teach poetry in classrooms due to their lack of knowledge in poetry although poetry provides precious language for EFL students. EFL teachers should be able to differentiate each genre as each genre has its own practical usage. Erturul (1995) reports that while the short stories are short and time saving with less words and imaginations, poetry on the contrary, has in-depth of imaginations, accent and rhythm. She also observes that drama contains dialogues, which would be very useful as they are a part of regular communication. She claims that novels are not applicable in classroom teaching as they are lengthy but they are recommended for reading outside the classroom and called as "breath reading" or "extensive reading" for the overall improvement of skills of the student
A study conducted with fourth year prospective teachers of English language revealed that most of the prospective teachers believe that literature courses are important for their English language education curriculum (Arikan, 2005). Novel methods of teaching and learning by using literature are valuable resources of improving language learning in Nigeria. As an example, literature theory can replace language-based methods for teaching literature (Cubukcu, 2001; Unlu, 2002; Arikan, 2008). Additionally, computer technology like internet has to be included with traditional classroom-based activities for teaching literature (Arikan, 2008; Kartal and Arikan, 2010). Students have interests to work with tools given in the virtual world for learning American and British literature (Arikan, 2008).
Different Models of Teaching Literature in Class
In recent times, a renewed interest has emerged in the teaching of literature in the language class, and quite a lot has been written on the subject whereas, in the past, not much was actually said about literature in the foreign language classes. In the 1980's, however, things started to change in language teaching. There was continued debate on the place of literature in the EFL/ESL class room and the interface of literature and language, so the teaching of literature is now often seen within the framework of different models. There are various models proposed for teaching literature to students in African Countries (Carter and Long, 1991; Lazar and Gillian, 1993). The teacher can take literature content according to the type of model they select. The three models include
4. The Cultural Model
5. The Language Model
6. The Personal Growth Model
Of course, these models are all linked, but broadly speaking they can be described as follows: the cultural model is seen as a means of transmitting important ideas and feelings, also sometimes universal, in the target language, and as a way in which students encounter a wide variety of words and expressions. Through this model students learn about culture and ideology other than their own; it is also sometimes seen as centering more on knowledge about texts with not much time being given to individual texts.
The cultural model takes literary content as a product, i.e., input information of the culture focused. It is the classical method, usually applied in university courses about literature. The cultural model looks for the social, political and historical background of a content, literary movements and genres. But content specific language work has not been done so far. This method would be completely teacher-centric.
With regards to the second model, the language model, some favour the teaching of literature for its use in language development. There are those who use literature as a tool to teach certain vocabulary or structures. This use, however, is criticized by others who argue that instead of motivating students this can become a mechanistic process and its use can be detrimental (Spack 1985). They hold the view that these language activities are not the real aim of literature and will very likely detract from any sense of pleasure the work in question should impart.
Nevertheless, in selecting a given text, it is often the language teacher's wish to reveal what 'oft was thought but ne'er so well expressed' or, in other words, to confront students with examples of good use of language (Erturul., 1995). Many concede that the students have much to gain in terms of language development by being given such examples, but they emphasize that the main purpose of literature teaching is to enable the student to find his own way into a text (Fishman 1996). In this language-based model, the activities are learner-centred. The focus is often on the way language is used, how linguistic forms convey literary meanings, and going beyond the literal interpretation of the lines. The language model was meant to be highly learner-centric. While going through the content, learners tend to give importance to the pattern of language usage and the meaning through which they understand English. This model lets the teacher focus on general grammar and vocabulary (for example as given in the course books) or go for stylistic analysis in which the students would be able to elucidate the content with the knowledge on linguistic characteristics of the content. This improves the reading and studying ability of the learners.
The objective of the third model, that of personal growth, has been termed by some as an engagement with the reading of literary texts, or an engagement not for the sake of getting through examinations, but as a genuine liking for literature not confined solely to the classroom, like the language model, the personal growth model is more student-centred. Its aim is to motivate the students to read by selecting themes, to a large extent, related to their own personal experiences. It is sometimes anti-analytic and many describe its purpose as one of reading literature in order to make the text their own. Students are also encouraged to evaluate what they read themselves and distinguish the merits of the works they read. The personal growth model is a process-based method and tends to be learner-centric. In this model, learners can portray their own views, thoughts and experiences. It tries to provide the content and the reader interactions to build the language thereby making it unforgettable. Learners are promoted to "make the text their own". This model identifies the strength of literature which can make the learners implement their learning in the classroom.
As has already been pointed out, these models are abstractions, for, in fact, the language and personal growth models are often closely linked and the cultural model can also contain elements of the others. It would be true to say that overlaps occur, all the more as a result of the actual selection of the particular class activities.
These three main models for the use of literature in the classroom necessarily open up a number of issues. One of these is the value of the use of literature for the study purposes and its use as a resource. Its use as a resource may appear less academic but is also a valid approach, a means for developing a personal response, which calls for sensitivity and understanding, providing many linguistic opportunities and basing many language exercises on interesting material, thus furthering the personal development of language skills.
Improvement of English applicable skills
In the current scenario, English teaching should develop the ability of the students in listening, speaking, reading, writing and translating. Developing skills, which need English proficiency, would be beneficial for students particularly in multi-national companies. These skills can be promoted while encouraging teaching of literature with a practical output in mind. Learning and applying informational technology and new applications through English applicable skills brings better convenient openings for advancement in the world. Work place demands English speaking programs and skills. So, we have to enhance the reading skills of students through encouraging them to read more English classical and modern literature which would improve their vocabulary and speaking English skills. Words and phrases used in daily life can be improved by communicating with English speakers in native language. English drama and poetry reading would help improving listening skills. Translation of vernacular literature into English can also be practiced to improve command over the English language
Combination of professional knowledge
Apart from providing basic training, students have to be trained to use English language to implement in professional skills, teaching and other applications. This could be achieved by teaching students in the real time environment like asking them to take part in poetry reading competitions, organize plays in order to practise their language skills. By this, students would gain technical knowledge on the English language. Following this hands-on training for their job and understanding professional knowledge as well can be made possible if technology students are asked to go to work in their industry. In addition, they would be aware of the working environment, problem solving methods, interactions with elder and senior students and team work. Professional knowledge with English teaching gets more importance in Nigerian students' education and is appreciated by industries.
Training ability of self-learning
Learning is a continuous process in life to update our knowledge to understand the advanced technologies and meet the age-related demands. We would be able to train students to be imaginative and for continuous growth. Self-learning and long-life learning skills are important for both teachers and students. People who do not update their skills and knowledge would be out of date and lose their jobs. So, we have to learn new skills and knowledge to keep us updated.
Learning should continue after leaving classroom also. We have various resources to read such as professional magazines, journals, papers, the Internet, and in-service training programs. Joining to the organizations and participating in the conferences would get to know recent developments. Internet, distance education, e-learning and air-class would provide broad and different learning. Self-learning increases our knowledge and skills anywhere anytime and is a productive life-long learning method.
Conclusion
Literature is very important for English learning programmes conducted in both English and non-English speaking countries. But teachers over those countries face problem in literature-based teaching of English. A very few well prepared curricula with supporting materials constitute the first problem with teachers in language classroom. Inadequate preparation for literature teaching in programmes is the second problem. The third issue is that the role of literature is not defined with precise objectives. Many instructors implement literature in the classroom with no knowledge or training in that area. The teacher plays a crucial role in literature-based teaching of English. When choosing literary contents for classroom teaching, many factors such as language skill of the students, interests, age, sex, etc have to be considered to supply with right materials to avoid students getting bored.
References
Akyel, A., 1995. Stylistic analysis of poetry: A perspective from an initial training course in TEFL. TESL Canada Journal, 13(1): 63-73.
Akyel, A. and E. Yalcin, 1990. Literature in the EFL class: A study of goal achievement in congruence. ELT Journal, 44(3): 174-180.
Arikan, A., 2005. An evaluation of literature component of Hacettepe University english language teaching department. Hacettepe University Journal of Education, 29: 40-49.
Arikan, A., 2008. Using internet groups in the learning of literature. Hacettepe University Journal of Education, 34: 19-26.
Ashcroft, B., G. Griffiths and H. Tiffin, 1989. The empire writes back -theory and practice in post-colonial literatures. London and New York: Routledge.
Brumfit, C., 1985. Reading skills and the study of literature in a foreign language. In C. Brumfit Ed, Language and literature teaching: From practice to principle. Oxford: Pergamon Press. pp:105-110.
Carter, R. and M. Long, 1991.Teaching literature.Longman.
Collie, J. and S. Slater, 1987.Literature in the language classroom. Avon: Cambridge University Press.
Crystal, D., 1997. English as a global language. Cambridge: Cambridge University Press.
Cubukcu, F., 2001.Use of poetry for EFL purposes. Izmir: Dokuz Eylul University.
Du, R., 1990. Literature in english: An integral part of EFL curriculum, ELT in China: Papers Presented at the International Symposium on Teaching English in the Chinese Context (ISTEC),
Guangzhou, China, Beijing: Foreign Language Teaching and Research Press. pp:199-209.
Erturul, G., 1995. The importance of literature in English language teaching. Dokuz Eylul Universitesi Eitim Fakultesi Eitim Bilimleri Dergisi, 7: 1-19.
Faniran A.O and Adetuyi, C.A and Adetuyi A.A (2016), An Insight into the Grammatical and Lexico-semantic Features of Nigerian English in a Bilingual Speech Community.International Journal of Advanced Academic Research (IJAAR)/ Humanities, Social and Management Sciences. Vol 2, Issue 3 page 1-11
Fishman, J., 1996. Summary and interpretation: Post imperial English 1940-1990, in: Fishman et al, Post imperial English. Berlin: Mouton De Gruyter. pp: 623-641.
Graddol, D., 1997. The future of English. London: The British Council.
Graddol, D., 2006. English next: Why global english May mean the end of english as a foreign language. London: The British Council.
Himanolu, M., 2005. Teaching english through literature. Journal of Language and Linguistic Studies, 1(1): 53-66.
Kartal, E. and A. Arikan, 2010. A recommendation for a new internet-based environment for studying literature. US-China Education Review, 7(7): 93-100.
Lazar and Gillian, 1993.Literature and language teaching. Cambridge.
Mingshui, C., 2002. Multicultural literature for children and young adults. London: Green Wood Press.
Mullane, W., 1984.Teaching literature. In R. F. Price, Ed, English for China , Committee for America-China Relations: Melbourne. pp: 81-90.
Osburne, A., 1987. Chinese students and methodology courses. ED287296.
Paul Iles, 1995. Learning to work with difference. Personnel Review, This is the article written for British Council, 24(6): 44 – 60.
Spack, R., 1985. Literature, reading, writing, and ESL: Bridging the gaps, in. TESOL Quarterly, 19(4): 703-721.
Türker, F., 1998. Using short fiction in ELT in prep classes, the second INGED- Gazi international ELT: Meeting Conference the Challenges of Skills Teaching: Classroom Applications, Ankara: Afak. pp: 102- 130.
Unlu, A., 2002. Ksa oyku oretiminde psikanalitik yaklam, a rose for emily. Dil Dergisi, 123: 72-86.
Widdowson, H., 1975. Stylistics and the teaching of literature. Longman
ANALYSIS OF PHONOLOGY OF INTERLANGUAGE DATA OF SECOND LANGUAGE LEARNER USING IGBO LANGUAGE
ENU, Evelyn N. Ph.D.
Department of General Studies Education
Emmanuel Alayande College of Education, Oyo
Oyo State, Nigeria
Introduction
Language acquisition is the process by which children unconsciously pick up their native languages while language learning is a conscious effort to know a second language, with the aid of a teacher within the confines of a school (Krashen, 1982). Six layered and overlapping stages in the process of language acquisition in children were identified by descriptive linguistics (Armon-Lotem, 2009). Also, adults undergo the same stages when acquiring a second language (Ellis 2009). These stages are: Pre-production, Speech emergent, Beginning fluency, Intermediate fluency, here the learner is fluent in social and academic discourse, makes fewer errors and is capable of higher order thinking and analysis (Ofemile & Choomi, 2010). The final stage is advanced fluency where the learner is comfortably fluent in all contexts but may   still have an accent.
Second language learning is associated with some challenges which include understanding the total linguistic processing in the learning task by the learner. These challenges have been looked into within the framework of contrastive analysis. However, in recent years attention has shifted to the examination of this phenomenon through cross-linguistic studies for evidence of universal developmental processes, carried out on a variety of sources and target languages. This is with a view to arriving at explanatory account of second language (SL) grammar (Sato, 1984).
Considerably less data of this nature is available in Igbo despite the various SL programmes mounted on the language and despite volumes of data in Euro-American languages (Akpan 2004). This may have as well contributed to the low performance of second learners in this language. The present study presents the phonological aspect of the data collected in a bigger study on Second Language Acquisation (SLA) to contribute to the cross linguistic study of the underlying structures and functions common to all languages – Universal Grammar (UG) (Oha, 2005). The primary question "what are the phonological processes involved in interlanguage of learners of Igbo as a second language?"
Inter-language (IL) is a learner's language that is characterised by permeability, dynamism, and systematicity (Ofemile and Choomi, 2010). Davies (2010) breaks it into two components. The first presents IL as the structural system which the learner constructs at any given stage of language development. The second consists of 'built-in' syllabus formed by a series of interlocking systems. Studies on Interlanguage (IL) phonology abound in many languages especially in Yoruba language (Oyabade, 1990; Salami, 1999). A study in such direction derives its necessity from the fact that an effectively developed second language teaching programme has its foundation on the findings of such research. Sato (1984) reported that most researches on the phonological aspects of second language acquisition have been conducted within the framework of contrastive analyses. Phonological processing largely affected by language transfer is the common assumption (Loup, 1984; Sato, 1984). Sato (1984) challenges Tarone's (1980) claim of a universal tendency for open vowel syllable preference in influencing the syllable structure of the interlanguage phonology. Also, she corroborates the finding that LI transfer manifests itself not only in terms of contrasts in LI and L2 consonant cluster inventories but also in terms of cluster position preferences.
Furthermore, the patterns of modification found in interlanguage phonology of Polish English are best analysed not in terms of processes unique to IL phonology, but rather in terms of universal patterns of glottalization and epenthesis found in the speech of persons experiencing stress, whether in native language or second language (Hodney, 1985). However, Salami (1999) takes a broader scope than the modification of syllable by describing and establishing phonological processes going on in the acquisition of Yoruba language and determines whether or not they differ from those attested universal principles within the natural phonological framework. He analysed data obtained from a longitudinal study of his daughter that revealed processes grouped into the two constraints; the systemic simplifications and structural simplification.  The following processes were identified under systemic simplification constraint: stopping where affricates and fricatives are realised as stops and plosives, fronting velars and alveolar-palatal as alveolar and gliding where liquids are realised as stops and plosives fronting velars and alveolar-palatals as approximants. Also, the following processes occur under structural Simplification: reduplication, syllable deletion, assimilatory processes and consonant harmony.
Phonological processing is defined as a mental operation that applies in speech to substitute for a class of sounds or sound sequences presenting difficulty to the speech capacity of the individual, an alternative class identical but lacking the difficult property (Salami, 1999). With this Salami (1999) conducted a demonstration of the presence of significant modification of speech in line with some general universal constraints. The present study also has the same focus to establish and characterise phonological processes going on in the acquisition of Igbo language as L2 and see whether they correlate with attested universal principles. However, while his study was longitudinal and on child language studies the present study is cross-sectional and on second language learners.
Purpose of the study
The purpose of the study was to investigate the phonology of Igbo interlanguage data of second language learner using Igbo language.
Methodology
Research Design
The research design employed in this study was a general descriptive approach.
Population and sample
Thirty Yoruba student learners of Igbo language from Command Secondary Schools in Ibadan were used for the study.
Instrumentation
Students had their speeches elicited from a picture-description task and transcribed. The students took turn to sit in a room and the picture hung in front of them. The outputs were recorded in tape recorder for close to thirty minutes. Also, structured interviews were employed to elicit information from the participants or informants, using a cassette recorder. Phonological data for this write-up were isolated from the transcription.
Summary of Findings and Analyses
The present study presents the processes in a general theory of speech sounds without theoretical orientation. Since Igbo phonetic inventory does not involve the complex nuances of the same sound as obtained in English and coupled with the solely open vowel structure of the syllable structure, instances of epenthetic marking as usually occur in comparable English data is not noted in the transcription. Another feature of the data is that in certain instances the same error token occurred in more than one category, example "diiri" occurring as fronting and vowel lengthening and "yenuwari" occurring as vowel fronting and consonant fronting respectively. The following five modifications are found in the data: Phoneme fronting, elision, preference for pharyngeal unrounded vowel, vowel lengthening, tonal modification and consonant cluster. They are described below
Phoneme Fronting
Table 1 (a) vowels
Target-forms        subjects' form        Gloss
a.    No na ya            (no.ni ya)                 is in
2.    aka                    (aki)                         hand
3.    na-akpo             (ne-ekpo)                  is calling
4.    Dere                  (diiri)                        wrote
Table l (b) consonants
Target language forms   subjects'forms          Gloss
1.          na-etinye                 (na-etiye)            "is putting"
2.         Ndi ozo'kwa      (ndi ozokpa)   "other people too"
3.          na-anu               (na-anwu)           "is drinking"
4.       Genuwari              (Yanu wagri)        "January"
5.       nwekwa                  (nweka)               "also exist"
All the data in Table l (a) and (b) show subjects' preference for fronting. In data1and 2 /a/ becomes (I) while /a/ becomes /e / in 3, and /I/becomes /I/ in 4
In 3, the final syllable changes from /ọ/to /o/in the subjects' observation of vowel harmony. Salami (1999) shows that in early language acquisition certain consonants are realized as some others usually sharing similar characteristics such as same point or nearest to the same point of articulation in their efforts to simplify inputs. This is evident in the data in Table l (b) in the following fronting processes:
Table 1(b) data 4 above showed that the voiced velar plosive /g/ is realized as the palatal approximant /j/, in data 5 the labial velar/kw/ is substituted by the simpler velar plosive/k/, the velar nasal /rj/ is replaced by the palatal approximant /j/ while in Data 2 the labial velar/kw/ is this time realized as the labial velar plosive /kp/.Note that in data 5 and 2 where the labial velar is replaced, its substitutes are plosives: velar plosive in 5 and labial velar plosive in 2 all fronted. This attests to Salami's (1999) assertion that plosives are generally part of consonants that are early acquired. Fronting under which process these phonemes are substituted has generally been seen as the most common phonological simplification strategy with early language acquirers attested to by child learner's early acquisition of such words as 'papa' and 'mama'(Salami 1999). The midvowel /e/is fronted to /ị/.
Elision
Elision is the omission of sounds, syllable or words in speech.  This is done to make the language easier to say and faster. Elision is phonological process which mostly applies to consonants while vowels hardly undergo it because of what has been described as their central position in the peak of pronunciation of syllable and other syllable-bearing units in the language (Mbah and Mbah, 2000). With this rule in mind learners misapplied it in contexts.
Table 2
Target forms             subjects' form                  Gloss
Áka yá                      áka á                          'his/her hands'
Ànyí                          a'ì                               'we'
Were                         wè é                             'take/began'
Ánùnuánùnu             ńnù                                   'green'
From the data, it can be observed that as learners weaken sonorant sounds (Giregerich, 1992:92) – /y/, /ny\, M, /m\ -they dissolve and drop entirely.
Preference for pharyngealized unrounded vowels:
Learners show preference for pharyngealized unrounded vowels in their phonological processing as follows:
Target forms       subjects' form                     Gloss
1.         ǹke a       ǹke á à                                    'this one'
2.         kuo           kòó                                      'knock'
3.         é 'dère       a dere                              'It is written'
4          Éserese      ásèrese                                 'drawing'
5.         Éji             a ji                                       'they hold'
This process involves the modification of the non-pharyngeal vowels to pharyngealised unrounded vowels. Igbo vowel inventory groups into two phonotactic constraint of vowel harmony: the pharyngealised-/a, ị, ọ, ụ/ and the none pharyngealised /I e o u/. The none pharyngealised is modified to pharyngealise. However the process is insensitive to any phototoxic conditioning. While data l and 2/seem conditioned by vowel harmony rule (/e/ >/a/ and /u/>/ọ/ respectively), the modifications in data 3-5 occur on their individual bases without influence from the surrounding environment.
Vowel lengthening
Vowel lengthening is the doubling of vowels. This is not distinctive in Igbo. There is no contrast between long vowels and their short counterparts. For instance, there may be two versions of the human female "nwanyi" and "nwaanyi" but they will not result in a semantic change. However, cases of vowel lengthening also appear in the data as follows:
Target forms       Subjects' form          Gloss
1.          Dèere         diiri                            'wrote'
2.          Dère          dèree                           'wrote'
In 1 the data underwent two modification processes: phoneme substitution (dere__diiri) and vowel lengthening (dere___adiiri). Also, the vowel fronting discussed above involved in the phonological processing.
Tonal Modification
Tone is a phenomenon of pitch which has received much attention. Tone, according to Ladefoged (2007), is the distinctive pitch level of a syllable. A tonal language, as defined by Pike (2008:43), is "a language having lexically significant, contrastive but relative pitch on each syllable". Tone is also the use of pitch level to distinguish contrastively between items within the lexicon of a given language (Eka, 2014). He also notes that most African languages are tonal. In tone languages, tone is an integral part of a word itself. Thus the learners are not encountering tones for the first time in the Igbo data. However the data still show processes of modifications of tone as below:
Target forms               Subjects' form             Gloss
1.        Ḿmbu afo             ḿbù                         'one'
2.      ǹkéáno Weere      ǹké àno                'the fourth one'
3.      áfò                         áfo                         'year'
4.            Wèere              we'ré                    'took'
In the data, most of these tokens occurred very frequently where a large percentage of each was correctly articulated. This suggests that instances of modification as noted above are results of the variability which is referred to as points of continuity and discontinuity in the literature where certain morphemes (segmental or suprasegmental) appear in the learner's inventory, disappear and reappear later (Akpan, 2004).
Clustering
An instance of clustering of consonants is observed once in the data as below:
Target Form        Subjects Forms         Gloss
Obara obara             Obra obra                  'bloody /'red'
Igbo has an open syllable structure; a pattern with most African languages. In the literature preference for open syllable structure is associated with second language acquisition as a universal process of simplification (Tarone 2000, 2005; Hodney, 2005). However in this instance the interlanguage shows the learner employing the reverse – that is, a simplification by syllable reduction which results in the clustering of consonants.
Interpretation
Thus so far the following five phonological processes characterize Igbo interlanguage of the group of learners studied: phoneme fronting, elision of consonants, preference for pharyngealized unrounded vowels, vowel lengthening, tonal modifications and consonant clustering.  Fronting of phonemes appears as the most prominent phonological processe among the learners as discovered in previous studies (Salami, 1999, and Akpan, 2004). Fronting to plosives and the high front vowel /i/predominates because these with other fronting are attested universal language acquisition patterns with early learners.
Furthermore consonant elision occurs to extend the language's rule to where it does not apply. In such instances it seems as what the learners were aiming at was lenition of already weak (sonorant) sound which in the process got elided. Preference for pharyngealized unrounded vowels, apart from few instances of vowel harmony constraints operated without any reference to other sounds in the environments of occurrence. We consider this as part of variability in language acquisition noted by scholars (Tarone, 2008), or perhaps the effect of the neutral sound /a / described as being in the pendulum between the expanded vowels and the retracted ones (Emenanjo, 1978).
However, vowel lengthening can be compared to vowel epenthesis in the Euro-American languages in occurring as a process of movement towards a universal open syllable (Tarone, 1980).This is reported to be essential universal feature of language acquisition.  Since tone is part of African languages' phonemic inventory, the modification of tones in the data implies another instance of variability in the learners' language outputs as in most other instances these tones are correctly rendered. The most interesting aspect of the data lies in the least token depicting consonant clustering because of the learners' ingenious use of the process to reduce syllables in the word.
Conclusion
The phonological processes in Igbo interlanguage identified and characterized in the foregoing show comparable trends in studies in other languages. It bears out the fact that phonological processing are the same and a product of efforts to learn Igbo on its own term independent of language transfer. What the learners have done is a natural universal tendency towards simplification of language data in getting over the task of learning. The finding compares with characteristics observed in child's language learning in universal Grammar and confirms that adults follow the same process in learning new languages. Such finding has great potentials for the development of second language curriculum.
References
Akpan, E. E, (2004). Substitution Process in Ibibio Child Phonology.International Journal of Linguistics and communication.Maiden Edition.
Armon-Lotem, S. (2009). Stages and theories in language acquisition http://faculty.biu.ac.il/~armonls/ D
Dickerton, L. and Dickerton, W. (1977). Interlanguage phonology: Current researches and future directions. In Corder, S. P and E. Rooulet (eds) The Notions of Simplification, Interlanguage and Pidgins: Actes du seme colloque de linguistique. Applique de Neufchatel 18-30.
Davies, A. (2010). Is international English an interlanguage? TESOL Quarterly 23(3), 447-467 http://www.jstor.org/stable/3586920 (Downloaded: 14/01/2010)
Eka, D. (2004). Tones in Ibibio and English: Patterns and Departures. International Journal of Linguistics and Communication Maiden Edition.
Ellis, L. (2009). 'Differences between L1 and L2 acquisition (based on Bley-Vroman 1988)'http://homepage.ntlworld.com/vivian.c/SLA/L1%20and%20L2.htm
Emenanjo, N. (1978). Elements of Modern Igbo Grammar. Ibadan: OUP.
Girergerich, H.T. (1992) English Phonology: An Introduction. Cambridge: Cambridge University Press.
Hodney, B. (2005). Yet, another look at interlanguage phonology: The modification of English syllable structure by native speakers of Polish. Language learning 35(3).405-417.
Krashen S. D. (1982). Principles and Practice in Second Language Acquisition. Oxford: Pergaman Press.
Ladefoged, P. (2007). A Course in Phonetics (4th edition). Fort Worth TX: Harcourt Brace        College Publishers.
Loup, G. (1984). Is There a Structural Foreign Accent? A comparison of syntactic and phonological errors. Language Learning 34:1-17.
Mbah, B.M. and Mbah, E. (2000).Topics in Phonetics and Phonology: Contribution from Igbo. Nsukka: AP Express publishers.
Nwachukwu, U. (19990). Teaching pronunciation to learners of English in Nigeria: In Unoh, S. (ed) Developing English language skills in secondary and higher education. Enugu: Harris publishers.
Ofemile, A.C and Choomi, K. (2010). 'First assignment: Investigating language for EDUC 5902 Submitted to School of Education, University of Leeds. (Unpublished)
Oha, A.B. (1999). Learning Strategies of Bette-Igbo language learners.M.A Thesis university of Nigeria Nsukka.
Oha, A.B (2005) Syntactic processing in learning strategies: The Igbo-learner example. Nigerian    Journal of Contemporary Language and Communication 2 (1).
Oyebade, F.O. (1990). Language acquisition: The phonology of a Yoruba child. Research in African Languages and Linguistics 1(1): 17-34.
Pike, K. (2008). Tone languages: A technique for determining the number and type of pitch contrasts in a language with studies in tonemic substitution andfusion. Ann Arbor: University of Michigan Publications.
Salami, L.O. (1999).Natural phonological processes in the acquisition of Yoruba.Research in African Languages and Linguistics 5 (l) 63-74.
Sato, C.J. (1984). Phonological processes in second language acquisition: Another look at the interlanguage syllable structure. Language Learning 34:4.
Tarone, E (2000) The phonology of interlanguage. In Richard, J. (ed) Understanding Second Language Learning. Rowley Massachusseffs: Newbury House.
Tarone, E. (2005). Some influences on syllable structures of interlanguage phonology. IRAL.17
Tarone, E.E (2008) Variability in interlanguage use: A Study of style-shifting in morphology and syntax. Language Learning 35(3), 373-403.
THE FUTURE OF THE ENGLISH LANGUAGE IN NIGERIAN SCHOOLS
Dr ABEL O. FANIRAN
Department of English and Literary Studies
Lead City University, Ibadan
Oyo State, Nigeria
Introduction
There is no gainsaying the fact that English is now a major language in Nigeria though it is not the native tongue of any of the ethnic groups in the country.  It is at the moment the only functional official second language and, as will be seen later in this chapter, it performs more roles than any of the indigenous languages of the country.
English is taught and studied at all the levels of the Nigerian education system and made compulsory for all the learners at each level.  A credit pass in it at the Senior School Certificate Examination (SSCE) conducted by either the West African Examinations Council (WAEC) or the National Examination Council (NECO) is a key requirement for admission into any of the numerous tertiary institutions.  This chapter seeks to investigate the future of English in the country's schools.  But before this is done, it is necessary and appropriate to examine the history of the English language, its implantation and functions in the country.
The Origin of the English Language
Since the main focus of this chapter is the English language and its future in Nigerian schools, it is proper to discuss, however briefly, the origin of the language.  Ayoola (2001) traces the beginning of English to 400 AD when some Germanic tribes including the Angles and the Saxons went over to England from the continent of Europe. These bellicose Germanic tribes drove out the original inhabitants of England and took total control of the country. The new settlers introduced their language known as Anglo-Saxon or Old English. Ayoola's account of the beginning of English agrees with that of Alexander (1969) who argues that English was not the original language of England and that the English people were not the original inhabitants of the country.
The history of the English language is usually divided into three periods: the Old English period (700 to 1100 A.D), the Middle English period (1100 to 1500 AD) and the Modern English period (1500 AD to the present). Old English is different from present-day English in vocabulary, meaning and grammar. Meaning in Old English depended on inflections or word endings, not on word order as is the case in present-day English.  Because it was a heavily inflected language, it was much more difficult to learn than the English of the last two periods.
Middle English is close to Modern English and has lost most of the inflections of Old English.  For this reason it is easier to learn than Old English. Modern English has still fewer inflections than Middle English and is still far easier to learn by foreigners than Middle English.
The Implantation of the English Language in Nigeria
No one knows the exact date or time of the entry of the English language into Nigeria since no one knows the first person or persons who first spoke or wrote the language in this country.  The person or persons could well be a Nigerian or Nigerians who travelled abroad and lived with English-speaking people probably during or before the period of the now infamous slave trade, and who came back to the country.  However, what is known, and what is on record is that the advent of the language in Nigeria can be rightly credited to three groups of people, namely, the European traders, the British colonial administrators and the Christian Missionaries.  Each of these groups came to the Nigerian shores for different reasons.  The European traders came to do business – to make money, the British colonial administrators came to implement the British expansionist agenda. They came to rule a people that the Government in London had subjugated by force of arms, to introduce their language and culture and to bring civilization, law and order to supposedly primitive peoples.
The Christian missionaries, on the other hand, came to convert unbelievers to Christianity and to win souls for Christ.  Because the writers of African history were initially exclusively Europeans, these biased writers wrote books and took photographs that depicted Africans as dangerous man-eaters and idol worshippers. Because of the frightening information they were fed with by the European writers on Africa, the missionaries considered it their sacred duty to save the primitive peoples of Africa from being thrown enmass into hell fire after their sojourn on this earth.  They also considered it their responsibility to prevent the uncivilized peoples from eating up one another and thereby exterminating their own race. The shocking stories of Africans living in trees like monkeys and going about naked in the bush convinced them of the need for immediate intervention.
To achieve their aims and objectives, the three groups took practical steps.  The missionaries built churches and mission houses which served the dual purpose of worship and schooling.  Thus the first schools started in the churches and mission houses.  These elementary schools were designed to produce interpreters and clerks who were to work in God's vineyard and further the work of evangelism.  Chief among the subjects taught in the schools was English.
The British colonial government, too, built schools to train clerks and such menial workers and labourers, and English was also the most important subject taught in the schools. On their own part, the traders intensified their trading activities and moved from the coastal areas to the interior of the continent in their quest for gold and other valuable minerals.
The schools were expanded to accommodate more and more pupils and more and more subjects were added to the curriculum, though the main emphasis was on English. The colonial government encouraged the natives to learn English by giving jobs to all those who were proficient in the language.  Soon, English became a status symbol and those who knew it well enjoyed special privileges.
The need for a language of communication between the British colonial administrators and the local population informed the special emphasis placed on English. The events discussed above occurred a little after the middle of the 19th century.  As more and more British and English-speaking missionaries came to Nigeria, English was formally adopted for communication between the natives and the foreign administrators, missionaries and traders.
The Role of English in Nigeria
It has become common knowledge that English performs several functions in Nigeria (Bamgbose, 1971). As earlier pointed out, it performs even more functions than any of the several indigenous languages of the country. To start with, English is the only functional official second language in Nigeria. As such, it is the language of the government – the language of all official communications.  If any of the Government Ministries, Departments or Agencies (MDA's) wants to communicate with other parastatals or with the citizens and foreigners alike, the communication or correspondence will be done in English.  And if any citizen wants to tell the government anything in speech or writing, he or she has to do that in English.
Secondly, English is the language of education in Nigeria: it is the language in which textbooks on almost all the subjects of the school curriculum are published; it is the language in which almost all test and examination questions are set; and it is the language in which students are expected to answer their questions in almost all the subjects as has been explained.
Moreover, English is the medium of instruction in almost all school subjects right from the third year of primary school to the University.  So, as early as the third year of primary school, English begins to play a dual role: it is taught and learnt as a subject, and it is the language for teaching other school subjects except perhaps local languages like Yoruba, Igbo and Hausa or foreign languages like French and German.  For example, the language which a Mathematics teacher will employ for teaching his subject is English.
Again, English is the language of Law, external trade, communication with most foreign countries and governments, and official communication.  Finally, it is the language in which Nigerian national newspapers are published, the language in which national news on radio and television is read and the language of unity in that all educated Nigerians from different ethnic and linguistic backgrounds communicate with one another in English.  So important is English in Nigeria that any Nigerian who does not know it is at a great disadvantage.
The Language Situation in Nigeria
Nigeria is a multi ethnic, multilingual and multi-cultural nation.  Achebe (2013) avers that there are over 250 distinct ethnic groups in this country, with each first paying allegiance to the authority of the group before doing so to the central authority of the country as a whole.  In fact, members of each ethnic group refer to their group as a nation and it is not uncommon to hear such separatist expressions as "the Yoruba nation", "the Igbo nation", "the Ijaw ethnic nationalities" and so on.
Different studies have claimed different figures as the number of languages in Nigeria.  While Bamgbose (1971) and Babajide (2001) have put the number at 400, Achebe (2013) puts it at about 250.  To each of these figures must be added English, since it is more widely used in the conduct of the Nigerian national affairs than any of the indigenous languages of the country.  Interestingly English is today the only language towards which Nigerians from different ethnic groups have a positive attitude (Babajide, 2001).  Pidgin, too, must be listed among Nigerian languages because it is a potent means of communication for many people across the country.  English is thus in an environment in which it is in constant contact with other Nigerian languages and, as is well known, when two or more languages are in contact, they tend to influence one another.  This accounts for the existence of many varieties of English in Nigeria.
English in Nigerian Schools Today and Tomorrow: English in Nigerian Schools Now and in the Future
In this section, an attempt will be made to examine the position of English both as a school subject and as the medium of instruction in Nigerian schools now and in the future.  For the purposes of this study, we would categorize Nigerian schools into four major types: the Pre-primary school, the Primary school, the Secondary school and the Post-secondary schools.
English in the Pre-primary School Today
The pupils in the pre-primary school are children aged 3 to 5 plus.  They start their formal educational career in this school and proceed to the primary school at the end of their education there.  In the pre-primary school, English is one of the very elementary subjects that are offered.  The medium of instruction there is to be "principally the mother tongue or the language of the immediate community" (National Policy on Education, 2004). The word "principally" does not exclude English as the medium of instruction at this level, but suggests that another language or other languages can be employed as the language of teaching at the pre-primary level.  If the writers of the document had intended to exclude English as the language of teaching in this school, they would have used the word "exclusively" instead of "principally" The word "principally" thus suggests that the mother tongue of the children would be more frequently used to teach them than any other language.
The English taught and learnt at the pre-primary level is very elementary and rudimentary. The teaching method used there is the play-way method and every subject including English is taught in this way.
English in the Primary School Today
Pupils in the primary school today are supposed to be children aged 6 to 11 plus (NPE Revised: 10).  In the public primary school, English is introduced as a subject right from the first year; in all such primary schools in the 36 states of the Federation, English is used, together with the mother tongue of the pupils, as the medium of instruction from third year.  Teachers at this level neglect two important aspects of English: oral and written composition.  Since the pupils are not encouraged to speak English outside the English class, and since the teachers do not often speak to them in English, the pupils' spoken English is very poor.
Moreover, most public primary school teachers do not teach composition and they do not ask the pupils to write one.  The few who ask the children to write compositions do not mark those submitted by the pupils. In the private primary school, however, pupils are introduced to English and English is the medium of instruction right from day one.  In addition to this, private primary school pupils are not allowed to speak their mother tongue(s) in the classroom and in the school premises.  Any pupil who flouts this mother tongue restriction rule is usually punished.  In spite of all these, in spite of the fact that private primary school pupils are taught English from their first day in school, the English of many of them still remains poor.
This is partly because many of the teachers teach only oral composition and, like their counterparts in the public primary schools, they seldom teach written composition.  The few who teach this aspect of the subject seldom ask the children to write compositions, nor mark those written by the pupils. Another reason for the poor English of many private primary school pupils is that they learn and speak English only in the school.  They revert to the mother tongue at home.  The result of all these is that private primary school pupils are good only at spoken English.  The written English of many of them leaves much to be desired.
The principal reason for all that have been written about English in the primary school is that many of those who teach the subject there are not academically qualified to do so.  In other words, many primary school teachers of English do not themselves know or understand the subject very well.  The Government, not the teachers, are to blame because it does not allow any primary school teachers to specialize in English or in any primary school subject at the Teacher-Training College or at the College of Education.  Specializing in English at these levels means studying English and only English there.  For instance, the Teacher-Training College or College of Education students who specialize in English should study and be taught English and only English in the schools.  If a student spends two full years in the Teachers' College learning only English and does the same at the College of Education, he will have a good command of all the aspects of English and be academically qualified to teach it.
The Teacher-Training College English major students and their counterparts in the College of Education who have no professional teaching qualification can be required to attend a six-month or a year-long in-service teaching practice course to acquire a professional qualification. But, as is well known to all, this is not the situation in the primary school today.  All primary school teachers teach all subjects in the curriculum every day.  There are nine (9) subjects in the primary school curriculum: English Language, Yoruba language(or any of the Nigerian languages), Social Studies, Elementary Science, Cultural and Creative Arts, Agriculture, Physical and Health Education , Christian Religious Studies, and Islamic Religious Studies. As has been said, the primary school teacher cannot specialize in just one of these 9 subjects as is done at the tertiary level.  He must teach all the nine subjects every day.  Every primary school teacher is therefore a teacher of all subjects and a master of none.  It is then correct to conclude and say that English is very badly taught in the primary school because the teachers are not specialists in the subject.
English in the Secondary School Today
It is in the secondary school that the serious teaching and learning of English and, indeed, of the other subjects, begins (Bright and McGregor, 1971).  Unfortunately, academically and professionally qualified teachers of English in secondary schools are always in short supply.  As a result of the acute shortage of secondary school English teachers, specialists in other subjects are usually called upon to teach the subject.  Because the teachers of the subject in many cases do not themselves have a good mastery of the subject, they teach it very badly.  Consequently, the students in the junior secondary one who are already very weak in English because of their poor knowledge of the subject in the primary school get no real help from most secondary school English teachers.
And because the students find the subject difficult to learn, they lose interest in it, develop an aversion to it and consequently perform poorly in it in both internal and external examinations.  For instance, only two per cent (2%) of the candidates who sat for the 2009 November/December Senior School Certificate Examination of NECO had five credits including English Language and Mathematics (Nigerian Tribune March 31, 2010 P.17), and seventy-nine percent (79%) of the candidates who wrote the examination in June/July 2010 failed to get credit passes in English Language (The Punch, October 7, 2010 P.14).  Candidates' performance in English Language in the NECO examinations since then has not very significantly improved.
In view of the wide-spread malpractices usually witnessed in public examinations in Nigeria, one can say with some degree of certainty that most of the 21% of the candidates who had credit passes in English Language in the 2010 examination were able to do so through fraud. It is common knowledge that many teachers and head teachers in primary schools as well as secondary school teachers and principals actively help their pupils to cheat and pass external examinations.
As a result of the scenario discussed above and other factors, the standard of English at the secondary school level is generally poor. This is not surprising owing to what we have stated earlier in this paper-that many pupils leave the primary school with little knowledge of English. The medium of instruction in the secondary school is English except in subjects like Yoruba and other Nigerian languages where students are taught in the particular language being studied.
Many secondary school students are very weak in almost all the aspects of English but the aspects in which they are weakest are grammar and composition.  Probably because they are taught by teachers who are themselves very weak in these aspects, the students make atrocious grammatical mistakes in their composition and other continuous writing exercises.  The commonest of their grammatical mistakes are those of spelling, punctuation, tense and concord.  Many of them frequently misspell words like "commence," "committee", "interpret", "interrupt", "impossible", "writing", "furniture" and so on.  Their continuous writing work is usually full of punctuation errors.  They use commas where full stops should be used and vice-versa, and they write question sentences without ending them with question marks.
Many of them are also unbelievably weak in tenses.  They often confuse the past tense with the present perfect tense, writing sentences such as "I have done it yesterday" instead of "I did it yesterday" or "I have done it" or "I have done it already" or "I have just done it".  Their continuous writing exercises also reveal that they know nothing about sequence of tenses.  They thus write sentences such as "He said that the girl has left" (2).  "He told me that his brother will not be able to attend the party" instead of "He told me that his brother would not be able to attend the party; (3) "I heard that Kemi and Lola want to travel to London" instead of "I heard that Kemi and Lola wanted to travel to London," "They told us that we can still leave" instead of "They told us that we could still leave".
At the lexical level, that is, the level of words or vocabulary, many students frequently confuse and misuse there and their; its and it's; of and off; site and sight; borrow and lend; loose and lose, themselves, and each other or one another.
Their compositions and other continuous writing exercises also contain many errors of concord.  One frequently comes across sentences like (1) "The boy go to school every day" instead of "The boy goes to school every day". (2) "Femi and Chukwuma is here" instead of "Femi and Chukwuma are here".  (3) She like it" instead of "She likes it".  (4) "The children was crying" instead of "The children were crying" (5) "The man with his wife were waiting at the gate" instead of  "The man with his wife was waiting at the gate" (6). "Ngozi as well as Musa are coming to the birthday party" instead of "Ngozi as well as Musa is coming to the birthday party". Other mistakes frequently found in the written work of secondary school students include "I understand all what you said" instead of "I understand all that you said".
English in the Post-Secondary Schools Today
Post-secondary schools in Nigeria are many. They include universities, Polytechnics or Colleges of Technology, Colleges of Education, Schools of Nursing, Schools of Health Technology, among others. In all these post secondary educational institutions, English is the exclusive medium of instruction except in foreign and Nigerian languages. The medium of instruction in each foreign language is the particular language being taught. For example, the medium of instruction for French is French. The case is the same for Nigerian languages. For example, Yoruba is the medium of instruction for Yoruba Language.
English is also compulsory for all students in post-secondary schools irrespective of their area of specialization. In other words, all tertiary educational institution students must offer English whether they are arts, science or social science students. Therefore, no student of any post-secondary institution in Nigeria can graduate without having taken and passed a General English course. The General English course is called "Use of English" or "General English". It is regrettable that English at the tertiary level is not as good as one might wish. The blame for this should be placed squarely at the door step of the students. In the first place, the students, especially those in the sciences and social sciences, do not take their English studies seriously. These categories of students seem to feel that since they are not English majors, they should not be bothered and asked to take an English course. That is why they do not bother to attend Use of English lectures; that is why they do not bother to do and submit assignments in the course; and that is why they treat anything relating to the course with levity. The only category of students who take the course a little seriously are arts students, such as those offering English and Literary Studies, History and Religious Studies. It must be acknowledged that Law students also take the course seriously. The attitude of the students at the polytechnics and other tertiary education institutions to the Use of English or General English course is not different from that of science and social science students in the Universities.
English in Nigerian Schools in the Future
The future of English in all the four categories of Nigerian schools – pre-primary, primary, secondary and post-secondary – depends largely on the same things: the socio-economic and political conditions of the country in the future.  At the moment, the socio-economic conditions are worrisome.  Violence and destruction of lives and property on a scale never seen before seem to be the order of the day in Nigeria today.  Pre-primary, Primary, secondary and post-secondary education in the whole of the North-East of this country has been largely disrupted.  In this region, schools are routinely attacked and destroyed, and school children are routinely attacked, kidnapped or killed in large numbers.  As a result, schools are regularly shut down and parents refuse to allow their children and wards to venture into them when they are reopened for fear of their being attacked.  The teaching and learning of English and of any school subject have been adversely affected in the region.  If all these atrocities against education and against school children in the North East continue (and there is no guarantee that they will not), all subjects, not just English, face a bleak future in the schools in this region.  Teachers of English and teachers of other subjects will not be able to perform their duties in a conducive environment, and students of the subject will experience the same thing. They will lose interest in school, in school subjects including English and in education generally.
Although educational facilities and infrastructures in the other parts of the country are not threatened, other key sectors of the economy are.  For instance, the oil and gas sector, which is the heart and backbone of the Nigerian economy, is being daily attacked by insurgent groups especially in the South-south, the South-East and parts of the South West.  It must be noted that the insurgent groups in the North East, too have attempted to attack these critical facilities in the region though the attempts have not succeeded on any large scale.
The activities of the same and other militant groups in the North have also adversely affected another key sector of the economy, the agricultural sector.  As a result of incessant attacks on farmers in the North, those who engage in farming and food production and distribution have fled their farms and farmlands to escape the deadly attacks of the groups.  One of the groups have almost totally paralyzed agricultural activities and practices not only in some states in the North but also in almost all the 17 states in the South.  The net result of all these is the acute shortage and high prices of foodstuffs currently being experienced throughout the country.  This has affected the ability of many parents to send their children to school.  If this continues, it will certainly affect the fortunes of English and other subjects in Nigerian schools in the future.
Another thing which will definitely affect the future of English in Nigerian schools is the Federal Government language policy which makes French an official second language in Nigeria. As a matter of fact, less than one per cent of children study it up to the senior-secondary school level.  A common situation in the few schools which offer French is that the subject may be taught in the JS classes and dropped there either because there are no French teachers to teach it in the senior secondary schools or because there are not enough students who want to continue its study in the senior secondary school and beyond.
Be that as it may, the Federal Government Language policy will definitely have implications for the future of English in Nigerian schools whenever it comes into effect.  In the first place, since Nigerian school children will have to study English and French, the monopoly of English as the only official second language will be broken.  English will now compete with French for the attention of Nigerian learners. In other words, Nigerian school children will have to divide their language learning time between English and French; and unless a child is very brilliant, he may not be proficient in the two languages.
The only advantage which English will have over French is that since there are no homes, or extremely few homes, where French is spoken by parents, children will continue to come across English more frequently than they will come across French.  This means that they are more likely to know English than French.  But the fact still remains that English will have a competitor. So, it will be, as it were, no longer business as usual for English.  The overall effect of all these is that because students will spend less time learning English, their standard of spoken and written English may be very poor.
Reference
Achebe, C. (2013). There was a country. A personal history of Biafra.London Allen lane.
Alexander, H (1969). The story of our language. New York: Thomas Nelson and Sons.
Babajide, A.O (2001). Language attitude patterns of Nigerians. In Igboanusi H. (2001) (ed).      Language attitude and Language Conflict in West Africa. Ibadan: Enicrownfit Publishers.
Bamgbose, A. (1971). The English language in Nigeria. In Spencer, J (ed), The English language in West Africa. London: Longman.
FURTHER THREAT ON NIGERIAN LANGUAGES WITH A FOCUS ON THE YORUBA LANGUAGE
MARY YEMISI LAWORE, PH.D.
Department of Teacher Education
University of Ibadan
Oyo State, Nigeria
Abstract
Language is a sine qua non of any community. No group of people could exist without one means of communication or another. As indispensable as language is among its users, it is unbelievably true that it can be lost. But language loss or death does not happen overnight. It takes a gradual process. A language that is not acquired or taught as "mother tongue" (MT) is moribund (i.e. it is in a dying state). Yoruba language has fallen short of many indices that make for language animation. It is spoken in eight states of Nigeria which include Oyo, Ogun, Kwara, Lagos, Osun, Ondo, Ekiti, Kogi. It is also spoken in Edo, Togo and Benin Republic, Ghana, Sudan, Sierra Leone and Cote D' Ivoire. It is also spoken in non-African environments like Brazil, Cuba, Trinidada and Tobago. It is being studied in some universities in the United State of America as a foreign language. While many writers are frantically and optimistically writing to awaken everybody to how the Yoruba language could be secure from the prevailing endangerment, the language has received another major setback. The Federal Government's decision through the National Education Research and Development Council (NERDC) to remove indigenous languages from the list of compulsory subjects at the Senior Secondary School Certificate Examination (SSCE) is taking its toll on the language. The 1977 and 2004 editions of the National Policy on Education (NPE) stipulate that secondary school students must offer one major Nigerian language. This policy position compelled all students to learn one indigenous language. Secondary school language teachers had students to teach and examine. Schools had hundreds of students to present for Yoruba language examination. But the reserve is the case today when some schools present as low as two candidates at WASSCE and NECO examination because the resent edition of the NPE now lists the three major Nigerian languages as optional.  At home too, parents forbid their children from speaking their language in favour of English language. This paper discusses some issues on language endangerment with particular attention on the Yoruba language. It attempts to provide answers to such questions as: Is Yoruba an endangered language? Will Yoruba still be very much alive in the next two or more decades? What is the extent of its use in schools and in homes today?
Introduction
Language is species-specific to man (Halliday, 2003). Man is imbued with the unique ability to speak language. Language is used by man to express his inner thoughts and feelings to communicate with others to fulfill his needs and satisfy his wants. Language is the means of human communication, either spoken or written, consisting of the use of words in a structured and conventional way (Ojomo, 2004). It is the means by which man abstracts reality (Fabunmi and Salami, 2005). Language is the human capacity for acquiring and using complex system of communication. Language development (tripod.com) describes language as a "verbal, physical and biologically innate and basic form of communication." Language can also be described from the point of view of culture. This is the reason why Broody (2002) sees language as being inseparable from identity and well being of any group. To Broody, language is the means of carrying tradition through generations. Similarly, Odinye and Odinye (2012) conceive language as ethnic identity that should be handled seriously because man is incomplete without language and the people who have lost their language have lost their identity. In the same vein, UNESCO (2001) posits that each and every language embodies the unique cultural wisdom of a people. The loss of any language is thus a loss for humanity. The extinction of each language results in the irrevocable loss of unique cultural, historical and ecological knowledge (UNESCO, 2003).
From the foregoing description of language, it is seen that language is indispensable to man. But as highly essential as language is to man, it is sad to know that the language of a group of people can be lost. Fabunmi and Salawu (2005) affirm that the phenomenon of language death is real. Language extinction refers to a situation when no one can speak or remember the language in question. Language loss occurs when the language has no more native speakers and eventually becomes a dead language (Woodbury, 2017). But a language does not go into extinction overnight. It takes a gradual and lethal process. It begins with endangerment.
Language Endangerment
An endangered language is a language that is at risk of falling out of use because its speakers die out or shift to speaking another language (Forster, 2011). A language is endangered when it is on a path toward extinction because its speakers cease to use it, use it in an increasingly reduced number of communicative domains or cease to pass it from one generation to the next. That is, there are no new speakers, adults or children. In a situation when younger generation in a community are spoken to in a language other than that of their parents, such that the children only understand but cannot speak the language, such a language is endangered (Woodburry, 2017). The trend today is that speakers of indigenous languages in Nigeria tend to stop the use of their languages for the more dominant language, English. Parents now use only the second language with their children, thus hampering the inter-generational transmission of their heritage language. As time goes on, the resultant consequence is that there will be no first speakers of the language. Such a language will be at risk of being lost when it is no longer taught to younger children and when the generations of fluent speakers eventually phase out (Mendedick, 2010). Dorian (1980) identifies three indicators of language death namely: fewer speakers, fewer domains of use and structural simplification. According to UNESCO (2012), languages of many thousands of speakers are no longer being acquired by children. About 50 percent of the world's languages are losing speakers. Bernard (1996) predicts that by the end of this 22nd century, an estimate of about 90 percent of the world's languages may have been replaced by the dominant ones.
According to UNESCO'S report (2001), approximately 6,000 languages existed in the world but only about 600 were safe. This assertion is even truer today. Ugborgu (2012) believes that although Hausa, Igbo, and Yoruba are Nigeria's three major languages, not all parents and guardians from these ethnic groups consciously make enough efforts to teach their children their mother tongues (MT) at home. It is based on this scenario that UNESCO predicted that Igbo and Yoruba may face extinction in the next five decades, if no effort is made to save them. Similarly, Aniche (2012) agrees with UNESCO in an interview with Newswatch Magazine Report, adding that it may be hard for Igbo language to even survive that long as "it has fallen short of many indices which make for language animation" (Newswatch Magazine Friday 13, April 2012). Ugborgu and Ejiofo also express concern over UNESCO's report (Newswatch Magazine, April 13th 2012) and strongly believe that Igbo language stands the risk of dying earlier than envisaged if serious efforts are not made by the speakers to save it. On the part of Yoruba, Newswatch notes "The greatest tragedy in Yoruba land today is the prevalent trend of speaking only English to children, making it their first language…" Further on Newswatch Report, Adenekan, an Ogun State-born entrepreneur expressed his disappointment at some private schools where none of the major indigenous languages is taught but rather French, Chinese, or Spanish are preferred.
According to UNESCO (2001), language endangerment can be ranked on the continuum from stability to extinction. They include stages when a language is:
1. safe
2. unsafe
3. definitely endangered
4. severely endangered
5. extinct
Table 1: Levels of Language Endangerment
| | |
| --- | --- |
| Degree of Endangerment | Speaker Population |
| Safe | It is spoken by all ages |
| Unsafe | Children will probably not be speaking it in 100 years' time |
| Definitely Endangered | Children are not speaking it at all |
| Severely Endangered | It is spoken by only a few members of the oldest generation (often semi-speakers) |
| Extinct | It is not spoken or remembered by anyone |
In a similar way, Krauss (1992) defines three categories of language endangerment thus:
1. Moribund: languages no longer being learnt as MT by children
2. Endangered: languages which will cease to be learnt by children during the coming century.
3. Safe: languages with official state support and very large number of speakers.
Causes of Language Endangerment
Language endangerment may be the result of external or internal forces. External forces include political, economic, religious, cultural or educational subjugation. Internal forces refer to the attitude of speakers themselves such as a community's negative attitude towards its own language.
External Forces
Political subjugation or repression: This happens when nations or states are working to promote a single national culture, which in turn, limits the opportunity of speaking the other languages in the public spheres like schools and media. The most frequent reason for extinction is the marginalisation of minority languages within a wider nation or state. Once a language has become marginalised, it is often perceived as being useless. Apart from the national use of English as the official language in Nigeria, only three Nigeria languages are used in education and media that is, Yoruba, Igbo and Hausa. According to Bassey (2015), many Nigerian languages are extinct or near extinct. They include Bete and Baissa (Taraba State); Kiong (River State); Kudu-Camo  (Niger State); Labir and Lere   (Bauch State);  Jufu  (Taraba State); Ijerep  (Niger Delta); Odut  (Cross River); Putai  (Bornu State); Shau  (Bauch State).
Related to this is the Nigerian political factor of non-implementation of the Nigerian language policies. The Nigerian language policy of 1977 and 2004 respectively actually provides for children to be taught in their MT or the language of their immediate community in the first three years of the primary school system. Unfortunately this is not being implemented because while some schools, particularly the public ones, implement the policy to a certain extent, many private ones do not. The reason for this is not far-fetched; parents want their children to be educated in English language because of the high status accorded it in the nation (Kolawole, 1997). Grimes (2001) also contends that parents want their children to learn the prestigious English and this has led to another serious trend whereby parents no longer speak the indigenous languages, particularly Yoruba, to their children at home.
Another reason for the non-implementation is the inadequacy of teachers who could teach the indigenous languages or use them as media of instruction up to the stipulated stage of formal education. Omo-ojugo (2004) observes that the government officials' attitude to this is passive.
Internal  Forces
This is about the attitude of the speakers themselves. According to Fabunmi and Salami (2005, p. 394): "Many Yoruba elites…are fighting very hard to be adopted into the cosmopolitan order… the age-long prohibition of "vernacular" is still firmly operational in a large percentage of Yoruba elite homes. The children must learn and always speak English."
Bamgbose (2000) asserts that there is a wide spread negative attitude to African languages among Africans themselves of all works of life. This attitude is not limited to Yoruba language users, their Igbo counterparts exhibit same. According to Duruaku (2004), Igbo people as well portray a negative attitude towards their language. Eme (2004) confirms this in her statement that: "some Igbo parents, especially the literate ones, do not speak Igbo to their children even at home. In some cases, the parents ban their children from using Igbo to communicate among themselves"( Eme,2004:302). This is a serious dimension because if children do not learn a language from their parents, there is little probability that they in turn will be able to pass the language on to their children (Lewis and Simons, 2009).
As Fabunmi and Salami (2005) rightly observe, the negligible use of Yoruba by the elites has spill-over effects on Yoruba as a discipline. Yoruba is a subject in the curricula at all levels of education, but the question is "how many children of the adults go to the University to study it?" A language that is no more studied is moribund (Krauss, 1992) and in a dying state.  One can logically conclude from this that the Yoruba or any other Nigerian language will become moribund, it is just a matter of some little distant years (Fabunmi and Salam, 2005). The number of students enrolling for the Yoruba language as a discipline is dwindling annually. Many children today do not speak the language as their mother tongues. Many other nations of the world do not treat their language as we do ours. Japan and China are good examples of such countries. Soon, because of their scientific and technological advancement and because of their tenacity with their language, many nations will soon begin to study their languages as foreign subjects. In fact the Lagos State government has made known its intention to start, as from next school session (September 2012), the enforcement of the policy. The focus of this paper is Yoruba language and so a number of questions are raised and an attempt is made to answer them. Is Yoruba an endangered language? Will Yoruba still be very much alive in the next two or more decades? What is the extent of its use in schools? What about its social use at home, in the mass media, in the House of Assembly, etc?
Its Social Use at Home, in the Media and in the House of Assembly
As earlier pointed out, many elite homes now forbid their children from speaking Yoruba at home. These children can understand but cannot speak the language. By the time these young ones become parents themselves, there is the likelihood that their own children would not even understand the language at all. If the trend does not change in the next few decades, the language will not be spoken by children at all and this will place Yoruba at the second level of the continuum "unsafe or vulnerable". The gaps that exist between the second, third and fourth continuum are too slim. Any language that crosses the lines of being "unsafe" and "definitely endangered" is already passed into the limbo of time. Although Yoruba still has a relatively large number of speakers, majority of its speakers are adults. Many children from the literate and semi-literate homes are not speaking it now. What a danger this portends for the language! Also the language policy in the 1999 Constitution states that:
The business of the National Assembly shall be conducted in English and Hausa, Igbo and Yoruba when adequate arrangements have been made thereof" (1979, 1989 Constitution, Section 51).
Till date, the so-called "adequate arrangements" are yet to be made. According to Bamgbose (1997), our indigenous languages have come to be used progressively less and less throughout the community with some of the functions they originally performed either dying out gradually or being supplanted by English. As far as Bamgbose is concerned, the roles that Yoruba language performs in educational, political and public situations have been taken over by the English language. Yoruba is deprived; it is not just vulnerable to decline, but on the verge of extinction (Fabunmi and Salami, 2005). Although Yoruba is used by the media, that is, the Press, Radio and Television, it is to a very limited extent. We have seen both external and internal forces militating against Yoruba language and posing serious threat of endangerment, yet this threat can be curtailed. But nothing is being done yet. Are we going to fold our arms and watch the death of the Yoruba language? We should understand that the extinction of a language results in the loss of unique cultural, historical or ecological knowledge (Bernard, 1996:14). Language is understandably tied with culture, it therefore logically follows that if an individual loses his language, such-a one has lost a portion of his culture. A language group uses sets of terms that are unique to them to organise or categorise their experiences and perceptions (Kottak, 1994). According to UNESCO (2003), the extinction of each language results in the irrevocable loss of unique cultural, historical and ecological knowledge.
Preventive measures have to be taken to preserve a language. There are some people (some linguists inclusive) who do not want to get bothered about the issue of language loss or endangerment. To them, language loss is a natural process that should not be counteracted; all we need to do is to document them for posterity. Some other individuals take solace in the fact that if their language were to go into extinction, they could easily shift to a major language. There are however a vast majority of speakers who consider the loss of their language to be a vital break with their cultural identity, characteristics and tradition (NUESCO's Adhoc Expert Group, 2001). We should all be concerned and according to Navajo Elder:
If you don't breathe, there is no air
If you don't walk, there is no earth
If you don't speak, there is no world
(UNESCO, 2001).
Navajo Elder, here, underscores the crucial importance of language and its context.
The Extent of Yoruba Language Endangerment
As in table 2 below, the extent of language endangerment can be ranked on a continuum
Table 2: Level of Language Endangerment
| | | |
| --- | --- | --- |
| Degree of Endangerment | Grade | Speaker Population |
| Safe | 5 | The language is used by all generation |
| Unsafe | 4 | While some children use the language in all domains, majority of children uses it in a limited domain. |
| Definitely Endangered | 3 | The language is spoken mostly by older generation and parents; children are not speaking it |
| Severely Endangered | 2 | The language is spoken by grandparents and up |
| Critically Endangered | 1 | The language is used by very few speakers of great-grandparents |
| Extinct | 0 | It is not spoken or remembered by anyone |
Yoruba language is apparently not spoken by all generations for obvious reasons of linguistic threat from the English language. Parents now pride themselves in speaking English language exclusively at home to their children just as it is done in their children' schools. Yoruba can therefore be graded level 4 (unsafe) on Table 3 above because not all children speak it as their first language. Quite a few of them use Yoruba in all domains, i.e. at home, in schools. For some, the language is limited to the home between children and their parents, grandparents or illiterate relatives. One can safely conclude therefore that Yoruba stands the risk of endangerment because it is not likely that children will be speaking it in 100 years' time. Many Yoruba and Igbo parents no longer speak their languages to their children at home.
Preventive Measures to Save the Yoruba Language from Endangerment and Extinction
The Federal Government should endeavour to:
provide basic linguistic and pedagogical training for teachers.
create awareness about the positive role of indigenous languages in initial literacy and in enhancing the learning of the second language
enforce the language policy as stated in the National Policy on Education

emphasize the use of the Mother tongue(Yoruba )in the first three years of the primary school
encourage our Information Technologists to give Nigerian indigenous languages a public profile to ensure its animation
make the language of immediate environment a compulsory subject for admission into higher institutions.
Sponsor a yearly award for the best Yoruba essay writer
Above all, realize that a language like Yoruba with over 30 million speakers deserves to be given official status in its regional territory of South West. Hostile educational policies that are inimical to the survival of the Yoruba language (e.g. the policy that now makes the offering of Yoruba at external exams like WAEC and NECO optional) should be jettisoned.
Explore, IT and the Internet to give Yoruba a public profile. In agreement with Fabunmi and Salami (2005), software developers need to become more multilingual, embracing other languages like Yoruba.
Provide a forum where Nigerian languages are traded on a national platform where different languages could interact and different tribes from different parts of the country can come to learn other local languages besides theirs, thereby entrenching those languages within the collective memory and awareness of the Nigerian people. In this way, languages are given the opportunity not only to remain vibrant in healthy competition, but can also come to stay on the fields of national history, thereby making them relevant. It is amazing and laudable that the U.S. government is taking this initiative in its Government-funded FULBRIGHT Multilingual programmes where African local languages are taught in American Universities.
Adapting Odinye's recommendation, Yoruba people should endeavour to do a number of things as individuals and as a group. They should:
1. love the indigenous languages.
2. have an interest in saving indigenous languages.
3. use their local language more effectively in the media: Radio, T.V and Newspapers.
4. encourage the young ones to speak Yoruba with pride because it is their mother-tongue. (This can be achieved by speaking Yoruba in homes and neighbourhoods as a tool of inter-generational communications).
As individuals, Nigerians and Yorubas, should rise up together to defend their heritage. Other languages passed through what the Yorubas are experiencing today. In fact, Dutch that used to be an international language is struggling to stay afloat in the stream of language endangerment (Van Hoorde, 1998).
There is nothing unattainable with determination. Hebrew Language was revived as a spoken language two millennia after it ceased to be spoken and is considered a language revival "success story". It was extinct as a spoken language, though respected and preserved as the high language of Judaism. Prior to this time, it was considered impracticably archaic and too sacred for day-to-day communication. However, it was revived by Elieze Ben-Yehinde. Other examples include: Ainu language of the Ainu of Northern Japan, Barngaria language in Australia which is being revived by Ghil'ad Zuckermann, University of Adalaide Belarusian language in Russia, Cornish in U.K., Hawaiian now being revived as schools are now open to children whose parents want to retain or introduce the language into the next generation. There is also Kaurna in South Australia. It is more costly and futile to start thinking of reviving a language; prevention is better than cure. There is need to sustain and preserve a language by speaking it, teaching it, and protecting it. The synergy of little efforts, no matter how microscopic, will pay off in the end, and the Yoruba language with its rich cultural heritage will be preserved and protected.
Implication for Teaching
Much has been written about the importance of the mother tongue (MT) in the cognitive development of the child. Researchers like Udoh (1983), Kolawole (1997), Ige (1999), Kosonen (2005), Benson and Kosonen (2013) have proved that initial reading at the primary school level and adult literacy classes are best taught in the mother tongue. At the Kaduna Language Symposium in Nigeria on October 1997, Babs Fafunwa, in his opening address as chairman was quoted as saying "a people that neglects its own mother tongue neglects its very own being." According to him:
It is …universally agreed that a child learns best in his or her mother tongue. Yet, of all the continents and the peoples of the world, it is only in Africa and perhaps in a few other ex-colonial countries that formal education is offered in a language that is foreign to the child. In Europe, North America, USSR, China and in other leading countries of the world, the child goes through his primary, secondary and university education in his own mother tongue. In such countries, activities related to trade, commerce, education, civics, cultural and social aspects are conducted in the mother tongue whereas in Africa, South of the Sahara and North of the Limpopo, we educate our children practically in a foreign tongue from primary to post secondary level(Proceedings of the Kaduna Language Symposium on Language in Education in Nigeria, 1997: 7).
From Fafunwa's address above, it is obvious that Nigerians should have a rethink on the issue of their indigenous languages. In the same vein, the Report of the Federal Ministry of Education, sponsored by the National Workshop at the Federal College of Education, Abeokuta in February (1991:11-13) has it that the training of the mind in the understanding of the world around is best done in the language in which the child is most familiar which should be our indigenous languages. The mother tongue is seen as the most useful language to a child in the formative stage in life. According to Fafunwa (1982), "it is natural to him like his mother's milk." All these will apply if the Nigerian child is offered the opportunity to acquire his mother tongue. Educationists have also interestingly found that the knowledge of the MT helps in the acquisition of the second language, contrary to parents' fears that the learning of the indigenous language would inhibit the learning of English. It is particularly so in the way Yoruba child would be helped to master English words' pronunciation while employing phonics awareness strategies. Examples are shown below:
Table 3: Yoruba Words and their Spelling
| | | |
| --- | --- | --- |
| Spellings | Yoruba words | English equivalents |
| a-d-e | Ade | crown |
| a-g-a | Aga | chair |
| a-s-o | Aso | cloth |
| a-y-e | aye | earth |
| b-a-t-a | Bata | shoe |
| i-l-e | Ile | house |
| i-w-e | Iwe | book |
| o-m-i | Omi | water |
| o-m-o | Omo | baby |
Table 3 above shows one to one correspondence between the spelling and the pronunciation. This will enhance the child's ability in spellings generally.
Conclusion and Recommendations
Having established the fact that our language is part of a people's rich heritage and that the loss of their language is tantamount to a loss of their culture, people should start to love, appreciate and venerate their languages. Parents should also speak the Yoruba language to their children as this can do no harm to the children's learning of the second language; rather it will enhance it.  Children are at the critical age of language acquisition and can become perfect bilinguals, being competent in two or more languages. A child that has ability in more than one language is rich linguistically and culturally and has advantage over monolinguals.
Above all, the Nigerian Government should ensure the implementation of the initial language policy in education because the best way to save the native languages is to make them languages of education alongside the world languages like English and French.
Offering of one major Nigeria language should be made compulsory in the secondary school and a prerequisite for admission into tertiary institutions.
References
Aikawa, N. (2001).UNESCO's Programme on Languages. In R. Osaka (ed): Endangered Languages of the Pacific Rim Project pp. 775-778.
Akwaah, A,W.K. (2001). JSCE Past Questions and Answer (2001-2007).
Ayobami, A. (2013). Don wants Nigerian Government to rescind decision on indigenous           languages. Premium Times: Retrieved July 18, 2017 from premiumtimesng.com/regional/sso
Bamgbose, A. (1997).Contributions to Endangered Languages in Africa.Ogmios 6: 21-22
Leipzig.
Bassey, (2015).Dead Nigerian Languages.Advertising in Red Invented by Teeds.
Benson, C. and Kosonen, K. (Eds.). (2013). Languages Issues in Comparative Education: Inclusive             Teaching and Learning in Non-dominant Languages and Cultures.
Bernand, H.R. (1996). Pressing Language Diversity.Human Organization 51 (1) 82-89.
Cristal, D. (2014). Language death.Cambridge University Press. ISBN 9781316124093
Dawodu.com (2007).Dedicated to Nigeria's Socio-political Issues.
Duruaku, C. (2004). Folktale and Contemporary Igbo Families. In J.I. Okonkwo (eds) Journal of
Nigerian Language and Culture, Owerri: Association of Promoting Nigerian Language and       Culture 98-102.
Dorian, N.C. (1980). Language Shift in Community and Individual: The Phenomenon of the laggard Semi-speaker. International Journal of the Sociology of Language25:85-94.
Emananjo, E. N. (2005).ICT, Globalisation and the Future of the Human Language. Globalization of the study of languages in Africa. R.I. Ndimele (Ed).Port-Harcourt: Grand Orbit      Communications and Emhai Press. 1-18.
Eme, C.A. (2004). Improving Igbo Language Use at Home and in Communities. In P.C. Nzomiwu and J.E. Madu (eds) Unizik Journal of Arts and Humanities . Akwa: A Global       Communication Production, Vol. v. 302-313.
Fabunmi F.A (2017). Is Yoruba an Endangered Language? Research Gate Gmb H
Fabunmi, F.A. and Salawu, A.S. (2005). Is Yoruba an Endangered Language? Nordic Journal of African Studies. 14 (3), 391-408.
Fishman, J. A. (1991). Reversing language shift: Theoretical and Empirical Foundation of          Assistance to Threatened Languages. Clevedon, UK: Multilingual Matters.
Grenoble, L. A. and Whaley, L.I. 1998.Towards Typology of Language Endangerment. In L.A. Grenoble & L.I. Whaley (eds). Cambridge: Cambridge University Press.
Hail, K. (1998). On Endangered Languages and the Importance of Linguistic Diversity. In endangered languages, language loss.
Halliday, M.A.K. (Ed.).  (2003). On Language and Linguistics.Jonathan Webster Continuum    International Publishing.
Igboanusi, H. (2008). Mother Tongue-Based Bilingual Education in Nigeria: Attitudes and practice. The International Journal of Bilingual Education and Bilingualism.11(6), 721- 724.
Krauss, M.E. (1992). The World's Languages in Crisis Language. 68, 4-10.
Kolawole, C.O. (1997). Language Policy and Practice in Selected Public Primary Schools in Ado Ekiti Local Government, Ekiti State (in print).
Kosonen, K. (2005). Education in Local Languages: Policy and Practice in Southern Asia. First             Language First Community-based.
Lewis, M. P. and Simon, G .F. (2009). Assessing Endangerment: Expanding Fishman's GIDS Retried 28th Nov. (2012), from www.gamma.sil.org/simons/pre-print/EGIDS.pdf
Nwadike, U.I. (2008).Igbo Language and Culture: Whether bound (Asusunaomenala Igbo: Ijeanaa. In R.N. Umeasiegbu (Ed.) F.C. Ogbalu.Memorial Lectures 1 & 3. Onitsha            Publishing Co. Ltd 5-59.
National Policyon Education. (2008). 5th ed. Federal Republic of  Nigeria. NERDC
Odinye, I.S. and Odinye, I.E. (2005).Preventing the extinction of Igbo Language.Nordic           Journalof African Studies. 14 (3) 85-92.
Ojomo, O.W. (2004). Communication: Theory and Practice. In E. Adegbija. (Ed.). Language Communication and Study Skills 77-92. Ota: Covenant University
Ugborgu, V. (2012). "Under Threat of Extinction".Newswatch Magazine. 407: 10/27/2012.
UNESCO. (2003). Ad doc Expert Group in Endangered Languages. Document Submitted to the
Safeguarding of Endangered Languages.
UNESCO.(2017). Language Preservation. Language in Danger of Disappearing
Van-Horde, J. (1998). Let Dutch die? Over the Taalunie's Dead Body. INFONT 2:6-10. The Hague.
Williamson, K. and Blench, R. (2000). Niger-Congo in Heine. African Languages: An Introduction B and D. Nurser (Eds.). Cambridge: Cambridge University Press.
Woodbury, A.C (2017). What is an Endangered Language? Linguistic Society of Nigeria. Retrieved Jan 26, (2017) from http:llwww.Linguisticsociety.org/content. What-endanger-language
Zuckermann, G. (2012). Stop, Revive and Survive. The Australian Higher Education.
A COMPARATIVE FEMINIST READING OF LOLA SHONEYIN'S SO ALL THE
TIME I WAS SITTING ON AN EGGAND HALIMA USMAN'S SPELLBOUND
AKPAH CHIZOBA BARTHOLOMEW, PH.D.
Department of English, University of Ibadan
Oyo State, Nigeria
Introduction
Nigerian male poets, particularly from southern Nigeria, have received more scholarly attention than their female counterparts. Consequently, the views of patriarchal order expressed in verses have largely subdued women's poetry in both southern and northern Nigeria. Oyeniyi Okunoye (2001) submits that Nigerian women's perspectives in poetry appear insignificant and marginalised in critical interrogation.
Literary critics such as Obi Maduakor (1989:75), Aderemi Raji–Oyelade (2004:1) and Bala Ismail (2010:1), report the paucity of published Nigerian women poets. Paraphrasing Maduakor's statements, it is in the genre of poetry that the Nigerian female writers are still trailing languidly behind their male folks on the literary scene. In recent times, however, attempts have been made by literary scholars to unveil the growth and creative strength of women poets in both southern and northern Nigeria. Ezenwa-Ohaeto (1998), Raji-Oyelade (2004; 2008), Bala Ismail (2010), Aliyu-Ibrahim Foluke (2011), Sunday Bamgbose (2012), and J.O.J. Nwachukwu-Agbada (2013) have all demonstrated critical interest in unveiling the literary commitment shown by Nigerian women in poetry.
Raji-Oyelade (2004) in "Notes Toward the Bibliography of Nigerian Women's Poetry (1985-2006)" documents the literary outpouring of female Nigerian poets with a long list of female poets from southern Nigeria and a handful of northern female poets. Similarly, Bala Ismail (2010) details a compendium of women poets from the north. Sunday Bamgbose (2012) comparatively, too, examines the issues of gender in female Nigerian poetry.
A further investigation of the fermentation of Nigerian women poets in the English medium will reveal that southern Nigerian women began the race with the first notable volumes of poetry by Molara Ogundipe-Leslie's Sew the Old Day and Other Poems, 1985; Ifi Amadiume's Passion Waves, 1985; Catherine Acholonu's The Springs Last Drop; Nigeria in the Year 1999 and Other Poems, 1985; Mabel Segun's Conflict and Other Poems, 1986 and Flora Nwapa's Cassava Song and Rice Song, 1986. These pioneer poets from southern Nigeria are further backed by contemporary poetic voices which include Toyin Adewale-Gabriel, Ogochukwu Promise, Lola Shoneyin, Chika Unigwe, Mabel Evwierhoma, Angela Nwosu and the like.
Manifestation of literary growth in Nigerian poetry of English expression is, however, not a reserved area for southern Nigerian women poets. Their northern counterparts, though starting after their southern counterparts not in the volumes of poetry publications in other languages, but in, especially, verses published in the English medium, have shown a great deal of improvement in the volumes of poetry in recent time. Nwachukwu-Agbada (2013:96) argues that northern female poets are "more fecund with poetic words than their southern counterparts who although first got published in 1985 have not published as many collections as their Northern sisters whose earliest poems in English got published in 1996". Women's poetry publications in English from the North date back to 1996 with Maria Ajima's Cycles and Hauwa Sambo's The Genesis and Other Poems, both published same year (Raji-Oyelade, 2008). Raji-Oyelade's seminal essay "Seasons of Desert Flowers: Contemporary Women's Poetry from Northern Nigeria" in African Literature Today (2004) further unveils the massive turn-out of poetic voices from upland Nigeria. Also, Nwachukwu-Agbada (2013) further explores literary flowering of northern Nigerian women, particularly in recent times. However, besides chronicling the emergence of Nigerian women in the genre of literature, their commitments and perspectives expressed in verses deserve critical interest.
Statement of the Problem
African poetry has received critical interest for decades in academic and scholarly writings. African poetry, no doubt, is dominated by male poets in both pre- and post-colonial African states. The history of Nigerian poetry in written expression has focused mostly on the male poets. Hence, there has been more insightful critical examination of the literary and poetic outputs of the male poets and their viewpoints than those of their female counterparts.
Also, while female novelists like Flora Nwapa, Buchi Emecheta, and, recently too, Chimamanda Ngozi Adichie, have enjoyed a growing critical interest in essays and academic journals, their counterparts in poetry have received less critical attention. Even with the available criticism on women's poetry, previous studies evident in Maduakor (1989), Raji-Oyelade (2004; 2008), Ismail, (2010), Sunday (2012), and Nwachukwu-Agbada (2013), have either focused largely on the documentation of the emerging phases of women poets in Nigeria or paid limited critical discourse on comparative feminist viewpoints in southern and northern Nigerian women poetic creations. This study, therefore, aims to contribute significantly to a comprehensive study of emerging feminist perspectives as strategic to protest and empowerment in female Nigerian poetry.
Aim and Objectives of the Study
The main aim of this study is to appraise, comparatively, the feminist ideologies in the evolving women's poetry in Nigeria. Specifically, the objectives of this study are to investigate how the selected poets respond to various signs and challenges of women's subjectivity in their verses; examine the thematic concerns which agitate for social transformation, empowerment and equal opportunities for Nigerian women through the medium of poetry, and critique the deployment of poetry as a means of projecting feminist ideologies by Nigerian women poets in their verse productions.
Methodology
The study utilises qualitative analytical approach in the exploration and analysis of the chosen works bearing in mind echoes of subjectivity of women. It reviews some of the existing studies in the field to assist in the holistic examination of the topic under investigation.
This study explores the selected primary texts alongside secondary materials such as local and international publications on women's writings to authenticate the feminist ideologies present in the selected collections. Similarly, comparative analytical approach specifically on two poetry collections from southern and northern Nigeria is employed in the study. Lola Shoneyin's So All the Time I was Sitting on an Egg and Halima M. Usman's Spellbound were purposively selected to represent southern and northern Nigerian women's poetry respectively. Ten poems which explore feminist consciousness were purposively selected to examine how the poets explore issues which relate to hegemonic conditioning of femininity and protest which agitate for the integration of women in their socio-cultural milieu.
Theoretical Framework
The theoretical framework for this study is Feminism. The choice of feminist theoretical standpoint and its Afrocentric strand of Chikwenye Okonjo-Ogunyemi's "Womanism" for the analyses of the selected poems is based on the growing concern of the selected poets to project gender mainstreaming, promote feminist values, concern for women's empowerment, protest and deconstruction of male dominion in their poetry.
The suppression of African women in writing predated postcolonial consciousness. Women in modern age, however, no longer submit to growing criticism and writings from the malestream to draw readers to the consciousness of patriarchal suppression of women in the society. African and indeed Nigerian women writers in the verse genre are mounting the literary scene to stamp their feet towards reflecting personal experiences, societal issues and various consciousness from the standpoints of female poets. The contemporary feminist literary theory is a direct outcome of the "women's movement" of the 1960s (Barry, 1995:120). The movement engages literature as a viable means of interrogating patriarchal hegemony and their imaging of female characters in literary works.
Feminist literary criticism, therefore, strives to explore the role of literature towards helping to construct, reflect and sometimes undermine the gender categories, codes and expectations that are tied to various cultures (Jean Howard, 2013:413). It is a theory which strives to highlight and condemn various practices against women; deconstruct male dominance, agitate fairness and negotiate equality of genders. Hence, literature, besides holding the society as it were, further helps through literary criticism to investigate the social construct and classification along the line of gender engagements. However, in this study, an attempt is made to limit women's experience to the peculiarities of African female experience. This motivated the choice of Chikwenye Okonjo-Ogunyemi's "Womanism". African Womanism of Ogunyemi's coinage (1985:24) aims to accommodate the African women's experience by means of appreciating womanhood. African womanism harmonises gender class, race, as well as cultural consciousness, in its advocacy. This variant emphasizes the struggles, experience, self-assertion and self-esteem of the African woman. There is no gainsaying the fact that most Nigerian women's poetry is informed by thematic concerns of women's experience. It is equally indisputable that all black women's experience is central to the tenets of "Womanism".
Responding to an opening rhetorical statement on whether a female writer has a particular obligation as a writer, Molara Ogundipe-Leslie (1987:15) reveals that "female writers, particularly in Africa, have the commitment to show in their creative writing the restrictions imposed on women by male-controlled society, project women in a true sense, especially, from a woman's perspective." Hence, the thematic interest, particularly  of Ogunyemi's ' African Womanism' explores the various codes which delimit women as active agents of social transformation, restrain the women folk from career aspirations and advocate for the positioning of women as strategic to the socio-cultural, political and educational transformation of society.
Significance of the Study
The need to project the relevance of female Nigerian poetry against the over-concentration of critical discourse on male poetry informs the motive for this study. In other words, there is marginal interest paid to the investigation of poetry collections by female poets in Nigeria. Significantly, too, the study is germane to issues of women's empowerment, social transformation and socio-economic woes depicted in the selected poetry. Thus, the study contributes to the stock of critical discourse on women's poetry in Nigeria and a voice to the canonisation of women's poets in Nigeria. Also, this work is significant in that besides being an addition to the growing corpus of scholarly interest in Nigerian women's poetics, the study negotiates the recognition of female poetry as a means of protest against female subjectivity.
Scope of the Study
This study centres on the investigation of the feminist standpoints in Nigerian women's poetry and how the tempo is deployed to reflect thematic preoccupations and subject matters of the poems. The study gives considerations to Lola Shoneyin's So All the Time I was Sitting on an Egg and Halima U. Usman's Spellbound. The study favours the choice of the selected poets due to marginal interest or near absent of critical interest on their poetry.
Versifying against Sexism in Nigerian Women's Poetry
Literature remains a veritable tool in the promotion of feminist consciousness in its truer sense (M.A.Y. Lewu, 2005:6). Women in Nigerian creative art, besides being pivotal to the revolutionalising of Nigerian literature, depict authentic image and representation of the women's world through their artistry (Chikwenye Okonjo-Ogunyemi, 1998). The women writers no longer wait for their stories to be narrated in patriarchal texts. They are, therefore, eager to create new perspectives to feminist intellectual discourse in poetry.
Most of Lola Shoneyin's works are direct reactions against hegemonic placing of women. Arguably, Shoneyin's attempt to unmask different sexist practices which limit women's quest for self-aspiration, freedom and appreciation of the womanhood gave birth to her literary outpourings. Thus, So All the Time I Was Sitting on an Egg (henceforth Egg) protests the socio-cultural placing of women in a society which favours what Oluwatoyin Jegede (2011:216) calls "patriarchal rights."
James Gibbs (2008:155) shares the opinion that Shoneyin's volumes, particularly the sub-headings, suggest some of the poet's gender-specific concerns. Such gender concerns, no doubt, protest the clippings and mitigation of women's aspirations. This is evident in her first poem "SHE TRIED", categorised under what Gibbs calls a "playful sub-heading", "Clitoranguish". She protests the anguish of sexist configuration of women in the poem:
She tried to be a doctor
But they said
The enamel paint on her talons
Stained the scalpel.
She tried to be a lawyer
But they said
Her skirts way too high,
Distracted the Judge (13).
Shoneyin's reportative style sarcastically echoes the limitation placed on women who aspire to venture into careers already perceived as the exclusive area of the men. While the poet's choice of the pronoun "she" is to represent career women generally, her choice of the third-person plural "they" symbolically represents men who bully women whose career interests rub shoulders with the men. Such men consider women who aspire to stamp their feet on such fields like Law, Medicine, Engineering, Creative Writing, Teaching, the Military and the like as wayward, weird and such other negative connotations. However, women who subscribe to masculine authorisation and constructions of a "real woman", by accepting to be confined to the domestic space, are applauded by men whose perception of the woman is tied to playing supportive role as conditioned by the society. Thus, the African woman is coerced to remain at, in the words of Jegede (2011:216), "the margin of the domestic space". This is what Shoneyin parodies in the concluding stanza of the poem:
So, she tried to be a woman.
They pat her on the back
And showed her the kitchen, the garden
…. and the bed (13).
The lines raise issues which bother on women's relegations. The poet, while inviting the reader amid humour to attack hegemonic placing of women in her choice of the pronoun "they", obviously suggests the society piloted by patriarchal opinion which coerces "her" (womanhood) into submissiveness.
Women, therefore, are not to be seen in such revered disciplines as Law, Medicine, Teaching, Creative Writing and Engineering, but will be comfortable taking care of the home as mothers, multiplying the human race and satisfying men's sexual drive. It is in doing this that "they" will see her as a woman. This strengthens Adeoti Akintan's (2002:1) assertion that different people conceptualise women as "the bearer of human race or as the chattel of men, whose purpose is to work and bear children". This validates Shoneyin's perception of the ideal woman in the society's eye as the kitchen woman (cook) who should be ready to satisfy men in bed as well. Shoneyin's "SHE TRIED" thus protests the imposition of gender roles which limits women's career aspirations.
While Shoneyin protests phallocentric order with vigour in Egg, Halima M. Usman's representation of feminist consciousness and revolt against masculinist impositions in Spellbound appears mild. For instance, Shoneyin's choice of inscribing the entire letters of her poems' heading in upper cases suggests a bold attempt at confronting, deconstructing and checkmating sexist impositions, Usman's preference for her titles in lower cases, except for the initials, is an indication of a subtle repudiation and challenge against women's relegation.
Usman's entire collection is divided into six parts under sub-headings: "nature", "pages of life", "palace of lords", "tributes", "womanhood", and "contribution of love." It is evident from the sub-headings that themes which make Spellbound a must-read are diverse. However, of great concern to this study are poems categorised under "womanhood." The choice is anchored on issues which bother on the poet's feminist perspectives which interrogate the socio-cultural positioning of women in the society.
The poems in their heart-touching lines invite readers to the anguish and socio-conditioning of womanhood especially in traditional setting. In "African woman", Usman invites us to the stark reality of routine experiences of the rural African woman:
Once the cock crows
Or is it the alarm
For wherever she is
The routine is the same
As early as dawn
A water pot is on the head
Off to the stream she goes
To fetch water for today's living (76).
In the above extract, the poet unveils the everyday experiences of the rural African woman who is daily fixated with the cyclical call to duty which she is bound to obey. The woman is thus seen as responsive to family need, diligent, strong and upon whose shoulders the family must be sustained. Usman appears to be venerating such attributes which make the African woman thick to the immediate need of the family and advises her to stick to such duties so as to be culturally acceptable at least for the sake of her children who are her only reward. This admonition is seen in the last line of the poem, "For the joy of her children her reward". This line interrogates the cultural configuration of the African woman whose marital bliss rests on her ability to account for a number of children she bears, notwithstanding her economic strength. It thus appears in Usman's last line above that the woman must totally perfect her submissiveness to her husband for motherhood sake. This perhaps is to conform to the society which has no pity "for a woman who deserts her children" (Buchi Emecheta, 2007:553).
While advocating for the separation of motherhood from womanhood, however, Yetunde Ola-Aluko and Patrick Edewor (2002) argue:
Whereas it is true that there is a basic traditional role which women play within the cultural setting and that this, primarily, is child bearing, it is important that this should not be allowed to continue to overshadow the need for women to exercise their individuality creativity, authority and ingenuity and to enjoy the facilities that specifically address their own problems (20).
The foregoing protests the assumption in cultural spaces in Africa which calls for total submissiveness of women to male–oriented precepts in order to safeguard their marriage.
It is evident that "African woman" has rural setting; unlike Shoneyin's urban setting in "SHE TRIED". This is seen in the poet's use of symbols and diction (choice of words) which enhances the literariness of the poem. Such words like "cock crows", "water pot", "little hut", and "the stream" which detail the rural life experience of the African woman are carefully used by the poet to depict rural setting. Similarly, run-on-lines (enjambment) in the poem indicate the continued pressure on the African woman as she sustains her everyday experience for the survival of her family. The thought-flow of such experiences is sustained and allowed to trickle down the lines. Similarly, the African women, conscious of the domestic margin they have been relegated, have in the view of Ayo Kehinde (2006:169-70) always, even as mere appendages to men, "struggled to achieve recognition as human beings in their own right." The woman in Usman's verse tends to embrace with open arms the socio-cultural conditioning of women by the society yet strives to negotiate her survival with dignity. African women, particularly those in rural setting are tied to the home front unlike their counterparts in the urban areas who are breaking bonds in the cities and demystifying masculinist impositions.
The rural African woman exemplified in "African Woman" is deprived of education. She is poorly equipped to detect or challenge phallogocentric positioning. She is, therefore, totally committed towards safeguarding her future and that of her children to the admiration of the society. However, Shoneyin's women in "SHE TRIED," "STOP SLIMMING ME", "MIRROR MIRROR" and such others typify educated urban women who are conscious of hegemonic hem lining of the female being. They strive to confront limitations of patriarchy which tend to stifle their social status, economic integration and social emancipation.
Usman's portrayal of motherhood as critical for happiness in marriage is again scripted in her poem "Arrival". In the poem, the poet switches to the joy of every mother in marriage. One of the themes central to women in Africa is motherhood. Usman in "Arrival" depicts how the arrival of a child, particularly a boy child, elicits joy in the mother. The poet persona, a mother, regales at how sudden her son has grown to become a man though not without pains. The poet persona, obviously a woman, graphically recalls the growing processes which begin from crawling, babbling and walking to a "fully grown." She idolises the male child whom she describes as her "greatest delight." This turning point of the persona's joy is visible in the last stanza of the poem:
Now I see you fully grown
The child of yesterday has become a man
This is my greatest delight
Oh mother, oh son (67)
The ecstatic moment and joys of motherhood are depicted with the mood of adoration of the poem as the mother expresses delight at her son's transformation to a fully grown man. The poem is thus a positive advocate for the achievement and indispensability of womanhood in a child's growth. The poem is not without recourse to a society where a woman's success in marriage is tied to her ability to produce and nurture children. Those who fail in this regard are perceived as defective since motherhood in most societies is "crucial to a woman's status" (Ramonu Sanusi, 2015:99). This is also against the background of most African societies where, in the submission of Buchi Emecheta (2007:553), "the birth of a son enhances a woman's authority in the family." This strengthens marital peace than disharmony which may lead to conflict and divorce.
Lola Shoneyin's second poem in Egg "TWO WOMEN TWO BEGINNING" however, engages the marital lives of two women. She describes two women with similar experiences as victims of failed marriages. The mood of the poem points to devastation with tone of indictment. The poet hence indicts the erstwhile husbands and accuses them of heart breaking and infidelity:
Two women.Two soulmates.
Soldered by common source.
Two heart-breaks.Two dream-stakes.
Riverlets, driven by similar force.
Two caresses. Two kisses.
A sympathetic cure for phallus–inflicted sores (14).
The poem which is written in two successive lines is an indication of a graphological representation of two women who suffer double tragedy of marriage failures and the pain that accompanies it. It also evokes vividly the dual moments of love and agony. It is also a condemnation of sexist maltreatment of the women folk which often results to marriage failures.
In Usman's Spellbound, the poet in the poem, "My pride," turns to the beauty and value placed on a female body before the desecration of her virginity. She recalls that a lady with a "body of black luster", as a virgin who walked with such "grace and elegance":
Only the strong, the prudent and worthy
Dared face my fathers
To ask my hand (73).
However, the mood of adoration, joy and happiness which marks the first three stanzas suddenly changes to lamentation and sadness in the last stanza of the poem:
Now I have stripped myself
Of that pride and honour
Instead of being contested for, I contest
From door to door
And under every leaf
Oh my décor has become a well
What a waste
Oh! My pride (74).
The foregoing depicts a young woman who has derailed in protecting her virginity which is her pride and beauty, but succumbs to the sexual exploit of patriarchal drive. Now the persona has been reduced to a prostitute who now moves "from door to door" (74), having been deprived of her virginity by her own brother: "By my brother my beloved" (73). The theme of incest which is suggested in the poem reminds readers of the anguish of females who sometimes are raped by family members. This is an indication of the powerlessness of the female character particularly at the wielding of phallic sexual domination over the feminine body. The poem is a reflection on the double tragedy of men's invasion of the woman's body. First, she is deprived of her dignity by rape; second, she is also tossed around as a prostitute. The woman, therefore, becomes sexually objectified, and this often relegates her to a battered being.
[
Shoneyin turns to women who dream of "Mr Right" in her poem "COCKTALES". The short, witty sarcastic lines peep into a woman who dreams to have a man/with a dash of panache a thick slice of sense/and hips that twist in a very tall glass/who will always take her to" the museum" as living in phantasm. The title of the poem "COCKTAIL" is a derivative of cock and bull story. Thus, it presupposes that women who think that they would marry a man who would embrace them with endless comfort are meditating on unrealistic wishful thinking.
One of the poems that attest to the supremacy of patriarchy over womanhood particularly in marriage is seen in Usman's "Warmers and coolers". The poem compares a man's love for her wife to "warmers and coolers". The warmer is a metaphor for warmness, love, peace and tenderness of a man to his wife, while "coolers" represents pain, loneliness and hatred of a man to his wife. The poet declares that the wife's hope to be loved rests on her husband who tosses his love when it suits him. She compares this love to electric sockets which can be plugged and unplugged at his will:
Your love is like electric sockets
In your living room
Which you switch on and off at will
When you switch me on
Hope I radiate on you for long (84)
The foregoing shows the acceptance and submissiveness of a woman to the sovereignty of a man's power. Faced by the fear of not being kept in the "coolers", the poet persona pleads with her husband in the last stanza to remain in his warm embrace:
Oh! Let me be kept
In the warmth of your embrace
Kissed with the kisses of King Solomon
Refreshed daily with thoughts
Of your presence
The tenderness of being loved
Kept secure in your warmer (84).
The diction of the poem is accessible and accurate for the subject matter. It also renders the poem for easy interpretation. The imageries evident in such words like "warmers", "coolers" "electric socket", and "living room" employed by the poet are vivid pictures used to throw up a woman's experience in marriage in which she craves for the warmth of her husband. Similarly, the simile and metaphor used respectively in the first two lines of the first stanza "A man's love is like warmers and coolers/one minute I'm in the warmer" are to situate the brittleness of a man's love. The poem's mood of "uncertainty" of a man's love suggests the persona's fear of being kept in the "cooler". The poem is, thus, a portrayal of the reality of a woman's experience held under the grip of masculinity. The poem captures the experience of most African women who crave for the love and affection of their husbands rather than being treated harshly. For the sake of marital bliss for the woman, the persona (un)consciously submits to the supremacy of masculine individuality. The non-confrontational stance of the persona helps to drive the authorial goal of the poet in advocating for peace and harmony as a means of empowerment in marriage relationship.
Shoneyin's works often do not cringe when it comes to making her perspectives clear in reality. In So All the Time I Was Sitting on an Egg; Song of a River Bird and her novel, The Secret Lives of Baba Segi's Wives, she humanises her characters, mostly females, to invite readers to their socio-cultural and gender consciousness. In her poetry collections, particularly Egg, she divides the poems into three categories under what James Gibbs (2008: 155) calls "playful sub-headings". This is evident in the three parts in Egg which come under the sub-headings "Clitoranguish", "Somehow Everything is Striking a Pose" and "Matriscope". It is glaring that in the poems which fall under "Clitoranguish" and "Matriscop", Shoneyin is set to thrust her perspectives on gender–specific interests. This is in an attempt to reclaim as Odia Ofeimum writes in the preface to the poem "the sensibility of the modern woman in a soothing yet unyielding pursuit of the unsayable". Thus, Shoneyin courageously confronts practices which castrate women's freedom in a society driven by sexist authority.
Halima M. Usman admits in her acknowledgements that Spellbound is a "quest for identity and a voice" (6). She hails from Gombe State, in the upland north where women's voice and identity particularly in poetry publication in English, is comparatively late, and also, where "women's visibility and participation in the social order is viewed with a reactionary squint" (Raji-Oyelade, 2004:2). Usman's Spellbound is thus a response to societal spells that have suppressed youths, women and men alike from self-discovery.
Conclusion
The major thrust of this paper is to project the commitment of women, through poetry, to the exposition of issues which keep them mute and limit their involvement in African socio-cultural space. Through the lens of feminist perspectives, the study reveals how poetry has been deplored to protest the various codes which tilt towards patriarchy and undermine the values of women in African society. Interpreting Shoneyin's poems and Usman's poetic thoughts has revealed the spewing of rhetoric by the poets to appreciate womanliness and give voice to women under masculinine exploitation and oppression. While Shoneyin's verses negotiate liberation of urban and educated women from patriarchal yoke with vigour, Usman's Spellbound is a subtle protest against patriarchal suppression; it is also an agitation for freedom against layers of sexist domination and spells which bar the youths, the masses and particularly rural women from reaching the apogee of their aspirations.
The poets have, thus, through their poems exposed staggering sexist ideologies and socio-cultural conditions women are subjected to. By protesting against such patriarchal practices which limit women's aspirations, quest for freedom and better living, Shoneyin and Usman invariably empower the feminine being to assert their identity and negotiate their relevance in a society that seems to exclude them.
References
Shoneyin, L. (2001). So All the Time I Was Sitting on an Egg. Ibadan: Tanus Communications Ltd.
Usman, M. U. (2008). Spellbound. Ibadan: Kraft Book Ltd.
Secondary Materials
Acholonu, C. (1985). The Springs Last Drop. Owerri: Totan.
Acholonu, C. (1985). Nigeria in the Year 1999.Owerri: Totan.
Acholonu, C. (1995). Motherism: An Afrocentric Alternative to Feminism.Owerri.Afa Publications.
Akintan, A. O. (2002).            Women in Yoruba Culture: An Overview. In women and the Culture of Violence in Traditional Africa. Dorcas Akintunde & Helen labeodan (eds), Ibadan: Sefer Books Ltd. 1-6
Akorede, Y. O. (2011).Feminism & Literature Womanism and the Intra – Gender Conflict Theory. Porto-Novo: Sonou Press
Akubuiro, H. (2012). Feminism is about empowerment, not aggression. The Sun Online.www.sunnewsonline.com. Retrieved May12, 2015.
Aliyu–Ibrahim, F. R. (2011). Gender and Social Consciousness in Maria Ajima's Poems of Sanity. A paper presented at the International Conference on Nigerian Literature, Gombe State University November, 2011.
Amadiume, I. (1985). Passion Waves. London: Karnak House.
Awe, B. (1989).          Nigerian Women and Development.In Retrospect in Women and Development in Africa; Comparative Perspectives.Ed. Jane L. Parpart. New York: University Press America, pp.295-320.
Bala, I. (2010). Women Poetry from Northern Nigeria: A Bibliography. www.readperiodical.com retrieved April 7, 2013.
Dasylva, A.O. & Jegede, O. B. (2003).Studies in Poetry: A Course Book for Universities and Colleges Ibadan: Atlantis Books.
Davies, C. B. (1986). Maidens, Mistresses and Matrons: Feminine Images in Selected Soyinka Works. In Ngambika: Studies of women in African Literature (Eds.), Carole Boyce Davies and Ann Adam. New Jersey: African World Press pp 75-88.
El saadawi, N. (2007).The Heroine in Arab Literature. In African Literature: An Anthology of Criticism and Theory. Tejumola Olaniyan and Ato Quayson (eds) Oxford: Blackwell Publishing, pp 520-525.
Emecheta, B. (2007). Feminism with a small "f" I" in African Literature: An Anthology of Criticism and theory. Tejumola Olaniyan and Ato Quayson (eds) Oxford: Blackwell Publising pp 551-557.
Evwierhoma, M. (2002).Female Empowerment and Dramatic Creativity in Nigeria. Ibadan: Caltop Publication Ltd.
Ezeigbo, A. (2012). Snail Sense Feminism. In University of Lagos, Faculty of Arts Monographs Series. No. 17
Ezenwa–Ohaeto.(1996). Contemporary Nigerian Poetry and the Poetics of Orality. Bayreuth: Bayreuth University.
Friedan, B. (1983). The Feminine Mystique London: Penguin Books.
Jegede, O. B. (2003). New Poetics in Contemporary Nigerian Poetry.In Studies in Poetry.A Course Book for Universities and Colleges. Dasylva and Jegede (eds). Ibadan: Atlantis Books, pp 154-173.
Jegede, O. B. (2011). "Subversive (Re)Writing and Body Poetics in Lola Shoneyin's So All the Time I Was Sitting             on an Egg. Ibadan Journal of English Studies 7: 207-224.
Kehinde, A. (2006). Patriarchal Suppression and Nuorosis: African Women's Plight in J.M Coetzee's In the Heart   of the CountryAfrican Study Monograph 27 (4), 169-185.
Kolawole, M.E.M. (1997). Womanism and African Consciousness. Trenton, NJ: African World Press.
Ladele, O. (2009). Reconstructing identities through Resistance in Postcolonial Women's Writing.A Reading of Ezeigbo's.The last of the strong Ones in Nebula.70-84.
Lewu, M.A.Y 2005. "Female Creative Writers and Social Challenges in Nigeria, 1960-1985. A Historical Survey in Maja Vol. 3, No.1, pp 1-12.
Linton- Umeh, M. (1985). "The African Heroine", cited in Female Empowerment and Dramatic Creativity in Nigeria. Ibadan: Caltop  Publications Ltd.
Maduakor, O. (1989). Female Voices in Poetry Catherine Acholonu and Molara Ogundipe-Leslie as Poets. Iin H. Ofo Kunefor & O. Nwodo (eds). Nigerian Female Writers: A Critical Perspectives 24: 1-20.
Mill, J.S. (1982). The Subjection of Women.London: The Chaucer Press Ltd.
Mowah, F. U. (2003). Modern African Poetry "in Studies in Poetry: A Course Book for Universities and Colleges. Dasylva and Jegede (eds) Ibadan: Atlantis Books, pp 115-128.
Nwachukwu–Agbada, J.O.J. (2013). Poetry and Nigeria's Sore Points: A Season of Migration to the North. In Critical issues in African Literature: Twenty – First century and Beyond. (Ed), Chinyelu F. Ojukwu. Port Harcourt: University of Port Harcourt.
Nwapa, F. (1986).Cassava Songs and Rice Song. Enugu: Tana Press.
Nwapa, F. (1988).Women and Creative Writing in Africa.In Sisterhood Feminism and Power. Trenton, NJ: African World Press, pp 89-99.
Ogundipe-Leslie, M. (2007).Stiwanism and Feminism in an African Context.In African Literature; An authology of Citicism and Theory. Tejumola olaniyan and Ato Quayson (eds). Oxford: Blackwell Publishing, pp 542-550
Ogundipe-Leslie, M. (1985).Sew the Old Days and Other Poems. Ibadan: Evans Brothers.
Ogunyemi, C. O. (1996). African Wo/man Palava. Chicago: University of Chicago Press.
Ogunyemi, C. O. (1985). Womanism: The Dynamics of the Contemporary Black Female Novels in English.  Signs 11(1), 63-80.
Okunoye, O. (2002). Ethnic Traditions and the African Postcolonial Poetic Imagination.Ph.D Thesis. Department of English University of Ibadan, Nigeria.
Okunoye, O. (2003). West African (Negritude) Poetry. In Studies in Poetry: A Course book for Universities and Colleges. Dasylva and Jegede (eds). Ibadan: Atlantis Books. 143-153.
Ola-Aluko Y. & Edewor, P. (2001).Women, Culture and the African society.In Women and the Culture of Violence in Traditional Africa. Dorcas Akintunde and Helen Labeodan (eds). Ibadan: Sefer Books Ltd., 17-27.
Omobowale, B. (2003).          Anglophone West African Poetry. In Studies in Poetry: A course book for University and Colleges. Dasylva and Jegede (eds). Ibadan: Atlantis Books., Pp 129-142.
Raji-Oyelade, A. (2004). Season of desert flowers: Contemporary Women's Poetry from Northern Nigeria. New Women's writing in African Literature. 24, 1-20.
Raji–Oyelade, A. (2013). Fluent Intervention: Webs of the Literary Discipline Inaugural Lecture, Ibadan: University of Ibadan Press.
Raji-Oyelade, A. (2008). Notes toward the Bibliography of Nigerian Women's Poetry (1985-2006).            Research in African Literature 39: 198-202.
Sanusi, R. (2015).  Portrayals and Gender Palaver in Francophone African Writings. Ibadan: Graduke Publishers.
Sotunsa, E.M. (2009). Feminism: The Quest for an African Variant. The Journal of Pan African Studies 3(1), 227-233.
Showalter, E. (1977).  A Literature of their Own: British Woman Novelists from Bronte to Lessing.New Jersey: Princeton University Press.
Sunday, G. B. (2012). Modern African Poetry and the Issues of Gender: The Nigerian Literacy Scene. Research on Humanities and Social Sciences 2(11), 94-105.
Wollstonecraft, (1929).           A Vindication of the Rights of Women. London: Everyman.
Woolf, V. (1979).Women and Writing. London: The Women Press.
YORÙBÁ PHOTOPLAY MAGAZINE AS A THREE-MODAL
ARTS – THE ATỌ́KA EXAMPLE
Dr. CLEMENT ADENIYI AKANGBE
Department of Library, Archival and Information studies
University of Ibadan
akangbeclem@gmail.com
Abstract
Photoplay magazine was a veritable media of dramatic production for Yorùbá theatre practitioners in South-West Nigeria between 1967 and 1991. It was a secondary media of production as the plays published in photoplay magazines were first usually produced on stage, which is the primary home and the homing ground of drama. Atọ́ka was the first and the prime of all photoplay magazines that existed in Yorùbá. This paper focuses on the principal arts of photoplay which are dramatic arts, photographic arts and publishing arts. Employing the theory of New Historicism, this study traces the evolution of Atọ́ka photoplay magazine; identifies the three-modal arts of Atọ́ka; examines the concept, constituents and interrelationship of these arts and their impact on the overall success of the magazine as a publication.
Key words: Yorùbá Photoplay Magazine, Three-Modal Arts, Atọ́ka.
Introduction
Atọ́ka photoplay magazine was a unique art that was prevalent in the South-West Nigeria from late 1960s to early 1990s. It was a dramatic collaboration of theatre practitioners and publishers which aimed at bringing entertainment in form of play productions to the doorsteps of the teeming theatre lovers in printed form.  Photoplay is an amalgamated art which enlists the input of different professionals. It is therefore creative, systematic and procedural.  Atọ́ka was the first version of photoplay in Yorùbá and as such it employed Yorùbá language as its medium of communication. This paper examines Atọ́ka as a three-modal arts comprising – dramatic art, photographic art and publishing art.
Atọ́ka photoplay magazine was a production of different Yorùbá theatre troupes which Ògúndèjì (1985, 1988) called Ogunde dramatic tradition.  This modern Yoruba drama is a dynamic performative movement which may be said to have formally come into being on June 12, 1944 with Hubert Ogunde's popular opera titled The Garden of Edenand the Throne of God which was staged at Glover Memorial Hall in Lagos Island. This tradition, which Clark (1979) called a "re-incarnation" of traditional drama, is highly phenomenal in development, dynamic in operation, astronomical in patronage and diverse in performance. The tradition became an instant success with its ready acceptance by the society till date.A manifestation of the dynamism of this movement is its different media of performance over the years. Beginning with the era of the stage production, the modern Yoruba drama has passed through different production eras of radio, television, phonograph-disc, photoplay, cassette tapes, celluloid films, and home video films (Ogundeji, 1988:87; Akangbe, 2005:2).At each of these production eras, the practitioners explored the media of performance such that extensive productions – both in duration and in quantity – were carried out. Our concern in this paper is to single out one of these multi-media of Ogunde dramatic tradition for detailed research; and that production media is the photoplay era.
1.0 Methodology
Extensive research have been done on Yoruba drama by several scholars and many of them centred on Ogunde dramatic tradition. These studies include Ògúndèjì (1981), Aróhunmọ́làṣe (1982), Adéoyè (1984), Bọ́lájí (1985), Adétúnjí (1987), etc. Despite these myriad of works, most other production media seem to have gained the attention of researchers but the phase of photoplay has not been so favoured. There were only few works that discussed aspects of Yoruba photoplay (Ògúndèjì, 1981), Adélékè (1995), Aróhunmọ́làṣe (1998), and Àkàngbé (2005) until Akangbe (2014) carried out an in-depth study on Atọ́ka. So till date, Yorùbá photoplay remains a green farmland largely uncultivated and a literary field largely untilled. This study therefore sets to fill some of the void by examining the arts of Atọ́ka photoplay magazine.
The study adopted Atọ́ka as its case study. This is because it was the first, being the pioneer photodrama in Yoruba. Atọ́ka series was also, unarguably, the most prominent of the titles in the tradition as it adorned the newsstand for a long period of time. In the quarter of a century that it existed, WABP produced a total of one hundred and twenty (120) volumes which numbered four hundred and thirty (430) editions, thus generating sufficient data for a study of this nature. The geographical scope of the study is the south-west Nigeria and the population of the study was mainly the Yoruba people who occupy the south-western states in Nigeria  namely: Èkìtì, Lagos, Ògùn, Òǹdó, Ọ̀ṣun, and Ọ̀yọ́.
The general objective of this paper is to examine the three modal arts of Atọ́ka. The specific objectives are to: identify the principal arts of Atọ́ka, discuss the process of each art, examine the constituents of each of the arts, and find out the interrelationship of the arts.The study which focused on the photoplay magazine as a dramatic form and a production medium in Yorùbá is significant in that it delves into the dynamic history, sophisticated production, and multifarious contents of Atọ́ka photoplay magazine. This study is also an attempt to give photoplay media leverage with other production media in the Ogunde dramatic tradition like stage, radio, television, celluloid film and home-video film that had received attention from, and had been studied, though in varying degrees, by researchers. This study is a qualitative research and it employed multiple methods for its data collection. The primary source of data collection was the Atọ́ka photoplay magazine while scheduled oral interview constituted the secondary data. The theory of New Historicism was adopted as theoretical tool for the study.
2.0 Evolution of Atọ́ka Photoplay Magazine
Atọ́ka was the first Yoruba photoplay magazine which was established in 1967. It was published by West African Book Publishers (WABP) which was located at No.4 Industrial Avenue, Ilupeju, Lagos State. African Film, a photoplay magazine in English, was regarded as a major influence on the evolution of Atọ́ka photoplay magazine.1 According to Oyèéwọlé Olówómojúọ̀rẹ́, a.k.a. Kèǹgbè Ọ̀rọ̀,2one time editor of the magazine, the desire to have a replica of African Film in Yoruba gave rise to the birth of Atọ́ka.Incidentally, Academy Press, the leading press in West Africa then, acquired a state-of-the-arts equipment. It was reported to be the best printer of almanac and diary.The quality machines that were acquired were being underutilised so there was the quest to put them to maximum use for profitability. The only way to achieve this was to find more jobs for the machines. As corroborated by Pa. Ṣẹ́gun Ṣófọwọ́tẹ̀3, the desire of Academy Press to venture into book publishing prompted her to establish West African Book Publishers (WABP) in 1967 as her publishing arm. Paramount on WABP's agenda was publication of series of periodic magazines both in English and Yorùbá languages as replica of African Film which was being produced in South Africa. WABP considered the popularity and high level of patronage being enjoyed by the flourishing theatre tradition in Yoruba land in particular and Nigeria in general as a great potentiality for the Atọka photoplay magazine project. Magnet.4 a photodrama magazine in English language, was the first to be established before Atọ́ka. Mr. Ràṣídì Oníkòyì,5who was initially appointed to be in-charge of the Yorùbá Photoplay Series6 invited Mr. Ṣẹ́gun Ṣófọwọ́tẹ̀, a brilliant and talented broadcaster with Western Nigeria Television and Western Nigeria Broadcasting Service (WNTV/WNBS) in Ìbàdàn to come over to take charge. A very versatile artiste, Mr. Ṣẹ́gun Ṣófọwọ́tẹ̀ joined WABP after negotiating his terms of appointment with Academy Press.
To actualise the dream of fielding a Yorùbá photoplay magazine successfully, Mr. Ṣẹ́gun Ṣófọwọ́tẹ̀ explored his working and cordial relationships with the notable dramatists of his days. As a former producer at WNTV/WNBS, he had worked closely with Chief Hubert Ogunde, Kọ́lá Ògúnmọ́lá, Dúró Ladipọ, Oyin Adéjọbí, Àyìnlá Olùmẹ̀gbọ́n, Akin Ògúngbè, and other performing theatre groups. As a matter of fact, many of them had become his friends so he had no problem in enlisting their cooperation.
Ogunde dramatic tradition spread like a wild fire in the harmattan wind. The tradition which began with the stage, the ancient homing ground of drama, changed phases consistently from stage to radio in 1945 (Clark, 1979); television in 1959 – 1960 (Olúṣọlá, 1981); phono-disc in 1964 (Ògúndèjì, 1985), photoplay in 1967 (Ògúndèjì, 1981), celluloid film in 1976 (Ògúndèjì, 1988), and the home video in 1990 (Ayọ̀rìndé & Okafor, 1996). Photoplay is the only print media adopted by the Yoruba theatre practitioners. It is employed as a secondary media of dramatic performance by the practitioners of Ogunde dramatic tradition. It is therefore an ancillary media. The first Yoruba photoplay magazine was Atọ́ka which debuted in 1967 with Ògunde's play titled Yorùbá Ronú (Ògúndèjì, 1988). Before the advent of Atọ́ka, there was no similar publication in Yoruba. However, there were a number of magazines published in English language that might have influenced the establishment of Atọ́ka overtly or covertly.
3.0 Theory of New Historicism
This study employs the theory of New Historicism for its analysis. The term "new historicism" was coined by Stephen Greenblatt, an American critic and his book titled Renaissance Self-fashioning: From More to Shakespeare, published in 1980, was usually regarded as signaling the beginning of the theory though similar attempts were identifiable in the works of various critics published in the 1970s. New Historicism assumes that every work is a product of the historic moment that created it. Barry (1995: 172) defines new historicism simply as "a method based on the parallel reading of literary and non-literary texts usually of the same historical period". He expatiates further that "new historicism refuses (at least ostensibly) to 'privilege' the literary text: instead of a literary 'foreground' and a historical 'background' it envisages and practises a mode of study in which literary and non-literary texts are given equal weight and constantly inform or interrogate each other".
This implies that the theory, in analysing a text, is preoccupied with two issues: the literary and the historical. It does not present and project one side of the coin and relegate the other. The theory compels literary and historical fairness in dealing with a text; hence the emphasis by Barry that "…literary and non-literary texts are given equal weight." American critic – Montrose (in Barry 1995: 171) also corroborates this principle of "equal weighting". According to him, new historicism is "a combined interest in the 'textuality of history, the historicity of texts". In a clear and unambiguous expression, Montrose's succinct and accurate definition brings to fore the duality and paradoxity of new historicism. It is dual in the sense of its textual and historical preoccupations; and paradoxical in the sense that contrary to convention, it does not tolerate siding or privileging of the literary. Greenblatt's postulation is that a new historical essay will place the literary text within the 'frame' of a non-literary text. He advocates strongly that historical documents are not subordinated to contexts, but are analysed in their own right. Therefore, we should perhaps call them "co-texts" rather than 'contexts' He emphasises that the text and co-text used will be seen as expressions of the same historical 'moment', and interpreted accordingly (Barry, 1995: 172). To New Historicism, literature and history are inseparable. The theory does not see history as a coherent body of objective knowledge which can be readily applied to a literary text in order to discover what the text does or does not reflect. Literature is regarded as a vehicle for the representation of history, and it contains insights into the formation of historical moments. Literary texts therefore can have effects on the course of history, on the social and political ideas and beliefs of their time (Brannigan, 1999:418).
According to Tyson, a helpful way of considering New Historical theory is to think about the retelling of history itself. "…questions asked by traditional historians and by new historicists are quite different… traditional ask. 'What happened?' and 'What does the event tell us about history?' In contrast, new historicists ask, 'How has the event been interpreted?' and 'What do the interpretations tell us about the interpreters?'. So New Historicism resists the notion that "…history is a series of events that have a linear, causal relationship where event A caused event B; event B caused event C; and so on'. New historicists do not believe that we can look at history objectively, but rather that we interpret events as products of our time and culture and that "…we don't have clear access to any but the most basic facts of history …our understanding of what such facts mean… is… strictly a matter of interpretation, not fact". Moreover, New Historicism holds that we are hopelessly subjective interpreters of what we observe. On the whole, as Brannigan submitted, "the new historicist approach to literature did mark a significant turn away from the humanist idea that literature could teach human beings valuable lessons in moral and civil behaviour.
The theory of New Historicism is adopted because Atọ́ka discourse is essentially historical. Atọ́ka as a dramatic genre, its modes and medium, its rise and development are all crucial historical factors that were fashioned and shaped by the time, place and historical circumstances surrounding its birth. The theory is therefore appropriate to dissect the history in Atọ́ka as literature while also employing the same theoretical tool to examine the literature in its history. Apart from this, the social and political contents of the magazine are veritable materials that shape both its history and literature, since the two are inseparable.
4.0 The Three-Modal Arts of Atọ́ka
The concept of modal arts7 has its root in the word mode which implies a way, manner or form of doing something. It is a method of presenting a composition to make it unique and different. A mode also implies a style or set-pattern through which a creative piece is projected thereby making its product ingenuously appealing and aesthetically imaginative. Modal arts therefore is a fusion of different skills and crafts, indeed a melting point of series of artistic strategies methodically synthesised to communicate for information, entertainment and education. The concept of modal arts therefore is procedural, sequential and successive. In Atọ́ka, there are three of such principal arts which are dramatic art, photographic art, and publishing art. It is on these three arts that our discussion in this paper will be based. Atọ́ka is an amalgamated art which encompasses different skills and crafts. These crafts are interrelated and interdependent. They are interrelated in the sense that one leads to the other; and interdependent because one relies on the strength of the others to attain a full expression. Each of these arts is a process which has its different stages and subsets.
4.1 Dramatic arts: Dramatic art is a melting point of activities like auditioning, rehearsal, acting, stage setting (location), performance and shooting, etc. Acting is the work of an actor or actress (otherwise called a performer) who tells her/his story by portraying a character usually by speaking or singing the written text or play. Atọ́ka plays were usually not scripted, what was available for the editor to work on was the sketchy synopsis of the dramatic story. The absence of a formal script also nullified a proper auditioning or casting. In Ogunde dramatic tradition, the norm is that the troupe leader plays the lead role followed by the senior members who also play other important characters. Minor roles and extras are reserved for the upcoming members. What then followed was rehearsal.
Rehearsal in drama simply means a practice or trial performance of a play or other work (dance, music, etc.) for later public performance. In drama, a rehearsal is an intensive session of practicing acting, movement, voicing, dance, dialogue, etc. in private as a team in anticipation of a successful public performance. A rehearsal is a preparatory process of performance. It is a play-making process which engages different professionals for a unified goal through improvisation. In Atọ́ka photoplay production, as it was the practice of Ogunde tradition, each actor and actress would have to interpret his/her role, compose his/her dialogue, and invent his/her action and movement. Though the rehearsal for Atọ́ka production was usually intensive, it must be noted that the production was neither for a live audience nor was it meant to be acted on stage; therefore "the performer-audience relationship is monodirectional" (Ògúndèjì 1985: 18). It was primarily for voice recording on tape and photographing on camera. Also, the rehearsal usually took place at the base of the theatre company and the editor only watched it when he and his crew went for shooting. So the rehearsal would first be watched and critically assessed. Corrections would be made where necessary and costumes, props, etc. would be examined in one breath. Thereafter, performance would follow.  When performance is approaching, the theatre company would scout for locations for their production.
Location is an actual place in which a drama or a film is made. Location is determined by the story, therefore, a location can change frequently from market place to hospital, stadium, airport, sitting room, school, public street, footpath, church, mosque, grove, forest, etc. as the story demands. However, the "actual place" in itself is neither complete nor totally suitable for performance if it is empty. It must be filled with the required objects and materials to transform it into a setting. Setting is the historical moment and geographic location in which a story takes place. Technically, location is different from setting. Setting is a fictitious dramatic locale while setting is the actual place used to represent it in the performance and shooting of a play. According to Ògúndèjì, setting can be macro or micro. "The macro-setting is the large dramatic community that forms the background of the plotal events while the micro-setting is the specific place in the macro-setting" (1988:212).
In Atọ́ka production, relevant locations were usually sought. The task of scouting for locations was the responsibility of the theatre company. As professionals and owners of the story, it was easy for them to get the actual settings that were appropriate for different scenes in the play. However, their selection was subject to the approval of the editor. Usually, the Atọ́ka editor and his crew would arrive a day or two to the commencement of production and shooting to, among others, watch the rehearsal, visit the various locations for approval or replacement, and check the costumes and props. After this, the stage is set for performance and shooting.
The performance of Atọ́ka plays was usually laborious, intensive, painstaking and time consuming. It called for resilience and enduring commitment. A typical performance would last for days and could run to weeks. The editorial crew from West African Book Publishers would arrive at the location a day or two earlier to ensure that every preparation was intact. The team comprised the editor, photographer, a supporting staff and the official driver; other people on location were members of the theatre company. The editorial crew was usually armed with photo cameras, films, tape recorders and batteries. At least two cameras were taken to location, one black and white camera and one colour camera. Each camera, of course, would be loaded with the compatible films while enough extra would be on reserve. Performance was neither at a permanent place nor sequential. In other words, later scenes could be taken before the early ones. The implication of this is that it called for great concentration and accurate record keeping on the part of the editor and indeed the crew.
One hallmark of performance at locations was frequent discontinuity and interruptions. Repetition of action was another experience. It would be recalled that the actors and actresses were not performing for a live audience, their audience was the reader at home. Because of the media of destination therefore, it was compulsory to violate and disrupt the conventional dramatic flow of performance through constant breaks, pauses, repetitions and  issuance of different commands by the editor: action, cut, freeze, etc. to ensure the desired result. The frequent discontinuities were not counter-productive, rather, they were to ensure and enhance effective production. Action could be halted to attain the projection level; it could be repeated to get the desired elaborated dramatic action, it could also be to enable the photographer capture the right shot(s). Topical actions must necessarily be repeated so as to get the shots from the different angles and at different ranges. For instance, a topical action which was a potential picture for cover illustration must essentially be captured and recaptured not only in black and white but with colour camera. In photoplay, greater emphasis is laid on pictures than verbal expressions; dialogue is, as a matter of fact, complimentary to pictures therefore a lot of responsibility rested on the photograper and the editor for a successful production.
The process of performance for photoplay is somehow similar to that of film or movie except that photoplay is static picture while film is motion picture. The editor is the equivalent of the director in motion picture (therefore a great responsibility rests on his shoulders) while the photographer is the equivalent of cameraman in motion pictures.
4.2 Photographic arts
Photography is a principal mediun of expression in Atọ́ka photoplay magazine. It is interesting to note that acting and photographing take place simultaneously. The art of photography is dependent on acting, and it is a process of making the fleeting and transient  art of acting permanent in visual form.Photography is the art, science and practice of creating durable images by recording light or other electromagnetic radiation, either electronically by means of an image sensor or chemically by means of a light-sensitive material such as photographic film. Photography is a mechanical process through which desired images are focused by a camera lens and in the process light is reflected or emitted from objects into a real image on the light-sensitive surface inside a camera. This is processed electronically and stored in a digital image file for subsequent display for processing. The image is subjected to chemical activities so as to develop them into visible images either negative or positive. This however depends on the purpose of the photographic material and the method of processing. A negative image on film is traditionally used to photographically create a positive image on a paper base, known as a print, either by using an enlarger or by contact printing.
Photography as a narrative device in Atọ́ka production is quite technical. The movement of the camera and the angle of the camera are two vital factors in photography. These constitute what is called shots in photography, shots are usually described in relation to a particular image or subject. Camera in the print media is a visual medium that serves both technical and fuctional purposes. These dual purposes are basically attained through camera movement. Camera movement implies the manipulation of the camera to capture objects. Stressing the functional purpose of photographs, Enwezor and Zaya in Adéẹ̀kọ́ (2012:354) maintains that
for photographs to have any meaning beyond their functions as memento
mori and as instruments of evidence and record, we must acknowledge
another stabilizing factor: the gaze, that which Gordon Bleach has aptly
termed the "negotiated space of viewing.
"Negotiated space of viewing" entails variables like gaze, posture, and outlook. Beyond this however, like Enwezor and Zaya opined, "photographic practices should be seen not as completely natural chemical reactions but as results of the immersion of chemical and optical machineries in local socio-cultural conditions" And as argued by Geoffrey Batchen, "camera placement, the position of the photographer in relationship to the subject, and the 'natural' environment selected by the photographer to enact the subject's authenticity" are all fundamental factors in photography (Adéẹ̀kọ́, 2012:355). In other words, the background, that is the environment, and in this context setting, coupled with other peculiarities, is principal to attainment of photographic objectives; all these are basically applicable to the photographic art of Atọ́ka photoplay magazine. Various camera shots are employed in Atọ́ka as visual compliments to aid clarity and comprehension, the common ones that were peculiar to Atọ́ka productions are highlighted here.
The peculiar shots in Atọ́ka photoplay magazine were wide shots (WS), medium close-up (MCU), close-up (CU), extreme close-up (ECU), and cut-in. Wide shot, otherwise called long shot or full shot, presents the full frame of the subject; mid shot shows some parts of the subject in more detail; medium close up is a half way between mid shot and close up; while in close up, a certain feature or part of the subject takes up the whole frame. Extreme close up is a shot of great emphasis that shows extreme detail while cut-in shows some part of the subject in detail (Akangbe, 2014: 281).
4.3 Publishing Arts
Publishing is a profession of multifarous professionals which include author, editor, assessor, typesetter/compositor, illustrator, graphic artist/designer, indexer, lithographer, printer, binder, marketer, etc. The production of Atọ́ka also entails aspects of publishing which are discussed below.
Manuscript Acquisition: Basically, publishing arts take off with manuscript generation and there are two types of manuscripts. These are solicited and unsolicited manuscripts. (Aniyi, 2009; Emenanjo, 2010). Unsolicited manuscripts are those manuscripts that are not sought or demanded by the publishers while  solicited manuscripts are those that publishers request directly from authors. In the production of Atọ́ka, we could talk of both solicited and unsolicited manuscripts. At the very beginning, manuscripts were solicited. For instance, the maiden edition of Atọ́ka was the Late Hubert Ogunde's Yorùbá Ronú which was followed by his Ológbòdúdú Numbers 1 and 2; then Kọ́lá Ògúnmọ́lá's Ọ̀mùtí Numbers 1 and 2; Ogunde's Àròpin N Tènìyàn Numbers 1, 2 and 3; Dúró Ladipọ's Mọrèmi Numbers 1 and 2; and then Awo Mímọ́ Numbers 1, 2, 3 and 4; also by Ogunde.8 Ogunde was specially contacted by WABP for the manuscripts of those plays. When Atọ́ka had become known however, reverse became the case as manuscript sourcing became unsolicited. Manuscripts in this context were synoposis of plays submitted for production consideration. Drama manuscripts are usually in dialogue format but the synopsis of Atọ́ka was in prose. This is because the synopsis is meant to guide the performers to build the play proper. Again, unlike in publishing where a manuscript is readily subjected to origination and design, the Atọ́ka manuscript would be subjected to play-making process: casting, rehearsal, performance and shooting before publishing activities could begin. In the hey days of Atọ́ka, WABP had more than two hundred manuscripts on queue at a point in time. Practically, every performing company wanted to be published in Atọ́ka which was the rave of the moment. As Oyèéwọlé Olówómojúọ̀rẹ́ puts it9, the queue of manuscripts was so long that for two years it might not get to the turn of some theatre companies. Some were even ready to have their plays published for free.Manuscript assessment was usually carried out by the editor. The indices of assessment were the quality of the story, entertainment potentialities, educational values and sales promise. After rehearsals, performance and shooting, the editor then embarked on editing to prepare the play for production.
Editing is a professional operation of technically preparing a manuscript for publication. It is an act and art of selecting, arranging and presenting a written piece in a readable form. Editing is a process and it is procedural (Adesànóyè, 1995; Okwilagwe, 2001; Aniyi, 2009, Emenanjo, 2010, Igudia, 2012). Editing photoplay magazine was a sequential and procedural process. It involved transcribing the recorded dialogue from tape, editing of the transcribed text and editing of the pictures. It was after this that a dummy of the publication would be prepared and passed to the lithographic unit for the production of what could be called the galleys. Thereafter, the galleys would be edited until it became error-free and the camera-ready copy (CRC) was obtained. In carrying out these series of operations, the editorial unit, the photography unit, the paste-up unit, and the lithography unit were all co-players. In the production of Atọ́ka, the recorded dialogue of actors and actresses was usually transcribed, and this marked the beginning of in-house activities after returning from location.
Transcription is the art of transferring recorded information from tape or its equivalent to paper in written form. It is the conversion of oral information to written form. It was the task of the editor to personally transcribe the recorded dialogues of the actor and actresses. Transcription is a very laborious task as it is quite slow and painstaking. Clarity of voices and audibility are essential for accurate transcription. Transcription was followed by editing of dialogue. Editing of dialogueis carried out by the editor. Dialogue editing is a careful and thoughtful process of selecting right expressions to match pictures to build a play. It is a critical exercise which entails re-arrangement of the structure, outright elimination and substitution of expressions. According to Ògúndèjì (1981:11), "it is also possible for the editor to alter or even reconstruct the dramatic dialogue to suit his own purpose, though this is applicable to all print media".
Usually, the recorded dialogue could be long, lengthy, and atimes watery, verbose and winding. It was the duty of the editor to perform a linguistic surgery on such dialogue by summarising it in rich and concise language. By nature, photoplay does not tolerate lengthy expressions because it is the photograph that is of greater essence than the dialogue which is merely complimentary. Moreover, an edition of photoplay has a limited page extent of 32 pages, including all other additives. By additives we mean all the supplements to the drama in the magazine.    Therefore, needless waste of words with repetitions and undue wordiness do not arise. The 32 page format was a leaf borrowed directly from African Film which also had 32 pages. As a matter of fact, the dialogue of photoplay depends a lot on the creative ingenuity and linguistic competence of the editor as the long expressions recorded on location become reasonably fragmented and logically summarised in the hands of the editor who must, in addition to his multi-talents, be a wordsmith in his right. It is evident that the editor of photoplay enjoys a limitless liberty as regard the composition of dialogue, among others. This prompts Ògúndèjì (1981: 8 – 12) to submit that "the editor can interfere with the structure of the play and may decide to even change the title of the play". He cited the example of Oyin Adéjọbí's Èkùrọ́ Ọlọ́jà which was published under the title Ènìyàn Ṣòro.  Àkàngbé (2005: 74) also remarked that Lérè Pàímọ́'s play titled Ìdájọ́ as a stage play also became Olúẹ̀san in Atọ́ka.
In composing the dialogue, the editor employs three devices. These are speech balloon, thought bubble and cap prints. Speech balloon is the verbal expression of the character which is carefully placed beside, on top or below the picture in the frame without obstructing the visibility of the photograph in any way. Thought bubble is what Ògúndèjì (1981: 8 – 12) called "thought balloons". Thought bubble presents the thought going on in the mind of the character so the thought is graphically represented in bubble oozing out of her/his head. It should be noted that when thought bubble is employed, speech balloon does not exist. Thought bubble is therefore a substitution for speech balloon. Cap print is the third creative device. Cap prints are what Ògúndèjì (1981: 8-12) called "bold prints".  These are texts, written in capital letters and boxed in a rectangle and served as comments by the editor. Cap prints served multiple purposes at various times by representing stage direction to aid reader's understanding. They also served as linkers by giving additional information that would assist the reader to link the previous happening in the story with the new. This is what Adeleke (1995:24) called "vacuum-fillers and 'bridges' to aid reader's comprehension by linking the previous action with the new". At other times however, the use of cap prints may be redundant and repetitive and therefore adding no meaning or value.
Editing the Pictures: Editing the pictures is of great importance because the story is summarily told in pictures. The pictures present the characters in action. The plot of the story is presented through the sequential concatenation arrangement of the pictures. While the editor is not necessarily writing the story anew, his creative ingenuity, imaginative prowess and sense of artistry will be required to synthesise and sew the pictures together like pieces of clothe to make an organic creative garment. Several pictures are taken at locations and their films would be developed in the dark room into negatives in small sizes. After developing the films, the bright negative films would then be selected by the editor for the photographer to print. The selected ones would be printed in black and white in passport-like sizes.  When the editor and his team were satisfied with the selection, he would now prepare a 32-page dummy which was the normal size of an edition of Atọ́ka. Dummy is the replica or prototype of a publication. It is a temporary and a make-believe copy. It serves as a guide in production. The picture for each page would be selected and pasted on the dummy. Also the dialogue for each picture would also be prepared. Each picture was numbered and the corresponding speeches that make up the dialogue was equally given the same number. The desired production size of each picture was also indicated on each picture by the editor. A page of Atọ́ka could contain a minimum of two pictures and a maximum of six pictures depending on the size. Thereafter, the dummy would be returned to the photographer with the desired size of each picture to be reprinted in the dark room in the sizes indicated. As for the dialogue, it would be given to the typist who would type them out. It is remarkable to point out that when Atọ́ka was newly established, typesetting of the dialogue was being outsourced to one Mr. Adéyẹmí, a staff of West African Examinations Council (WAEC) at Yaba in Lagos state. 10
Editing the Proofs:In editing the proofs, the editor of Atọ́ka photoplay embarked on copy editing and assumes the responsibilities of a copy editor. At this stage, the editor must display a presence of mind and unfettered consciousness by marrying happenings with facts, pictures with dialogue, and actions with utterances. He should also be able to detect minor contradictions of names, places, locations, action, expressions, etc. The Atọ́ka editor should exhibit versatility in Yoruba language by displaying a mastery of the orthography, history, culture, tradition, custom, mores, arts and crafts of the language. He should be versed in the house style of his publishing outfit. He must know the features and content of Atọ́ka in detail, he must be conversant with its characteristics and properties so as to maintain a true-to-type publication at all time. To a great extent, these rules of thumb were adhered to but there was a general failure in the area of orthography throughout the life span of Atọ́ka particularly as regard tone marking. There was no single edition that had its texts tone marked.
Cover Concept: The cover is the outermost layer of a publication. It serves three basic purposes which we called three Ps. It is usually meant to protect, preserve and project the title. The cover is indeed a promotional tool and as such it is designed with that intention. A book cover is divided into three main parts. These are the front cover, the spine and the back cover. The front cover must be made attractive and enduring. It is designed with a concept in mind. The spine is the spinal cord of a publication. It is the only un-open end of the book. In most cases, periodicals such as magazines, newspapers, bulletins, newsletters, etc. do not have discernible spine. The back cover is the concluding part of the cover. In books, it bears the blurb which advertises the book and may give the author's profile. In Atọ́ka photoplay magazine, the cover was also designed with special attention but its back cover bears no blurb but advert. The shots for the cover were carefully and specially spotted and taken. Multiple topical and action photographs were taken and developed out of which the best would be selected in the course of origination and design. The covers of all the editions of Atọ́ka were in processed colours. At the beginning, the digital separation of the cover films was done in the United Kingdom. It should be remarked that all but one of the covers of the editions of Atọ́ka bore artist impression and not the photographs of the performers. This was Oyin Adéjọbí's Àjàṣorò, Volume 26 Number 2 Series No. 71 of February 1971.11
The contents of the attractive and colourful cover include the name of the magazine –  Atọ́ka – in bold print at the top left hand corner of the front cover. It is under this that we have other publication index such as the series number, volume, month and year of publication and the price listed. Also on this segment we have the logo of the magazine which is a bird named Atọ́ka elegantly perching on a tree branch. The name given to the magazine was actually derived from its logo – ẹyẹ Atọ́ka. Linguistically, the word atọ́ka is a noun derived from the verb tọ́ka which means 'to point'; Atọ́ka literally therefore means 'pointer' and denotatively 'index'. By implication, Atọ́ka photoplay magazine is an index of the history, politics, economy, religion, culture and the value system of the society. On the top right handside is the title of the play in bold prints and under it is the name of the theatre company that produced it and also the number of that edition, be it part one, part two, part three, etc. The parts: Apá kinni, Apá kejì, Apá kẹta, etc. are usually boxed. All these occupied one quarter of the entire cover page up while the cover picture occupied the remaining three quarter of the page. It must be emphasised that each part of a title came with its own different cover. For instance, Volume 21 titled Tẹní bẹ́gi ló jù by Dúró Ladipọ was produced in three parts with Number 1 as Series 54,Number 2 as Series 55 and Number 3 as Series 56 with all of them having distinct covers. The same is applicable to Volume 22 titled Àṣírí Bàbà Ìbejì by Akin Ògúngbè which was produced in four parts with Number 1 as Series 57, Number 2 as Series 58, Number 3 as Series 59 and Number 4 as Series 60. Olúmọ by Omilani Theatre was produced in five parts, Ìpàdàbọ̀ Odùduwà by Oyin Adéjọbí was in three parts, Wàhálà ń pànìyàn by Kọ́lá Ògúnmọ́lá was in two parts, etc. with all of them having their distinct covers. It should be remarked that at the onset, both the inner pages and the cover were produced with bond paper as seen in the examples of Ogunde's Yorùbá Ronú, Dúró Ládipọ's Mọ́remí, Oyin Adéjọbí's Àjàṣorò, etc. Later on however, the inner pages remained in bond paper while the cover was produced with art paper. The readiness of the cover marked the end of origination and design processes and opened the door to printing.
Printing:This is a technical process of reproducing texts and images on machines for mass consumption typically with ink and paper using a printing press. It is an essential part, indeed a concluding part, of publishing activities. Pre-press was the first stage in the printing of Atọ́ka. It had two stages which were filming and plate-making. Films were made from the camera ready copy (CRC) which the editor passed to the lithographic unit. The pre-press process was basic to attaining good or poor printing quality so the lithographer usually ensured that stripping was perfect, imposition was accurate, chemical application was neither excessive nor insufficient, and burning on the plate-making machine was timely. When Atọ́ka plates had been made, the lithographer would pass the plates to the machine room for press activities. Press implies mass printing of a publication from plates to paper, card or board on a printing machine. The first thing the operator would do on receiving the plates was to examine and assess its quality. This was quality control measure. Having been satisfied, he would fix the plates on the printing machine, load paper on the machine, apply ink and water as appropriate and commence mass printing. Post-press was the concluding set of activities in printing. These concluding activities are called finishing. The post-press activities of Atọ́ka included folding, collating, stitching, trimming, checking and repairs, and wrapping. Atọ́ka employed a simple binding method called stitching with two stapled points at the two ends. After stitching came trimming which was followed by checking and repair. Checking was a careful scanning of each copy page by page to detect pages with defamation such as unevenness of ink, blotting, scumming, dirtiness, poor registration, etc. The final activity was wrapping and delivery to agents for marketing.
5.0 Discussion and Findings
New Historicism as an approach to literary criticism is based on the premise that a literary work should be considered a product of the time, place and historical circumstances of its composition rather than as an isolated work of art or text. In other words, a text should not be studied as a mere literary composition but rather there should be a proper understanding of the relationship between a text and the political, social and economic circumstances in which it originated. Atọ́ka was indeed a social and cultural construct shaped by more than one consciousness. First, it was a product of economic quest, a production quest to put printing machines acquired by Academy Press into maximum use and yield. Two, it was a product of the young Ṣẹ́gun Ṣófọwọ́tẹ̀'s creative ingenuity and artistry. And third, social wise, Atọ́ka took a queue from the "look books" such as African Film and Boom that permeated the post-independent English-speaking African countries, including Nigeria. Atọ́ka as a media is a socio-historical product of its time in that the taste, sentiment, and tenor of its age were all complimentary to its acceptance and boom. It reigned at a time in Yoruba society when the stage was the revered home of drama and printing was the height of technology. The stage was highly patronised both in the city and towns so Atọ́ka readily became an acceptable supplementary art. The advent of the video technology, among other factors, however scuttled its reign as it could no longer satisfy the fleeting trends of the society. It gradually lost its entertainment grip and ran out of fashion.
The socio-historical relevance of Atọ́ka cannot be over-emphasised. The pivotal role of Atọ́ka in preparing the Yorùbá theatre practitioners for the eras of celluloid films and the home video is indubitable. The photoplay experience of performance and shooting at locations was an enhancing prelude to the filmic and cinematographic exploits of the practitioners in later years.12 The Atọ́ka project therefore exposed them to camera lens of still photography which was preparatory to the lens of the motion picture cameras.  A corollary to this was the archival significance of Atọ́ka publications. A serious successive deficiency of the practitioners of Ogunde dramatic tradition is poor documentation and record keeping. Their plays were not scripted. The tapes of radio drama and television productions were wiped off almost immediately to admit other recordings. Personal archives and libraries were virtually non-existent. It was only through Atọ́ka medium that tangible documentation is obtainable. It is also remarkable that Atọ́ka debuted with the play Yorùbá Ronú by Ogunde. The satirical play was quite popular and its socio-political import was clearly understood and appreciated by a greater percentage of the Yorùbá population. Moreover the ban placed on Ogunde theatre company by the late Ládòkè Akíntọ́lá had just recently been lifted by Colonel Adékúnlé Fájuyì, so there was both sympathy and adoration for the play as well as admiration for the photoplay media which was novel and unique. Atọ́ka's entrance into the market was therefore powerful, authoritative and laudable.
At this juncture, it is worthwhile to venture into a critique of the three modal arts of Atọ́ka photoplay magazine. The dramatic art of Atọ́ka photoplay magazine is a popular art that is premised on the convention of Ogunde dramatic tradition. These conventions included collaboration among different theatre groups where by artistes from other performing companies would participate free-of-charge in another group's production and logically, the beneficiary of such assistance would readily reciprocate when occasion demanded. The tradition of the company owner playing the lead role is another tradition while improvisational approach to play making through collective creation is another. These three peculiarities of Ogunde dramatic tradition also featured in Atọ́ka photoplay production. Technically speaking, the dramatic arts of Atọ́ka had its peculiarities nay cut-and-sew approach. The dramatic arts were not wholly implemented. First, there was no proper scripting as the so-called script was a synopsis of the story line of the play. Second, there was no audition. The casting method was self-styled as the players of the key roles were virtually identified by everybody based on seniority and status in the troupe.
On photographic art, Atọ́ka rightly reflected the technology of its age. If Atọ́ka were to be resuscitated, the photographic story would be different. We are in digital age today where every act is digitalised. Photographs are now taken with digital camera that enhance sharpness, clarity, size and image. Pictures can be edited, postures can be changed at will and images can be imposed on one another or mounted on an entirely different background and environment. Therefore the development process, the dark room activities and the attendant labour would not only be drastically reduced but almost eliminated with enhanced results. Barring its susceptibility to abuse, deceit and manipulation, the dexterity and innovative prowess of technology has made photography adventurous and interesting. No twenty first century magazine will possibly employ black and white photographs for its production as Atọ́ka did in its age.
Publishing-wise, the method of manuscript sourcing for Atọ́ka was peculiar and far from the established norm. In the area of editing, we discovered a tremendous empowerment for the editor far from it is in the publishing practice. For instance, in Atọ́ka, the editor summarily became the author at the stages of editing the pictures and dialogue since he solely determined and approved the right pictures and their accompanying dialogue. Printing-wise, the quality of printing of Atọ́ka was excellent for its time and age as Academy Press ranked among the best printers in Africa then. It was also reputed for its array of state-of-the-arts printing machines. A comparison of printing in the days of Atọ́ka and now shows a tremendous transformation. Atọ́ka was produced in the days of negative films. Today, there has been a tremendous technological progress in printing arts and science. Printing is now highly digitalised. Negative film is completely eliminated. From the computer, camera-ready-copy (CRC) can be printed directly on laser film for plate making. Today, Desktop publishing (DTP) is the trend as typewritten (monospaced) printout has been jettisoned for typographic (proportional) printout. Other wonderful wonders of printing technology include Computer-to-plate, Computer-to-press, Computer-to-print, and Direct imaging, among several others.
Conclusion
In conclusion, this study has examined Atọ́ka photoplay magazine as a three-modal arts and identified dramatic arts, photographic arts and publishing arts as its principal arts. It also traced the history of photoplay magazine by dwelling on the evolution of Atọ́ka photoplay magazine.
Notes
Professor P.A Ògúndèjì, the supervisor of this study, was the first to link Atọ́ka with African Film in the pre-study discussion he had with me on Sepember 21, 2008.
Mr. Múrítàlá Oyèéwọlé Olówómojúọ̀rẹ́ a.k.a. Kèǹgbè Ọ̀rọ̀, aformer editor of Atọ́ka, made this submission in the course of an interview with the researcher on Atọ́ka in his house at Àkóbọ̀ area in Ìbàdàn in 2007.
This was submitted by Pa. Ṣẹ́gun Ṣófọwọ́tẹ̀, the founding editor of Atọ́ka, on Wednesday 17th April, 2013 at Grail land in Lagos during the researcher's interview with him.
The revelation was also made by Pa. Ṣófọwọ́tẹ̀.
According to Pa. Ṣófọwọ́tẹ̀, Mr. Ràṣídì Oníkòyí, his close friend, was the first appointed Atọ́ka editor. It was Mr. Oníkòyí who actually recommended him (Ṣófọwọ́tẹ̀) to WABP as a very capable hand.
Atọ́ka was initially called Yorùbá Photoplay Series, it was later that the name Atọ́ka, suggested by Mr Abímbádé Ọládẹ̀jọ, the company's photographer, emerged.
The concept of modal arts was a coinage by the researcher.
The order of production of Atọ́ka from inception was as listed. Late Hubert Ogunde, Kọ́lá Ògúnmọ́lá, and Dúró Ladipọ were all contacted for the scripts of Yorùbá Ronú, Ológbòdúdú, Ọ̀mùtí, Àròpin N Tènìyàn, Mọrèmi, and Awo Mímọ́ by WABP, hence they were solicited manuscripts.
This was also revealed by Mr. Múrítàlá Oyèéwọlé Olówómojúọ̀rẹ́ in the course of an interview with the researcher on Atọ́ka in his house at Àkóbọ̀ area in Ìbàdàn in July 2007.
Pa. Ṣẹ́gun Ṣófọwọ́tẹ̀ stated this in the course of an interview the researcher had with him on 17th April, 2013. In the later years however, WABP did the typesetting in-house.
The editor of the magazine then, Pa. Ṣẹ́gun Ṣófọwọ́tẹ̀, confessed that that edition bore artist impression rather than photograph due to the tardiness of the theatre company.
Bibliography
Adéẹ̀kọ́ Adélékè (2012). "From Orality to Visuality: Panegyric and Photography in Contemporary Lagos, Nigeria" in Critical Inquiry 38 (Winter 2012).
Adeleke, D.A. (1995). "Audience Reception of  Yoruba Films". Unpublished Ph.D Thesis, University of Ibadan, Ibadan.
Adéoyè, A.A. (1984). "The Theatre and Plays of Lérè Pàímo́: An Appraisal". Unpublished M.A. project, Department of Linguistics and and African Languages, University of Ibadan.
Adesanoye (1995).The Book in Nigeria: Some Current Issues. Ibadan: Sam Bookman.
Adétúnjí, A.A. (1987). "The Comedies of Bàbá Sàlá". Unpublished M.A. project, Department of Linguistics and and African Languages, University of Ibadan.
Akangbe, C.A. (2005). "From the Stage to Motion Pictures: Changing Phases of Lérè Pàímọ́ Theatre". Unpublished M.A. Project, Department of Linguistics and African Languages, University of Ibadan, Ibadan.
Akangbe (2014). Akangbe C.A. (2014): History, Production and Content of Atọ́ka Photoplay Magazine. An Unpublished Ph.D Thesis, University of Ibadan.
Àlàmú, O.O. (2010).Aesthetics of Yorùbá Film. LICCOSEC Vol. 10. Japan: Research Institute for World Languages, Osaka University.
Aniyi, Aiku-Irawo Sunday (2008). "Basic Techniques in Book Editing" in Oso, et al Book Publishing: A Practical Guide. Abeokuta: African Resource Communication.
Aróhunmọ́làṣẹ, L.O. (1982).  "Jimoh Aliu Cultural Group Travelling Theatre: A critical study". Unpublished M.A. Project, Department of Linguistics and Nigerian Languages, University of Ibadan, Ibadan.
Aróhunmọ́làṣẹ, L.O. (1998). Class Struggle in Yorùbá Historical and Protest Plays. Unpublished Ph.D Thesis, University of Ibadan, Ibadan.
Ayorinde, S. & Chido Okafor (1996). "Rave of the video". The Guardian, February 24, 1996, p 29.
Barry, Peter (1995). Beginning Theory: An Introduction to Literary and Cultural Theory. Manchester: Manchester University Press.
Bọ́lájí, W.A.A. (1985). "Ìṣọ̀lá Ògúnṣọlá Travelling Theatre: A Critical Study". Unpublished M.A. project, Department of Linguistics and and African Languages, University of Ibadan.
Brannigan, John (1999). "Introduction: History, Power and Politics in the Literary Artifact" in Julian Wolfreys (ed.) Literary Theories: A Reader and Guide. New York: New York University Press.
Brockett, G. Oscar (1979). The Theatre: An Introduction. New YorK: Holt, Rinehart and Winston.
Clark, (1979). Hubert Ogunde: The Making of Nigerian Theatre. Oxford: Oxford University Press.
Emenanjo, E. Nolue (2010). Editing and Writing.Aba: Frontiers Publishers.
Encyclopaedia Americana (2003). Conneticut: Scholarship Library Publishing.
Igudia, O.E. (2012). "Assessment of the roles of the editor in Book marketing and sale." In Adejumoke S. Ajibola (ed.) Book Publishing in Nigeria: Contemporary Issues Volume 1. Ibadan: Manifold Grace Publishers.
Ogundeji, P.A. (1981). "The Plays of Oyin Adejobi: An Introductory Study". Unpublished M.A. Project, Department of Linguistics and Nigerian Languages, University of Ibadan, Ibadan.
Ogundeji, P.A. (1985). "Trends and Issues in the Ogunde Dramatic Tradition". Seminar Paper, Department of Linguistics and African Languages, University of Ibadan, Ibadan.
Ogundeji, P.A. (1988). "A Semiotic Study of Duro Ladipo's Mythico-historical Plays". Unpublished Ph.D Thesis, University of Ibadan, Ibadan.
Okwilagwe, A.O. (2001). Book Publishing in Nigeria. Ibadan: Stirling-Horden Publishers (Nig) Ltd.
Olusola, Segun (1981). "The Advent of Television Drama in Nigeria" in Ogunbiyi, Y. (ed.) Drama and Theatre in Nigeria: A Critical Source Book. Nigeria Magazine, Special Publication, Federal Ministry of Social Development, Youths, Sports and Culture, Lagos.
Miseler, Stanley (1968). The Milwauke Journal, Greenshee,  Saturday November 9, 1968.
Montrose, Louis A. (1989). "Professing the renaissance: The Poetics and Politics of Culture."The new Historicism.Veeser, H. Aram, Ed. New york: Routledge. 15-36.
University of Chicago (1993).The Chicago Manual of Style (Fourteenth Edition). Chicago: The University of Chicago Press.
USE OF MEDIA IN LANGUAGE EDUCATION
Dr THEOPHILE G. KODJO SONOU
Département d'Anglais,
Institut Universitaire Panafricain (IUP),
Porto-Novo, Bénin
Abstract
There is no media without language, as language is the major component of communication that is the important factor of media. The advancement of technology and particularly media technology which includes information and communication technology (ICT) helps in teaching and learning languages such as English, French etc. For example, English language education is the process of teaching and learning the language with the aim of reinforcing and developing oral and written competences of the learner. But, despite the usefulness and the important role that this media technology (MT) plays as a teaching aid, many problems are surrounding its effective use. The objective of this research is to expose the usefulness of this teaching aid and to discuss the problems affecting its use and to find solutions to these problems. The methodology used to carry out the research includes interviews, practical observations, analysis of documents and reports on the effective use of this tool. The result obtained has shown that the effective use of media in English language education develops students competencies in both writing and oral aspects.
Key words: English Language, Media, Educations.
Résumé
Il n'y a pas de media sans langue, car la langue est la principale composante de la communication qui est un facteur important du media. Le développement de la technologie et particulièrement la technologie des médias qui composent les technologies de l'information et de la communication (TIC) aide à enseigner et apprendre les langues dont l'anglais, le français, etc. Par exemple, l'enseignement/apprentissage de la langue anglaise est un processus dont l'objectif est de renforcer et de développer les compétences orales et écrites de l'apprenant. Mais, en dépit de l'utilité et de l'important rôle que la technologie des médias (TM) joue comme instrument d'enseignement, plusieurs problèmes gravitent autour de son utilisation effective. L'objectif de ce travail de recherche est d'exposer l'utilité de cet instrument d'enseignement et de présenter les problèmes qui militent contre son utilisation et de proposer des solutions à ces problèmes. La méthodologie utilisée pour entreprendre cette recherche comprend des interviews, des observations pratiques, analyse de documents et la présentation d'un rapport sur l'usage effectif du média pour l'éducation.
Le résultat obtenu a montré que l'utilisation effective du média dans l'enseignement apprentissage de la langue anglaise développe les compétences des étudiants  aussi bien orale  qu'écrite.
Mots clés : Langue anglaise, Média, Education.
Introduction
Language education has been described as the teaching and learning of language so that learners may understand it sufficiently to enable them undertake a course of study in any field in that language.  This research work is based on English language educations. That is English language teaching and learning. And, this process should not be static but elastic for efficiency. English Language studies especially in an English as a second language environment like Republic of Benin  need to respond to the changes of media use for rapid learning.There is also need to appropriate the vast quality of new information and knowledge unleashed on the world courtesy of the media. This means, utilization of the tools of information technology for improvement of English language education. Moribund and ineffective teaching methods should be jettisoned totally or modified in order to achieve greater and better results.
The use of  media that is modern information technology in language instruction is not a magic game. But it is an interaction between human being and equipment so that the language can be learnt rapidly and effectually. Notwithstanding, the success of teaching language with the necessary information technology media depends on some key factors among which are mastery of the subject matter, objective, and preparedness on the part of the teacher and the learner.  This research work presents the theoretical and conceptual clarification. Technics of the use of media in Education.
1. Theoretical clarifications
Theoretical clarifications include the background of the study, the statement of the problem, the objective, significance and scope of the study.
1. Theoretical framework
The use of media in education is well explained in many publications of Kochhar. In Kochhar (1997), for example the technics of the use of information and communication technology as well as audiovisual tools in teaching and learning is well exposed to both teachers and learners.
The teacher can obtain most effective results by using these aids to teach. Kochhar books contribute to this publication.
1.1. Background to the Study
The concept of using media in language education particulary  English as a foreign language is defined as the use of Information and Technology Communication Kodjo Sonou (2009:313) supported that, « Using these materials and equipment has great advantages as they facilitate the teaching of phonetics companion for language teaching, particularly a foreign language. » Media a thiveICTas a pedagogical aid consists of the use of recorded audio and visual messages by the teacher in an English as a foreign language (EFL) classroom. These messages can be recorded on audiotapes, videotapes, compact discs, diskettes, etc, thereby reinforcing the learners' training through repeated listening to these audiovisual messages. Kochhar (2007:11) asserted that « Audiovisual aids are considered education. Indeed, the use of media in an English as a foreign language (EFL)classroom provides the teacher with many avenues for reinforcing and supplying rapid teaching.Their application to the different programmer put in place for stimulation  through fun activities makes teachers' work subtle and efficient. Kochhar (1995:50) is of   the opinion that « A resourceful English language teaching and learning with audiovisual aids is favorable for effective language learning. Studies show that visual aids enhance the effectiveness of teaching.
learning process in a classroom. »
.           The use of media aids makes the task of learning a second language easier.
For Lewis (2009), « teaching students the use of technology as a learning tool enhances their learning. It facilitates learning by giving exposure to native speakers' correct pronunciation and interesting conversations between them. » Fabiyi (2009:54) identified some of the problems encountered by English as Foreign Language (EFL) learners in classrooms. They include, « demonization, less exposure to English language, lack of emphasis on pronunciation and the interference of the sounds and rules of the first language.» These issues can be solved by introducing audiovisual aids in the classroom. Wilson (2001:10) examined different trends of using visual images in the foreign and second languages classroom with English as a Foreign Language and English as a second language learners. She concluded that « the use of visuals enhances language learning on the one hand and increases the use of target language on the other. » It is important to note that language education are reshaped by the use of new technologies, and  that the use of media  aids helps learners to have a good command of L 2 language within less time. »
The above mentioned studies show the importance of using media aids in different parts of the world and the benefits of their usage. The use of media aids in teaching and learning English as a foreign language is part of the positive changes that leads to modernizing teaching and learning. Thus, the use of audiovisual aids in improving students' communicative skills in English language educations is necessary  The use of the media aids and modern information technology in language instruction is not a magic game. It is an interaction between human beings and equipment. Notwithstanding, the success of teaching language with the appropriate audiovisual aids depends on some key factors among which are the mastery of the subject matter, objective, and preparedness on the part of the teacher and the learner.
However, English as a foreign language, teaching and learning must also not be limited to the markers, chalk and talk method i.e. written and talken. There should be other additional methods to facilitate the teaching and learning of the subject. Therefore, this communication  looks at how the media aids (electronic media like television, cassettes both audio and video) and other Information and Communication Technology could be used effectively to enhance the teaching and learning of English in Republic of Benin  despite the problems that may occur here and there.
1.2 Statement of the Problem
There are many problems that rise and even militate against the use of media aids in language educations in Republic of Benin. Most of the teachers in Benin are not trained in the teachers' training schools to use media aids to teach. This lack of training does not give the teacher the courage to even request devices for better results, in their field. And, sometimes when these devices are available, the teachers are afraid handling them properly and using them to their performance.They are afraid of simply because during the use of the devices where they exist, damage may occur.
Government and school authorities put no money into the school budget.as to purchase aids to teach and to media aids for smooth study of English language even though they see that the language is very useful. Lack of education is another factor that discourages and also militates against the proper use of media in the teaching and learning of English. But there is hope since this research work is to encourage teachers as well as learners to use audiovisual aids. It gives them necessary informations that will guide them in their will to use audiovisual learn
1.3: Significance of the study
Today, be it in cultural, educational, scientific, or political sectors, the influence of media if it Technique is well aised  techniques is unquestionable and even indispensable. As stated by Fredrikhov&Movnine (1982:2), « electronic equipment is a powerful stimulant of progress in all sectors of science and techniques. » It is not exaggerated to say that audiovisual is a referential tool in educational sector. As Adewoyin (1998) observes, « the media reinforces and augments the efficiency of learning. ». For him, the media aids are to individualize instruction. In the past, the teacher used to be a source of knowledge. Today, he/she plays the role of facilitator of knowledge acquisition. He/she is a motivator and a guide. If the teaching of English is properly handled, people will be interested in learning it, knowing that there will be a need for the language. For example, Benin is a neighbor to the economic giant of Africa, Nigeria. . That is why this research stands to stress that the teaching and learning of English as a foreign language should not be limited to chalk and talk alone. Because of language barrier, economic and other educational activities have been very limited between the two countries. Other methods that can enhance its teaching and learning should be adopted.
The most important access people ought to get from learning a language is to be able to speak it well and fluently. But, it is noticeable in Republic of Benin that, after many years of learning English language, the overwhelming majority of students are still unable to communicate orally in natural conversation occasions outside classroom situations. Even within the classroom situation, learners fail to participate actively in free conversation activities, having great difficulty expressing their minds. For example these learnes simply prefer to. speak French during those conversation activities and teachers' efforts to keep them speaking English are most of the time unsuccessful.  The same situation often occurs when there is a guest speaker, whether native English speaker or not, during classes. Ahehehinnou and Bada (2012:5) regretted the situation and stated that « Students find it very difficult to follow the speaker, stretching their ears all the time. They dare not utter a simple single sentence to ask or to answer a question.
One more sign of the students' inability to use the English language orally is rather noticeable during oral examinations which appear to the students as challenging and troublesome situations to cope with. It is important to say here that the intensive practice and use of  media technology aids would have assisted the student to correct the communication deficiencies and to reinforce student's abilities to effectively communicate in English language. The biggest problem here is that in Republic of Benin , English language curriculum is more oriented to the acquisition of grammar competences than to oral communication skills.
1.4. Objective of the Study
The aim of my research work is to show the technical and didactic values of the use of audiovisual materials in English teaching and learning classrooms. The study has two main objectives. The first one is to draw attention to the improvement of the acquisition of oral skills in English as a Foreign Language in Benin through the use of audiovisual materials. In fact, taking into account the scope of that problem of deficiency, one can deduce that the goal normally aimed at in learning the language is being missed, since it is of no use that students learn the language for many years without being able to function in it. This is to say that the means and the methods applied in the language teaching / learning process are not yet effective enough to train the learners as good oral performers. Here upon, it is obvious that something more is required; and this is an appeal for more effort to operate a positive change for the benefit of the English learners in our secondary schools. In this regard, my second aim in this work is to suggest a remedy as a contribution that can help solve the ongoing problem. As already accounted for in the background study, many factors stand for its causes; and to effectively solve it, it is necessary to find solutions to those causes. In fact my concern is to elaborate on a method that has such attributes to improve the current situation in English language teaching and learning.
1.5. Scope of the Study
The study will be limited to the practical use of techniques and technologies that is, the art of using media technology for effective teaching and learning of English as a Foreign Language in Republic of Benin. It gives room to supply of useful information, through media aids, to learning  and suggests an adequate training to teachers about the types and use of media technology for teaching English as a Foreign Language in Republic of  Benin  schools. The study focuses on the survey, the planning and the effective use in general and particularly in teaching and learning English as a Foreign Language (EFL) in Republic of Benin . Learners, teachers, schools authorities and government are at the centre of the study for better English language teaching and learning in Benin through media technology aids, due to the role each and every one of them plays in the English as a foreign language, teaching and learning in the country.
1.6: Conceptual clarification
The conceptual clarifications include the definition of the following terms : Media Language, Education, Technology Learn.
1.6.1. Audiovisual Aids
The concept of using audiovisual in language teaching and learning is defined as the use of audiovisual materials and equipment such as video tapes, audio tapes, compact disk, video cassette recorders, television sets, over-head projectors, audiocassette recorders, computers, and so on for teaching and learning.. The use of these materials and equipments has great advantages as they facilitate the teaching and learning of phonetics, grammar, oral communication skills, and so on. Audiovisual is a perfect companion in language teaching. Audiovisual as pedagogical aid consists of the use of sound and visual messages by the teacher in a language class. These messages can be recorded on audio tapes, video tapes, compact disks, diskettes etc, thereby reinforcing the learners training through repeated listening of these audiovisual messages. Indeed, audiovisual in a language class provides the teacher with many ways of reinforcing and supplying rapid teaching. Its application to the different programmes put in place for stimulation through play activities in a language class makes teacher's work efficient.
Audiovisual is a combination of audio and visual that is the sound and the image. In the following lines of this work l define what audio and visual stand for in teaching and learning processes. Audio means sound. According to Fafoumi (1999:3),
<<audiovisual expression is made up of two distinct words''audio'' and ''visual''. Then a tool can be only ''Audio'' that is auditive while the other one is only Visual. But only one tool can be combined with the audio and visual>>. The two words derive from the verbal form. In deed ''Audio'' is the first form person of singular of the present indicative verb ''Audire'' that means ''I listen'' or ''I hear''. It is then clearly stated that audio stands for listening or hearing. It is based on the sound. For Oxford (2010:83),<< Audio is connected with sound that is recorded: audio and video cassettes. An audio cassette is a cassette of tape on which sound has been recorded. Audio is something that can be heard. Audio is sound>>.  For example a radio gives sound while working. A radio produces sound.   Visual means image. It is something one can see. ''Visual'' derives from a verbal form of ''supinvisu''. It is an impersonal form of the verb video, « videre» that means to see "visu". Visual is anything that can be seen. Recorded visual means images on television, video Compact disk, Digital Video Disk or Tapes, Black or white board etc. for example, audiovisual aids for the classroom. Visual aids usage refers to a picture, video etc, used in teaching to help people to learn or understand something better. Audiovisual application in teaching and learning means the assistance given by audiovisual Aids in the process of teaching and learning. The use of Audiovisual also includes listening to Radio and watching a programme on television or a film from a projector.
The purpose of using audiovisual aids in teaching and learning is to be assisted by the devices and the materials to facilitate or make easier the teaching and learning activities. The use of audiovisual aids is very important in the modernization of teaching and learning. Having explained what audio is, what visual is and what audiovisual is, we can say that the meaning of audiovisual is hearing and seeing. Hence, audiovisual is both sound/voice and image or what can be physically seen, thus, the importance of audiovisual in teaching and learning can be equated to a human being as it involves voice and image. It should be noted that audiovisual aids take into consideration anything useful as to be of work in teaching without exception and watching a programme on television or a film from a projector. The purpose of using audiovisual aids in teaching and learning is to be assisted by the devices and the materials to facilitate or make easier the teaching and learning activities. The use of audiovisual aids is very important in the modernization of teaching and learning.
1.6.2.Teaching Teaching is a process through which one transmits knowledge to another person. Oxford (2010:1518) informs that « teaching is considered to be an art. » Learners are the raw material which the teacher has to deal with, as to make them learn. Kochhar (2007:23) points out that « as sculpture is to a block of marble, education is to the human soul. The teacher unconsciously designs the learners entrusted to him. The teacher has a purpose and he modifies the learners accordingly. » With the teaching practices, the teacher is like an artist. Nathaniel Cantor in Kochhar (1985:23) supported that « teaching is a sublime art. It is impossible to separate the teacher from teaching. The teacher, in fact, mirrors himself into the child; he puts an indelible stamp on the young, tabular razreder growing plastic mind of the learners. The learners generally take after the teacher. » There is however a difference between the teacher and the artist. Nathaniel's views here are taking the teacher closely to any artist. He gives any shape he likes to the material. He gives expression to his own ideas. He imposes his will on the material with which he works, and creates an object. The teacher cannot give any shape to the living material he comes into contact with.
1.7 : Technics of Language Teaching with Technology media As observed by Omotoye (1994:121) language is next to the six most essential things that sustain life namely: air, water, light (includes fire) food, cloth and shelter. Simply defined, language is the major means of communication by mankind. Language is the method of expression, words and their use, faculty of speech persons' style of expression (by words or by signs). Stones (1966:128) also views <<language as the patterns of behavior through which man transmits his culture from one generation to the other, language and society therefore go hand in hand>>. Language not only conveys information, it carries affective overtones. Language and thoughts are closely linked.                                                                                                                                 On the other hand, language teaching is a practical task. According to Corder (1975:1)<< language teaching can be performed either by following a very detailed and precise set of instructions about how to proceed or by applying some set of general principles to the particular situation>>.  Language teaching is not by rule of thum or recipe. It is by a set of guiding principles; some general notions about what is going on when people learn language, an informal "theory" about how language are taught and learned. Language teaching is a task in which intelligence, imagination, training, command of language, experience, a body of knowledge and the exercise of judgment and compassion are essential qualities of the language teacher. Language teaching is therefore not an instantaneous or accidental process; it takes time and planning with the teacher and learner collaborating to reach a particular end condition.                                                                                                                     Since language teaching deals with single or indefinitely large range of different learners, abilities and qualities, and with an individual teacher, there must be relatively comprehensive methods of presenting the subject matter and learning experience with a view to achieving set goals and objectives. This implies that an English language should evolve a strategy to teach the subject effectively. Thus Idilliams (1981) opines that <<in any socio-Linguistic context, the teacher of English needs to be acquainted with the historical and theoretical basis of language teaching>>. This view presupposes that English language teaching in Nigeria has to develop within the frame work of theory and practice which have been applied in countries where English is taught as a second language. On the other hand, there is the need for exposure of learners to English Language through adequate information and communication media to achieve a perfect mastery of the language and widen their horizon in the subject.
1.8. Media in Language Educations
Communication and information technology media are electro mechanical machines that give audio or audio-visual information to learners with or without the presence of the teacher. They include audio or audio-visual aids like the tape recorder, the radio, the television, the video player, VCD etc. they also include the computer and language laboratory. The major roles of these media in language teaching and learning process as follows :
They stimulate participation in drills on words. The television, the video and the VCD can be employed in the teaching of vocabulary in which words are matched with the pictures of or the objects themselves.
They teach vocabulary by relating words to pictures of various objects or their printed symbols. Activities in word drills can carry out in the language laboratory in form of teacher learner interaction through the use of headphones.
They can be used to illustrate a story. Film strip, the tape recorder, the radio can be utilized by the teacher during story telling activity in the class to arouse and sustain the effect adequate of the learners.
They can used to list steps in a demonstration. The opaque, the over head projector and the video can be used for demonstration in the course of a lesson to affect adequate understanding on the part of the learners.
They provide varying experiences so that learners will have equal opportunity to learn in relation to their abilities to do so. Exposure of the learners to the computer with the World Wide Web (www) or the internet could be employed to achieve this.
They provide many situation in which co-operation is essential for completing interaction between the teacher and the learner and, this can be affected through the use of any of the audio visual media.
They courage the development of cognitive processes including problem-solving and critical and creative thinking etc. computer assisted gadgets and language laboratory are two distinct equipment that can be helpful in this regard. This equipment can be operated by the individual learner or in collaboration with others. Where finance is adequate, working together is far better because of the visual presentation and the dialogue that the computer can initiate with the operators either as an individual or as a group.
1.8.1. Media technology tools in Language education:                                                    There are many media technology tools in Language education. Media technology tools used in teaching and learning language are : Radio Recerver, Tapecassit,
1.8.1.1. The Radio:   .
Radio broadcasts are a desirable approach to classroom communication when there is acute shortage of competent and specialist teachers. In using radio broadcasts as a medium of instruction, concerted efforts need to be made for a preliminary preparation involving collection of teaching guides, lesson topics, instruction, concerted efforts need to be made for a preliminary preparation involving collection of teaching guides, lesson topics, teacher's notes, time table etc. from the radio station. The given manuals should be carefully studies prior to the selection of the lesson to be heard or listened to. Effort should be made to avoid transmission distortion which may lead to poor reception. Lessons should also be clocked correctly to the time of the broadcast. Preview of the lesson should be heard before the actual lesson delivery when it is expected that both the teacher and students would take down notes for further discussions at the end of the broadcast. As a follow-up to the broadcast therefore, questions on areas of doubt need to be raised for clarification while practical experiments, consultations of reference and over all evaluation of the radio programmes are essential for future improvement.
1.8.1.2 The Tape Recorder / Cassette Player:
The cassette tape player is effective for teaching because of its ability to record and then play back what is recorded. It therefore motivates the learners; makes them comprehend better while on the teacher's part, it improves his teaching style and methods. When used actively, tape recorders can be used to record important news bulletins, interviews, discussions, debates, quizzes as well as plays for storage and occasional use in the classroom teaching. When used passively, learners can sit back and listen to the music of the other tribes for cultural appreciation or listen to folktales from people who could not possibly visit the school but are good sources of information. Generally, students should be involved in the recording process and proper editing should be done to eliminate unwanted noise and irrelevance.
On the other hand, audio taped segments of the lesson could be administered in between the lesson. One could be presented say, for five minutes, in the middle of the lesson to give students, examples of the structure under discussion and more examples of the structures used in sentences. Another of the audiotape segment could be administered at the end of the lesson to give the students the summary of the structures treated or give them sentences in which the structures are wrongly used for them to correct orally.
The Television: It is one of the means which experts could employ to give standard lessons on language studies. Many researchers have documented evidence on the usefulness of this medium of instruction Adesokan(2000). States << that Television is a rich medium because it has a multisensory focus. In addition, the television stimulates the illusion of motion>>. These features make it possible to effectively conceptualize language content within the allotted constraint of time and space.
When used in the classroom, the television helps to compress both time and space in order to focus pupils' attention on important details. It also makes it possible to provide model lessons informed by relevant and authoritative advice from experts, to more than a classroom size of audience. Television also incorporates factors which stimulate, enhance and improve pupil's motivation. Ojogan (1997), however states some limitations of television broadcast as an instructional medium:
2. It has no revisional value,
3. The learner has little control over the instruction,
4. The programmes are designed with the average learner in mind,
5. Notwithstanding, the video player can be used to correct the problems. With the video player.
6. Materials can be restructured to suit local characteristics of the learners>>.
Comparative studies on learning from instructional television show that as much learning as possible seems to take place in a television class as in an ordinary class. According to Fawole (1994), << pupils at all grade levels learn well from television>>.  And  this is one of the reasons why this tool that  is the media Technology is to be used intensively.
1.8.1.3 The computer:
The computer is an electronic automatic machine which is capable of receiving, storing, recalling or retrieving information put in it. The computer can be used to teach
all school subjects. The use of computer in the process of teaching and learning has been made easy for educational system with development of micro-computer, (Ezeliora, 1997For Ezeliona (2000 : 1963). The fundamental use of computer in the process of teaching and learning is: as medium of instruction and also of instruction of the many media used in teaching
In the teaching process both the teacher and learner are assisted by the computer. The computer can be used to progamme school lessons including English Language studies lessons. This programming is done by a programmer who is a specialist in the field to be programmed. These programmed lessons are stored in the hard-disk in the computer or as software package or in a diskette. In whichever place it is stored, the learner can use it to use to learn the lessons at any time after the teacher has taught it in the class. The learner can go through the lesson several times. With the programmed topics or lessons in any of the hardware, the learner will go through the topics at his/her own pace. With this, difficult subjects or topics will be mastered well. The computer programmed process takes care of individual differences and learning ability. As affirmed by Ezeloira (2000), computer learning process has enhanced students' understanding and achievements in school subjects. In like manner, internet, which is a computer network, aids students in gathering vital information on any school subject / topics and in any area of interest. This confirms that computer device accompany wish the audio visual material such as DVD, VCD, Flash dive  memory card, etc.is a good learning instrument and a companion in language education.
1.8.1.4  The Language Laboratory:
Every school or college is expected to have a language laboratory.  It is a room that contains special equipment like those discussed above, which are operated to help students learn foreign languages like English by listening to tapes, watching videos, doing recording by themselves and so forth.
Language learning requires the development of skills in listening, speaking, reading and writing. Listening and speaking require the learner to hear and produce sounds and be able to distinguish one sound from the other. To read, he must associate the spoken words with written or printed symbols. Media technology is  therefore very essential not only for the development of language skills when used, but also to stimulate the ability of oral and written expressions on the part of learners.
1.8.1.5.  SkillsRequired of the English language Studies Teacher for Effective Utilization of Communication and Information Technology Media.
Some of the most important skills required of an English language studies teacher for effective utilization of communication and information technology media in teaching include:
7. Understanding the behavioral process involved in communication and learning: communication is a matter of role exchange between the speaker and the learner. One will be the speaker and the other the listener at one time while the latter takes the position of the former at another time. The classroom implication of this is that there should be role exchange of the speaker and the learner between the teacher and the learner in the course of every lesson.
8. Knowing the media's characteristics and capabilities: To teach topics like speech work, reading comprehension and 'summary skills and lexis and structure for instance, instructional media such as radio, television, language laboratory and tape recorder are adequate at all levels. Computer assisted gadgets and language laboratory are also two distinct equipment that can be employed to teach or research into various language studies areas. They can be operated individually or in collaboration.
9. Playing responsible and effective roles in planning and implementing instructional systems. This involves creating more effective teaching and learning systems by drawing on a large range of human, technological, intellectual and even psychological resources to meet the language needs of the learner as well as achieve the objectives of language teaching.
10. Evaluating and conducting or participating in experimental studies in language teaching and learning. The English Language teacher should embark on the task of improving his teaching methods and approaches by involving himself in carrying-out researches and borrowing ideas from research findings to improve language teaching and learning.
11. Knowing about the available media and their sources and making appropriate for specific instructional objectives of the language: The teacher should make appropriate selection and utilization of instructional media: In doing this he should be guided by such questions as: (a) what instructional media should be used specially for a particular lesson? (ii) Why should the media be used at all? (iii) Where could the media be obtained? (iv) How can they be effectively used? (v) How could the effectiveness of the media be measured in terms of accomplishment of the set lesson objectives?
Having the necessary skills to operate and use the instructional media devices, the teacher of English Language should undertake adequate training on how to use the media for effective teaching of the language.
1.9. Suggestions
The analysis of all those contradictory attitudes has led me to take it that there must be some weaknesses or pitfalls somewhere in the English language teaching and learning process; and from my investigations, I have found out the following factors as the causes of the learners' deficiency in oral communication skills acquisition. English as a foreign language teachers need training, suitable and relevant teachers training programs which should be developed and conducted. Teacher training colleges (EcolesNormalesSupérieures) should be endowed with media technology aids generally and more specifically at least a language laboratory, the information and communication technologies such as the internet.
Moreover, trips for linguistic immersion in some English-speaking countries like, Ghana, or Nigeria is necessary for both English teachers and learners. It may also be necessary to create a Language Ressource Centre for the use of media Technology for English language studies and the language communicational capacity acquisition. In that centre , all the workers must speak English so as to assist teachers and learners to appropriately take advantage of the centre to develop the oral communications skills.
Conclusion
Modern communication and information technology media in the teaching and learning of English Language. Notable among the media have been highlighted and discussed. Tidbits for effective utilization of the media by the English Language teacher have also been examined. It is assumed that provision and adoption of those media in the teaching and the learning of the English Language in schools will enhance the mastery of the language and strengthen communicative competence on the part of Nigeria learners.
References
Adesokan, A. O. (2000) "Relevance and Effective Utilization of Communication and Information Technology (CIT) to National Development". A Paper Presented at the Second National Conference of School of Education, Adeyemi College of Education, Ondo, between 6th and 9th May, 2002.
Ayodele, B. O. (2004) "The Challenges of Globalization for English Language Studies in Nigeria". In Tfte College Review AMulti disciplinary Journal of Osun State College of Education, Ila-Orangun, II, 22-27.
Ezeliora, B. (1997) "Computer: A New Technology in Chemistry Teaching and Learning Innovative in Science, Technology and Mathematics" STA Proceedings of Ajumogobia Memorial Conference, 173-175.
Ezeliora, B. (2000) "Rate and Importance of Computers in the Nigeria Educational System".In TNTT, 8, 1 % 2, 196-200.
Fawole, M. O. (1994) "The Place of Instructional Materials in Language Teachings".In Journal of Languages School of Languages, Osun State College of Education, Ila-Orangun. 1, 1, 133-137.
Okobi. P (1994) "Effects of Audio-taped Environment Segments in Teaching of Structure of English on Students' Performance". In The Nigeria Teacher 3, 1 & 2, 90-96.
KODJO SONOU, G. (2005). Use of audiovisual aids in english as a foreign language teaching and learning in beninese secondary schools. (Doctorate degree thesis, university of Abomey Calavi)
Oxford.(2010). English Language dictionary. London. Oxford. P83
AN APOLOGIA TO CATHOLIC CANONIZATION OF SAINTS:
DOCTRINE AND FAITH IN RELIGIOUS STUDIES
BALOGUN O. O. E. Ph.D
Department Of Religious Studies,
College Of Humanities (Cohum)
Tai Solarin University of Education, Ijagun,
P.M.B. 2118 Ijebu Ode, Ogun State, Nigeria
Abstract
In the Roman Catholic Church, every November 1st of each year is the feast of All Saints, a where we celebrate and honour those who have fought the good fight and won the race. The celebration of this fest is one that reminds us that through our baptism, we all are called to be Saints. Also, the feast helps us to imitate the lives of the Saints and even while we go through their profiles while on earth, we too may be encouraged by their saintly life.
The word 'Saint' comes from the Latin word "Sanctus" meaning Holy. In recent times, there has been great controversy on how the Catholic Church confers sainthood on persons and the criteria used in judging that a particular person is in heaven. Even the recent beatification of the late pontiff (John Paul II) has even generated great debate all over the world. Thus, in order to arrest this debate, we shall be taking a cursory look into what canonization means and the role of the saints in our day to day activities. However, it is to noted that the Catholic Church does not make someone a saint; rather she only confirms what God has already made so.
INTRODUCTION
HOW IT ALL STARTED IN THE EARLY CHURCH
In the early church, Saints were martyrs like St. Stephen and were acclaimed so by the local Bishop. It was clearly understood in those times the need to reverence stood of those who fought tirelessly for the faith. At this time, martyrs were considered as people who followed Christ devotedly with their lives, and that such persons definitely go to heaven, since he or she has achieved the perfect imitation of Christ. So during the time of great persecution of the church, many Christians died a martyr's death and this made other Christians to extol their heroic witnesses to Christ, such that they preserved their relics, and so celebrate the anniversary of their death. During this early years of the church, the rites of naming one a Saint was solely reserved to the local Bishops of each local church. Gradually, over time, the Pope restricted the process of Beatification and Canonisation to the Holy See. Various reforms and up till the time of Benedict XVI as regards the process of canonization.
STAGES OF MAKING A 'SAINT'
Before the reform of John Paul II to how saints are canonized, there used to be a fifty year waiting before the cause for beatification was opened. However, since the reform, it has been reduced to five years. It therefore means that no cause can be opened within the first five years of a person's death. And also no cause can be opened after 30 years of the person's death. It should also be noted that no cause can be introduced unless there is a clear fame or reputation for holiness or martyrdom of the person. The process for canonization is as follows:
1. The Roman Stage
After the diocesan stage has concluded its report with regards to the person and the proof of miracles, they then submit it to the Congregation for the Causes of Saints. The congregation the subjects each cause to rigorous consideration. Firstly, they will set up a panel consisting of nine theologians who are to make sure that there is nothing contrary to faith and morals in the person's life and works.
After the conclusion of their report the nine theologians' then vote, if they vote in favour of the causes, then the Congregation for Causes of Saints, made up of Cardinals and Bishops drawn from all over the world, will then take up the matter. They will then meet to consider and vote for the causes. During this time of meeting, a postulator is once again appointed who will reside in Rome, and also a promoter of faith. The promoter of faith serves as the defender of the faith, trying to find every possible way to debunk the Cause, just to promote the faith. When all the consideration has been examined including the medical report of the miracles, if the cause is passed, then the prefect of the congregation presents the findings to the Pope who alone makes the decision to approve the beatification of the person. The title of venerable thus conferred by the Pope once he has asserted that the person has lived a life of heroic virtue. Such persons' are then called venerable. With this assertion from the Pope that the person has lived a heroic life and coupled with a proof of miracle from the congregation, the congregation thus issues a decree declaring the person 'blessed' and the date of the beatification is then fixed.
2. DIOCESAN CONSIDERATION OF THE SECOND MIRACLE
The second miracle has to do with the miracle that happened after the person had been made 'blessed'. The Bishop in whose diocese the claim is made appoints a tribunal of two sub-committees to test whether the miracles is real and whether it is through the intercession of the 'Blessed'. After the miracle has been approved by the tribunal and the bishop consent to it, he then sends the reports to Rome.
3. ROMAN STAGE
After the diocesan proof for the second miracle has been concluded, the miracle is then subjected to scientific and theological introspection, by the Congregation for the Causes of Saints. If they vote in support of the miracle, it is then forwarded to the Pope. The consent of the Pope to the decision of the congregation results in a decree confirming that the miracle has occurred and thus the road to canonization is opened.
4. CANONISATION
By raising the Blessed into Sainthood, the Pope exercises infallibility and thus calls for universal veneration. Canonization is the act of the Pope and can only be conducted by the Pope, while beatification can be done by the Prefect of the Congregation for the Causes of Saints, by the Pope's permission in the home diocese of the Blessed. Once the person is raised to the Sainthood, such person is then worthy of universal veneration and will be given the following:
1. A feast day in the Roman calendar
2. They may have churches all over the world dedicated to them
3. Their relics may be venerated publicly
4. Other public acts such as novena
CONCLUSION
WHY DO WE PRAY THROUGH THEM OR HONOUR THEM?
In our various traditions or cultures, there is always that recourse made to the spirits of our ancestor. It is believed that these ancestors see us in our day to day living. So most times, we offer them sacrifices and often pray to them to intercede for us. The Saints are also our ancestors in the Christian realm, though the sainthood is higher in scope, and as such we should pay reverence to them because they have lived a life worthy of emulation. St Paul also admonishes that "I urge that supplications, prayers, intercessions, and thanksgivings be made for all men……… this is good and pleasing to our God, who desires all men to be saved and come to the knowledge of the truth (I Tim 2:1-4)". In the letter to the Hebrews, it is said that "remember your leaders who preached the word of God to you, and as you reflect on the outcome of their lives, imitate their faith, Jesus Christ is the same today………..(Heb 13:7-9)". All these words of admonition from the bible shows that it is necessary to pay honour to the Saints.
REFERENCES
Anthony O. Eruch Rev. Fr.: (1989) "The contribution of Christianity to politics in Nigeria" A historic – Theological over – view, in Bulletin of Ecumenical Theology. The Ecumenical Association of Nigeria Theologians Vol.2 No. 1,  84-87.
Catholic Bishops: (1998) The Church and Democracy in Nigeria". A collection of speeches made by the Catholic Bishops on the transition programme 1-31
Ekandem Cardial et. al.: (1988) "We cannot be silent" Bulletin of the Catholic Bishops Conference of Nigeria. Signed by cardinal Ekandem (Bishop of Ikot. Epene) Arch-Bishop A. O. Okogie (Arch  Bishop of Lagos, Arch Bishop S. N. Ezeanya (Arch Bishop of Onisha (Not dated but produce after Bishops conference in Jos 13-17
John Okwoeze Odey: "The Sharia and the rest of us Snaap Press Ltd, Enugu
Okogie A. O. Arch Bishop et.al: Catholic Bishops Conference of Nigeria Plenary Meeting Lagos February 23 – 26 Communique No 7 Constitution of the Republic of Nigeria 1979
Patrick Ngoyi Rev.Fr:   Introducing Justice Development and Peace Commission. A leaflet of introduction of the commission series one and two.
Segundo J. L.: (1985) The historical Jesus of synoptic of Jesus of Nazareth yesterday and today. Mary knoll N. Y. ob VoI. II
LANGUAGES AND COMMUNICATION IN EDUCATION
LANGUAGE USE FOR EFFECTIVE PUBLIC SPEAKING
YEMI OGINNI
Department of Mass Communication
Lead City University, Ibadan
Oyo State, Nigeria
Introduction
Public speaking is an objective-driven and conscious effort at effecting a change (Oginni, 2007). This definition sets public speaking miles apart from other socially motivated engagements such as mere conversation, debates and even the more purpose driven class lecture. For public speaking, the following are unavoidable:
i.                        A need to fill
Public speaking is planned to achieve specific, measured and attainable objectives for the advancement of the human race. It is usually tailored towards, for instance, the protection of the environment, the sanctity of life, preservation of tradition, motivation for technological advancement, discouraging anti-social behavior, instituting a new progressive pattern of life and living, etc. Public speaking comes to the rescue when morale is down and there is an obvious need for a timely intervention. It is usually planned as a part of a larger campaign for sustainable human development. At some points in the history of Nigeria, there was a need to popularize and entrench the culture of qualitative family planning which is still being sustained today. Such needs demand the persuasive essence of public speaking essentially to people of reproductive ages in all the strata of the society.
1. A topic
A public speaking occasion is processed, established, controlled and essentially delivered on the strength of a good topic that addresses basically a problem that calls for solution/s. In order to address a problem and fill a societal need, a topic must be a reflection of every aspect of the articulated problem by logically setting out the variables (minor and major) in such a way that no loose end exists.
1. A speaker
A public speaker is the resource person that has been assessed as the most appropriate for the topic and also generally acceptable by the audience. He combines awesome knowledge about the topic and ideally should be a man of impeccable character. It can be said that the integrity of the speaker drives his/her knowledge and acceptability; a wrong choice of speaker may pass the knowledge test but fail the integrity examination. Apart from knowledge and integrity, the public speaker needs the rhetorical and linguistic proficiency to function and be successful (Tomaz, 2014).
1. An appropriate audience
Public speaking is essentially audience-centric. Audience remains the source of the need for a speech occasion. The appropriate audience is that set of people whose attitude, economic needs, social laxity, moral obligations, etc have become a matter of focus for the organizers and both a relational and academic discourse for the speaker. If a change is to be effected, the audience must be interested and benefit maximally from the speech encounter as a purpose-driven event. For persuasion which is the ultimate goal of public speaking as a social engagement, Galina (2006) submits that the public speaker should always aim at sharing in communication and therefore adopt different level of formality depending on the setting and audience type. Conducting audience analysis from the above perspective is extremely important for message content and delivery mode.
1. Specific location, date and time
Public speaking is different from mere conversation in the sense that the former is formal, planned and tailored towards achieving a purpose in the interest of all the participants. As a deliberate and conscious effort for a planned change, a speech occasion brings all the participants together to a conducive and accommodating location. A date is set sometimes to dovetail into a bigger function e.g., an anti-corruption speech on the universally acclaimed world anti-corruption day is ideal to promote decency among Nigerians for obvious reasons. A time of the day is also set to accommodate the schedule of all the participants.
In considering the effectiveness of a formal speech in effecting a change or kick-starting a positive process, adaptation of an appropriate language style is important. The public display of a speaker is generally a performance to which preparedness is a virtue that should lead to shared meaning and persuasion. In the course of persuasion, language use is important in providing vital information in the most convincing manner and ultimately, in gaining the desired action. Language use from the perspective of public speaking does not connote the engagement of a language like French or English but rather, the artistic display of the mastery of a chosen language to drive persuasion.
Standard English for instance, is a language variety that every speaker aims at using when the intention is to come out clear to the greatest number of people. Speakers use complete and grammatically correct sentences. We choose words that precisely express the desired meanings, and avoid the use of slang. The public speaker should work diligently to avoid any superimposition of the features of his mother tongue on the English language. In essence, the public speaker should know and work at the attainment of standard pronunciation of words to engender clarity and understanding of expressions.  For instance, the native speakers of the Yoruba language especially from the Oyo, Ibadan and Ogbomosho axis are prone to pronouncing the word "chair" as "sia". This is the substitution of the Yoruba letter "s" for the equivalent "sh" in English language.
Standard English can easily be varied to reflect its functionality. The functionality varies from its highly informal usage, with short sentences and vocabulary used in fostering and maintaining relationship to a highly formal usage linked with scientific and scholarly writing. In the formal usage, the vocabulary is specialized while the tone is impersonal and resolute. In essence, the speaker has the right to determine the "right" language for a particular occasion. The public speaker selects the language variety that is right for him, the subject-matter and the audience. He should also avoid code-mixing except for a clear purpose as in mere conversation.
A formal use of language should not be introduced in an informal speech situation and localisms are not proper in a speech on scholarly topic to a heterogeneous audience. In essence, it is important to adopt a language style and diction that will say what needs to be said about a topic of discourse, which will be meaningful to the audience and manageable for the speaker.
A good public speaker should avoid the use of language that will make intelligibility unattainable. Wrong use  of language precludes situational analysis to reflect the most appropriate choice of words for a particular engagement and this can  provoke violence in place of conviction. As an intending public speaker, the effectiveness of your language and adaptability of same to suit situations should not be in doubt.
On the other hand, language sets a limit for us and we may not be able to say all we want to say in our own way when there is limited language proficiency.  An intending speaker should aspire to build up his language proficiency through constant practice directed at improving his manipulation of the devices of language. The following tips are useful in developing, extending and taking total control of language:
a. Cultivate the Right Attitude to Learning
Learning is the process of trying to know about a particular thing and this affects your perception of that new concept or idea. You know what to think, say or do about a particular thing or idea. New words are learnt through reading, listening and putting what is new to constant and appropriate use. Reading books, magazines and paying attention to different messages on television, radio and even billboards keeps a speaker abreast of language use in different situations.
2. Work on Your Diction
Diction is the speaker's choice of words. The speaker should learn to use the right words to express his innermost mind and this comes with constant use of a good dictionary, listening to speech and choice of words of other good speakers. The statement below about Nigeria and Nigerians can be analyzed to reveal the appropriateness of the author's diction:
The battle for the soul of Nigeria and Nigerians
started a long time ago when strange bed fellows
were pitched together in an amalgamation that left
the people disunited and further polarized.
The above statement about Nigeria and Nigerians is enhanced and made more meaningful by the italicized words. First, the battle for the soul suggests the stormy relationships among tribes in Nigeria but the real causes of the struggle among the tribes to control the country "Nigeria" and by extension, the people known as Nigerians.  
3. Accuracy is very Important
The public speaker should be careful and exact with words. Words should not be used in an irresponsible manner to cause disaffection and contempt. The public speaker should have respect for the word, initiate and encourage only scrupulous incorruptible use of words.
4. Be Specific with Words
The public speaker should learn to use specific words over and above general words. General words are susceptible to ambiguity and misinterpretation by the audience. Pointing specifically to the things that the speaker is talking about makes it easier for the audience to process the information and have easy access to the meaning. A strategy that can be employed is the use of proper nouns in expressing particular issues, people, places and things. When the name of a place is mentioned and the place is well known, an image forms in the minds of the members of the audience.
However, Edwin (1974) opines that proper nouns must have limited uses, as many things that the speaker wants to say have no proper names. Another way of being precise is to use concrete nouns, accurate verbs and significant modifiers. A concrete noun refers to a noun that makes a specific reference, for example, computer is a concrete noun, but equipment is not. The point here is that the particular reference to computer as an office equipment makes a lot of sense. Equipment on the other hand is a common noun for a wide range of so many other office machines. It becomes difficult to know the particular one being referred to.
Run is an accurate verb but in certain context, its variations such as stride and jog become more accurate and self-explanatory. A significant modifier is an adjective or adverb that name particular qualities or manners. It is appropriate to note at this juncture that less specific words like all manners of abstract nouns and functional words as conjunctions and prepositions whose major function is to connect words and ideas together are not useless in any form of writing or speech composition, in fact they are essential. However, it is the specific words that give the speech its sterling communicative quality. Specific words help to gain and retain the attention of the audience; they also facilitate comprehension and help the audience in reaching conclusions.
Exploit all Levels of Meaning
There are different levels of meaning associated with the use of words. Thomas (1976) states that words often acquire meaning other than their own straightforward ones. Edwin (1974) also advises the would-be speaker to employ all levels of meanings. The single and straightforward meaning of word is called denotation while the less direct or the associated meaning is known as connotation.
The denotative meaning of a word is the literal meaning of that word while the connotative meaning of a word is the associated meaning that a word acquires over time through usage. The word home, for example, literally means (denotes) place of abode where one lives. However, in addition to the literal meaning as expressed above, home connotes comfort and security. The wall of Berlin literally is the structure erected in order to discourage the influx of Eastern Berliners to the West of Berlin. In that wise, the wall serves as the wall of defense but by association over time, the wall is being used in reference to difficulties thathumans pass through on daily basis.
5. Learn the Use of Figurative Language
Figure of speech is the deliberate use of language in order to create some meaning or special effects that cannot be achieved through the literal use of words. While it is apparent that figures of speech develop from associations resulting from the connotative use of words, figurative language is still not the same as connotative language. It is important to note that words acquire connotative value chiefly because people fall into the habit of using them in particular ways, because they get heard in special contexts. It is from such sources that words achieve meanings. Because of the intention behind the use of words in a particular manner, speakers usually deviate from the literal meaning. Below are some of the figures that are deliberately adopted by speakers in their quest to add color and meaning to the art of public speaking.
Simile
This is comparison between two things that are not exactly alike but share certain noticeable characteristics. Simile brings out the comparison using "like" or "as". For instance: Toke is like a lion on the field. The example above shows Toke, a human being accorded the quality of a lion, an animal. It is apparent that while Toke and a lion are not of the same specie, they share the same quality of being very strong and alert.
Metaphor
A metaphor is also a comparison just like simile but unlike simile, metaphor is an applied comparison. While simile says A is like B, metaphor says A is B. Going back to the example of Toke and the lion, in the place of the above example, metaphor eliminates the use of "like" and insists that:
Toke is a lion on the field.
Here, you have the quality of a lion being assumed by Toke in a direct comparison.
Oxymoron
This figure of speech is achieved when two contradictory words are used one immediately after the other in a statement in order to achieve a purpose. Example:
Toke is both beautiful and ugly.
The above statement is an apparent contradiction as it is almost impossible for somebody to be beautiful and ugly at the same time. However, it is possible for Toke to be physically beautiful but wicked and ugly from the inside.
Pun
This is the figurative name for deliberate play on words. Pun can take the form of actual play on words that sounds alike but different in meaning or of two meanings of the same word. Example:
The ball is a delicate thing to kick.
The above is a pun (a play) on the literal ball and the human scrotum. The term ball for scrotum is made popular by the Americans.
personification
Personification is the transfer of life or the state of being alive to an inanimate object. Example:
The moon is smiling brightly today.
The moon cannot smile ordinarily as it is not human. it  is  understandable that the moon smiles brightly when the night is bright and permissive. The above and other figures of speech are often used as ornaments in a flurry of flowery language and as embroidery in public speaking situations.  Looking at the use of figure of speech from the perspective of being flowery does not however take the shine out of the fact that their use is actually purposeful. Occurrences of oxymoron, metaphor, simile and irony indicate that the speakers are able to see contraries and are able to see sometimes striking likeness in things that are not usually related.
Figures of speech are also descriptive in nature as they provide varieties and bring images into our minds. For instance, a vivid description is achieved by this author with the use of the combination of simile and metaphor as stated below:
Bebe's smile is like a new dawn and a switch between night and day.
The author describes the smile on the face of his subject Bebe as an inspiration, something to look forward to; you can almost see the sudden change in your mind eyes.
Other than the use of short figures as used in all the examples above, there is also the extended figure that ensures interplay of language across disciplines. This explains why sports analysts talk about football as if the sport itself is a theatre of war. Teams, for instance, go on the attack or better still on the defense. Not very long ago, sudden death, a medical term, is also brought into football. Many speakers, it has been observed use extended figurative comparison between machines and human beings. Such terms as feedback, database, output, etc. are all computer terms that are now being used in association with human activities.
Lastly, a mention must be made of the fact that the use of figures of speech saves the extensive and sometimes meaningless use of time words. Most speakers use far more words to bring vivid images to the minds of the audience than a versatile speaker would need with the use of a simile.
Wrong Use of Words
The use of language in a given speech situation is quite dynamic and language can be employed either negatively or positively. Some speakers use language negatively with little or no regard for the audience. Derogatory terms like "skirt", "legs", etc are often used when referring to ladies. Some other ones like "Nigger", "Pigs", etc. are words with racist coloration.
It is also a fact that when a language is too formal or cold, it is devoid of the needed warmth of interaction. Human beings are detailed, directed like machines and reduced to facts and figures. Example:
The tactics being proposed encourage the deployment of resources across departments taking into cognizance of logistics involved in such objective-driven plan.
In the above example, human beings are reduced to part of the resources to be deployed in the achievement of a stated objective.
There is a form of language that can be used to destroy the mutuality that exists between people. This wrong use of language is not only aggressive; it is also a language of repression and exclusion.  Such wrong use of language include expressions like "Shut up", "Stay out", "Obey the command immediately!", We won't have anything to do with them again", etc.
The language of make–believe is another example in the league of wrong use of words/language. This is the language most noticeable in advertising or when people are being canvassed to do what ordinarily they may be reluctant to do. Worth mentioning also, is the language of sexism in a male dominated world; a man who is the son of a king is a prince but a female child is a princess, a man is a chairman but a female is a chair person. This use of language excludes the women in the natural scheme of things and words are specially "crafted" to create a separate identity for the weaker sex.
In conclusion, it can be said that public speaking is designed to effect a change by gaining a desirable action. Persuasion as the major objective of speech making is premised on audience acceptance of a message that is meaningful, clearly stated, humane and considerable of the needs of the people.  Speechifying then becomes a matter of blending action and rhetoric. Action or performance in public speaking is only activated by the articulation or expression of feelings through the employment of appropriate language. Wrong use of language on the contrary distorts meaning, promotes ambiguity, demeans the audience and is inimical to persuasion, the ultimate goal of public speaking. It can therefore be said that language oils efficiency in public speaking and without the force of language, persuasion is clearly unattainable.
References
Books
Dale, C. (1857). How to Develop Self-Confidence and Influence People by Public Speaking.
Edwin, H.W. (1974). Strictly Speaking. London: The Bobbs-Merill Co. Inc.
Kingswood: The World's Work (1913) Ltd.
Lukas, S. (2011). The Art of Public Speaking. New York: McGraw-Hill Companies.
Oginni, Y. (2007). Precision in Public Speaking. Ibadan: College Press Ltd.
Thomas, S. (1976). Contemporary Writing. Lagos: Bib Publishers Ltd.
Journals
Tomaz, P. (2014), The Teacher as Public Speaker in a Classroom. Journal of Studies in
Literature and Language, Vol 9, No 1 pp 124-133.
Internet Materials
Galina, K. (2006), Good Practice in Teaching ESP Presenters. www.esp-world.info/articles
PERSPECTIVES IN NEWSPAPER REPORTS ON THE COURT JUDGMENT OF 2007 ELECTION PETITION IN EKITI STATE, NIGERIA
DELE OMOJUYIGBE, PH.D.
Department of General Studies
Nigerian Institute of Journalism
8-14, Lateef Jakande House, Ogba – Lagos, Nigeria
ndeocom@yahoo.com
Abstract
This study investigated the perspectives in newspaper reports on the Appeal Court judgment of the 2007 gubernatorial election petition in Ekiti State, Nigeria. This was with a view to determining the functional value of the perspectives in understanding the Nigerian socio-political situation. Fairclough's and Fowler's models of Critical Discourse Analysis and Halliday's Systemic Functional Grammar formed the theoretical framework while two Nigerian newspapers, The Nation and The Guardian, which displayed large publicity of the election petition judgment, formed the data base. Analysis revealed that the lexical choices made in the newspaper reports suggested specific perspectives of the reports on the judgment. Reports in The Nation supported the judgment while those published in The Guardian opposed it. The divergent positions of the newspapers reflected their predisposition to the pursuit of the ideals of truth, legality and social justice.
Key words: Ideology, Judgment, Lexical choices, Perspectives, Representation.
Introduction
The nullification of the election of Ekiti State Governor, Olusegun Oni, on October 15, 2010, by the Court of Appeal generated profound newspaper discourses which projected the beliefs and propositions of journalists on the judgment (Fowler 1991). Language was deployed in the discourses as a representation of perspectives and assumptions (Simpson 1993) and this reveals the role of discourse analysis which attempts to discover what people are doing with language and what linguistic features are employed to show what they are doing (Brown & Yule, 1983). The Court of Appeal had overruled the election tribunal which earlier declared Olusegun Oni of the Peoples Democratic Party (PDP) winner of the election. In a unanimous decision, the court declared that Kayode Fayemi of Action Congress of Nigeria (ACN), won the election, having polled 105,631 lawful votes, as against Olusegun Oni's 95, 176. TheGuardian and TheNation newspapers selected for this study published varied reports on the judgment and the lexical choices engaged in the reports represented the writers' divergent perspectives on the judgment.
Objectives of the Study
The objectives of this study are to:
1. identify different perspectives expressed in two Nigerian newspaper reports on    the Appeal Court judgment of the election petition,
2)        discover the functions of perspectives in the reports,
3)        identify the similarities and differences in the deployment of lexis to express the
perspectives.
2. Literature Review and Theoretical Approach
Previous scholars have examined the language of political and legal discourse with little attention paid to newspaper reports on election petition judgments. Ifukor (2010) examines the linguistic construction of textual messages in the use of blogs and twitter in the Nigerian 2007 general elections as well as the rerun elections in April, May and August 2009 and discovers that citizens' access to social media empowers the electorate to be actively involved in democratic governance. Alo and Ogungbe (2012) explore the language of justice by focusing on lexical and syntactic choices made by judges in three appellate rulings on election petitions in Nigeria. Their analysis shows how words relating to justice and fair hearing are employed to emphasise the ideological values of justice. Thus with linguistic choices, the appellate judges demonstrate their commitment to justice and fairness. However, Alo and Ogungbe (2012) focus only on appellate court judgments and not on newspaper reports on the judgments.
Ademilokun and Taiwo (2013) examine the discursive strategies used in some newspaper campaign advertisements for Nigeria's 2011 elections with a view to unveiling the socio-political motifs and messages of the adverts. Their findings reveal that discursive strategies such as metaphorisation, rhetorical questions, historical allusions, foregrounding, imagery, repetition and others are employed to reveal the intent of the campaign advertisers to persuade, appeal, legitimise and delegitimize their positions in the discourse. Oyeleye and Osisanwo (2013) investigate the ways the ideological pursuits of social actors in the 2003 and 2007 general elections in Nigeria  are expressed in TELL and The News magazines. They observe that discourse patterns that express ideological pursuits in the reports are non-neutral. An awareness of representation of perspectives is critical to the understanding of newspaper reporting on election petitions and court judgments. Therefore, this study investigates the lexical representation of perspectives in newspaper reports on the 2010 court judgment of the 2007election petition in Ekiti State, with a view to identifying hidden ideologies in the reports.
2.1 Media Discourse
Media discourse refers to language use in the media to convey ideas and beliefs. Media discourse is one of the main concerns of critical linguistics whose foundation is rooted in Systemic Linguistic Theory (Fowler et al 1979, Hodge; Kress, 1979; Halliday 1978). Fowler (1991) argues that whatever is said or written about the world is done from an ideological position as media discourse helps to reveal the presence of bias or ideology in language.
Media discourse has generated profound interest among scholars because of its power to formulate ideology. Fairclough (2003) regards it as a "social process", for it involves an interaction between news writers and consumers. The role of news consumers and the process of interpreting news are crucial in media discourse as there are implicit ideologies in news designs and production (Fairclough; 1995). Media discourse as appertaining to this study refers to language use in the media as a representation of perspectives on the Appeal Court judgment of Election Petition in Ekiti State in 2010. The assumption is that the shades of opinion expressed on the judgment in the media are articulated from particular ideological positions. This is what van Dijk (2006) calls 'manipulation' which compels readers to agree with the position that promotes the interest of the manipulator. According to him, manipulation is a form of power abuse which promotes social inequality and makes influential members of the dominant group control members of the public.
van Dijk (1988) argues that the understanding of discourse is essentially relative to personal models and goals, frames, script, attitude or ideologies. But much as van Dijk's cognitive model identifies how news value shapes news coverage and journalists transform texts got from other sources to produce a report, his model fails in the area of not giving the interpersonal function of language adequate attention. More importantly, texts are not analysed inter-textually but rather linguistically and the linguistic choices made in them have ideological meanings (Fairclough; 1995).
2.2 CDA and SFG
CDA is a branch of sociolinguistics which assists in revealing how news writers' interests are represented in their reports and how the issues of power relations, values, attitude and ideology influence the way newspapers present their reports to their readers. Ideology describes the ways in which what one says and thinks interact with society and also refer to a particular conception of the world that implicitly manifests in various social activities (Simpson, 1993; Fairclough, 1995). CDA perceives language as a social action and analyses discourse to find hidden meaning whereas SFG sees language as a social behavior and examines language from functional perspectives. It sees every text as a semantic unit where the grammatical categories are explained as the realization of semantic patterns (Halliday; 1985).
Halliday (2004:31) says that by functional grammar, we mean that "grammar is seen as a resource for making meaning… provides an interpretation of grammatical structures in terms of the overall meaning potential of language." However, Fairclough (1995) connects form to meaning potential, saying that differences in meaning entail differences in forms. Fairclough (1995:5) observes that genuine news articles may feature opinions despite the ideological belief of many journalists that news only gives the facts and not opinion. He says that the media are not a central common-sense mediator of social events, but that they help to reproduce pre-formulated ideologies. He observes that media texts do not necessarily reflect realities as assumed but constitute mere versions of reality in ways which depend on the social positions, interests and objectives of the media producers themselves. He connects form to meaning potential and argues that where forms are different, meaning will be different too.
3. Methodology
Data for this study were collected from two Nigerian newspapers, namely: The Guardian and The Nation because of their wide circulation and online visibility. Their editions of October 2010 were chosen because they represent the period within which reports and comments on the court judgment were published. Sixty-four (64) reports on the judgment appeared in the two newspapers within the period, out of which The Guardian had 33 and The Nation 31. Some of the reports were purposively selected from each of the newspapers and analysed.
4. Analysis
Two divergent perspectives are expressed in the selected Nigerian newspaper reports on the Appeal Court judgment. These are supportive and critical perspectives. The word 'supportive' refers to the perspective that shows approval of the court judgment while the critical perspective shows disapproval.
4.1 Supportive Perspectives
Allusion is an indirect reference to a person, event or thing but biblical allusion deals with the exploits of characters in the Bible. In Text 4.1.1, allusion is made to Biblical Daniel to express support for the Appeal Court judgment of the election petition. The allusion is meant to confirm the brilliance of the justices.
4.1.1
It was a case of Daniel come to judgment. The justices not only found that the controversial results returned for Ido-Osi and Ifaki were concocted they found the courage to deduct the 8000, illegal votes awarded. It was a fitting denouement to the electoral coup staged against the people of Ekiti State, for which the people must be happy that their long wait finally paid off. -The Nation, Oct 17, 2010
Olusegun Oni was reported to have defeated Kayode Fayemi by thousands of votes he got through rigging. But the Court of Appeal deducted the controversial votes from the legitimate ones and Fayemi finally won.  Deducting the illegal votes is considered an act of courage while the allusion made to Daniel in the text is meant to prove that the verdict was impeccable. Daniel is noted in the Bible to be imbued with supernatural wisdom which helped him interpret King Nebuchadnezzar's prophetic dream. That scenario, by implication, played back in the court judgment which declared Kayode Fayemi winner of the Ekiti State election. Comparing the judges with Daniel is intended to prove that the judges displayed supernatural wisdom by deducting the 8000 illegal votes earlier awarded Olusegun Oni.
4.1.2
Kayode Fayemi's Friday victory at the Ilorin Appeal Court would ordinarily appear as the triumph of jurisprudential commonsense but   this moment is surely of cultural restoration. If nothing at all, this development is a fitting tribute to the resilience of Fayemi and his party, ACN, in the Ekiti debacle, as well as a vigorous reminder that liberty struggle is not for the faint-hearted. –The Nation, Oct 19, 2010
The 'restoration' mentioned in Text 4.1.2 refers to Kayode Fayemi's victory at the Court of Appeal. 'Restoration' implies retrieving something illegally taken from someone.  After losing at the Election Petition Tribunal on four occasions, Kayode Fayemi, headed for the Court of Appeal for the final judgment. Few optimists gave him a chance of winning as political observers expected the judgment to go in the direction of the earlier ones delivered by the election tribunal. But Fayemi won and his victory shocked many political observers. The victory is regarded as 'restoration' because the mandate to govern Ekiti State was believed to have been given to him at the polls but was stolen from him by Olusegun Oni.
4.1.3
The setting was the Court of Appeal sitting in Ilorin Kwara State where the five-man panel of justices declared Fayemi winner of the Ekiti rerun poll. The road was long and hard but in the end, justice prevailed. This is the   good news. While the ruling does not pretend to be the judiciary's finest hour, it is no less commendable. The turn of events must be soul-lifting for the citizens of Ekiti, their faith in the judiciary as the bastion of hope for the common man must have been rekindled by the judgment. –The Nation, Oct 17, 2010
Text 4.1.3 commends the judgment which gave victory to Kayode Fayemi and opines that the victory at the Court of Appeal will rekindle people's faith in the judiciary. The engagement of the word, 'commendable', shows that justice has been done while the victory metaphor implies that the election was a battle. The judgment represents the triumph of democracy as Kayode Fayemi's stolen mandate was restored.
4.1.4
For the people of Ekiti State and for Kayode Fayemi, the ACN candidate in the2007 governorship election in the state, their victory is a victory of principle andhuman will.–The Nation, Oct 17, 2010
4.2 Critical Perspective Showing Disapproval
Critical perspectives refer to comments in the two newspapers' reports which show disapproval of the Appeal Court judgment. The reports noted that there were lapses in the judgments as issues surrounding the election petition were not thoroughly examined by the Court. Olusegun Oni had argued that the Appeal Court's nullification of election results in his strongholds such as Ido Osi and Efon Local Government Areas led to Kayode Fayemi's victory.
In 4.2.1, hyponyms are used to show disapproval of the malpractices perpetrated during the Ekiti State gubernatorial election. Hyponymy shows the relationship between two words in which the meaning of one includes the meaning of the other (Khaire, 2009). For example, blue, green, red etc are specific colours which are known as 'hyponyms' while the super-ordinate term is 'colour' which encompasses blue, green, red etc.
4.2.1
One abhors injustice and fraud which Mr Segun Oni's victory and subsequent tenure as Ekiti State Governor have now become. One has always believed that all electoral malpractices must be severely punished and those whose elections were nullified should not be allowed to benefit from such fraud. This will serve as eternal lessons to those who may want to usurp people's votes in future. Thus, one is tempted to submit that the name and tenure of Segun Oni be expunged from the history of Ekiti State in order to serve as eternal deterrence to electoralmalpractice. It is one's submission that those who assisted in perpetrating such electoral fraud should be tried and jailed to serve as examples to future election riggers. -The Guardian, Oct 18, 2010
In Text 4.2.1, 'fraud' is the super-ordinate term whereas 'malpractices', 'usurp', and 'injustice' are its hyponyms. They show opposition to the conduct of the Ekiti State election. Newspaper reports say that Olusegun Oni could not have won the election but for the electoral fraud committed against the people of the state. The hyponyms of 'fraud' given in the extract reveal the types of fraud perpetrated during the election namely, multiple voting, eruption of violence and the collation of some election results at some police station without the presence of ACN party agents. Olusegun Oni lost the election but usurped the governor's seat from May 2007 to November 2010, as given in the extract. To usurp is to take someone else's power, position or job without a legal authority. The hyponyms have assisted in establishing lexical cohesion in the discourse by providing referential equivalence to convey special meaning.
Texts 4.2.2 and 4.2.3 show how mandate is used metaphorically and equated with rigging to express critical perspective on the Ekiti State election which INEC said Olusegun Oni of PDP won. The extracts are demanding proper sanction against Oni for illegally occupying the governor's seat for three and a half years.
4.2.2
Chairman of ACN in Jigawa State, Hassan Fulata, has demanded a 10-year jail term for Segun Oni for what he described as theft of the mandate of Ekiti people-The Guardian Oct 17, 2010
4.2.3
Returning a stolen mandate, one has always believed that all electoral malpractices must be severely punished and those whose elections were nullified should not be allowed to benefit from such fraud.–The Guardian, Oct 18, 2010
The phrases, 'theft of mandate' and 'stolen mandate' in 4.2.2 and 4.2.3 are metaphors showing the high level of corruption committed during the Ekiti State election. What is given or stolen at an election is not 'mandate' but 'votes'. But mandate is used in a metaphorical sense in the texts to reveal the magnitude of the barefaced fraud committed during the election. The word is used in a transferred sense with the assumption that votes translate into mandate. Meanwhile, in all the instances where mandate is used in the text, it is used with the assumption that the election is already won by Kayode Fayemi. The picture of stolen mandate is dishonourable, for it is an act of self- imposition on people, which is totally opposed to the principles of democratic practice. When mandate is stolen, governance is placed in wrong hands, people's hopes and aspirations are dashed and the people are handicapped to hold government to account.
Text 4.2.4 exposes the corrupt tendencies of Nigerian politicians who are always desperate to win elections at all costs. They lack the spirit of sportsmanship, perhaps because the country practices winner- takes-it- all politics. That explains why votes were 'allocated' at the Ekiti State election, which means that the votes cast did not really matter.
4.2.4
Before the announcement of the final result, Fayemi was far ahead of Oni in the results collated from the wards, excluding Ido-Osi which was then being awaited. But in a dramatic turn that beat allimaginations, Oni was 'allocated' virtually all the votes from his Ido-Osi ward which many PDP stalwarts tried in vain to defend as natural trend in the voting pattern of the area. While announcing the verdict which again declared Oni winner, the same Adebayo told those uncomfortable with the result to go to court to seek redress, a move that has continued to attract comments, even in Ondo State, where she is presently deployed.  –The Guardian, Oct 16, 2010
The word 'allocated' refers to the votes in Ido -Osi, a ward in the state whose votes were a determining factor at the Ekiti State election. If Olusegun Oni did not have the number of votes which INEC said he had in Ido- Osi, he would have lost the election outright. But PDP capitalized on the fact that Ido- Osi people were known to be PDP supporters, to manipulate figures. They did that by 'allocating' votes in the ward to Olusegun Oni, their candidate, with the alleged connivance of INEC officials.  Olusegun Oni was initially trailing behind Kayode Fayemi of ACN. But 'in a dramatic turn that beat all imagination', his votes increased when the 'controversial' results of some wards in Ido- Osi were collated. But the votes did not represent the wish of the people and that led to agitations when INEC announced the final results of the election. Observers opined that the votes in Ido- Osi ought not to have altered Kayode Fayemi's victory even if all registered voters in Ido- Osi had voted. The choice of the word 'allocated' signifies 'fake votes', 'stolen votes' or 'uncast-but-freely-given votes'. It means that the desperate election riggers were aware that they needed such illicit votes to defeat the ACN candidate who was already leading with a comfortable margin.
Lexical repetition is also engaged to show critical perspective in the newspaper reports. Repetition is an instance of using a word, phrase or clause more than once in a short passage, dwelling on a point (Nordquist, 2013). The repetition can be an effective rhetorical strategy for achieving emphasis but often, repetition gives the effect of cohesion. Halliday (2004) observes that the most direct form of lexical cohesion is the repetition of a lexical item. He observes that for a lexical item to be recognised as repeated, it need not be in the same morphological shape. While inflectional variants always belong together, for example, dine, dining, diner, dinner (they are all the same item), derivational variants are not predictable, for example, rational and rationalise. He argues that rational is close to reason, though not close enough to be considered the same item.
In Text 4.2.5, the word 'fraud' is repeated to show the level of corruption perpetrated during the 2007 gubernatorial election in Ekiti State.
4.2.5
Those whose elections were nullified should not be allowed to benefit from such fraud. This will serve as eternal lessons to those who may want to usurp people's votes in future. Thus, one is tempted to submit that the name and tenure of Segun Oni be expunged from the history of Ekiti State in order to serve as eternal deterrence to electoral malpractice. It is one's submission that those who assisted in perpetrating such electoral fraud should be tried and jailed to serve as examples to future election riggers. -The Guardian, Oct 18, 2010
The election was reportedly fraught with so much fraud that some results were collated in police stations without the presence of some party agents. The extract, therefore, canvasses for the sanction of the perpetrators while in Text 4.2.6, the phrase, 'a big shame' shows rejection and refers to the Appeal Court judgment which sacked Olusegun Oni from office as the Ekiti State governor.
4.2.6
The Action Congress of Nigeria (ACN) has accused the Peoples Democratic Party (PDP) of employing scare-mongering tactics, resorting to outright lies to denigrate the judiciary and interfere with the course of justice, following the party's loss of Ekiti State and the impending outcome of the long-drawn Osun gubernatorial court case. When Governor Daniel said 'what happened in Ekiti is a big shame to all of us without exemption', was he talking about shame in the sense that his  party, the PDP, was found to have rigged the election and the re-run, or that the presidency did not arm twist the judiciary to keep Ekiti for the PDP at all costs? -The Guardian, Oct 25, 2010
The text above shows that the court judgment is a perversion of justice as the Election Petition Tribunals which sat earlier had declared Olusegun Oni winner, after examining all the grounds of appeal filed by Kayode Fayemi. The expectation was that the final judgment of the Court of Appeal would still be in favour of Olusegun Oni even if the opinions of the judges were slightly divided. What further gave PDP confidence that Olusegun Oni, their candidate, would win was that the various judicial panels which earlier examined the election petition and gave victory to Oni consisted of different members and judges. PDP felt that the various panels could not all have erred. However, before the Court of Appeal delivered the judgment, allegation of bribery was levelled against the Judge as PDP claimed that the judge collected money from ACN. As ACN maintained that their candidate truly won the election without offering bribe to any judge, PDP wondered why the judgment went as predicted by the ACN. This seeming manifestation of corruption prompted the statement that "what happened in Ekiti is a big shame on all of us without exception". The expression, 'all of us', could be referring to all Nigerians who failed to institute a corruption-free judiciary in the country; or an expression of disappointment in the verdict.
Text 4.2.7, wants election riggers "severely punished" or "tried and jailed" so as to serve as a deterrent to others. Words and expressions such as, 'usurp people's votes' and 'fraud', are employed in the extract to condemn the rigging which transpired during the election. 'Fraud' depicts dishonesty, and 'to usurp' is to take someone else's power or position without legal right. Using 'usurp' with 'votes' in a verbal clause indicates that PDP got to power by fraud. The two words are unusually married for the purpose of raising diction above the ordinary, to achieve depth and clarity of meaning. The most effective means of achieving clarity, diction and a certain dignity is to use an altered form of words that will raise diction above the common place (Aristotle, in Leech: 1969).
4.2.7
One abhors injustice and fraud which Mr Segun Oni's victory and subsequent tenure as Ekiti State Governor have now become. One has always believed that all electoral malpracticesmust be severely punished and those whose elections were nullified should not be allowed to benefit from such fraud. This will serve as eternal lessons to those who may want to usurp people's votes in future. Thus, one is tempted to submit that the name and tenure of Segun Oni be expunged from the history of Ekiti State in order to serve as eternal deterrence to electoral malpractice. It is one's submission that those who assisted in perpetrating such electoral fraud should be tried and jailed, to serve as examples to future election riggers. -The Guardian, Oct 18, 2010
Words and phrases showing election malpractices are 'fraud', 'injustice', 'election riggers', 'usurp people's votes' and 'electoral fraud'. They reveal the level of discontent with the noted electoral robbery and its perpetrators. The demand that the perpetrators be 'tried and jailed' shows anger and frustration. There is a presupposition that the alleged electoral offenders are already guilty and should be jailed, which makes the question of their trial a mere formality.
4.3 Discussions
This study established the significance of language in the representation of perspectives in Nigerian newspaper reports on Appeal Court judgments of election petition in Ekiti State. Lexical choices revealed the words and expressions which suggested specific perspectives in the selected newspaper reports on the judgment. Reports in The Nation newspaper supported the judgment while those in The Guardian newspaper opposed it. It was discovered that both CDA and SFG assisted in revealing how perspectives were represented in the newspaper reports. CDA showed the news writers' interest in the judgment through the structure of the reports, while SFG provided an interpretation of the grammatical structures in the reports to show the perspective they represented. Although divergent perspectives were expressed in the reports, each newspaper believed that it was embarking on the defence of Nigeria's democracy through its advocacy for justice. This helped to affirm that the analysis of perspectives in media reports was significant in acquiring an understanding of the socio-political realities in Nigeria.
Conclusion
The insight gained from this study reveals that the divergent perspectives given in newspaper reports on the Court judgment of election petition in Ekiti State were in tune with the ideologies of the newspapers. Supportive perspective on the judgment was given in The Nation while critical perspective was given in The Guardian because of the paper's ideology of fair play and justice. It believed that elections should be won through the ballot box and not in the court of law. Over all, the two newspapers' ideologies informed the points of view expressed in their reports as their divergent views revealed the socio-political realities in Nigeria.
References
Ademilokun, M. and Taiwo, R. (2013). Discursive strategies in newspaper campaign advertisements for Nigeria's 2011 elections, Discourse and Communication, Vol. 7, Issue 4,
November 2013, 431-452
Alo, M. A.   and Ogungbe, E. O.  (2012). The language of justice: an analysis of three appellate rulings on election petitions, British Journal of Arts and Social Sciences,9 (2),
183-198.
Brown, G. and Yule, G. (1983).Discourse Analysis. Cambridge University Press.
Electoral     Act (2006).Retrieved from nigeriaworld.com/../041507.htm (May 10, 2012)
Fairclough, N.  (1995). Media discourse U.K. Holder Education.
_______      (2000).Language and power, 2nd edition. New York: Longman.
Fowler, R.(1986). Linguistic criticism, Oxford.Oxford University Press.
_______ _   (1991).Language in the news.London, Routledge
Halliday,     (1978).Language as social semiotic. London: Edward Arnold
_______      (2004).An Introduction to functional grammar (3rded.) London: Hodder
Foundation
Hodge, B.    (1979). Newspapers and communities.language and control (eds) Fowler
R, Hodgeb, Kress G and Trew T. London: Routledge and Kegan
Paul Ltd.  157 – 174
Ifukor, P.     (2010). "Elections"or"selections?" blogging and twittering the Nigerian 2007
general elections, Bulletin of Science, Technology and Society. 30 (6) 398-414
Khaire, A.    (2009). Lexical relations: hyponymy and homonymy.
Retrieved from www.ibuzzle.com/articles/lexical-rel… (October 20, 2011)
Leech, G. (1969) A Linguistic Guide to English Poetry. London: Longman
Merriam Webster dictionary www.merriam.webster.com/../superlative
Nordquist, R.(2013).  Foregrounding. Retrieved fromgrammar.about.com >About.com >
About Education > Grammar & composition > Glossary of Grammatical &
Rhetorical Terms > Fable-Hysteron Proteron (September 20, 2013)
———-        (2013). Allusion: definition and examples. Retrieved from grammar
about.com>About.com>About Education > Grammar & Composition >
Rhetoric & Style >Tool Kit for Rhetorical Analysis (September 20, 2013)
Oyeleye, L. and Osisanwo, A. (2013). Lexicalisation in media representation of the 2003 and 2007
general elections in Nigeria, World Journal of English Language, 3 (2), 1-9
—————–(2013). Expression of ideologies in media accounts of the 2003 and 2007
general  elections in Nigeria, Discourse and Society, 24(6), 763-773
Simpson, P. (1993) Language, Ideology and Point of View. London: Routledge
The Guardian, (2010), October. Nigeria: Guardian Newspapers Limited, P.M.B 1217,
Oshodi Lagos.
The Punch,    (2010), October. Nigeria, No 1 Olu Aboderin Street, Onipetesi, Ikeja,
P.M.B. 21204, Ikeja, Lagos.
van Dijk, T.A. (1988). News as discourse, New Jersey: Hillsdale: Lawrence Erlbaum
associates inc.
_______          (2006).Discourse and manipulation. Discourse and Society, London,
Thousand Oaks, CA and New Delhi, 17 (2), 359 – 383
THE ROLE OF ELOCUTION IN IMPROVING LEARNERS'
COMMUNICATION COMPETENCE
LYDIA RUGURU GILBERT, Ph. D.
Kenyatta University
lydguru@yahoo.com
Abstract
This paper examines the role played by elocution in improving the learners'competence in communication.It will specifically focus on elocution in the Kenya Music Festival that is held annually. The festival entails competition among learners from pre-primary school all the way to the university. I argue that certain aspects of elocution aid specific competencies not only in oral communication but also in written and non- verbal communication that goes beyond the festival.
Keywords:Class, Elocution, Verse, Syllabus, Competence, Communication, Competition
Abbreviations: KMF- Kenya Music Festival
Introduction
KMF is arguably the largest festival in Africa. It brings together a collection of genres for performance. These include music, dance and elocution.All the genres have a capacity to enhance communication competence but the paper will only address competence in elocution. The festival has the advantage of a large population of learners at its disposal making it undeniably an excellent medium for transmission of information. Over the years the festival has grown in reaps and bounds attracting members from the East African region and indeed the rest of the world. The KMF Syllabus is outlined in sectionsand terminologies that clearlyarticulate a curriculum (Akuno, 2013). Every year the festival focuses on a specific topical relevant theme in the country. Each item that is presented is an opportunity to communicate with an audience the values, ideas and identity of the individual as well as the group represented and the country as a whole.Through the items, we understand other people and societies and contribute positively to their world.
Pieces are set annually giving learners an opportunity to develop in a systematic way. There is progression in the various categories. Learners who begin to participate in the activities early have better communication skills than the rest of their peers. The learner has the task of interpreting the work of art in order to bring it to life through performance. This entails engaging the intellectual capacity and in the process the learner is able to enhance not only competence but also performance.
Elocution and communication
Elocution is the art of speaking clearly and effectively.Communication on the other hand refers to the process of sharing interaction and meaning. As Bigambo (2005), puts it, it is largely about personality in that one usually expresses themselves.The person is the message and the medium. He points out that communication is sharing one's mind, heart and spirit. It is cognitive and behavioural, problem- solving and a factor of experience that leads to positivism. Ong'ondo and Barasa (2006), define communication competence as the ability to interact clearly, appropriately, coherently, confidently and convincingly in relevance to a given topic, within a specified time and context. Baran and David (2012), argue that communication should have internal and external validity in order to be trusted and believed.
Elocution in the Kenya Music Festival
One of the broad objectives of the Kenya Music Festival is to provide a forum for mentoring and nurturing promising performers of music, dance and elocution to showcase their talents and avail opportunity for career development.In the context of the Kenya Music Festival, elocution encompasses verse speaking, public speaking, paragraph reading and news reading. Items for elocution are in English, Kiswahili, French, German, Arabic and African Languages.The communication process in elocution begins long before the words are uttered and goes on after the words have been uttered.There are overlapping activities across the different classes that are open for participation. These include conceptualizing, composing and presenting the various items on stage. The activities contribute both directly and indirectly to learners' communicative competence. The activities begin with identifying the classes that the learners can participate in. The class is defined and the participants together with the trainers discuss what the class entails.As the learners identify the relevant class for presentation they are actively involved in addressing theissue of who the speaker isin the communication process.They have to identify the context in which the interaction takes place.This of course builds relevant competencies in relation to mood, tone and tempo of delivery.
As the learner defines the genre, he is acquiring eloquence in that a public speech for example is presented in a different way from poetry recital, news reading and paragraph reading.The learnerhas to distinguish the various expectations of the classes and make a conscious effort to deliver the message in the appropriate style. In public speaking, a topic is presented to the learner to prepare in thirty minutes and to deliver a speech in four minutes. It is the responsibility of the learner to read widely to be familiar with a variety of topics. He has to practice addressing others in class and during assemblies.He has to learnto determine the most important points from the least important ones. Organisational skills have to come into play in order to build a coherent argument and to effectively deliver it within the confines of the stipulated time. In this endevour, the presenter is not the only one learning. The audience which is composed of his peers is also learning useful skills as they listen and provide feedback.
Verse speaking in the context of the KMF refers to the execution of a particular message on a specific theme.The verse has to be artistically composed using figurative language such as imagery and symbolism.The verses in KMF are divided into set pieces, own choice and own compositions. Each category presents the learner with different competencies. In the set piece, the learner has to understand the nitty gritty of the verse raging from punctuation, articulation of the various words and the intended meaning to be expressed by the choice of words. The competition in this category is usually very high and it requires learners with excellent pronunciation and tonal manipulation skills.This calls for rigorous rehearsal for the students choosing to undertake this class.They have to learn the manner and place of articulation of various sounds, stress and intonation patterns. It is no wonder that most of the news presenters in Kenya today are a product of KMF in the area of elocution.
In own compositions, the learner is expected to script his own verse on a given contemporary topic or a topic of interest to the performer.Teachers also assist the students to compose verses. Composition is a key competence in the communication process. As they compose they are identifying the stages in the process: planning, drafting, revising and editing.They are also able to identify the persona, the subject matter, the addressee the appropriate audience for particular verses, poetic structure, mood and tone.  As they identify these they are enhancing their perceptions, comprehension, interpretation, application, analysis, synthesis and evaluation.  Involving the learner in identifying the various components is a major boost to communication competence because they are able to transfer this knowledge to analysis of similar verses and other forms of writing. Students who are active in KMF find poetry-a subject that is deemed difficult- very easy and they communicate with ease not only verbally but also in their written academic work.
The news reading class entails writing news items under the guidance of the adjudicator and presenting it to an audience. The class is quite recent and has attracted a lot of attention and entry for competition. It has led to learners paying more attention to news presentation on radio and television and therefore enhancing their listening skills. They also try to imitate famous news presenters and in the process they are improving their oral skills.
The paragraph reading is a lower primary school class. It is aimed at improving reading skills from a tender age. The adjudicator selects paragraphs for an oral loud articulation to an audience. The reader has to master pronunciation of words at his level, appropriate pace determined by the nature of the content of the paragraph, appropriate tonal variation and audibility. These are important skills in the communication process which the reader is refining as he rehearses.
The performer trains and rehearses on a certain genre and in the process commits the experience to memory. This in a way shapes the communication style and the performer often replicates this performance even offstage. The ultimate stage of the process is presentation.This is a display of competencies generated in the earlier stages.The stage adds further competencies of delivery including pitching, pace and audibility.The performer elicits confidence through eye contact, facial expressions, appropriate gestures, tonal variation, tonal blend, uniformity and teamwork in the case of choral performance. A performer has to actively watch other performances, critique them and listen to the adjudicators' comments. This refines not only the listening skills but also observation and delivery. Majority of the audience are students. As they appreciate the artistic displays they are also identifying useful tactics in bettering their own communication skills.
The results of work of art are given in adjudication remarks, ratings and ranking. The role of the adjudicator is critical because he is assessing the product of the communication process.  His appraisal gives the learner an opportunity to critic his work and to identify elements that stand out in other performances.These in turn help him in improving his communication competencies for a better presentation as he prepares for the next level. At times performances that were rated low in the preliminary levels end up doing better at the national level, courtesy of the adjudicators' remarks.
Conclusion
In this short paper, I have argued that participation in elocution items in the Kenya Music Festival provides a useful platform for the learner to comfortably exercise self expression and in the process he masters useful communication skills that last beyond the festival.I argue that the process of selecting, rehearsing and presenting a piece of elocution in the competitive KMF involves tasks that contribute to enhance the learners' communication competence. It is the duty of the teachers and other stakeholders to encourage learners to participate from an early age in elocution with a view to improving life-long communication competencies.
REFERENCES
Adwar, C.(2015). The Student Performer as a Critic of the Stage Performance. Unpublished workshop paper.
Akuno,E.A  (2013),   Kenya Music : An  Education Perspective. Nairobi: Emak Music Services.
Alembi, E. (2006),      The art of Criticism: Walking theTide (Lecturenotes), Nairobi: Kenyatta University.
Baran, S. & Davis, D. (2012), Mass Communication Theory: Foundations, Ferment and Future 6th ed: Australia, Wadsworth.
Bernstein, C. (1998),             Close listening. Poetry and the performedword.Nairobi: University of Nairobi Printing Press.
Bigambo, O.(2015), Adjudication Credibility, Communication Skills and Report Writing. Unpublished workshop paper
Budd,  M. (1985),        Music and the Emotions: London: Routledge and Kegan Paul
Ericson, et al. (1993).  The role of Deliberate Practice in the Acquisition of Expert Performance.Psychological Review, 100(). 363.
Kenya Music Festival Syllabus (2017) KMF, Nairobi
Ongondo, O. (2017),   Reflections on VerseElocution".Unpublished workshop paper.Department of Communication Studies.
THE ESSENCE OF COMMUNICATION IN
THE AUTHOR-PUBLISHER RELATIONSHIP:
THE NIGERIAN BOOK PUBLISHING EXPERIENCE
LAMBERT A. IHEBUZOR, PH.D.
Department of Mass Communication
Lead City University, Ibadan, Nigeria
Introduction
The most widely accepted definitions of communication, according to Folarin (1998:1), see it as the sharing or exchange of ideas, and meanings – a matter of interaction, relationship, a two-way process in which the participants (the publisher and the author) constantly exchange positions and sender and receiver, not a one-way process in which one person is the sender all the time and the other or others is or are at the receiving end all the time.
Communication is an act that entails passing across an understandable message to another person or persons in a fashion that is clear and precise.  Communication literally means "making common"' sharing thoughts, ideas, feeling, experience or knowledge.  The word communication stems from the Latin verb 'communicare' which means 'to share', 'to make common', so when we communicate we seek to make things in common in an attempt to increase our shared knowledge.  Olveira (1993) and Mercado (1992) cited in Adamolekun and Ekundayo (2007:22) see communication from different perspectives.  Olveira defines communication as the "transfer of ideas of knowledge in ways that enables the recipient to understand, react to, and act upon the information received".  Mercado in another perspective define between a source and a receiver either directly or through a channel.  The authors' channel here is the publisher.
For communication to be effective, four elements must be present-source that initiates the process, message which contains information (manuscript) that the source (author) is transmitting; channel (the publisher) which enables the transmission of the message (text of manuscript); and the receiver (reader) that decodes the message.
The word "sharing" is important because communication can only take place when effort is made to share, rather than to transfer or transmit information from a source to a receiver.  This is important because communication is still not rooted in different phases of human endeavors but that the ability to make meaning apparent by being consciously responsible and responsive to give situation (sharing) is a necessary overlay in all the forms of communication and in this instance.
The paramount goal of communication is persuasion, so that the transmitting person (the publisher) will impact on the receiving person (author) given intended behaviour; and two-way communication through feedback which is important as a message-adjusting device enabling the transmitter to secure the performance of the expected response from the receiver, Adamolekun and Ekundayo (2007:23). The success of the book publisher depends, primarily on his ability to communicate with the author, and with all the people for whom he is responsible to, first what they need to do and second the importance of doing it.  The successful publisher must also encourage communication in the reverse direction, so that he can harness the ideas, views and experiences of the author and other stakeholders.
The publisher communicates with the author both formally and informally through visits, letters and meeting.  Team briefing is a system of communication operated by the publisher and other players in the publishing process.  Communication, or personal interaction, is absolutely imperative in book publishing.  No single professional or any other single staff can on his own produce a good book.  The roles are collaborative (Ihebuzor, 2006).  The process from the acceptance of the authors manuscript to consumption of the authors/publisher's product involves interacting with men of varying professional background and understanding, and making communication effective.  Communication is effective where it achieves the purpose for which it has been sent.  Effectiveness is not quite the same thing as Efficiency.  Communication can be efficient without being effective.  For example the author may be considered efficient because the grammar in his manuscript is correct, the words are correctly spelt; the punctuation marks are put in the right places and the paragraphing is perfect.  But for the publisher, it may not be effective because the author has not considered the level of the knowledge of the target readers.  For effectiveness, communication has to be correct, not only in terms of the mechanics, but in terms of the purpose.
Communication is imperative in the publisher – author relationship; without communication it is impossible to run the activities of the publishing company.  No publisher can meet the needs of the readers without a proper system of communication.  The publisher – author relationship would collapse without communication.  The success of a publisher depends, primarily, on his ability communicate and also encourage communication in the reverse direction, so that ideas experiences and views of the author can be harnessed.  This is important, according to Adair (1988:1), communication failures are costly.
Prospecting authors manuscripts
Authors receive several manuscripts every month from prospective writers and authors wishing to be published.  Some of the authors wish very desperately to see their names in print (Areo, 2009).  It is usually a thing of joy when a writer's, especially an unpublished writer's manuscript is accepted by a publisher.
The manuscript is a typewritten or handwritten document or other works; especially the author's own original copy, prepared and submitted to a publisher for publication.  Various forms of communicative strategies are employed in this interactive process.  Letters from authors accompany the manuscripts to the publisher and the letters of acceptance or rejection emanate from the publisher to the manuscript owners.
A constructive and co-operative interaction between the author and his publisher is sine qua non to successful publishing.  Book publishing process involves the acceptance or acquisition of a manuscript, its editing, the designing of the title's appearance, the actual manufacture into book form, the distribution of the book to book sellers and the books ultimate purchase by readers.  All these demonstrate the imperativeness of collaborative and communicative roles among various personnel and departments in the profession and business of book publishing.  The relationship between the publisher and the author who is an external person is very important.
This relationship should be incorporated in the basic code of professional practice in the Author-Publisher relationship in the following areas:
Publishing Contract Agreement
Positive communication is used in the agreement between the author and the publisher as open communication is the cornerstone of the relationship.  Before the contract is drafted, the publisher should ensure that all the terms and other special features are understood and agreed by the authors.  If the content of the agreement is not well presented, the author may have a problem understanding it.
Publishing contract agreement is normally prepared by the publisher to be signed by both parties.  No standard publisher and no enlightened author will go ahead with the publishing process of a book without first getting the relevant documents signed.  This involves a communication process of encoding and decoding the contents of the contract.  Whichever way one looks at it, the decision by an author not to sign a contract with his publisher on his book is rather of foolishness than of ignorance.  If the book turns out to be a huge success, the author may be the big loser should there be any future misunderstanding as a result of communication failures or any kind of misunderstanding (Areo, 2009)
In the publisher-author interaction, it must be ascertained that the author's manuscript is original (not plagiarized), does not contain defamatory, and libelous or unlawful matter. The publishing contract must be clear, precise, unambiguous and necessarily comprehensive. The message contents of the contract agreement should be honoured by both parties in both the letter and the spirit.  Publishing contract is a written communication form, and therefore must pay adequate attention on certain principles of necessity. The essentials of every good written communication are principles of unit, coherence and emphasis.  These principles along with other essentials of effective communication, like language, planning and organization make the written communication effective (Hasan, 2014:32).
Cancelation of Contract
The publisher must not cancel a contract without a good and proper reason.  The reason(s) must be properly communicated to the author in very polite language.
Copyright Ownership
Book publishing today rests on copyright.  In general terms, copyright is a form of protection, giving authors legal proprietorship (ownership) to their work.  It establishes their work as their personal, exclusive property; and because it is their property, they have the absolute right to sell or license it to other or not  (Clark, 1991).
The copyright system has developed over the years as a means of protecting creative people such as authors and their work.  Thomas (1989) has classified the purpose of copyright as two-fold: first, to encourage creative people to produce works of culture, and second, to produce incentive for the dissemination of these works and this is achieved by allowing the author the exclusive right to exploit his work in material forms.  The author's right to exploit his work in material form is exercised through his publisher who undertakes the production, marketing, sale and distribution of such work and from the proceeds of which the author earns a living from royalties.  The publisher should therefore give the author an opportunity to own the copyright.  If there are good reasons for otherwise, the publisher must communicate the reason(s) to the author.
Revision of Rights
The contract should be set out in reasonable and precise terms for the revision of rights when it becomes necessary.  This must follow a due and professional process of consultation and communication.  In the author – publisher relationship, communication is an essential ingredient for effective and result–oriented performance.  Both the publisher and the author must use ideal communication strategies in directing or appreciating the efforts of the other towards the achievement of results.
Sharing in the success of the Published Work
To publish is commonly defined as to make public.  Unless there are ideas that will be interesting or useful to the target and general readers, and is presented in ways that the readers will accept, there won't be any point for publishing at all.  The publisher must therefore give the author a proper opportunity to share in the success of his work.  Reasons for failures on the other hand should be properly communicated to the author.
Handling of Manuscripts
The processes and stages of book publishing would be impossible without the manuscript. For this reason, therefore, the publisher must handle manuscripts with care, work assiduously and keep the author informed of progress of work.  Publishers retain the freedom to communicate rejection of manuscript at will, any manuscript submitted by the author that does not conform to a reasonable extent in nature, scope and style to the specifications as not professionally competent.  However, a friendly and professional publisher should sent the author a beautiful letter of rejection, to mollify his frustrated writer.  The truth of the matter is that no writer wants rejection!
Timetable for Publication
The publishing contract must set out to achieve the anticipated time table for publication.  This should be graphically communicated to the author.  However, should there be any disruption of the timetable from the publisher the author must be communicated with the reason of the disrupted.
Risk bearing
Both the author and the publisher are risk bearers in the book publishing enterprise.  The author bears the risk of outright rejection of his manuscript.  A good editor should be very polite and sensitive when rejecting a manuscript.  This is because of the emotional attachment an author has to his work.  Another foreseeable risk is that of plagiarism.  The publisher should be willing to share with the author precautions against piracy and against legal risks not arising from the over sightedness of the author or his representative.
Royalty Payment
This is the payment made by a publisher to an author which amounts to a percentage of the revenue received after the sales of the author's book.
Royalty payment due to authors is a very sensitive issue and therefore must be treated with utmost care.  Issues regarded must be communicated to the author through the medium of print.  Alimole (2005: 73) suggested the following questions as issues that must be given adequate communicative considerations in this regard:
1. Are the royalty terms contained in a publishing agreement, signed by the author and the publisher?
2. Are royalty proceeds accurately calculated, and cross checked with the publishing agreement?
3. Are withholding taxes properly computed and deducted, and paid over to the relevant tax authorities and receipts obtained and forward to the author?
4. Are royalty payments regularly made as and when due?
Royalty percentage is most of the times an issue of contention between the author and the publisher.  Authors reluctantly agree to a 'meagre' percentage of the profits realized from the sale of their books.  They generally hold the opinion that intellectual property should be worth more than a minute percentage of the profit realized.  Publishers on the other hand contend that they have to bear more of all the cost and risk of production thereby giving them the right to a large chunk of the profit. In the interaction, response and reaction between the publisher and the author, ideal communication skills must be followed.  These skills include objectivity, openness, responsibility, effective listening and comprehension.  Requests for information from the author must be treated expeditiously, cautiously and politely in a clearly defined order of priority.  The publisher must be patient and considerably practical.
Integrity of the Author's Work
Integrity is the quality of being honest and having strong moral principles.  Integrity refers to strength of trust worthiness of the publishing organization.  According to Ejiofor (1987) integrity is very important for corporate success.  Managing a two-way communication is key towards integrity building.  This is because it makes feedback possible.  Integrity is used in this work as the degree to which a publishing company adheres to the code of ethics and established laws and moral principles.  The author should be assured, through the use of an official letter that his integrity and that of his work is protected.
Revision and Amendment
The publisher should inform the author clearly about the need, and about opportunities for revision and amendment of the work in the course of production.  This consultation is important so that the author is carried along in the team work of publishing.
Remaindering of Stock
In the business of book publishing, it is important for each book being produced by a publishing company to sell in enough quantities to bring in cash, after payment of royalty percentage to the author.
Remaindering of stock is when copies of a book are left unsold when demand has fallen.   This is bad business for the publisher and poor financial expectation for the author.  The publisher should recognize that the remaindering of stock is a kill joy for the author as it may effectively jeopardize the author's royalty payment.
Conclusion
The publisher who is worth his onions must recognize the importance of co-operation with the author in the publishing enterprise is essential.  Communication is absolutely imperative in this relationship where they see themselves as partners in the publishing enterprise.  This interaction serves many goals including collective decision-making and self expression.
Some author's interest wane as soon as their work is published and they no longer care about its prospect, market, feedbacks, promotion, recommendation forgetting that the size of royalty is directly proportional to the number of copies old.  Some publishers on the other hand, especially those with a long line of publications, tend to give befitting attention to individual title, and sometimes allowing same to go into oblivion or go out of print as a result of poor market performance which might not be unconnected with the publisher's negligence in the first place.  There should be a collaborative effort between the publisher and the author to keep a cordial constructive and symbiotic relationship.  This relationship can be fulfilled only on an atmosphere of confidence, in which the author gets the fullest possible credits for his work and success.
References
Adair, J. (1988).  The Effective Communicator, London:
The Industrial Society
Adamolekun, W. and Ekundayo, T. (2007).Interactive  Public Relations.
Ibadan: Spectrum Books Ltd.
Alimole, N. (2005).  Internal Auditing and Control in Book Publishing.
In Adesanoye, F. & Ojeniyi, A. (eds).  Issues in Book Publishing in
Nigeria:  Essays in Honour of Aigboje Higo at 70. Ibadan: Heinemann
Educational Books (Nigeria) Plc.
Areo, A. (2009).  A Guide to Book Writing and Publishing.  Ibadan:  Agbo Areo
Publishers
Clark, G. (1991).  Inside Book Publishing.A Career Builders' Guide.
London:  Blueprint.
Ejiofor, P. (1987).  Management in Nigeria.Theories and Issues.  Onitsha:
Africana – Fep Publishers Limited.
Folarin, B. (1998).  Issues in Applied Communication.  Ibadan:
Stirling – Horden Publishers (Nig.) Limited
Hassan, S. (2014).  Mass Communication: Principles and Concepts.
New Delhi = CBS Publishers & Distributors Pvt Ltd.
Ihebuzor, L. (2006).  The Art of Book Publishing:  From Conception to
Consumption.  Ibadan: College Press & Publishers Limited.
Thomas, A. (1989).  A Guideline for Development of Book Industry.  In Nnaemeka,
Et al (eds) Philosophy and Dimensions of National Communication Policy.
Vol. 2. Lagos:  CBAAC
DIMENSIONS OF VENUE-ORIENTED COMMUNICATION
IN TRADITIONAL AFRICAN SOCIETY
OLATOYESE SAMSON JAYEOBA
Department of General Studies,
The Polytechnic, Ibadan, Nigeria
Introduction
Venue oriented communication belongs to one of the strands of channels of African communication systems. African Communication Systems relate to the various indigenous forms of information dissemination that are peculiar to Africans particularly in the traditional African society. This system of communication manifests in different modes and levels. It usually involves members of a particular community especially between or among individual members of a community. In most cases, it is unstructured, informal and arbitrarily initiated by individuals or groups for interactions to take place.
With the advent of Information and Communication Technology (ICT), some, especially apologists of modernity, view African communication systemas archaic, outdated and primitive (Lucky Aziken and Frank Emeni 2010:23). However, the currency of information technology has failed to push over or over-run the relevance of African communication system in today's world.If we go by the strengths of African communication systems, it renders its relevance in its ability to mobilise the rural community or residents of a particular society for deliberations on issues germane to community development. This reminds the reader(s) of the traditional minister of information known commonly as the "town crier" who at beck of the village traditional head, informs the community of the certain decision(s) which may warrant them converging at specific venue(s) (village square) for further deliberation.Traditional communication system, therefore, is prone to the people of the community. It has the advantage of mobilizing, enlightening, informing, educating and perhaps conscentising the people towards achieving certain goals for community development.
Venue Oriented Communication
In discussing venue oriented communication, two key words are germane-  'venue' and 'communication'. A venue relates simply to a place.Macmillan English Dictionary (2009) sees a venue as a "place where an activity or event happens". If we go by this definition, it supposes that a venue is everywhere since everywhere is a place. However, the most recurring word here is the activity that goes on in such a place. This means that there must be an activity that is billed or is taking place at the venue. Thus, such places as our homes, churches, mosques, village squares, farms, schools, town halls, reception and other event centres, markets, palaces and such other places can be  considered as venues since certain activities go on there. This is in line with Encyclopedia Britanica Ultimate Reference Suite (2014) which describes venue from the perspective of law. It states that:
In law, locality in which a criminal offence or civil litigation is to be conducted. The concept of venue involves important issues of public policy in the adjudication of crimes….In criminal cases, the right to request a change of venue generally must be exercised by the accused, but the prosecution also make seek a change. The judge may disqualify himself and request a change to another court in another jurisdiction.
This definition better explains the trial cases of criminal offences in traditional African society.In Achebe's, Things Fall Apart (1958), Arrow of God (1964) for instance, the reader sees that most of the criminal cases are tried in particular venues. The villagers too often gather at the village square or market place to discuss issues affecting members of the community.
Commenting on the key functions and features of the African communication system, Aziken and Emeni (2010:27) state that it helps to mobilise the people at the grass root level towards community development and national consciousness". This view of the authors here concurs with Dermis (1975) Des Wilson (1987) Elaine Ayensu (2003) and DalhatuMuhammed (2014) that traditional system of communication is central to community development, cultural heritage, entertainment, unity and intra and inter-cultural cohesiveness. For instance, Aziken and Emeni (2010) submit that: "…traditional system of communication serves as a source of cultural, political, health and other educational and enlightmentprogrammes for the masses leading them towards self-actualization and national development" (27)This implies that traditional communication system is a key element or source of progress among community members. Anso-Kyeremeh (1998), similarly shares the opinion that African traditional system by nature of its emergence, form and integration specifically to a culture, serves as a channel for messages in such a way and manner that requires the utilization of values, symbolism, institution and ethos of the host culture through its unique qualifier and attributes".  The implication of this, therefore, is that the indigenous communication appeals to the utilization of common values required to promote the collective interest of the people.
Des Wilson (1987:89), believes that the tradition system of communication is not only limited to the rural areas. He believes that the indigenous communication system even operates in urban centres which have accepted to manipulate western media system for the purpose of enhancing the socio-economic development of these areas. Thus, some methods of communication which hitherto belonged to the traditional system no longer operate have made it possible to create the contexts of them (89-90).
From the above submission, first, it is evident that traditional communication system also takes place in today's urban centres. Second, some of the activities peculiar to traditional communication system may have lost some touch and relevance due to, perhaps, certain contexts in today's technological growth especially in urban centres. For instance, while it is applicable to employ the services of the town crier to summon the people to a particular venue for a meeting in the rural traditional settings, the advancement of technology such as mobile phones can be used in urban centresthrough text messages to summon or invite people to a venue for a particular activity.
However, Elaine Ayensu (2003) while examining the influence of technology in communication and culture in Ghana warns that, "Although the underlying correlation between Ghana's technological predisposition and technological advancements is positive…, it is important to note that there are downsides to unguarded increasing technological advancement. One of the major disadvantages of the increasing influx of technology is that if care is not exercised, there will be loss of local culture"(17).
Ayenson's caveat above is apt if we consider the fact that many young Africans today indulge in anti-social behaviours through the platform of the mass media such as the habit of watching pornography, advance fraud (419) or the "yahoo boys", online betting among other negative practices of the youths and even adults in today's mass media advancement.In traditional African culture and communication, information is usually controlled by the chief or head of a clan (Ayensu 2003:18), information through the technologically driven mass media is not censored. Ayensu(2003) laments further that "many of the youth are abandoning their local culture in attempt to be like what they see especially on the television"(8).
Communication
Communication can be seen as a means of passing information from the sender to the receiver. The National Open University (2011:2) considers communication as a process by which a sender gets information to the decoder. Thus, it relates to contacting, relaying, and transferring of ideas, news, secrets, messages, orders, instructions and other pieces of information from a person, people, groups and communities to others.
Macmillan English Dictionary (2009) describes communication as "the process of given information or of making emotions or ideas known to someone". From the above perceptions of communications, it means that communication involves: (1) The source (where the information originates); (2) the medium (the process or medium through which the information is showed); (3) the audience, the person/groups/peoples who receive(s) the message); and (4) the feedback (the response of the receiver to the message). This implies that communication becomes meaningful when all the processes listed in 1-4 above are reached. Perhaps this agrees with I.A. Richards, the English literary critic and author cited by Encyclopedia Britannica (2014) that:
Communication takes place when one mind so acts upon its environment that another mind is influenced, and in that other mind an experience occurs which is like the experience in the first mind, and is caused in part by that experience.
This submission by I.A. Richards though sounds complex is central to all forms of communication because it highlights the power of communication to influence the mind (people) to respond towards the community's interest. Meanwhile MacBride et al(1981) lists the various functions of communication to include:
1. Information;
2. Socialization;
3. Motivation;
4. Education;
5. Cultural promotion; and
6. Entertainment
Julia Wood (2004) sees communication as a "process in which individuals interact with and through symbols to create and interpret meanings". This presupposes that interactions and meanings are central at different dimensions of communication. At least there is a transfer of thought as a major component of communication. This is also evident in Ayodele and Jayeoba (1999) quoted in Jayeoba (2016) who define communication to mean:
The transmission of a message, an idea, a thought, a code, an information, an attitude or feeling from one known as the sender, the encoder or transmitter to another person known as the receiver or the decoder through the use of agreed symbols in such a way that the idea, message is received, acted upon and a feedback is given (10).
The foregoing recognizes the psychological and emotional dimensions of communication alongside critical elements such as transmitter (encoder), receiver (decoder) and the message.
Communication can be categorised into verbal and non-verbal communication. Verbal communication includes verbal and spoken language; songs, poetry, chants and incantations (Ibagere, 1994). In other words, this mode of communication is expressive, based on the word of the mouth spoken verbally from a source to the receiver. This may include when one talks, sings, cries, chants, discusses with others.
Non-verbal Communication on the other hand include body language such as dance music making signs, dreams. It is the communication through other means apart from the use of words Wilson (1998) grouped some of the non-verbal mode of communication into six classes which include: Instrumental, Demonstrative, Iconographic, extra-mundane, visual and institutional. Ansu-Kyeremeh (1998: 185-187) having examined the intra-village patterns of communication further includes venue oriented communication; events, games and performance oriented mode of communication. Akpabio (2003), however, harmonized the different communication modes by arriving with ten classifications:
1. Instrumental communication
2. Demonstrative communication
3. Iconographic communication
4. Extra-mundane communication
5. Visual communication
6. Institutional communication
7. Venue-oriented communication, structures and features
8. Myths and legends
9. Names as communication
10. Folktales and proverbs
While this work appreciates the classification of different communication modes by Akpabio (2003), the focus of this paper is majorly on venue – Oriented Communication and its features. Having examined to a considerable argument the meanings of "venue" and "communication", it is pertinent, therefore, to examine what venue oriented communication means or implies.
First, it is worth saying that venue-oriented communication belongs to one of the channels of communication in African communication system. It simply can be seen as different levels of communication or the kinds of communication happening at certain venues certain places or venues may determine the type of communication that will take place there.
While identifying venue oriented communication as a kind of traditional African communication,Odunola and Segun (2009) state that there are some kinds of communication that are limited or permitted in certain places. This means that while it is possible to chat freely, joke or laugh in certain places such as a drinking joint, such level of communication and not advisable at a mourning place or while in office context. Just as it is not acceptable to utter certain words in worship places, it is possible to utter such words in other places with no reservation. This is because vulgarism is an aberration in worship places.DalhatuBala Muhammad (2014:88) says "it is permissible to make must of people on sensitive issues without the affected part taking offence if the venue is appropriate. Perhaps, this could be accountable for the submission of Oduduwa University (2011-17) African Communication System that "venues are also instruments of communication,… as "Different venues connote different meanings. This presupposes that venues are non verbal codes for certain types of communication. The other words, as an instrument of communication, venues play major role in determining how much of what we say or what to be said at different places. Similarly, places like worship centres, shrines, market places, palm wine joint, village squares, kings palaces, courts and so on can shape our level or style of what we say.
Dobo (1966) identifies two major categories of venue oriented communication to include geographical and social venue oriented communication. The geographical venue oriented communication relates to the place(s) of an event Muhammad (2014) states that geographic implies the movement of people to the place of event and the communication taking place there". Such places according to Muhammad (2014) are:
Market place;
Play ground;
Stream; and
Wells
Muhammad (2014) further submits on the geographical venue oriented communication by concluding that:
This medium can also be likened to the "unstructured" channels such as home, near the wells, on the fields on the road, in the tea house and other places where spontaneous and informal exchanges occur …… these medium of indigenous communication has adapted well to contemporary times and is very relevant especially in diffusion and adoption of innovations.
The medium also exists infairly similar manners in all indigenous communities and across cultures (88).
Muhammad's submission above is a mild acceptance that innovation and perhaps technology currently rub off on these medium of venue oriented communication in line with current reality of contemporary socio-cultural existence.The social venue oriented communication can be perceived as organized and spontaneous social gathering at a venue for particular event(s). This may include town or village marriage ceremonies naming, house opening, annual festivals, burial ceremonies which attract small and large participants from neighbourhood or far away palces. The National Open University while referencing Ogwezzy (1999) states that other social gatherings include town or village festivals, marriages and circumcision feasts, naming, House warming of new houses, public meetings and trials, propitiatory assemblies, open quarrels, disputes and several other aggregatory events which characterize African way of life (29).
This is an indication that social gatherings are tied to specific places for communicative function between or among the people concerned.Primarily, at individual or group level, communication occurs in places (venues), such as club house(s), villages, town halls, play grounds, homes, road, and beer parlours open market places and so on.The function of venue oriented communication therefore is synonymous to the advantages or benefits associated with venue(s) and communication as Siamese twins in the dissemination of information or performance of various communication codes.
First, venue oriented communication as indigenous channel of communication helps to provide a convenient point for friends, family members' peoples to meet and interact. For instance, issues involving community members would have to be discussed at a particular place such as the village square or the community or town hall.Second, if we consider road as a venue in communication, we discover that it provides the means for people to reach out to others. People travel/journey on road to attend programmes where they communicate with one another. Similarly, in traditional or contemporary societies, some people may decide to meet at specific road probably on their trekking to farm, river or market to interact over a subject matter. Today, we hear people in such utterances like: "let's meet at the junction "or" the road to the junction". This shows that the road thus, provides the platform for persons to exchange information.Third, using rivers as a physical channel of communication in Africa, its apparent that individuals sometimes meet a particular river side to bathe, wash clothes and even communicate with one another.Four, the market as a venue in African communication, system performs certain significant roles. First, even in rural or urban centres, the market functions as a venue for buyers and sellers as well as visitors from distant places to meet for buying and selling. It is a powerful instrument of drawing people from far and near for the purpose of exchanging information. The National Open University (2011) concludes that:
Information is made available by buyers and sellers who have come from other communities about current happenings in their own communities. They in turn go away with information on about events in the community where the market is taking place. It is, therefore, not uncommon to see people waiting patiently for the market day to clarify rumours or other types of news about happenings in other communities around them (29).
The function of the market as detailed above validates markets as a venue for the exchange of information beyond buying and selling. Also, the home as a venue in indigenous communication system, commands interest in the examination of the functions of venue oriented communication. First, it is a place of abode where family members live. While at home other function such as cooking eating, praying, reaching and other forms of communication go on.
Besides the aforementioned venues used in projecting the function of venue oriented communication, it is noteworthy that other venues where communication takes place for different functions and purposes also exist. Such places include the village square, town halls like. Also, venues help serve as a point of social cultural entertainment, intra and inter-cultural communication purposes, cross fertilization of ideas, mobilization as much of these activities happen at different venues.
Classification of Venue Oriented Communication
Though earlier in the study, the classification of venue oriented communication has been mildly suggested to include geographical and social categories of venue oriented communication which basically are unstructured channels of communication we, can further classify venue oriented communication based on the following types as highlighted by Oduduwa University (2011):
1. Religious venue:
2. Mosque
3. Church
4. Shrine
(2)       Residential venue:
(a)        City: Ibadan, Lagos, Kano etc
Town: Oyo, ogbomosho, Ilorin, Ikoroduetc
Village: Aguo, Eleke
(3)       Political/Administrative Venue:
(a) Palaces
(b) Courts
(c) Secretariats
(4)       Business/Transactional Venue:
(a) Workshops e.g. Blacksmith, Pottery
(b) Banks e.g. Eesu, Ajo
(c) Markets e.g. Akesun, Bodija
The classification above, however, excludes educational venues such as schools, classrooms, and moonlight tales under trees, libraries, picture galleries, cultural centres and the like.
Having examined the venue oriented communication as a medium of African communication system, it is important to know that it is not without its limitations. Much of the limitation, however, relates to some of the major constraints facing African communication system such as tribal based, perception of certain venues of communication as evil and anti-social behavior centuries. Such places with evil perception are the shrines, Palmwine joints, beer parlours, rivers and so on.
Summary and Conclusion
Venue oriented communication is one of the channels of African communication system. Certain communication can only take place in certain venues while it is not permissible in others. Venue oriented communication can be geographically or socially based. Major places as venues for exchange of information in communication are homes, schools, markets, rivers, shrines, village squares, palaces, courts palmwine joints among others. Venue oriented communication is, therefore, central to African communication system as virtually every facet of human interaction takes place at certain venues.
REFERENCES
Akpabio, E. (2003). African Communication Systems An Introductory Text. Lagos: Blueprint publication.
Dalhatu B.M. (2014) "Indigenous Communication Media Technology and their Relevance in the 21st Century "in The International Journal of Humanities and Social Studiesvol 2.Issue 5.Pp 85-89.
Des, W. (1987). Traditional systems of Communication in Modern African development: An Analytical Viewpoint in African media Review vol. 1. No 2 pp 87-104.
Elaine, A.A. (2003). Communication and Culture in Ghana: Technologies Influence and Progress in new Digital age. A Thesis submitted to George town University, Washington D.C.
Jayeoba, O. S. (2016). Essentials of Communication in English for Professionals and Colleges. Ibadan: Rejoice Global Concept.
Lucky C.A. & Frank, C.A.E. (2010)."Traditional Systems of Communication in Nigeria: a Review for Improvement in Knowledge Review Volume 21 No 4.
National Open University (2009).African Communication Systems 1. Abuja: National Open University Press.
Oduduwa University (2011). African Communication System Lagos: Oduduwa University Press & Publication.
Odunola, O. and Segun, O. (2009). The relevance of indigenous communication system to national development" in babcock Journal of Mass Communication.
ENGLISH GRAMMARFOR EFFECTIVE COMMUNICATION
GRACE OLUTAYO PH.D.
Bowen University
Iwo, Osun State, Nigeria
Abstract
Grammar, as an aspect of English language has always been problematic for second/foreign language users. This is due to the many rules and exceptions which do not exist in their indigenous languages. This paper, therefore, seeks to examine the use of grammar for effective communication, especially among those to whom English is either a second or a foreign language. Emphases are placed on identification and contemporary usage of Parts of speech, using adequate examples to bring them closer to the readers. Other essentials of grammar discussed in the paper are: concord/agreement and tenses. It is our belief that adequate knowledge of these would greatly improve the competence and performance of our readers in the English language.
Key words: Grammar, second/foreign language, effective communication
INTRODUCTION
It has always been difficult to pin down the concept of grammar to a particular definition; classical theorists and philosophers viewed the study of language (e.g. Latin and Greek) as grammar. This is why they were referred to as 'Traditional' or 'Classical' grammarians.  Nigerians have also been known to refer to the overall quality of language as 'bad' or 'good' grammar.  When high sounding words are used in speeches or texts, we often refer to them as 'big grammar'.
However, grammar simply refers to the structure of a language, i.e. how words are stringed together to form meaningful sentences. The grammar of a language could also be said to refer to statements about the rules of usage (Sogbesan, 2001). A more modern concept of grammar refers to a set of rules which can be mechanically applied to generate all possible well-formed sentences.
The grammar of a language is also said to represent the speaker's linguistic knowledge of his language.  It describes what the speaker does when he speaks his language (Odumosu, 2001).    The study of grammar can be classified into two major categories of traditional grammar and the modern grammar. The traditional grammar is prescriptive in nature. It prescribes how a language should be spoken or written.  Its major focus is on the definitions of the eight parts of speech which are noun, verb, adjective adverb, pronoun, preposition, conjunction and interjection.
The modern grammar is majorly descriptive. The descriptive grammar describes the way people actually speak and write their language. Linguists these days focus on the descriptive grammar.  Systemic Grammar and Transformational Generative Grammar are outcomes of modern grammar.  Systemic grammar often demonstrates how the forms of a human language or variety of language can be related to its social functions.  It deals with the description of varieties of language which depend on social situation, registers and social dialects (Odumosu, 2001).
Transformational Grammar is concerned with well- formedness, of a sentence syntactically, semantically and phonologically; it distinguishes between the grammatical sentences and ungrammatical sentences. A sentence is grammatical when it is accepted as well-formed by native speakers of the language.
In this chapter, we shall concentrate on the elements of basic grammar that early learners of English will need for effective communication in speech and writing. Students and users of English language in general need a good knowledge of the various parts of speech and how these are strung together to form meaningful word groups such as phrases, clauses and sentences.
Parts of Speech
There are eight parts of speech in English Language.  Every word in the English language falls into one of these parts of speech and it is used according to the function of the particular part of speech to which it belongs.  Parts of speech are also referred to as 'Word Classes' which indicates that the words used in languages are classified into groups in terms of structure and function.
The parts of speech in English are Nouns, Pronouns, Verbs, Adjectives, Adverbs, Prepositions, Conjunctions and Interjections. We prefer to follow the systemic grammar in our discussion, therefore we shall not be concerned with only the definition but also the functions of these parts of speech in our immediate environment i.e. our society.  We shall take them one after the other.
Nouns
A Noun has been traditionally defined as a name of a person, place animal or thing.  However, the definition goes beyond that, a noun is a word that denotes persons or concrete objects.  It is often used to identify people, places or thing.  Huddleston (1990) asserts that the noun characteristically functions as subject or object in the clausestructure and refers to the participants in the situation described in the clause, to the actor, patient, recipient and so on.  Nouns belong to the open class items because they can accommodate new members as new words are introduced into the language everyday.
There are four kinds of nouns- common, proper, abstract and collective nouns:
Common nouns are nouns that refer to any example of people, places, animals or things.
Examples of words referring to people are:
doctor, lawyer, actor, soldier, teacher, cook, singer, nurse, dentist, aunt, brother, artist, clown, engineer etc.
Examples of common nouns used for animals are:
eagle, zebra, deer, goat, bird, cat, lion, cow, crocodile, shark, whale etc. Examples of common nouns for places are:
school, eatery, beach, park, shop, hospital, stadium, church, mosque, island, market, mountain etc.
Examples of common nouns for things are:
bed, cake, drum, blanket, window, door, food, watch, dress, bag, radio, bottle etc.
Common nouns are further subcategorized into two: Count nouns and Mass nouns.  Count nouns refer to objects that can be counted like tables, girl, bottles, cars, actors etc. while mass nouns are used to refer to things that cannot be counted like water, oil, sand etc. They are also known as uncountable nouns.  Although these items cannot be counted, they can be expressed in quantities.  Therefore, in place of 'one water' or 'a sand' we can say 'a bottle of water' or 'a little water' and 'a lorry load of sand' or 'much sand' respectively.
Other examples of common nouns are: house, pen, flower, dog, hat child, book, car, lamp, etc.
Proper Nouns
Proper nouns are names of particular persons (Shade, Tolu, Leke, Musa, Florence etc) countries and their people (America, American, Nigeria, Nigerian, Italy, Italian, Ghana, Ghanians) states (Oyo, Lagos, New York, Los Angeles, Adamawa) cities(Akure, Jos, Makurdi,Calabar, Enugu, Ibadan), towns (Iwo, Umuahia, Ikere-Ekiti, Ilesa, Ughelli, Daura) buildings (Cocoa House, Aso Rock, Governor's Lodge, ) months ( March, April, November) and days of the week (Monday, Tuesday, Wednesday). Festivals, some special events and holidays (Christmas, Valentine day, Independence day. Names of mountains, rivers and seas such as Mississipi, Niger, Kilimanjaro, Everest, Atlantic ocean, Pacific ocean are also proper nouns. Proper nouns always begin with capital letters. It would be ungrammatical and out of place to begin the name of a person, country, state, city, town, month, day of the week with the small letter.  In addition to this, there is usually no distinction between their singular and plural forms.
Abstract Nouns
Abstract nouns are used to refer to qualities, ideas and actions which do not have material existence; that is, they do not have physical forms e.g. 'beauty', 'sadness', 'justice', 'speed', 'truth', 'courage', etc. The idea that abstract nouns cannot be seen, or heard is no longer acceptable because some abstract nouns can be seen e.g. 'beauty', 'speed', etc. others like 'intelligence' and 'truth' can be heard.
Concrete Nouns
These are the opposite of abstract nouns, they are objects that can be touched or seen because they have physical forms e.g. book, building, chair, spoon, etc.
Collective Nouns
Collective nouns are words which are normally used in the singular but have a plural sense; this is because they are often used to represent a group of people or things which are similar, e.g. a bouquet of flowers, a crowd of people, a spectator, a herd of cattle, a collection of books, a school of fish, a bunch of keys etc.
Functions of Nouns
Apart from naming things, people and places, nouns also perform other functions like the subject of a verb, the object of a verb, and complement of a verb in a sentence.
Examples:
Bola performed brilliantly in the examination.
Kemi loves her mother.
In these two examples, 'Bola' & 'Kemi' function as subjects of the verbs 'performed' and 'loves' respectively.
Ade killed a snake.
Lola swept the classroom.
'snake' and 'classroom' are objects of the verbs 'killed' and 'swept' respectively.
Bimbo is a lawyer.
Mr. Araoye is our new principal.
In the examples above, 'lawyer' and 'principal' function as subject complements.
Plural formation in Nouns
Not all nouns follow the same process in forming their plurals; some nouns like 'advice', 'luggage', 'information', 'water', 'furniture', etc. have no plural forms.  Proper nouns also exist only in singular forms.
Some nouns form their plurals by simply adding's' e.g.
Boy      boys
House   houses
School   schools
Ear ring             ear rings
Others like nouns ending in 'x', 's', 'z', 'sh', 'ch', 'o', 'sh' and 'ch'  form their plurals by adding 'es'
Box                   boxes
Bus                    buses
Hero                 heroes
Brush                brushes
Branch                branches
Nouns that end in 'f' change the 'f' to 'v' before adding 'es' e.g.
Knife      –   knives
Wife       –    wives
Thief     –    thieves
Some other nouns ending in 'f', 'e' and 'o' however, take only 's' e.g. chief, roof, safe, strife, radio, piano, studio, etc. become 'chiefs', 'roofs' 'safes', 'strifes' 'radios', 'pianos', 'studios'.
Nouns that end in 'y' take 'ies'after the 'y' has been deleted e.g.
Baby    –           babies
Army   –           armies
There are some nouns with natural plural forms e.g. news, economics, physics, mathematics, measles.
Nouns like spectacles, knickers, scissors, and pants are used only in the plural forms. Whenever the need arises for their singular forms, the expression 'a pair of' is used to accompany them e.g. a pair of scissors, a pair of spectacles, and a pair of trousers.
Some nouns do not have singular versions at all e.g. environs, headquarters, areas, premises, stairs, surroundings.
Nouns like 'man', 'woman', 'foot', 'goose', 'tooth', 'mouse' form their plurals by changing the middle vowels ('men', 'women', 'feet', 'geese', 'teeth', 'mice'). Others form their plurals by adding 'en' e.g. 'ox-oxen'; 'child – children'.
'Counsel', 'deer' 'sheep' 'antelope' have the same form for singular and plural.
Foreign words which have been borrowed into English language retain their original plural forms e.g.
Datum –           data
Nucleus           –           nuclei
Phenomenon   –          phenomena
Criterion          –           criteria
Crisis               –           crises
Formula          –           formulae
Compound nouns form their plurals in three different ways:
(i)                 The  first word in the compound changes to plural while the second does not e.g.
brother –in-law    –   brothers-in-law
attorney-general         –   attorneys-general
passer-by                    –    passers-by
(ii)               The second word in the compound changes to plural while the first word does not e.g.
Female-doctor –           female-doctors
flower vase                –           flower-vases
bookshelf                   –           bookshelves
girlfriend                    –         girlfriends
(iii)             Both the first and second words in the compound change to the plural e.g.
Husband-snatcher                  –           husbands-snatchers
Man-eater                               –           men-eaters
Woman-friend                       –           women-friends
Child-killer                             –           children-killers.
Pronouns
Pronouns are words used in place of nouns in sentences. Most times they are used to avoid monotony and unnecessary repetition.  Pronouns also share the same properties with nouns as they reflect case and gender.  They perform the same function as nouns especially, the personal pronouns.
Kinds of Pronouns
There are several types of pronouns.  They are: personal pronouns, possessive pronouns, reflexive pronouns, relative pronouns, demonstrative pronouns, indefinite pronouns, and interrogative pronouns.
Personal pronouns refer to persons or things; they are grouped into first, second and third person's pronouns.  Below is a list of personal pronouns:
I
You
He/she/it
We
You
They
These ones function as subjects of verbs while their counterparts function as objects because they usually occur after verbs. Those that function as objects are:
Me                              Ade slapped me
You                             The teacher gave you some money
Him/her/it                   I carried her
Us                               He carried us in his car
You                            He taught you nouns last week
Them.             The policeman arrested them
Possessive pronouns
Possessive pronouns are used to indicate possession.  They are also in two forms: one form comes before the noun while the other form comes after. The one that comes before the noun     is known as attributive possessive e.g. My book. Those that come after the noun are known as independent possessive.
The book is mine.
My                  mine
Your                yours
His/her/its        his/hers/its
Our                  ours
Your                yours
Their               theirs
Reflexive Pronouns
These pronouns end in 'self' or 'selves'. They often appear in the object position and they are meant to refer to the same thing or person as the subject. They are: myself, yourself, himself, herself, ourselves, yourselves.
Examples:
She drove the car herself when her driver left her.
The students would have to help themselves.
Relative Pronouns
Relative pronouns are used to introduce relative clauses. They perform the work of a pronoun and of a conjunction as they sometimes stand instead of a noun and at other times, they join an adjective clause to another clause in a complex sentence. They are:  'who', 'which', 'that', 'whom'; 'that', 'which', 'who', are nominative while 'whom', 'that', and 'which' can be found in the objective case e.g.
I met the girl who won the contest (nominative).
This is the boy whom I met on Friday (objective).
Demonstrative Pronouns
These are pronouns which are used to point out or distinguish people or things.  They are not accompanied by nouns when used, if they are used; with nouns, they become demonstrative adjectives.  Note that demonstrative pronouns do not make distinction of gender. Examples are 'this', 'these', 'that' and 'those'.
This is the man
That is the book I told you of.
Indefinite Pronouns
These pronouns do not stand for any specific person or thing.  They refer to things in a vague way.  They are:  anything, something, nothing, somebody, nobody, everybody, each, all, everything, anyone, no one, and everyone.
Examples:
Nobody took the money.
Somebody won the election.
It is for everybody.
Interrogative Pronouns
They are used to ask questions.  They have attributive determiner function e.g. whose, which, who, e.g.
Which is the dress you washed?
Whose is the pen?
Verbs
A verb is used to express an action or a state of being.  It is also used to express processes and events.  A verb is very important in a sentence as no sentence makes meaning without a verb.  It is also the only obligatory element in a sentence.  Examples of verbs are: jump, cook, is, walk, sleep etc.
There are two main types of verbs; they are lexical/main and auxiliary verbs.  Lexical forms have meanings in themselves, they are used as predicators in sentences and they are found in six forms:
the base form    – the original form of the word e.g. drive
the base +'s' suffix e.g. drives
the base +'ing' suffix e.g. driving
the base +'en' suffix e.g. driven
the base +'ed' suffix e.g drove
the base +to infinitive e.g. to drive
Irregular verbs use new forms to express the past and participial forms. e.g.go   –    went   –  gone
see   –   saw    – seen
come  –  came   –  come
Finite Verbs
Finite verbs reflect tense, number and person. They are often found in the present and past tense.  The present tense has two forms – the simple form and the 's' form e.g. love – loves.  The simple form is used with the first and second persons while the's' form is used with the third person.
Examples:
I love sugar.
She loves sugar.
They love sugar.
Non-finite verbs are not affected in anyway by tense, number and persons.  They are used with auxiliary verbs.  Non-finite verbs have three forms that reflect aspect.  These are: the 'ing' participial, the 'en' participial and the infinitive form e.g.
Shade has gone home.
She is going home.
Transitive Verbs
A transitive verb is a verb that denotes action and requires an object to make meaning.  Verbs that take only one object are called Monotransitive while those that take two objects are known as Ditransitive. One of the objects has the action of the verb done to it and the other of which has the action of the verb directed towards it e.g. I sent Jane a letter. e.g.
Tolu kicked the ball.
Bimbo gave Shola a gift.
The verbs 'kicked' and 'gave' in the examples above are transitive verbs.
Intransitive Verbs
These are verbs that do not take objects because the actions involved are not directed towards a participant. Such verbs are often followed by adverbs e.g.
She dances well.
Tolu laughs hysterically.
Stative and Dynamic Verbs
Stative verbs are verbs that express states of being or emotions. They are often used to refer to unchanging conditions e.g. believe, differ, belong, understand, know, etc.
I believe in God.
Tolu belongs to the world of grammar.
Dynamic verbs on the other hand are capable of reflecting progressive actions by the use of continuous tense with the auxiliary verb "Be' Examples of dynamic verbs are: dance, write, and speak etc.
The children are dancing.
We are writing.
Auxiliary Verbs
Auxiliary verbs are generally referred to as helping verbs.  They always help the main verbs in the construction of meaningful sentences.  Auxiliary verbs are categorized into two – Primary auxiliaries and Modal Auxiliaries.
Primary Auxiliaries
There are three Primary auxiliaries namely 'Be', 'Have' and 'Do'.  However, the three can be realized in various forms. For example, the verbs 'Be' has the following forms.
'be', 'to be', 'is', 'was', 'are', 'were', 'been' and 'being'.
The various forms of 'be' are used with the present tense and the present participle (ing) to express a continuous action e.g.
The baby is crying.
The students have been fighting since yesterday.
Sometimes, when they are used with the infinitive form, they are meant to express an obligation or a command e.g.
You are to come along with your birth certificate.
Have: The various forms of 'have' are: 'to have', 'have', 'has', 'had' (past) and having.
This auxiliary verb performs two main functions:
1. to express an obligation e.g.
The teacher has to come to class regularly.
2. When it is used with the negative form, it expresses lack of obligation or necessity e.g.
Prelim students don't have to pay departmental dues.
'Do': The different forms of the auxiliary verb 'do' are 'to do', 'do', does, 'did'-(past) doing, 'done'.
'Do' in any form can be used to express emphasis:
I did give you the money.
It is also used to ask question e.g.
Do you have some money on you?
It is used in forming negative construction e.g.
Goodness did not do his homework.
Primary auxiliaries can also be used as main verbs in sentences:
She is a teacher.
Dele has a new car.
I did my assignment yesterday.
Modal Auxiliaries
The modal auxiliaries in English are 'can', 'could', 'will', 'would', 'may', 'might', 'ought', 'used to', 'dare', 'shall' and 'should'. They are used to express mood, ability, obligation, etc. They do not occur alone in sentences but with lexical verbs. 'Can' is used to express ability e.g.
My mother can read and write.
The past form 'could' is used to express polite requests:
Could you pass the salt, please?
When 'can' is used with negation, it expresses prohibition:
You cannot serve two masters.
'May' is used to express probability or possibility:
I may be in your house tomorrow.
It is also used for making informal requests e.g.
May I have the cup please?
'Might' is the past tense of 'may'.  It is sometimes used in making suggestions or requests e.g.
You might be arrested for driving without a driver's license.
'Ought' expresses a moral obligation but not a necessity e.g.
We ought to eat thrice daily.
It is also used to express expectation e.g.
I ought to be in class by 1.00 p.m.
When it occurs in the negative form, it expresses disapproval for a past action e.g.
She ought not to have used her phone.
'Used to' expresses a habitual action or activity in the past which has now ceased e.g.
Ade used to be a brilliant student.
'Dare' can be used as a modal auxiliary or a main verb.  When it is used as an auxiliary, it does not take the s-form or the past form e.g.
The students dare not absent themselves from the class.
The auxiliary verb 'shall' is used to express futurity. It is usually used with personal pronouns 'I' and 'we' e.g.
We shall be paid next week.
I shall give you some money tomorrow.
The past tense 'should' is used to express a piece of advice or at times compulsion e.g.
She should stay at home to take care of her children.
Ade should be there tomorrow.
It may also be used to express an unfulfilled obligation in the past e.g.
Joke should have listened to her parents.
Adjectives
Adjectives are words that give more information about nouns. They are often described as qualifiers of nouns. Adjectives are of two types – Attributive and Predicative. Attributive adjectives modify nouns. They occur before nouns while Predicative adjectives occur after the verb.
Examples:
The beautiful girl stole the show. (Attributive)
The subject is difficult. (Predicative).
Adjectives can also express comparative and superlative forms either with inflections – 'er' or 'est' or with pre modifiers 'more' and most. e.g.
thin                  thinner             thinnest
rich                  richer               richest
great                greater greatest.
Troublesome   more troublesome                   most troublesome
Brilliant                       more brilliant              most brilliant
Handsome                  more handsome                      most handsome
Some adjectives have irregular comparative and superlative forms e.g.
Many, much   more    most
Little                   less        least
Far,         further, father          furthest, farthest.
Types of Adjectives
1. Adjectives of Quality
This type of adjective has the greatest number of adjectives;
they denote some quality of the noun or pronoun they describe e.g.  'big', 'lovely', 'soft' 'brilliant'    – The baby is lovely.
2. Demonstrative Adjectives
These adjectives point out the nouns or pronouns they
describe e.g. 'this bag', 'these cars', 'that goat', 'those men'.
Possessive Adjectives
A possessive adjective tells the owner of a thing e.g. 'Her gown', 'their house', 'your book'. Most possessive adjectives are pronouns.
Interrogative Adjectives
These adjectives ask questions while they are attached to nouns. e.g.  Which dress were you talking about?
Whose money is missing?
Quantitative
These adjectives express the quantity of a thing e.g. one, two, many little, some, few etc.
Two girls were found in the class
There were many candidates applying for admission.
Adverbs
Adverbs are words that modify verbs, adverbs or adjectives. Adverbs limit, change, or alter the words they modify. They give us more information about the words they modify, for example, information on how, when or why an action or event took place.
Most adverbs end with'ly' but not all words with 'ly' ending are adverbs, some are adjectives e.g. cowardly, fatherly, sickly, etc.
One can distinguish an adverb from an adjective by studying the function a particular word performs in a sentence e.g.
Bode is sickly. The word 'sickly' here is an adjective because it       describes 'Bode' which is a noun.
Examples of adverbs modifying verbs, adverbs and adjectives are:
Bode eats slowly.
Our mother prays regularly
'slowly' here is an adverb; it modifies the verb 'eats' ( that is telling us how Bode eats).
'regularly' modifies the verb 'prays'
Some adverbs are used to modify other adverbs. Examples of these are:
He ran very fast
She visits the orphanage too frequently
The underlined words are both adverbs- 'very' modifies 'fast', while 'too' modifies 'frequently'.
Here are some of the words that can be used as adverbs in front of adjectives:
extremely, somewhat, a little, completely, really, tremendously, very, too, particularly, especially, perfectly, unusually etc.
Tolu is unusually quiet today
This is really good
The underlined words in the examples above, 'unusually' and 'really', are adverbs modifying the adjectives 'quiet' and 'good'.
However, some adverbs have simple forms; they do not end in 'ly' e.g. 'well', 'here', 'just', 'soon' etc.
A few words can be used as adverbs or adjectives. Three examples of such words are early, fast, and late.
The guests arrived early. (adverb)
It was an early rain. (adjective)
Samson drives fast. (adverb)
Samson is a fast driver. (adjective)
A student is late. (adverb)
There is a late student. (adjective)
Some words can only be used as adverbs, never as adjectives. The only way to remember these words is to memorize them, and learn to recognize them in sentences. They are:
Well, often, quite, surely, very, not, almost, never, always, so (He was so happy.) and usually.
Types of Adverbs
About 11 types of adverbs have been identified by scholars; they    are:
(i)        Adverbs of Place (tells us where an action took place) e.g. She sat  here.
(ii)       Adverbs of Manner (tells us how an action took place) e.g. He ran
fast.
(iii)Adverbs of Reason (tells us why an action took place connecting the
cause with the effect e.g.
Shade watched films all night, hence she was late to school next morning.
Other adverbs of reason are 'because' 'since' etc.
(iv) Adverbs of Degree (tells us how well an action is carried out) e.g. very rarely, quite fairly, rather etc.
The weather is very hot
It is fairly cool in here
(v) Adverbs of Frequency (tells how often/frequent something is done)
e.g.
I seldom visit my mother.
Other adverbs of frequency are 'often', 'always', 'once', 'twice' etc.
(vi) Adverbs of Time (tells when an event/action took place) e.g.
'tomorrow', 'now', 'soon', 'today' 'last week' etc.
The conference was declared open yesterday.
(vii) Adverbs of Concession (tells us the extent to which an action is
allowed) e.g. 'though', 'even though', 'while' 'although' etc.
He was told not to play football in the house; though he could play
it in the garage.
(viii) Adverbs of Purpose (tells the use or effect of an action) e.g. 'in
order', 'so as to', 'so that' etc.
He was given some money so that he could take care of his family.
(ix) Focusing adverbs point to something e.g. especially, just, mainly, simply, largely, only, etc.
I just wanted to ask you what you thought.
(x) Evaluative adverbs are usually outside the clause. They modify the whole sentence or utterance e. g.
The electric car, surprisingly, does not really offer any advantages over petrol cars.
(xi) linking adverbs show a relationship between two clauses or sentences (e.g. a sequence in time, cause and effect, contrast between two things):
We talked until the early hours and consequently, I overslept the next morning. (cause and effect)
The sun will be shining in Maiduguri, however, heavy rain is expected in Port Harcourt. (contrast)
I left my car in the filling station, then I went to withdraw money from the ATM.
Prepositions
Prepositions are words that express the relationship between words or phrases in sentences.  Prepositions can be used to indicate time, space (point, position or direction), and different degrees of mental or emotional attitudes.  They can occur before the words they control and of other time they are found after the words they govern, especially in questions and in relative clauses.
Functions of Prepositions
A preposition is used to express movement or position along a line, across a surface or through a space e.g. to, at, on, in, away from, from…. to, back to, on, onto, off, across.
We are going from Lagos to Kano
He walked across the field.
Prepositions can also express relationship in time e.g. at exactly 12 noon, by 8:00a.m on Monday.
Prepositions refer to agency, instrument, means, purpose and topic e.g.
I have no dress to wear for the party (purpose).
The party agent was stabbed with a knife (instrument).
Mohammed will leave for Kano tomorrow (destination).
He was killed by hired assassins (agent).
Some prepositions are strongly attached to verbs that their meanings are taken as idioms e.g. take to, give up, turned down etc.
Most second language speakers of English have problems  with  the correct usage of prepositions especially as regards the position of prepositions in sentences, the differences between prepositions and adverbs particles, and the use of prepositions with conjunctions. Care should therefore be taken to learn the different expressions in which a preposition can occur.  e.g.
In the morning
On Sunday
rejoice with
apologise for
congratulate on
interested in
Conjunctions
These are words that are used in joining two words or phrases, clauses or sentences.
Types of Conjunctions
Coordinating Conjunctions:  they are used to introduce additions or alternatives to words or sentences.  Examples of coordinating conjunctions recognized in English are:  'and', 'but', or 'and'. They introduce additions to words or expressions given earlier. e.g.
Tobi and Ope are clever.
My mother was angry and she scolded us.
'But' is used to express contrast, that is, a different opinion from what was expressed earlier e.g.
Goodness is clever but very stubborn.
I have some rice but there is no stew.
'Or' is often used to express alternatives e.g.
Give him some money or foodstuff.
We also have correlating conjunctions; they are also used to express alternatives e.g.
Either Jumoke or Tinu will be at the party.
Neither the teacher nor the students are interested.
Other types of conjunctions are subordinating conjunctions. They are used to join clauses that are not of the same status, therefore, they are mostly found in complex sentences. Examples are: 'consequently' 'so', 'however', 'although', 'since', 'nevertheless', 'yet', 'because'.
Although there was no water in the house, she got the food
ready in time.
Kemi passed her exams because she prepared very well
Interjections
They are used to express emotions.  They add stronger emphasis to the expression of a feeling especially that of surprise. They have no logical meaning on their own, so they are usually seen as sounds rather than words. Interjections are usually accompanied with exclamation marks e.g. Hurry! Alas! Whao! etc.
The various parts of speech discussed above have their problematic areas which the students of English must take note of in order to avoid unwarranted mistakes.  These areas are discussed briefly below:
CONCORD OR AGREEMENT
This has to do with all the elements in a sentence agreeing in number and in person with one another to make a meaningful expression. Agreement could occur in two ways: Noun-number agreement and Pronouns-antecedent agreement.
Noun – number agreement is also known as subject-verb agreement.  This has to do with the way the subject of a sentence agrees in number with the verb.  This means that when the subject noun phrase, noun or pronoun of a sentence is singular, the verb must be singular, provided the tense of the verb is present e.g.
My son goes to school every day.
He likes chocolates.
On the other hand, when the subject is plural, the verb must be plural so that it agrees with the subject.  However, we must note that in all cases, subject-verb agreement applies only to sentences rendered in the present tense e.g.
Market women are great talkers.
They believe in their ability to swim.
There are some agreement rules that must be observed by users of English; for the purpose of this chapter, we shall examine only a few of them. They are:
(i)                 A double or multiple subjects take a plural verb e.g.
You and I are brothers.
Sometimes, the parts of a double or compound subject are so closely connected that they express only one idea. Whenever this happens, the subjects take a singular verb e.g. 'Bread and Tea makes a good breakfast'.
(ii)               When the subject is made up of two or more singular words separated by 'either… or', 'neither…nor', the verb is singular e.g.
Neither the man nor his wife is accommodating.
However, sometimes one of the subjects separated by the correlative conjunction could be in the plural form.  When this happens, the verb takes the form of the noun closer to it.  e.g.
Either the mother or her daughters are always ready to help.
(iii)             When the subject consists of two noun phrases or nouns joined by the correlative conjunction, 'both…and' the subject is always plural. Therefore, the verb following must also be plural e.g.
Both the Governor and his deputy understand workers' problems.
(iv)             A collective noun may take either a singular or a plural verb, depending on the intention of the user, that is, if the collection is thought of as a whole or as a number of individuals e.g.
The bench was not unanimous in their decision.
Here, 'the bench' is thought of as individuals.
The committee of Deans and Directors is meeting today.  (the committee here is seen as a singular body).
(v)               Words such as 'each', 'one', 'either', 'neither' and all words ending in-one or-body when used as subjects take singular verbs e.g.
Each of the contestants has obtained a form.
Everybody is expected to be there.
Words like 'few', 'many' and 'several' take plural verbs e.g. several students have the recommended texts.
Few of the mangoes are ripe.
Pronoun- Antecedent Agreement
The general rule here is that any pronoun used in a sentence must agree in number with its antecedent, i.e. the word it (the pronoun) refers to. e.g.
The girls organized a party to celebrate their victory.
'their' is the pronoun here and it agrees in number with its antecedent which is 'the girls'. Most students have problems with pronoun antecedent agreement; effort should therefore be made to teach this using several examples.
Exercises
Rewrite the following sentences correctly taking note of the agreement rules.
1. Both the President and his Vice was responsible for the country's problem.
2. The Committee are having trouble agreeing on the budget.
3. Everyone in senior management position in most banks own a car.
4. Each of the actors in the play have had their speech memorized perfectly.
5. Either the governor or several of his officials will pay his respect to the slain statesman by attending their funeral
TENSE
Tense is a feature of the verb in English. It is the verb that reflects the tense in which the sentence is expressed.  Tense expresses the time of an action either present or past.
The past tense is used to express an action that took place before now e.g.
Aanuoluwapo won a scholarship last year.
The simple present tense is used to express statements that are true at all times e.g.
Boys are stubborn.
For habitual activities – I go to school everyday.
For future activity that is certain- The class holds at 12 noon tomorrow.
Other tenses are:
The Present Continuous Tense – Used to express what is happening at the    moment of speaking or writing e.g.   I am dancing.
The Present Perfect Tense – used to show that a past action has some connection with the present e.g.
I have lived in this town for the past ten years.
The Past Continuous Tense – Used to show that two or more actions took place in the past and one of the actions was interrupted e.g.
He jumped off the bus while it was moving.
The Past Perfect Tense – Used to express that two actions took place in the past and one action was finished first e.g.
Ayo had eaten her dinner by the time her friend        arrived.
The Simple Future Tense- used to express an action that will happen some time in the future e.g.
I shall travel tomorrow.
The Future Perfect Tense is used to express an action that will have been completed by a certain time in the future.
The sun will have set by seven 0'clock.
The future Continuous Tense – Used to indicate two actions which will take place in the future, the first action will be interrupted by the second. The children will be sleeping by the time their parents arrive.
It is obvious from our discussion above that each tense has a special role to play and if the simple present tense is used instead of the simple past or the present continuous readers/listeners will be confused. Users of English must therefore be careful in their use of tense, we must take time to think of when the action took, takes or will take place before choosing our tense.
Exercises
1. Explain the types of nouns that we have in English
2. Identify the parts of speech in the  following sentences:

The children are dancing
Beauty is vain but a woman who fears the Lord shall be praised.
The class holds at twelve noon tomorrow
3. What is a verb? Identify the verbs in the following sentences:
1. Yeni is kind and loves hardworking people.
2. The phone belongs to Tope.
3. The match will come up by 3p.m.
4. I completed my registration last week.
5. My daughter likes chocolates.
6. Explain the difference(s) between transitive and intransitive verbs. Give three examples of each.
7. Describe the tense forms in the following sentences:
1. If you work hard you will pass your examination.
2. If you had come earlier, you would have met him.
3. I will not go out if it rains tomorrow morning.
4. If it rains you will get wet
5. You would succeed if you worked hard.
REFERENCES
Childs, L. (1998) Parts of Speech: Academic Studies English Retrieved
from http://www. nald.ca/CLR/search/
Adejare, R. A. & Adejare, O. (1996).Tertiary English Grammar.
Lagos: Difamo Books.
Akinpelu, E. O. (2004). Parts of Speech. In Akinpelu, E.O., Adegbite,
N.A. & Oyewole, O. (2004). Introduction to Language and
Literary Studies, Vol.1 Ibadan: Akin-Johnson Press & Publishers.
English Grammar Today (2017).Cambridge University Press. Retrieved
from dictionary.cambridge.org/…/adverbs-type.
Huddlestone, R. (1990). English Grammar: An Outline. Cambridge:
Cambridge University Press.
Odumosu, Z. O. (2001). Many Grammars, Many Theories: Models of
Grammatical Theories.In Sogbesan, D. & Ubahakwe, E. (Ed.).An English Grammar for Tertiary Institutions.Ibadan: Stirling-Horden
Publishers.
Sogbesan, D. (2001). The Why of Grammar. In Sogbesan, D. &
Ubahakwe, E. (Ed.).  An English Grammar for Tertiary
Institutions, Ibadan: Stirling-Horden Publishers.
---
[1] Discrimination against deaf people is not entirely out of the system. In most African countries, deaf education is left to rot as the government concentrate on the mainstream educational systems. Personal visits to several deaf schools in Ghana and Nigeria confirms this assertion.
[2] The author has engaged in sign language research projects in both Ghana and Nigeria and as a proficient signer of GSL, she was able to communicate with the students of the deaf schools she visited in Nigeria.Many of the sign languages used in African countries stem from the missionary work of Andrew Foster (Nyst 2010).In addition, over the years, linguistic research on African sign languages has been pioneered mostly by missionaries that sought to evangelise to the local people through their native languages.
[3] Not referring to Adamorobe.
[4] Deaf education in Ghana is free although the schools complain of inadequate incentives from the Government. Generally, the students do not pay fees except other incentives needed for studies.
[5] Save the Deaf and Endangered Language Initiativehas organised several outreachprojects in parts of Nigeria for deaf empowerment and sign language documentation.
[6] This is a collaborative effort by some of my former students, friends and family to support the Deaf community in Adamorobe.
[7] Asonye et al. (forthcoming). Deaf in Nigeria: A Preliminary Study on Isolated Deaf Communities.
[8]Several times we gather clothing and food items for distribution among the deaf Adamorobeans. This has proved a useful tool in providing some basic support to the Deaf community.